It's finally summer! Bring on the pool parties!  Bring on the skimpy outfits! Bring on the Barbecues! Not the ones celebrating the U.S. though. Those are cancelled due to heinous behavior as far as I'm concerned, and honestly have been for a while. It's been a truly heartbreaking week. I've struggled to keep up with my responsibilities cause I've been doing everything I can to stay informed and take action against this vile administration instead. The rest of my time's been spent trying but failing to sleep or cope with the reality that is the country I live in doing what it does best and violating human rights so heartlessly it seems unreal.
It is real though, and the need to pay attention and resist is real, but so is the need for self-care. That fact is the only thing that allowed me to pull it together long enough to make this recipe and write this post. It can seem completely selfish and ridiculous to do something like make dessert when the world is a mess, but its important to remember that self-care is also resistance, and food absolutely is too. Taking the time to feed yourself and/or others, to make something that will bring nourishment, comfort and happiness, and a much needed escape from reality even if only momentarily is an important act of kindness. Taking space to recover from the fight IS resistance. So, armed with that reminder I sat down, took some deep breaths, and got to work on writing a recipe that would help me feel better, and hopefully you too.
I knew I wanted something super simple and summery, and remembered I had a pineapple undoubtedly harvested by migrant workers, so decided it had to center on that. In thanks and honor. Out of habit when I think of pineapple I think of beaches and tropical umbrella clad drinks filled with rum. Fortunately I was recently gifted a bottle of Haitian rum from one of my best friends whose family immigrated to the US from Haiti so I grabbed that and decided the most delicious course of action would be getting the pineapples drunk by soaking them in rum flavored with lime,brown sugar and a little cayenne for kick, grilling them to caramelized perfection then topping with ice cream and finished with a drizzle of reduction from the marinade.
I made this, closed my eyes, took a bite, and immediately felt transported far far from here. It tastes nothing like home and that's exactly what I needed and intended. If you could use a mini mental food inspired vacation, I hope you'll give this recipe a try. It's warm, sweet, bright, citrusy, sunny, easy and culturally collaborative, just like the world should be.
---
Ingredients:
1 small or medium pineapple, peeled and cut into circles
1/2 cup dark rum (sub water or maybe apple juice if sober!)
1/2 cup brown sugar
1 teaspoon vanilla extract
1/4 teaspoon lime zest
juice of 1 lime
pinch of salt
pinch of cayenne pepper
1 pint of ice cream (I highly recommend coconut)
Cooking spray for grill
Remove the cores from your pineapple slices. I use a shot glass to do this cause buying a corer doesn't seem worth it to me. If you have neither a corer nor a shot glass, use a small sharp knife to cut out the core.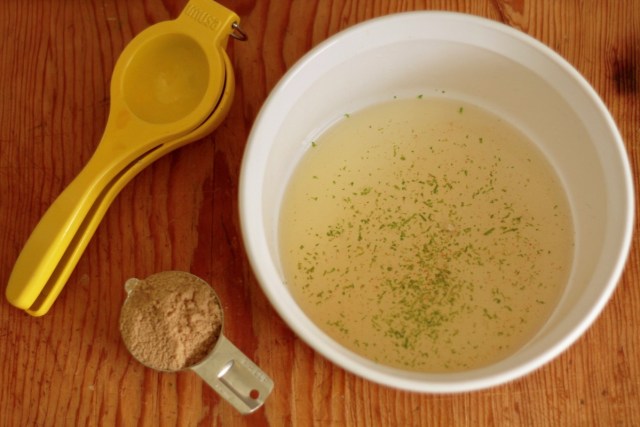 Whisk together the rum, sugar, vanilla, lime zest and juice, salt, and cayenne pepper in a large bowl.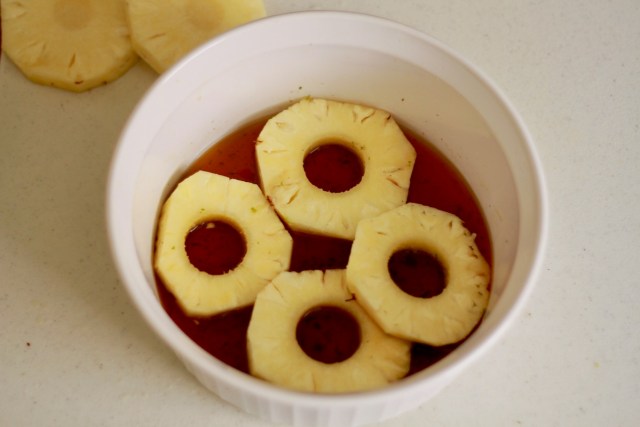 Next add the pineapple rings in batches to coat them in the marinade. If you have a dish wide enough to add all the pineapple in a single layer, you can use that to soak them. Otherwise throw the pineapple into a plastic bag after each ring has been coated, pour the marinade on top, and allow to sit and soak for 20 minutes to an hour, shaking the bag/turning the pineapple rings halfway to make sure everyone is getting equally tipsy in there.
After soaking the pineapple, pour the remaining marinade into a small saucepan, bring to a simmer over medium heat, and allow to reduce by half until you have a nice syrup to drizzle on top. You don't want to let this mixture boil cause if it does it will cause the sugar to solidify the minute it touches your ice cream and get so hard to chew you might rip a filling out. You want a simmer, not a boil.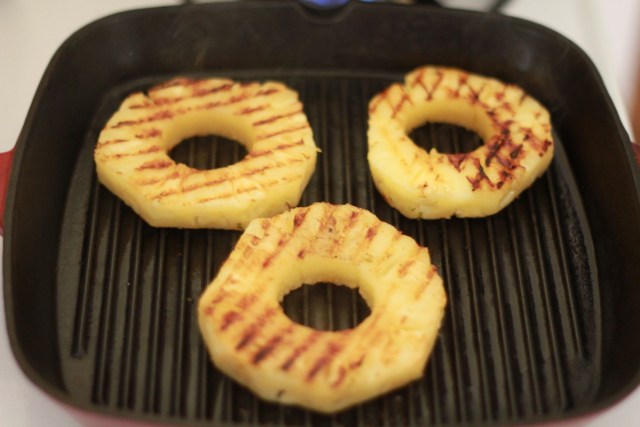 While the syrup is reducing, grill the pineapple! I used a cast iron grill plate which is a great investment if you can get or at least borrow one.  Of course a real grill works too. Spray your grill surface with a little non-stick cooking spray, then add the pineapple slices and grill for 2 minutes on each side. You should get some nice caramelization from all that brown sugar rum goodness coating the pineapples.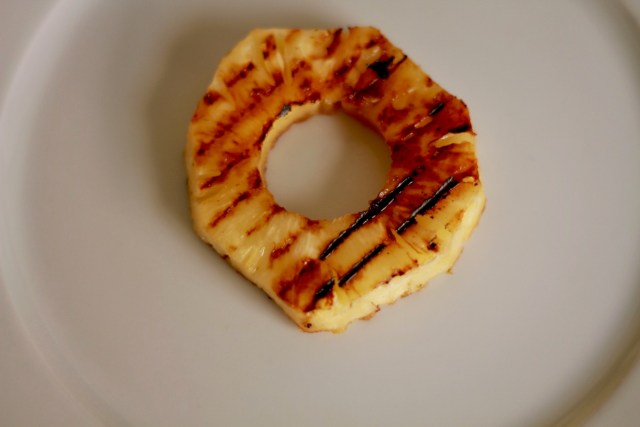 Once the pineapples are grilled, remove from the heat and allow to cool for a minute or two just so your ice cream doesn't immediately melt when you add it.
Once they're ready add the ice cream scoops, and finish off the sundae with a drizzle of the syrup reduction.
Enjoy, and take care.