June is LGBT Pride Month, so we're celebrating all of our pride by feeding babies to lions! Just kidding, we're talking about lesbian history, loosely defined as anything that happened in the 20th century or earlier, 'cause shit changes fast in these parts. We're calling it The Way We Were, and we think you're gonna like it. For a full index of all "The Way We Were" posts, click that graphic to the right there.
1. Call For Submissions, by The Editors
2. Portraits of Lesbian Writers, 1987-1989, by Riese
3. The Way We Were Spotlight: Vita Sackville-West, by Sawyer
4. The Unaccountable Life of Charlie Brown, by Jemima
5. Read a F*cking Book: "Odd Girls & Twilight Lovers: A History of Lesbian Life in 20th-Century America", by Riese
6. Before "The L Word," There Was Lesbian Pulp Fiction, by Brittani
7. 20 Lesbian Slang Terms You've Never Heard Before, by Riese
8. Grrls Grrls Grrls: What I Learned From Riot, by Katrina



I wasn't there when it happened. Not by choice, just by circumstance.
In 1991, when the riot grrrl scene was growing in the Pacific Northwest and Washington, DC, I was one year old. I was taking my clothes off and screaming and breaking things, but that was probably just a coincidence. And even though I wouldn't learn what riot meant for another 16 years, what was happening then would inevitably shape the feminist consciousness that I would grow to inherit.
My generation is the one that knows Kathleen Hanna from Le Tigre. Our friends who don't run in feminist circles know Carrie Brownstein from Portlandia. And for those of us who do know who Brownstein was in relation to the movement, the only way we could have ever seen her gloriously kick and cartwheel across a stage was not with Sleater-Kinney, but with riot supergroup Wild Flag.
These are the heirlooms of riot. They're what our foresisters left for us to make sure we would never forget.
We may not have experienced it firsthand, but there is a story that is told to us as young feminists, artists, organizers and – yes – rebel girls. It's like a punk rock bedtime story to know by heart, sort of like a tweaked-out lullaby set to the tune of a thousand wailing guitars.
Here's how I understand it:
It wasn't that riot grrrl was born out of punk. It was more like riot set punk on fire and rose screaming out of its ashes. Riot wasn't about punk like feminism isn't about men. It didn't happen because we hated men, it happened because we loved ourselves and knew the kind of world we deserved. What riot wanted couldn't be contained. And that was the point, wasn't it? That women and grrrls didn't have to accept a world built by men. Women didn't have to adhere to men's standards of beauty or power or worth. We didn't have to have conversations using their vocabulary.
In 2010, Sara Marcus published Girls to the Front: The True Story of the Riot Grrrl Revolution, a thoroughly-researched analytical memoir of the riot movement. Marcus explains the grrrls' outrage:
"The girls were furious about things like parental-consent abortion laws, bikini-clad women who hawked beer and cigarettes on billboards and TV, and the archaic gender roles that pervaded the cartoon section of the Washington Post. They were ready to revolt over things like hallway gropes and sidewalk heckles, leering teachers, homophobic threats, rape, incest, domestic violence, sexual double standards, ubiquitous warnings against walking certain places or dressing certain ways … The affronts were neverending. The girls couldn't block these things out and they didn't want to; they wanted to stay acutely aware of the war against them so they could fight back."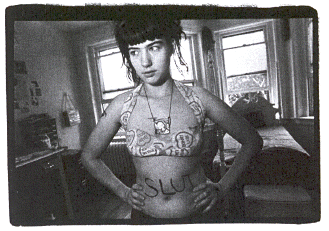 The grrrls were coming to realize the extent to which violence pervaded culture. They knew that violence wasn't necessarily rape or abuse (though it certainly was that, too); it was also something much more quiet and insidious than that. Violence was a systematic force that worked within our society to tell us, as Kathleen Hanna put it in her Riot Grrrl Manifesto, that "Girl = Dumb, Girl = Bad, Girl = Weak."
Marcus's book received overwhelmingly positive reviews from both mainstream media as well as the women who were involved in the founding of riot. This was a particularly huge accomplishment, as riot was decidedly averse to mainstream media, making it practically a policy to refuse interviews for fear of misrepresentation. But this policy came at a price, because there's something that happens when you don't let the mainstream media represent (or misrepresent) you: people either make their own judgments based off stereotypes and hearsay, or they forget you exist. Facing the issue of erasure, the riot grrrls created their own narrative, writing their history through art, music, documentaries and zines that honored the work they were doing using their own words and their own voices.
Riot was a way for women to politicize themselves while remaining creative and badass. Creation in itself was a form of resistance and a validation of their existence. They weren't asking for permission or respect. They didn't need to ask. That was also the point: not needing anyone's fucking permission.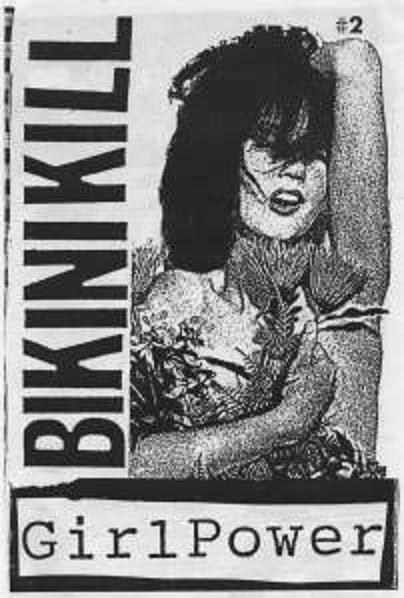 When we live our lives bending to patriarchy – intentionally or not – we do this thing where we sit around waiting for someone to tell us it's okay. Riot said we didn't have to. It was a coming-of-age where women who were making music could stand next to each other on a stage without fearing a comparison or a pigeonhole. Standing alongside each other wasn't a threat, it was an honor, and it was solidarity in an unprecedented manner.
Riot showed us what revolution could look like. We had a new concept of what power could be. We could find it within ourselves and in each other — and we didn't have to ask. Power lay in our ability to create and in our refusal to be silenced or ashamed or sorry. We could use this to build communities, validate ourselves, have our own voices and see ourselves reflected in the world we wanted to live in, the world we wanted to create.
For grrrls in my generation, riot is literally a history. Two years ago, the papers of Kathleen Hanna were added to the Riot Grrrl archive at the Fales Library at NYU. The university's newsletter covered the decision, explaining that "the Riot Grrrl Collection will support scholarship in feminism, punk activism, queer theory, music history and more."
We didn't see the riot, but we saw the aftermath. We came to the point where we could view it with a critical eye, and we're coming to understand the ways that race and class play into our activism today. And that's our responsibility, isn't it? To hold each other accountable, to respect what came before us, and to keep the legacy strong in the best way that we can.
So without further adieu:
Rebel Girl – Bikini Kill
Crying Shame – 7 Year Bitch
I Like Fucking  – Bikini Kill
Shove – L7
Brat Girl – Bratmobile
Ladybug Superfly –  Slant 6
Vintage Piranha – The Bangs
Uncle Phranc – Team Dresch
Off With Your Head – Sleater-Kinney
Bruise Violet – Babes in Toyland
Terrorist – Heavens to Betsy
Smells Like Teen Spirit (cover) – Kathleen Hanna
Stream the playlist on 8Tracks!
Get it, grrrls.