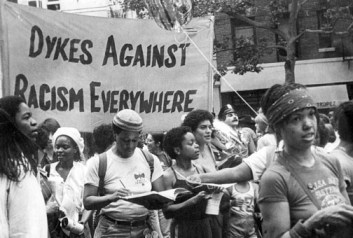 In February we did Art Attack, in March we did Here/Queer and in April/May we did On Camp. What are we gonna do in June?
Well, June is LGBT Pride Month, which is always a fabulous time to sit around and think about how proud you are of yourself for being gay. But it's also a time to think about all the people that were gay before you were gay! Therefore Autostraddle's June theme will be The Way We Were (a.k.a, "the Herstory issue"). Queer life has changed so radically from year to year that even two years ago seems like a whole different cultural climate. Whereas one generally wouldn't consider the 90s to qualify as "history," we do because so much has changed since then for LGBTs, and so much of even recent history gets lost when our stories aren't told in schools. So we're gonna use the term "herstory" liberally here to refer to the 20th Century and earlier.
We're looking for unique, compelling stories about lesbian/bisexual/otherwise-inclined life in the 20th Century and earlier. This could take many forms — features, interviews, personal essays, reviews, top tens. You can also submit a Herstory Spotlight, which is between 400-800 words about one person, event/happening, or Important Thing (e.g., a book, an activist group, a play, a symbol). We're especially interested in hearing from writers who have first-person narratives to share, a.k.a writers over the age of 40.
Want some examples of what we're looking for? You're in luck because we have some. Hurrah!
Examples from Autostraddle:
+ 20 Years Ago Today in Gay History: The AB101 Veto Riots Would've Blown Your Mind
+ 10 Great Places to Meet Lesbians If You Have a Time Machine
+ The Loving Story: New Look at Couple Who Challenged Law Against Interracial Marriage, Won
+ The Lesbian Avengers – Time to Seize the Power & Be the Bomb You Throw!
+ "Lavender Scare" Exposes The US Government's Cold War Era Gay Witch Hunt
+ "Mädchen in Uniform": Girl-on-Girl Culture Circa 1931
Examples from other publications:
+ The Secret Court – "In 1920, Harvard University officials suspected that some students were gay. So they kicked them all out." (The Good Men Project)
+ Honoring Black Lesbian and Bi Women in History – "In the midst of all this progress, it's more critical than ever to remember those who came before us. These 10 African-American women – most of whom never had the luxury of living their lives openly – were just a few among many who paved the way for African-Americans, feminists and lesbians alike." (AfterEllen.com)
+ The Slap of Love – "On House Xtravaganza and the life and death of its house mother Angie Xtravaganza, one of the stars of the documentary Paris is Burning, which brought vogueing and New York City's transgendered ball culture into the spotlight." (Open City)
+ Three Questions for Lesbian Historian Lillian Faderman: Here are a few inquiring-minds-want-to-know queries about lesbian history that I asked Faderman, professor emerita of English at California State University, Fresno, in a recent interview. (Ms. Magazine)
+ Adventures in Feminstory: Djuna Barnes: "Djuna Barnes was a poet, novelist, journalist, and artist whose work was known for its unique prose rhythms, its sexual openness, and its fascination with the bawdy and grotesque. She lived in Greenwich Village in the bohemian 1910s, frequented the artists' salons in 1920s Paris, and late in life became a cult icon and famous recluse." (Bitch Magazine)
Send your story pitches to Laneia [at] Autostraddle [dot] com and cc Rachel [at] autostraddle dot com by June 1st. Include a resume and 2-3 writing samples (either PDFs from print publications or link to your work online). If you don't have any writing/publishing experience and/or clips, we ask that you submit your entire manuscript (or most of it) instead of just the pitch.
Special note: One of the Top Ten Problems With Submissions is the problem of "tone" — specifically that we get a lot of pitches and articles that are written in a very academic tone. We like our articles to be conversational, unique, exciting, smart and accessible — but most importantly, FUN!  (Not all the "examples from other publications" reflect what we want w/r/t tone, the best gauge for that is the Autostraddle examples listed above.)