In a 1966 story for LIFE Magazine, Richard Loving told the reporter that Caroline County, Virginia, the rural Virginia area in which he and his wife Mildred grew up, "never was like a lot of other places." He continued: "It doesn't matter to folks around here. They just want to live and be left alone. That's the way I feel."
But the state of Virginia felt very differently about Richard, who was white, and Mildred, who was of African-American and Native American descent, being married. To the state of Virginia, their union didn't simply matter, it was downright criminal.
While putting together an HBO documentary about the couple called The Loving Story, filmmaker Nancy Buirski came across 22 photographs taken by Grey Villet for that LIFE magazine story. Her film will premiere on February 14th, and Villet's photographs go on display at the International Center of Photography today until May 6th. Here is the trailer for the documentary:
Their story is an important one, and it's one we talk about a lot because their case, which legalized interracial marriage in 1967, is often evoked by activists and legal experts seeking to legalize same-sex marriage.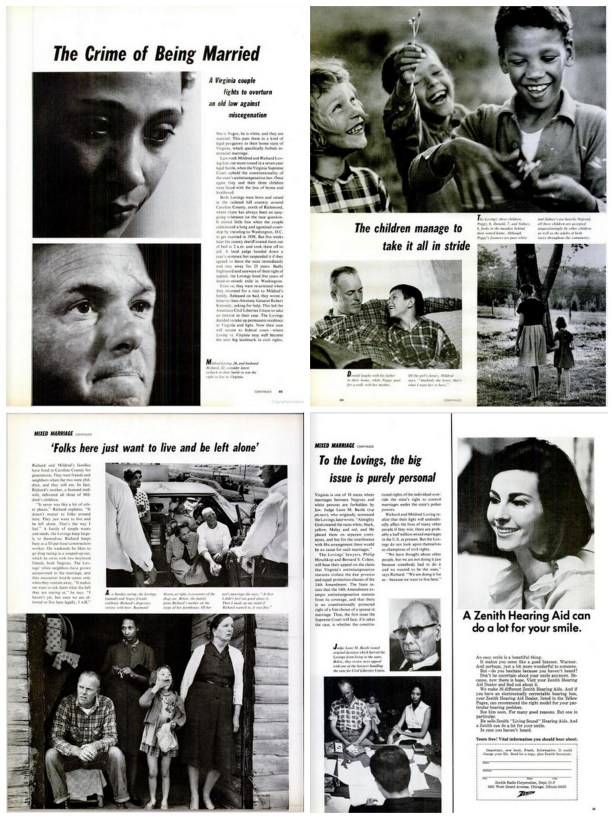 Mildred met Richard when she was 11 and he was 17. Many years later they began dating, and when Mildred got pregnant at the age of 18, the couple shipped off to Washington DC to get hitched, attempting to evade Virginia's anti-miscegenation statute, The Racial Integrity Act of 1924, which banned white people from marrying non-white people. They then went back home to Virginia.
Five weeks after their wedding, so late at night it's described as "early morning" in some press reports, three officers acting on a tip from a neighbor stormed their house in Central Point, hoping to catch them doing the horizontal mambo, which was also against the law for interracial couples. No such luck — the couple was just sleeping, like most people are at 2am.  The Lovings showed the police their marriage certificate which unfortunately made matters worse because Section 20-58 of the Virginia code forbade interracial couples from marrying out of state and then returning to Virginia. Thus they were charged criminally and spent a few nights in jail between them before pleading guilty and earning a one-year sentence.
They plea bargained to have the sentence suspended for 25 years if they agreed to leave the state, which they did,  moving to the District of Columbia, where they almost immediately got to work on clearing themselves of criminal charges. But they missed their families, and they missed Virginia, and they were struggling financially in DC. They'd even been arrested returning to visit their home.
On November 6, 1962, the American Civil Liberties Union filed a motion in state trial court on their behalf which claimed the violated statues were in opposition to the Fourteenth Amendment which basically states that all U.S citizens are equal regardless of race.
In 1965, the Lovings were permitted to present their claims to the Virginia Supreme Court of Appeals, and Justice Harry L. Carrio upheld the constitutionality of the anti-miscengnation statues, because he was a racist asshole.
Interestingly enough, it was the Churches, not the court, that ultimately jumpstarted the progress towards overturning the laws against interracial marriages. In 1966, the Presbyterian Church said they did not condemn/prohibit interracial marriages, as did the Unitarian Universalist Association (obvs, hippies) and, a few months before the Supreme Court ruling on Loving v. Virginia, the Roman Catholic Church spoke out in support of interracial couples.
The Lovings' convictions were unanimously overturned by the U.S Supreme Court, determining that Virginia's law violated the Due Process Clause and the Equal Protection Cause. Virginia had claimed that somehow stopping white people from marrying those of another race was not racially discriminatory, which was clearly a load of shit:
"There is patently no legitimate overriding purpose independent of individious racial discrimination which justifies this classification. The fact that Virginia prohibits only interracial marriages involving white persons demonstrates that the racial classifications must stand on their own justification, as measures designed to maintain White Supremacy."
This will also sound familiar, from The Supreme Court's ruling:
"Marriage is one of the "basic civil rights of man," fundamental to our very existence and survival…. To deny this fundamental freedom on so unsupportable a basis as the racial classifications embodied in these statutes, classifications so directly subversive of the principle of equality at the heart of the Fourteenth Amendment, is surely to deprive all the State's citizens of liberty without due process of law. The Fourteenth Amendment requires that the freedom of choice to marry not be restricted by invidious racial discrimination. Under our Constitution, the freedom to marry, or not marry, a person of another race resides with the individual and cannot be infringed by the State. "
Thus the world was changed and the family was able to move home and live together happily.
Richard Loving died in 1975, when an accident with a drunk driver took his life and Mildred's right eye. She eventually passed away in 2008 from pneumonia. A year prior, she'd given this statement in support of same-sex marriage:
"Not a day goes by that I don't think of Richard and our love, our right to marry, and how much it meant to me to have that freedom to marry the person precious to me, even if others thought he was the "wrong kind of person" for me to marry 'I believe all Americans, no matter their race, no matter their sex, no matter their sexual orientation, should have that same freedom to marry."
Mildred's The New York Times obituary noted: "A modest homemaker, Loving never thought she had done anything extraordinary. 'It wasn't my doing,' Loving told the Associated Press in a 2007 interview. 'It was God's work.'"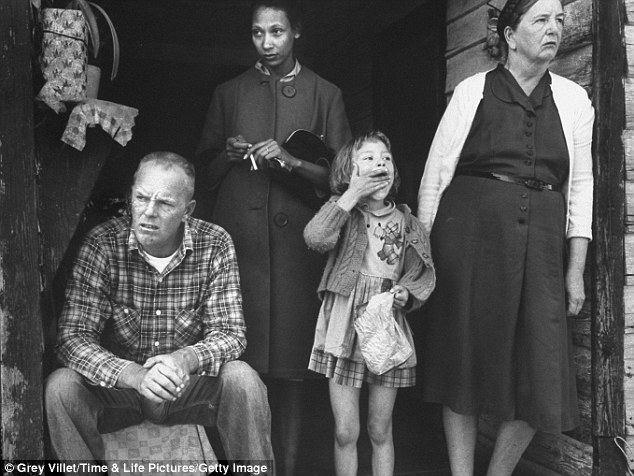 [thanks to Lisa for the tip!]