Once upon a time in Hollywood and Berlin, there was a New Woman running around.
Sometimes she looked like a flapper, like Lousie Brooks, and sometimes she looked like sex bomb Marlene Dietrich.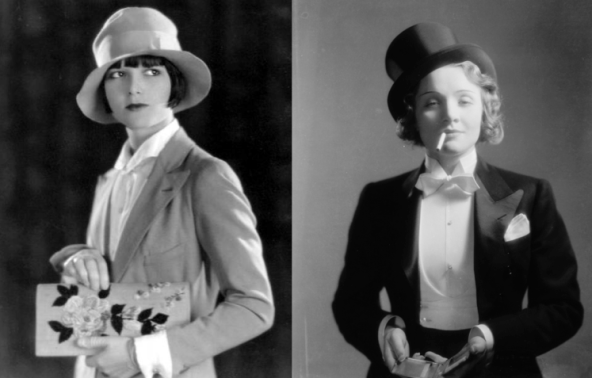 Whatever she looked like, she was inspired by movies and gender nonconformity, just like you. And like the two actors pictured above, a lot of New Women would have gone for you in a big way.
Yes, they were the sewing circle queers of classic cinema who acted in movies with titles like Pandora's Box with little to no irony. Today, we celebrate them; the ghosts of gay girls past whose imaginations and feelings were once rendered cinematically.
To kick off this sweet history lesson of queer proportions, I'm going to be talking about Mädchen in Uniform (1931). It's not the first girl-on-girl kiss of cinema (Marlene Dietrich snagged that one in Morocco in 1930) and it's not the first time the idea of a real life lesbian had been portrayed (see aforementioned Pandora's Box, 1929) But it WAS the first time something this lesbian graced the silver screen. Seriously you guys this movie is called Girls In Uniform and it's not a porno.
Spolier alert: From here on out i'm going to be breaking down this early German film like it was an episode of Pretty Little Liars. I'm not trying to ruin things for you, but like the sun to a creamsicle I might spoil a bit of the fun. Tbh, it's nearly impossible to get a good print of the film anyway  because when the Nazis came to power, they banned the film and attempted to burn all existing copies… so this recap might be the closest you can get. Has anyone seen it?
Anyway, it stars (regretfully straight, but oh so cute in a tie) Heitha Thiela as Manuela, and the unknown sexual preferences of many other school girls.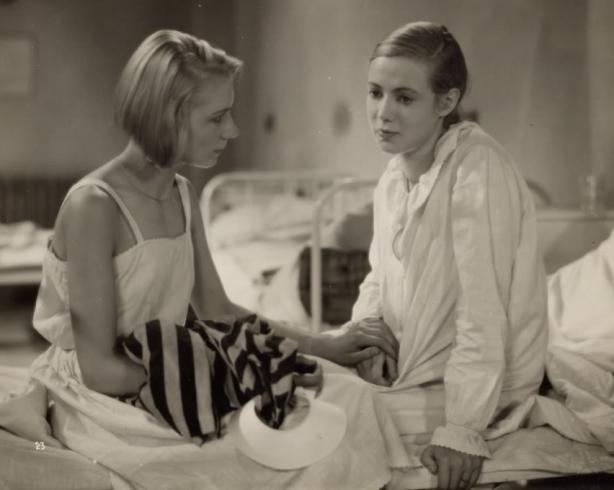 Though probs because they pass love notes we can assume  some of them are totes super gay.
Unfortunately for The Rules and luckily for Manuela, one of the Professors, Fräulein von Bernburg (Dorthea Wieck), is a total babe.
While Manuela is surprisingly upfront about her feelings, Fräulein von Bernburg is rocking out to Katty Perry's "Hot and Cold." One minute she's gifting Manuela her blouse, the next she's saying things like "the other girls will be jealous".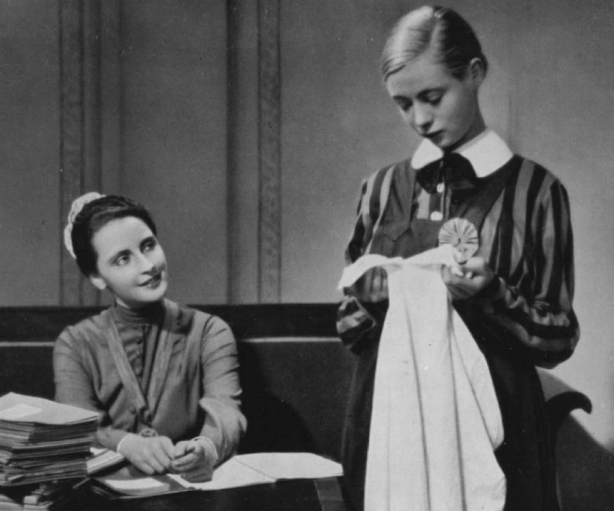 No duh, von Bernburg, no duh.
While there is sexual tension throughout the film and shadows of doubt as to whether Manuela's feelings are requited, we learn pretty early on that von Bernburg doesn't quite kiss the other girls goodnight like this:
Though she does kiss the other girls goodnight, too.
The truth about Manuela's big lesbian crush gets out after she drunkenly proclaims her feelings from a balcony dressed as a man (as we tend to do). Granted, she was only in drag because of the school play, but to be fair, the school play was only there as a device to get her into drag.
I can't find a picture, of the outfit she wore, but I remember it looking a lot like this: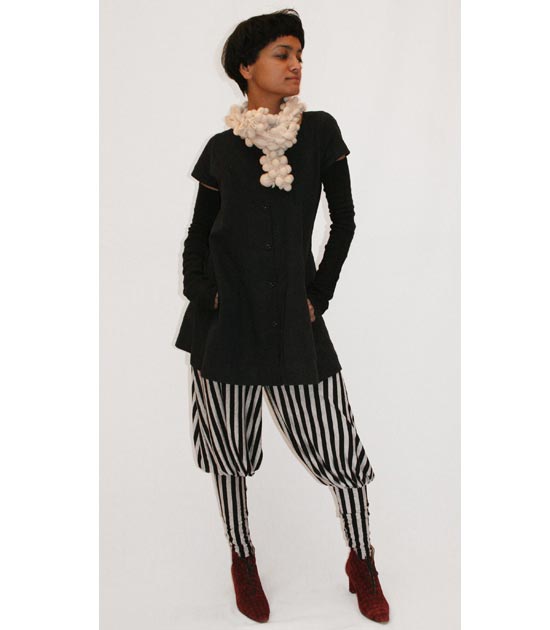 It was cute. And you should probably check out this blog anyway because I think you could like it. Oh and look, I just found a picture for you. I was close.
Anyway, they quickly send her to the infirmary  because she is suffering from a hangover and "emotionalism". Emotionalism is what happens when you realize you're a lesbian. It's pretty sinful and definitely against Rules so the all-powerful headmistress quarantines her from the world.
Things don't exactly end happily for Manuela, but depending on which version you watch (there are two), at least they don't end tragically. Just as she's about to end it all by throwing herself from the top of the stairs, all of her Prussian girl friends including her hot mentor damn The Rules and come to her rescue and tell her it get's better / they don't five a f*ck. More or less.
Leontine Sagan directed Mädchen in Uniform and Christa Winsloe wrote the book it was based on. The book itself was based off of Christa's real life lesbian feelings for Dorothy Thompson. Yes, all three women loved the ladies.
You didn't think old school cinema was this adorbs, but it is.
The sad thing is, a lot of the literature about this film doesn't like to delve into how lesbian it is. They speak of it in the background, saying that The Real meaning  "expresses the devastating effects of Prussianism upon a sensitive young girl" (Siegfried Kracauer, I'm looking at you). And while I'm sure there's bound to be a good dose of Higher Meaning in there somewhere because these women seem pretty intelligent to me, that doesn't negate the fact that they don't also have hours of footage of girls in nightgowns holding hands and talking about their hearts and feelings. You know what I mean? Just embrace it.
The movie went on to win at the Venice Film Festival and was a big hit in Berlin's gay scene. It also inspired a "stockings and kissing" cult in Romania. So, that happened.
For more enlightenment:
ALSO apparently there's a really hot 1950s German remake I haven't seen but would love to project.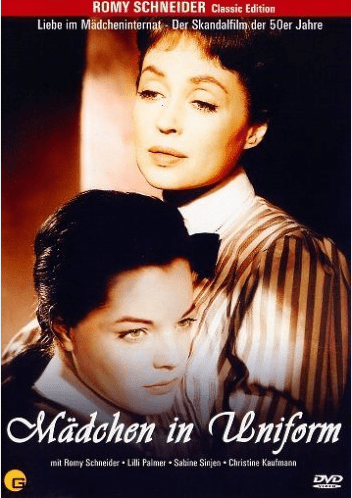 Where's my Autostraddle film club at?