I grew up in a Chicago suburb, but traveled to and through the city frequently to visit relatives and hang with friends. It wasn't until five years ago when I actually moved to Chicago that I came to appreciate its diverse, albeit segregated, culture. Queers of all flavors reside comfortably in many different places all over the city, with a lot of the backlash coming only from within the queer community itself. However, Chicago is a large city, and there are many experiences to be had, so I've enlisted the help of some of my fellow Chicagostraddlers. Let's dive in!
+
All the Lesbian Bars/Nights
+
Unfortunately for my liver, you can find lesbians out and about each night of the week. Many large, queer (read: non-predominantly gay male) shindigs occur monthly or randomly, so for the low down on what's about to go down, join the Chicagostraddlers, follow Roxx Promotions, or stalk GlitterGuts Photobooth. Here is a non-exhaustive (though compiling this, I am quite exhausted), listing of the lady places and spaces:
Wild Thursdays (Victor Hotel, 311 N. Sangamon St.) A weekly 18+ LGBTQ dance party that serves alcohol (if you're 21+)!
T's Bar & Restaurant (5025 N. Clark St.) Located in Lesbianland (Andersonville), T's is a good choice on pretty much any night. The best times are after CMSA softball on Sundays and on Saturdays for the newly instated "Tease Her at T's" dance parties. Sometimes the Chicago Force comes here to drink, and be warned: if they ask to arm wrestle, you will lose.
Formerly Known As (FKA) (Big Chicks, 5024 N. Sheridan Rd.) Usually a bear bar on Thursdays, the first one of each month is reserved for an always-packed-by-11:30pm all-inclusive dance party (with a free coat check). Personally, this is my favorite dance party because of the completely welcoming (and nice) environment, regardless of gender identity. If you want to meet Effingdykes writer, Krista, you can usually find her here.
Queerer Park (Beauty Bar Chicago, 1444 W. Chicago Ave.) There used to be bi-weekly Saturday parties, but so far this year, there has only been one. Hopefully the parties come back because they were always a good time. Plus, there's nothing better than a $10 martini and manicure! (But be careful with those.)
D.S. Tequila Co. (3352 N. Halsted St.) has recently been taken over by lesbians. They serve great margaritas and yummy tacos (that's what she said), and it can get really crowded really fast so sit on the patio for more space. Their dance floor is a joke, but when you get drunk enough, take your friends next door to Roscoe's (3356 N. Halsted St.) to dance the night away to some great mixes.
Dollhouse (Cuna Lounge, 1113 W. Belmont Ave.) Frequented mostly by lesbians of color, this weekly party will have you dancing every Friday. Yoly walks around serving up $1 Jello shots as the go-go dancers shake it atop the bar. Recently, the Dolls started Sunday Night Sex Talks at The Dragon Lady Lounge (3188 N. Elston Ave.).
Spyners Pub (4623 N. Western Ave.) Definitely a dive bar, Spyners is usually frequented by an older crowd and/or CMSA players. They've even got karaoke on Fridays and Saturdays. I've been here quite a few times with (older) friends for karaoke and had a good time.
Spin Nightclub (800 W. Belmont Ave.) It's had a fair share of drama, and I don't really enjoy it (I'm not one to pay a cover unless it goes toward charity), but there are $1 drink nights on Wednesdays! And if you're into it, there is a shower contest on Fridays.
Berlin (954 W. Belmont Ave.) The environment seems to be a little cliquey, so go with a big group of friends. It's open late, which is nice, but IMO it's not worth the (weekend) cover price. That being said, I encourage you to check it out for yourself, preferably on a Thursday night for the Stardust party or bring your friends to Robyn night on Sunday.
Joie de Vine (1744 W. Balmoral Ave.) Do you like wine? Do you also like lesbians? Then you'll love Joie de Vine!
Sapphic Adventures Lady-loving-ladies-only events, organized by other Chicago gay ladies. The majority of the group is 36+, and it includes lots of non-bar activities. I've never been to any of the events myself, but I've heard a bit about it.
I've never been to any LGBTQ bars/clubs on the South Side or in the suburbs, but it's definitely on my to-do list (after Natalie Portman, of course).
+
Eating Out (No, the other kind)
+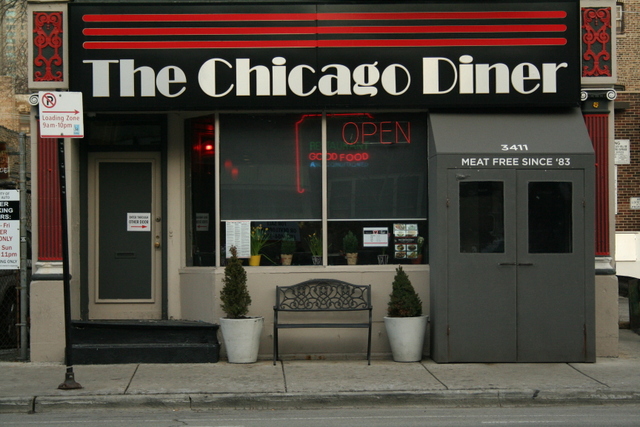 Chicago Diner (3411 N. Halsted St.) A good choice after a night of partying in Boystown, the Chicago Diner is completely vegetarian and mostly vegan. It's okay if you show up looking like the morning after, the staff is quite friendly and the environment is chill.
T's Bar & Restaurant (5025 N. Clark St.) T's makes the list again! I love their fries and make-your-own mac & cheese.
Hamburger Mary's (5400 N. Clark St.) Located in Andersonville, this restaurant and bar is always hoppin' with some LGBTQA-flavored event. Stop in for a burger and some beer, and then dance the night away!
Kit Kat Lounge & Supper Club (3700 N. Halsted St.) My new favorite place. You can get totally wasted on a Sunday morning for $10, and the food is good. Oh, and while you are eating, a hilarious female impersonator comes out and performs for you.
Pick Me Up Cafe (3408 N Clark St) For a laid-back dining experience, stop by Pick Me Up Cafe. The breakfast is always a solid choice, and I enjoy their milkshakes and desserts. Pick Me Up also has vegetarian and vegan options.
Clarke's Diner (930 W. Belmont Ave.) The menu here is really diverse, and they serve booze, too. Clarke's is great for those times when it's 3AM, my code won't compile, and I really want some Swedish pancakes. In fact, I'll BRB.
IHOP (GayHOP) (3760 N. Halsted St.) Speaking of pancakes, yes, I'm serious on this one. Located on the north edge of Boystown, this IHOP is open 24 hours and almost always packed full of queers with the munchies, especially after the bars close.
+
LGBT or Feminist Bookstores
+
Women and Children First (5233 N. Clark St.) A cute little bookstore that hosts author readings, feminist book clubs, and various other events.
(Chistraddler Editor Note: Let's be real, WCF is really kind of a parody of a feminist bookstore. Every time I go in there, I half-expect Fred Armisen in a dress to yell at me for shaving my armpits. There is, however, a wonderfully extensive LGBTQ section, covering everything from culture to humor to history. Also, their sex section is pretty boss as well. On the flip side, there are lavender walls and baskets of fake ivy that haven't been dusted since 1989, the year after that logo was created. However, I'm still dating the girl who gave me a stellar Murakami recommendation. So. Take it for what it is, I guess.)
+
Les Sports
+
I need not emphasize the massive amount of male-dominated professional sports teams, so I'll discuss the teams that don't get much action […on TV… *wink wink*].
Chicago Metropolitan Sports Association (CMSA) The coolest, most organized, queer social sports league in all of America! Okay, I made that up, but I've never found anything else like it. CMSA offers coed and single-sex options for tons of sports at various levels. Softball, flag football, soccer (play with me!), volleyball, basketball, and dodgeball seem to be the favorites of my lady friends. CMSA also sponsors parties throughout the year (with no cover for CMSA players!) for those who are 21+. I could go on forever about CMSA, but I have to save room for roller derby.
Roller Derby (Elli knows all about this) While not technically queer, roller derby is very inclusive and queer-friendly. And what better way is there to spend a Saturday night than watching a bunch of strong women (of all sizes, body types, ethnicities, etc.) kicking ass and taking names. Chicago is where roller derby was born over 75 years ago, and when it was revived and reinvented in the early 2000s, Chicago was among the earliest leagues to form. Now we have two very competitive WFTDA (Women's Flat Track Derby Association) leagues in Chicago- The Windy City Rollers (WCR) and The Chicago Outfit.
WCR bouts are held at the UIC Pavillion (525 S. Racine Ave.) with afterparties at Union Park Lounge (228 South Racine Avenue). The Outfit is a trans* friendly league, with bouts at The Windy City Fieldhouse (2367 W. Logan Boulevard) and afterparties at the Cobra Lounge (235 North Ashland Avenue).
There is also a lot of suburban derby springing up all over Chicagoland, like Rockford Rage and the Aurora 88s. And for those interested in maybe dipping a toe into derby before diving literally headfirst into the full contact sport, there is Derby Lite at various city and suburban locations. Not to leave anyone out, there is a men's derby league getting started back up, The Chicago Bruise Brothers, and they are also comprised of straight and gay skaters. I don't know if they/MRDA (Men's Roller Derby Association) have any separate policies on transmen skaters, but they follow the WFTDA rules set, so I would assume that they are just as inclusive.
Rugby (Chicago Women's, North Shore, and Chicago Sirens) Of the teams, North Shore has the reputation of being the most intense; they won DI national chamionships in 2011, followed by Chicago Women. The Sirens (DII) have only been around for 5 years, so they're a good team to choose if you're just starting to play rugby but don't want to automatically get put on a B-Side (although everyone I've met from all these teams is super friendly to newcomers!). Throughout the spring and summer, some teams also have clinics if you think you're interested but want to learn more before committing to one. If you're wondering whether rugby is a good way to meet ladies in the Chicago area…yes. Yes it is. If you're going to school in Chicago, Loyola, DePaul, Northwestern, and UChicago all have teams! Some are more intense/better at winning than others and some are gayer.
Women's Football (Chicago Force) Chances are you've either seen or you know of a current or former Force player. You can find them at T's, playing CMSA, or just out and about around town.
Women's Basketball (Chicago Sky)  CMSA hosted a Sky Pride outing, and it was intense! The game went into double (maybe even triple) overtime, and these women kicked ass! This year at the pride outing, the Sky won with 0.2 seconds left in the game, just sayin'.
Women's Soccer (Chicago Red Stars) Unfortunately, the Red Stars are no longer part of the WPS. They still play games in the suburbs through the WPSL, though.
Chicago League of Lady Arm Wrestlers (CLLAW) This annual event is always a blast!
Out at Wrigley Hosted by MTM Chicago, Out at Wrigley is the queerest Chicago Cubs baseball game you'll ever attend. Once per year, hundreds of queers & allies pack the stadium during Pride Month. The Chicago Cubs are great supporters of the queer community, so they deserve a shout out!
+
College Life
+
There are probably as many colleges in Chicago as there are L stops, so I'll only list some of them. From north to south you have Northwestern, Loyola, DePaul, The Art Institute of Chicago, Columbia College Chicago, University of Illinois – Chicago, Illinois Institute of Technology (my school) and University of Chicago. Many schools have at least a semi-active LGBTQ student organization, but if your school doesn't you can join the Queer Intercollegiate Alliance (QIA), a city-wide group of college students that host potlucks and other get-togethers. Each year one college hosts the annual Coming Out Ball, which is a great time to meet college queers from all across Chicago and its surrounding suburbs.
+
Where to Straddle Chicago
+
Boystown, a subsection of Lakeview, is the gay mecca of Chicago. Trapezoidally shaped, its borders span from Belmont on the South to Grace up North, with Halsted and Broadway to the West and East. Most of the gay bars, clubs, restaurants, street parties and shops are located in this area. There's also a modest selection of overpriced thrift stores. Be careful if you drunkenly wander outside these confines alone late at night, because the surrounding areas can be sketch, especially in the summer. Boystown is mostly male-dominated, but a surprisingly good number of my lesbian friends and I live in or around this area.
Andersonville is the smaller, lady's version of Boystown, although we're slowly being out-populated by more gay boys. Housed between Foster and Bryn Mawr, Ravenswood and Magnolia is a diverse selection of locally-own shops, restaurants, bars, pubs, museums, and entertainment. Once home to now-defunct lesbian nightclub, Stargaze, the only predominantly lesbian life left is at T's and Joie de Vine. Rent in Andersonville can be expensive, so some people live in neighboring Edgewater or Rogers Park.
+ 
No Straddin' Here
+
For the most part, there are not-so-safe places in and around every Chicago neighborhood. If you're smart, with a group of people and aware of your surroundings, you should be okay. I don't think I've heard of any particular instance of someone being attacked solely because they are gay. Some folks cite Wrigleyville, the jock next-door-neighbor of Boystown, to be unsafe to frequent, but there was an article in TimeOut Chicago where they performed a Wrigleyville-Boystown swap, and everything was generally normal.
+ 
Chicago Pride Guide
+
In Chicago, the entire month of June is pride. From movie screenings to book clubs to a 5k (Proud to Run!) to the Dyke March to the Pride Parade itself, there are events almost every day. The week/weekend of the parade, promotion companies throw tons of crowded parties, including lesbian ones. The best lesbian party is always the 4-day Backlot Bash. Over 40,000 queers and allies from all over the world flood the streets at the end of the month for the actual parade itself. Last year, there was some drama and the parade got detoured and cut short, but this year they've extended the route in an attempt to pack in even more queers! Make sure you wear as few clothes as possible, because the Chicago humidity is suffocating. And the only thing hotter than a bunch of drunk queers partying in the streets is the sun, so make sure you bring the sunscreen.
+
LBT Events
+
Reeling: Chicago Gay and Lesbian International Film Festival
Chicago Pride Fest: An excuse to party in the streets of Boystown the weekend of the Pride Parade
Northalsted Market Days: The largest (most fabulous) two-day street fair in the midwest!
Northalsted Halloween Parade: Parade down the street in costume to win the audience's affection… and prizes.
Andersonville Midsommarfest: Andersonville's summer street festival
+
LGBT Center
+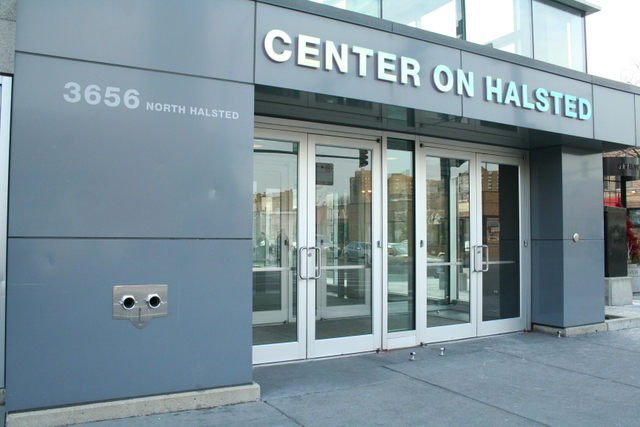 The Center on Halsted (3656 N. Halsted Street) has a computer lab, meeting rooms, theater, and gymnasium. The walls are usually a gallery of various local LGBTQ artists' work. When school gets out, you can usually find teenagers hanging out at the Center or attending one of the various programs. Team Starkid performances are held in the auditorium, and CMSA indoor soccer is played in the gym. The Center has wifi and is conveniently connected to the Whole Foods for when you get hungry.
+
LGBT and Women's Health Services
+
Chicago Women's Health Center (3435 N Sheffield) CWHC provides gynecological and mental health care to cis and trans women, and trans men.
Howard Brown Health Center (4025 N. Sheridan Rd.) hosts various programs and services all over Chicago, including the Lesbian Community Care Project (LCCP).
Affinity Community Services Is also a good resource.
+
Prominent Social Activist Groups
+
Here's just a quick list of some of the groups you could get involved in:
Equality Illinois
HRC Illinois
Gay Liberation Network
Transformative Justice Law Project
+
Performing Arts or Arts Groups
+
GayCo: A nonprofit sketch comedy group
White Rainbows:  A queer sketch comedy ensemble.
POW-WOW, Inc: A spoken word poetry gathering.
Gay Chicago TV: The independently owned and operated online TV station. Be sure to check out the show Among Girls.
Windy City Performing Arts: An LGBT choral organization that has a men's choir (Windy City Gay Chorus) and women's choir (Aria).
Lakeside Pride: LGBT community bands. Includes a marching band that marches in the pride parade! They also have a jazz band, orchestra, and symphonic band.
+
Dating Scene
+
If you're out at a club, and you see a girl you feel like you've met before, you've probably just looked at her profile on OkCupid.
How About We… is a cool new take on online matchmaking that you should totally sign up for.
Mingle Around Chicago usually has monthly lesbian singles meetups.
Chicago First Dates sometimes has lesbian speed dating.
+
Salons for Alternative Lifestyle Haircuts
+
Milios (959 W. Belmont, 2nd floor)! That is where I (Elli) get my #alternativelifestylehaircut done by a queer girl.
Barbara and Barbara (3131 W. Logan Blvd.) is a queer-friendly hair salon in Logan Square that is owned and operated by some fellow queers. It's extremely cheap and my $20 haircut often includes a beer. I think people with longer hair have to pay slightly more. The best part? Never having to explain why you want an asymmetrical cut! I usually go to Kara although I am sure all of the ladies and gentleman kick ass.
+
Best Tattoo Places
+
I've only gotten pierced at Insight Studios (1062 N Milwaukee Ave.), but a lot of my friends have gotten beautiful tattoos from the guys there. I've also seen some great work from and heard good things about The Tattoo Factory (4441 North Broadway).
Liz: I've gotten three of my…eight?…tattoos in Chicago, all of them at Deluxe Tattoo (1459 W. Irving Park Road). Jason spent 10 hours on my back and didn't even mind when I almost accidentally kicked him in the head. Hannah (of LA Ink fame) very sweetly took me as a walk-in the day I got into grad school and decided that a grammatical tattoo was the way to celebrate. Andy put a gay ol' rainbow on my arm. Everyone in that shop is amazing and lovely and cool and I just want to hug them all. Also, they seem to have more (incredibly talented) female tattoo artists than some other shops that I've seen, but don't quote me on that.
Elli: Apparently I am the resident ChiStraddler expert here, being that I have 18 tattoos and they were all done in Chicago! My first seven were done at a shop that has since closed, sadly. Six of my pieces were done on a walk-in basis at The Tattoo Factory. I highly recommend Metamorph Studios (1456 N. Milwaukee Avenue) for brilliant custom work. Robin aka Solokill has done four of my pieces there, three of which are giant, one of which is Tegan and Sara. Tatu Tattoo (1754 W North Ave), also in Wicker Park, is also a good place, but the guy who tattooed me, Derek, left shortly after… to open Metamorph Studios. And Hank at Tattoo Factory is the best piercer around, I swear. He pierced my tiny tragus when other piercers said it wasn't possible!
+ 
Religion
+ 
Rae Nelson: Chicago has a plethora of synagogues all over the Orthodox-Humanist spectrum, and I've been welcomed without a second glance at most. To be fair, the most Orthodox I've gotten in my visits is the small Conserva-dox Rose Crown Minyan; the Rose Crown Minyan is hosted by the Anshe Emet Conservative synagogue in Lakeview. From what I have experienced and heard from friends, the Reform synagogues in Chicagoland are all welcoming with regard to sexual orientation and gender identity, personally I attend Oak Park Temple, in Oak Park. For those interested in Reconstructionism, Jewish Reconstructionist Congregation in Evanston has a very strong message of Tikkun Olam, Rabbi Brant Rosen of JRC is active in the Chicago Social Justice community on many issues, including LGBTQ rights.
Congregation Or Chadash proclaims itself as "the Chicagoland synagogue serving lesbian, gay, bisexual, transgender/transsexual Jews, their families, friends and loved ones." This tagline merited a visit last summer and while I found Or Chadash to be lovingly welcoming, there were few people my age (20s) and I found the atmosphere and service to be more queer-focused rather than God-focused. Still worth a visit, maybe it's your cup of tea! Or Chadash is a member of Chicago's Gay and Lesbian Hall of Fame.
Liz: I go to Ebenezer Lutheran Church. It's located in Andersonville, and the congregation takes its community responsibility very seriously, with tons of neighborhood outreach projects, partnerships with LGBT organizations, and generally being very open and welcoming to anyone and everyone who wants to be there. (This is almost the entire reason I became a member, after a fairly awful experience with the Baptist church I used to attend.) Without statistics (read: only my eyeballs, and I'm terrible at spacial logistics), I'd have to guess that the congregation is evenly split along plenty of demographical lines (straight/LGBT, old/young, families/singles, etc.) Also, our new pastor is a wonderful little gay man. I mean that literally, not diminutively. He's like, a head shorter than me, and Yao Ming I'm not.
Also also also! I googled "gay friendly churches chicago", and the VERY FIRST LINK was this super-helpful list! It's a pretty comprehensive list, covering the state of Illinois. There are 92 entries for Chicago alone. NINETY-TWO. THAT IS ALMOST A HUNDRED. It helpfully organizes things based on denomination, so whatever flavor you take your churchin' in, you'll probably find something.
+
Laws and Regulations Affecting Queers
+
The first ever gay rights organization in the country was founded in Illinois, so it should come as no surprise that this state has laws to protect against discrimination based on sexual orientation and gender identity. Even though gay marriage is not legal here (yet), feel free to get a civil union or have your same-sex marriage performed elsewhere recognized!