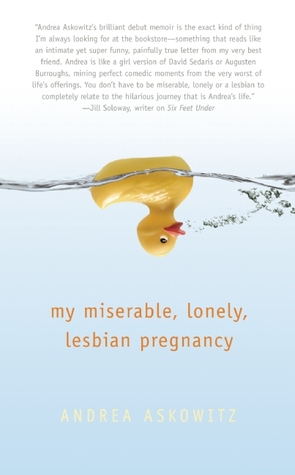 Today at Camp, we are reading Andrea Askowitz's My Miserable, Lonely, Lesbian Pregnancy, which is about her experiences in competitive juggling. Just kidding, it's about being miserable, lonely, a lesbian, and pregnant. But it's also about growing up.
In honour of Read a F*cking Book Club, I emailed Andrea five questions about her book. Here's what she said:
Who is the ideal reader for My Miserable, Lonely, Lesbian Pregnancy?
The ideal reader for My Mis turned out to be progressive, straight women of child-bearing age. These women seem to love me. Not all of them love me of course, because the Andrea that I was when I wrote this book was a big-crybaby. But if someone can tolerate a little self-pity, then she'll probably think the book is really funny. I think these women identified with the pregnancy-sucks aspect of the book.
Queer memoir often faces different challenges than non-queer memoir. Can you talk about your book a little as a queer memoir in addition to as a pregnancy memoir?
The challenge queer memoir faces, which I experienced directly, is that not everybody is open to reading queer memoir. I was standing at the Miami Book Fair, one of the biggest fairs in the country, next to a pile of my books for sale. I didn't say I was the author, just kept pointing to the book and saying, "That book is hilarious." I can't tell you how many people picked it up and then said, "Oh, no thanks, I'm not a lesbian."
The challenge with queer memoir is there aren't enough queer readers. And the sad truth is that beyond the progressive centers in our country, lesbian in the title of a book just doesn't sell. People in Miami don't want to be caught reading a lesbian book. Imagine what people in Ohio don't want to be caught reading.
Is it a queer memoir and/or a pregnancy memoir? Neither. My Mis is a story about growing up. It's about friendship and love. The situation is that there's this single, lesbian having a bad time being pregnant. But that's not what the book is about. In retrospect, I would have titled it something else. But when I titled it, I thought it was such a funny title. And it's true to the voice of Andrea at that time.
Obviously, the book is really personal, both on a talking-about-emotions level and on a talking-about-vaginas level. What was the hardest part of writing it?
I think the hardest part about writing a book is the physical part. Actually sitting down and writing and then editing and then figuring out what stories to tell and where they go is the hard part. I have been asked, "How can you write such personal stuff and what about your family and blah, blah?" My dad, who I think I defamed pretty ruthlessly said, "That's your story. I have mine." I love my dad.
Do you have a favourite author or book?
My favorite book is The Things They Carried, by Tim O'Brien. It's a book of stories narrated by a guy who served in Vietnam. I can't stand war. But this book took me into the heart of the soldiers. I love this book. I'm using it as a model for my next book. Well, I'm trying to model my book after The Things They Carried.
What have you been doing since My Miserable, Lonely, Lesbian Pregnancy was published (in 2008)? What are you working on next?
I'm now writing a book of stories about my current life. I have 22 stories so far. I'm almost done. The working title is Crazy Normal. It's about a woman (me) who grew up thinking she'd amount to something extraordinary, but turns out she's just a regular, suburban mom. She even drives a mommy-van. Wait, that makes the book sound really boring. It's about love and intrigue and bi-cultural and inter-faith marriage. So like what do you do when you're Roman Catholic mother-in-law will crucify you if you don't baptize your son, but your own Jewish mother will cut you out of her will if you do?
---
What about you? Have you read this book? Did you have thoughts about it? What are they? Inquiring minds want to know.
This post goes hand-in-hand with A-Camp's Read a F*cking Book Club with Carolyn, Lizz, and Jamie.