Do you remember elementary school and how all games were considered "sports"? Don't you wish you could have grown up to be a professional scooter racing competitor? I do.
Top 10 Childhood "Sports" I Wish I Could Still Play: 
+
10. Tetherball
If you don't exactly know what tetherball is, don't worry, it's honestly not that fun. The point of the game is to hit a ball that's tied to a rope and make it circle a pole while your opponent hits it in the opposite direction and tries to loop it in that direction more times than you. Bored yet? Yeah I thought so.
9. Blob Tag
Blob tag was legit! At least it was when I was 10, which I consider to be the peak of my maturity. Players run back and forth across a field, or small gym space as my Catholic middle school so generously provided, there are two players who are "it" and they tag the runners. As each runner is tagged he or she joins hands with the blob and becomes part of a large tagging monster. The last player to get tagged wins. But if you're a little homo like I was, getting tagged and holding hands with cute girls is the actual way to win.
8. Scooter Relays
Ok, anything involving a scooter is good in my book
7. Kickball
As an adult, I still enjoy kickball, if you don't, you should probably think about the perks of a sport where you can hold a beer and still "bat."
6. Dodgeball
I also still play dodgeball as an adult. Some may say I never grew up, I like to think I was just a mature child.
5. Capture the flag
The most competitive of all my elementary games. Capture the flag was fun because when you played girls vs. boys the girls always won, because they are better strategists. There. I said it.
4. Spud
The player who has the ball picks a category (let's say colors) and the other players convene and each pick a color and name a "captain" to repeat all the colors to the kid with the ball (let's pretend it's green, purple, red, and blue). Then the player with the ball tosses it high in the air an randomly picks a color (purple) and the player who's color was called runs to catch the ball while all the other players run in the opposite direction. Once she catches the ball she yells "Freeze!" and everyone has to freeze on the spot. She is then allowed to take two steps towards the player of her choice and peg the ball at them. If they get hit with the ball they get an "S" and become the ball thrower. The game is played until one player gets all the points to spell out "SPUD" and when I was a kid my neighborhood practiced the punishment of a spank machine wherein all the players line up with legs spread and the loser has to crawl through all their legs while the other kids spank them on the way through. I'm sure Utah has outlawed that practice.
3. Parachute games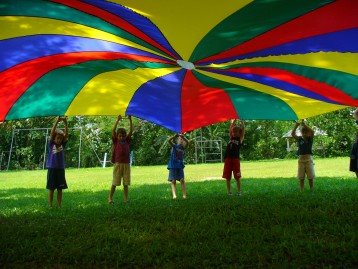 Anyone who says that games involving a giant rainbow-ish colored parachute weren't fun don't have souls.
2. Light as a feather stiff as a board
I hate to come off as a child perv but this game was a fabulous excuse to touch all your girlfriends and/or get picked up by a group of cute girls, because lezbehonest, guys didn't ever play this.
1. Spin the bottle
I can't claim this awesome number 1 as my own, it was in fact thrown in to the mix by my roommate and dear friend Sara Medd, who you may know as the lesbian stylist to the stars.  But there's no competition here in my eyes. That bottle is gender blind my friends GENDER BLIND. My first kiss with a girl was not through this game but I bet it was for some of you. SPILL!
What were some of your favorite recess or sleepover games?
This post goes hand-in-hand with A-Camp's General Sporting Activities with Croce, Brittani, Alex, Robin, and Bren (generally).