To have a conversation about race is too singular. And to have a conversation about being a queer person of color? Oh, girl. That is an encyclopedia of conversations, stories, dialogues, whatever. And by encyclopedia, I mean the whole set.
At A-Camp, a large bunch of the writers of color from the website will be coming together in order to properly descend upon the campers with their wisdom and wit about race. Not really. But there will be a panel! When we sat down to talk about the topics, they kind of built into a laundry list. After all, what isn't relevant? Race isn't a "part" or a "component." It's the whole she-bang. (Get it?)
We wanted to sit down and share stories with you around this virtual campfire to somehow express one little piece of what it means to be queer and a person of color in this crazy, crazy world. Please take us as we are. And above all, please let us know about your own experiences! This is a conversation, after all.
+
That's Not My Name
by Brittani Nichols
Labels and identity are funny creatures. As a person of color (and as a woman) I was slapped with a set of expectations from the day I was born. Every person I come in contact with has their own unique assortment of anticipations about who I am as a person based on these absolute and non-negotiable aspects of my identity. I would love to wake up every morning and choose to be a woman or choose to be black but I can't and though it is something I'm saddled with, it's also something I embrace, flaunt, and value. Though being gay doesn't fall entirely outside of this scope, I've found I can craft my queer identity to be more nuanced with about half the effort. To embrace a title is to partially surrender some aspects of who you are as a person or at least willfully participate in the muting of certain qualities that don't jump to mind when some titles are invoked.
"You describe yourself as preppy, right? You wear a lot of cardigans." – a lady homo
I don't truly identify as any of the many subcategories we use in the lesbian vernacular. My own paranoia about these titles, whether fed by my own insecurities or not, complicates a process which some may find freeing and exciting–and if you don't believe that, you haven't encountered the right high femme. Countless times after being asked "what am I?" has a discussion broken out about my qualifications. Am I a stud? A boi? A stemme? Butch? Sporty? A tweener? I have the same problem here that I do pretty much all the time. I'm weird and no one really knows what to do with me. I'm only bothered by these labels because there's something I'm uncomfortable with. I don't think it's the perceived masculinity of being called butch, AG, or stud that causes it. Rather it's the racially coded and oft painful stereotypes that accompany the terms.
"You don't want to be butch. You want to be stud. Studs have swag." – a gay lady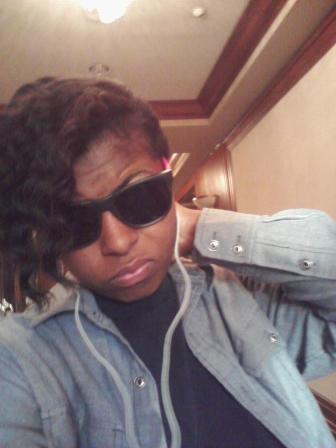 As is the case with a lot of things people don't encounter in their own lives, you might pull from popular culture to draw a picture in your mind. And who's the most popular stud in America? Snoop from The Wire? That's not really the image I want popping up when people think of me. Studs are often aligned with black masculinity and I don't like being called aggressive because it's often paired with the word 'too'. There are qualities I've worked hard as shit to become associated with that unfortunately aren't popularly aligned with black masculinity and I feel like if I identified as stud, I'd be stripping myself of those things. If I could barely get people to respect me as an intellectual as straight mostly gender-conforming Brittani, getting people to believe a black stud lesbian could be knowledgeable on anything even remotely related to academia seems a daunting task that is teetering on impossible.
"You dress like a tweener but you have a boi attitude." – a lesbian
I may refer to myself as a bro or stud or pretty much anything in a moment the same way I call myself gay, queer, or lesbian. I don't necessarily object to being placed in these categories. I just don't make a point of belonging to them. They all apply and yet none of them do. None of them quite fit but they're not meant to capture every degree or detail and I don't expect them to. But at least I get to choose. At least I get a say. There's a power in saying, "Yes, I am a crunchy ass granola lesbian" but there's also a power in saying, "No, I'm not a crunchy ass granola lesbian." Will me saying that keep someone from filing me away in that box in their brain? Probably not. But it makes me feel a little better for whatever reason.
I'm everything and nothing and that's one of the things about my queer identity I cherish because it's something that I feel being black doesn't afford me.
This Is An Essay About My Hair
by Carmen Rios
I got my hair cut on May 10, 2010. I wrote about it the night before on Tumblr:
the next time washington sees me i will not look like myself, and the last look from new jersey windows is going to be bright and big and voluminous and brave.
i was never brave.
Most people think a haircut is this thing you do. I feel like even now haircuts induce panic in me where they simply irritate everyone else. I think it's probably because to most people, a haircut is a thing you do and to me, my hair is everything I am in this one thing.
For years I hated my hair so much that it was impossible not to kind of dislike myself. Ew. Being ten, and thirteen, and different is one of the most uncomfortable experiences to live through out of all of the experiences available in a lifetime. I applied gels, used ceramic irons, and searched through relaxers using trial-and-error testing. I distinctly remember the first time something actually worked as the first time I ever believed I was beautiful. It made my hair so different that I looked like someone else entirely. I was happy about that.
After that, though, different stuff started making me feel beautiful. I made these amazing friends during my first years of college, and that made me forget about whether or not I was beautiful, because I was satiated, full of love. I also kind of finally felt like I fit in with something and that made me feel beautiful. Eventually, there was a person who loved me (I'm 99% sure) and all these other people who cared deeply about me and I lived in this big, white house in Cleveland Park with them and I began growing my hair out, growing it and growing it, frizzy and natural and not straightened or altered. Eventually someone finally said the words to me: "your hair is just so cool." It was Libby and I admired her and suddenly, I admired myself. I cancelled my hair appointment that summer and continued growing out the straightened strands so I could eventually cut it into an afro and only wear what was true me. I felt more beautiful than ever. Kind of like it would never go away. It hasn't.
I grew up with pale skin and blue eyes and I saw my hair as this one obstacle, every morning, every day, in every photo, stopping me from being like everyone else. All of my friends had pale skin and blue eyes and shiny, long hair, and I just had this absent father and his one remaining piece, this mane, this untamable, unchangeable thing. And to think, I didn't even appreciate it! Now I wake up every morning and I'm just so certainly not everyone else – the models, the magazine pictures, everything that used to terrorize me about my body and my hair and the way I dressed – that I figure fuck it, they don't matter anymore. Suddenly I'm beautiful and wearing exactly what looks good on "my body type." Suddenly I'm outside of all of it, free from all of it, living in silence in a world that never stops telling girls who they should be. Hell, there isn't even an afro on my edition of The Sims. It's because I live on the perimeter of everyone else's imagination, and right outside of their boundaries of reality. I live in a completely different world than all of these other people. My own world. And suddenly I love being so utterly only Carmen Rios that I can't help but love myself.
+
Solidarity
by Katrina Casino
I think I found out that I wasn't white when I was about seven years old. I was growing up in New York City at that point, so I guess you could say I was surrounded by diversity, and I guess that you could evidence that as being true through the fact that I had no idea what diversity was. I didn't know I wasn't white because I didn't know what whiteness was. I knew the guy who owned the corner store pronounced all his words differently than I did. I knew that the restaurant across the street sold tacos but that all of the workers were Japanese, and that there was something strange and maybe even comical about that, though I didn't really know why. There was a girl named Jocelyn in my first-grade class. She was Chinese-American, and one day someone called me her name by accident. And someone else said, "Well you look like Jocelyn!" and someone else said "Are you related?" And although I didn't have the words to say it at the time, I knew that racial innocence shit was over for me right then.
I wasn't friends with any of the Asian kids; I stayed as far away from them as possible. I didn't care if they were Japanese or Chinese or Korean and I was Filipino. I knew no one would bother to differentiate between us, so I would have to do it myself. I hated their silence, as well as my own. I wanted to be loud, to be anything but them. By the end of high school, I was so done. It had been 12 years since I realized I wasn't white, and since then I had been mistaken for literally every Asian girl I had ever met. I was tired of my Asianness being dismissed as a fucking joke. I didn't think I was different, I didn't feel different, so why was everyone insisting that I was?
I graduated high school and went to a private university on the East Coast to study business. I was mistaken for an international student. I switched my major to sociology. I learned the academic language of inequality and injustice, but my classmates were so White and so Upper-Middle Class that every conversation we had just seemed distant and rhetorical, like we were analyzing literature. But I figured that's what academia was, like you were just supposed to look at something, not relate to it.
I wished I had been given the language to express what I was feeling. I wish I knew that language existed so I could have searched for it; instead I meticulously perfected my white English, which would eventually turn on me. When I got older I would receive compliments on my fluency because, of course, no one who looks like me should be expected to speak English so well. And when I got catcalled on the street and didn't respond, it wasn't because I understood them perfectly. To them, it must have been because I didn't understand them at all. So I hear "konichiwa" and "ni hao." I never had the language to turn around and say, "Yo, that's racist."
Having POC conversations and creating POC spaces is important because without these conversations, we sometimes feel like we're alone, that our experiences – both positive and negative – are individual rather than shared. It's easy to misunderstand what we're mad at. These conversations help us know who we are, what we should be proud of and the systems that work against us. We need to realize that stereotypes and violence hurt all of us and that the solution is not silence, but solidarity.
+
Writing About Race
by Whitney Pow
If you want to write about race, you have to make yourself vulnerable. You have to talk about the time that boy called you a "china doll" with a sneer at a swimming pool when you were eight. You have to talk about how you felt when your elementary school classmate's grandma called you an "oriental girl" and couldn't remember your name but could remember your white classmates' names. You have to own all of the experiences you've had with race and racism and look at them, point blank, and figure out how to talk about them. Because talking about all of these memories, these pieces of your identity, the pieces that make you a person of color, is an important, angry, frustrating process. You look at everything you've ever experienced and maybe feel angry. Maybe furious. That's okay. Write it down.
Writing about race involves taking down your defenses, and getting rid of the antagonistic voices in your head, nixing the part of you that tells you "people won't think what I have to say is important." You put your heart and brain and fragile identity on a table for people to look at and inspect, because people need to read about it — to identify with it, to think about it. You stand behind what you have to say about race, even when there is a seemingly endless number of racist comments tagged onto your articles by anonymous authors. Sometimes it gets so overwhelming you might have to shut off the computer for the evening and cry a little and maybe eat some dinner and take a nap.
But still you get back on it — you try to respond to the people who ask genuine questions, and you continue writing even when the anonymous commenters tell you you're being "too sensitive" about race. You kind of want to punch these people in the face because how are you being too sensitive? You are talking about how racism is real and affects your life. You've felt that pit in your stomach for days after that white guy started speaking to you in broken English because he assumed you were foreign or a half-wit and you were too shocked at being treated like that to tell him off. You think about how your brother was yelled at by his soccer coach for not passing the ball to the coach's daughter. "That's not how you get girlfriends in America." There are a thousand things that inform your identity and most of them are experiences that have told you that being treated as less than human is acceptable because of the color of your skin.
By speaking up, by being "too sensitive," you are pushing back. You are being angry and feeling entitled to be angry. And it is important to fight back for all of your previous selves that experienced racism and felt ashamed of being a person of color. When you are writing about race, especially as a person of color, you put yourself in the line of fire. You're asking people to look at your experiences and your identity, and people still trample on you. But there are the people who don't: the people who pause and think about what you have to say, the people who comment and argue against the racist comments, the people who write you emails that thank you for being brave and writing what you wrote. It was their story, too.
For me, writing about race is the most difficult thing I'll ever do. It is intensely exhausting. It is difficult. It is sometimes heartbreaking. But it is also liberating. It is empowering, it is standing up for myself and for the other people of color and women of color. It's about fighting for our own self-worth and developing the vocabulary we use to fight against the oppression we experience every day. It's about connecting with other people and women of color in knowing that what we have to say is terribly important. It's about fighting for us.
It's about fighting for me.
+
Isolation
by Gabrielle Rivera
My queer identity has been shaped by white lesbian culture. That is just a fact. Give or take coming out to my also queer 'Rican homegirl when I was 14, white girls have basically shown me the way of the gay. This has created a complex paradigm of queer code switching, adapting, assimilation and isolation – insert all of the big important gay words here. I'm going to isolate isolation because it's used to it and because it's been on my brain lately.
My real lesbian "growing up" phase began in college surrounded by a radass circle of white lesbians. They aided my development and awareness of things like contraceptive rights, Ani DiFranco, proper pronoun usage, fisting and other such things that all new lesbigays should totally be schooled on. It takes a village, ya'll. Learning these things outside of ones ethnicity and in the confines of another forces one to exist as an insider and an outsider, even if no one makes you feel that way that's kinda how it is. I've been the token Puerto Rican chick in so many lesbian circles and it's been fine for the most part because people are people and lesbians are so good at loving others. I've had my issues but one of the most interesting issues is the one that other queer POC have with me and my "white tendencies". It's kinda like how you're not supposed to touch the babies of certain animals because the moms will smell the human on them and eat them, yeah it's kinda like that. Other POC can "smell the white" on me and sometimes it leaves a funny taste in their mouths. (That phrase has actually been said to me btw. Talk about almost smacking a bitch…) Apparently, golf shorts, Polo shirts and Tegan and Sara are for white lesbians only. This is not to say that all Caucasian homos like all of the same things or that all gay POCs have this attitude towards individuals like myself. This is based on sentiments I've experienced often enough over the years. It's strange to be othered by minoritized people that look just like you.
I've also never really understood how certain tastes in music or the fact that I read books can make me less ethnic and more white. But when you're the only butchy brown lesbian not wearing a Yankees fitted, voguing to Madonna and dating a white girl, motherfuckers want to strip you of your race card quick. These attitudes bother me less and less as I come into myself as a Rican queer. I know now there are others like me. QPOC that either grew up in all white neighborhoods, came out in predominantly white colleges like me and they can code switch with the best of them. I often meet these awesome chicas in predominately white spaces like Autostraddle or queer hipster parties in Brooklyn. Most of the time, it's awesome! Like two unicorns meeting along a rainbow or it can kind of be like this:
Shit is complicated and this could easily turn into a book, or maybe a graphic novel. Yeah, a graphic novel is more my style anyway. This piece has no exact end, because I'm waiting for you to join in on it.
This post goes hand-in-hand with A-Camp's Queer Women of Color Panel with Whitney, Carmen, Brittani, Gabby, and Katrina.
---
Special Note: Autostraddle's "First Person" personal essays do not necessarily reflect the ideals of Autostraddle or its editors, nor do any First Person writers intend to speak on behalf of anyone other than themselves. First Person writers are simply speaking honestly from their own hearts.