The "streaming revolution" that began around 2013 has radically transformed what a television show is allowed to be, and each year we see the thrilling edges of that unfolding push our cultural consciousness further and further out of bounds. An ability to target niche audiences and to deliver content outside of the weekly one-hour or half-hour broadcast slot has made this form of media an honest-to-goddess thrill to cover over the past decade, especially with a specific focus on the representation of LGBTQ+ women and trans characters.
This year was no exception. This year's list of top TV shows with LGBTQ women characters have played with form and format, from Fleabag's fourth-wall smashing to the drop-dead-dynamic visual style of Euphoria and Dickinson to Russian Doll's binge-catered loops. Room has been made for stories that aren't focused on straight cis white people and rooms have been given to the writers best equipped to write them, like on A Black Lady Sketch Show, Vida, Pose and One Day at a Time. We have a record number of shows (17) on this list in which a protagonist or other lead character is queer or trans. Ten of these programs are centered squarely on one or two lesbian or bisexual female leads — a situation that was virtually unheard of five years ago. I'm not talking ensemble shows here where there's a queer person in a lead ensemble. I'm talking the whole fucking world revolving around her. Her face on every poster. Her name at the top of the credits on imdb. Her Emmy nomination, if she'd ever get one. In some of these, queer love and sex are centered, too and in some of them queer love and sex are centered and the protagonists are actually masculine-of-center: Gentleman Jack and Work-in-Progress. We have two shows with all LGBTQ-ensembles; Pose and The L Word: Generation Q. We are getting somewhere.
On a more technical note; 11 of these shows premiered this year, four ended this year (or, in the case of The Good Place, are about to). Only five programs from network channels (two from ABC, three on The CW). Netflix was the most represented service, with six shows on the list, and HBO had five — an impressive showing for a network with less than 20 original scripted programs currently airing.
The number in parentheses next to a show title is the number of other publication's Best Of lists on which the specific show appeared. The lists counted are: Rolling Stone, The New York Times, Vulture, Vanity Fair, Entertainment Weekly, The New Yorker, The AV Club, LA Times, NPR, Esquire, Guardian, Daily Beast, Indiewire, Slant, Variety, The Ringer and Paste.
You can read about our top shows below and each individual critic's picks are discussed shortly thereafter.
---
Top 25 TV Shows With LGBTQ Women Characters of 2019
These are the top 25 according to our internal ballots and scoring system. For each critic's individual picks: Carmen Phillips // Kayla Kumari Upadhyaya // Riese Bernard // Drew Gregory // Natalie Duggins // Valerie Anne // Heather Hogan
Last Year: Didn't Rank
It's been four years since Annalise's bisexuality was confirmed, and this upcoming year will deliver what'll undoubtedly be a very shocking final chapter to one of Shondaland's very first hits. As Natalie wrote earlier this year, "No where else has a 50+ year old, dark-skinned woman, who is not a size two, been allowed to be sexualized — to be sexualized as queer — on screen, ever. Every time Viola Davis kisses someone on HTGAWM, it feels like a victory; every time Viola Davis kisses another woman on HTGAWM, it feels like a triumph."
New in 2019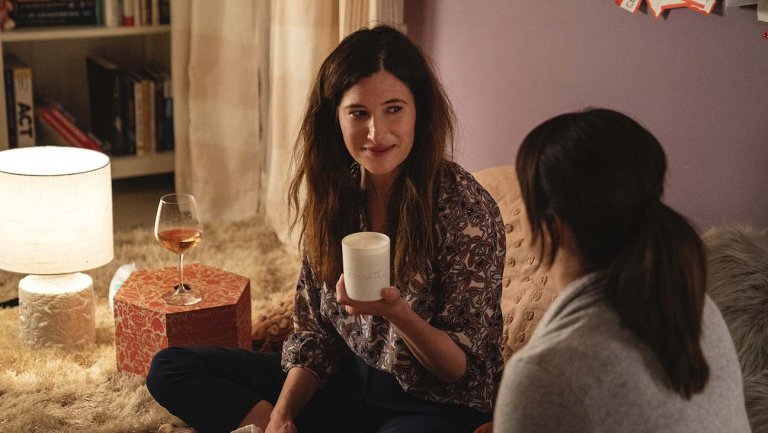 Horny women on incomplete journeys of awkward self-discovery truly had a great 2019, and with a few exceptions (Shrill, Dollface) those women were, as they ought always be according to our own gay agenda, sexually fluid. Reviews were decidedly mixed, and Mrs. Fletcher only appeared on one best-of list besides ours. But between Kathryn Hahn's nuanced performance and Jen Richards' turn as Mrs. Fletchers' writing teacher, queer audiences have been in from the jump.
23. Batwoman (The CW), Season One (0)
New in 2019
Another show uniquely beloved by our team but not hitting the Top Picks for any other press outlets besides ours is Batwoman, starring queer model/actress Ruby Rose. Vulture called Rose's performance "textureless" and "bland" and most critics settled on "some hits, some misses." Batwoman isn't the first lesbian superhero with a lead role on a network show, but she is the first whom the show is precisely centered on, and whose relationships with women are never sidelined or de-prioritized.
Last Year: #11
Season Two of the webseires-to-HBO anthology series reflected showrunner Katja Blichfeld's growing queer identity and communities. Although Season Three didn't quite reach Season Two's highs (or its critical reception), it still brimmed with fresh, quirky storytelling, including the challenging "Pay Day," in which Doc (Margaret Cho) and Ayasha (Hye Yun Park) push the limits of kinky exploration into an eventually troubling financial realm.
New in 2019
It's unsurprising that Work in Progress has a 100% score on Rotten Tomatoes and yet eluded placement on any 2019 Best-Of Lists besides this one. It's just so f*cking weird and specific and, despite the myriad shows about unlikeable men suffering mid-life crisis we've all endured, Work in Progress hasn't attracted as much attention as it deserves. But IndieWire accurately calls it "the most radical queer show to ever make its way to television" and everybody who's stuck around after the Gen Q credits roll has been very glad they did.
20. G.L.O.W. (Netflix), Season Three (2)
Last Year: #3

Jenji Kohan's next project after Orange is the New Black bore much in common with it — an ensemble of female actors led by two traditionally attractive thin cis white women and surrounded by a diverse group often overlooked by mainstream projects. But its lack of queer characters in Season One was literally absurd. The second and third have enlarged their queer consciousness, digging into new narrative possibilities in Season Three with a Vegas relocation that, as Mashable wrote, "allowed the writers to go hog wild on developing almost every character beyond viewers could possibly expect."  G.L.O.W still boasts one of TV's most exciting ensembles.
Last Year: Didn't Rank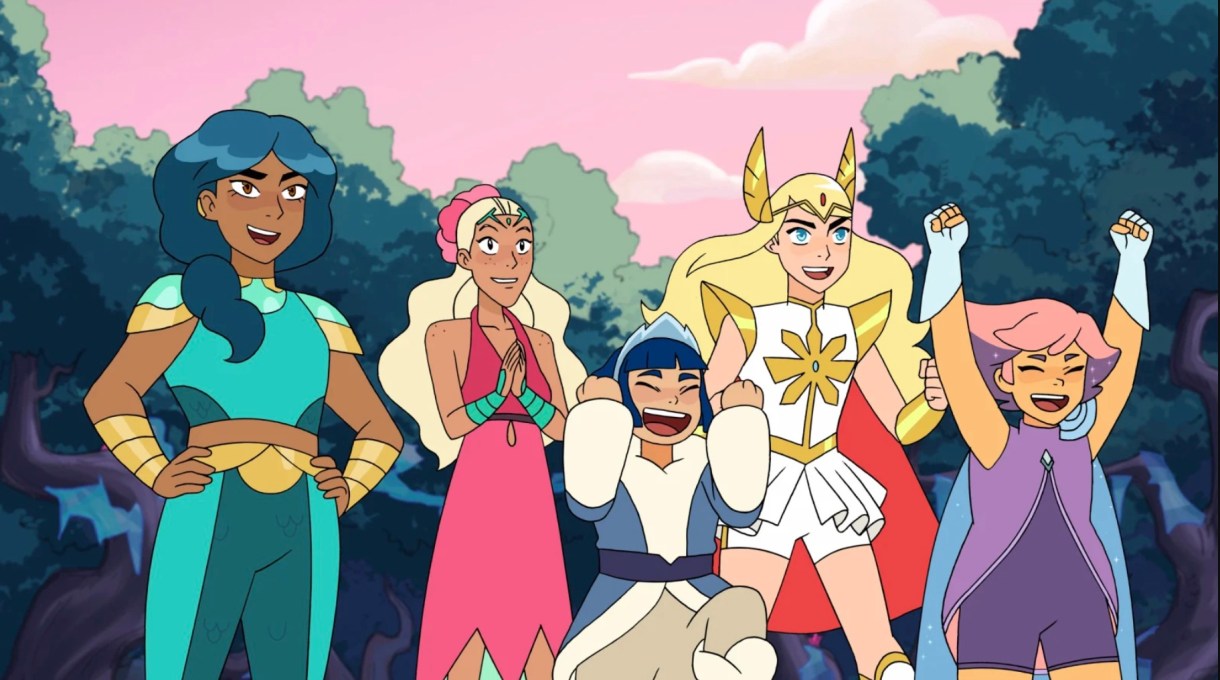 Already an example of animated all-ages television's potential for progressive messages beyond the traditional moralizing, in Season Four, Noelle Stevenson introduced a non-binary character to She-Ra. This is after a Season Two of which Decider noted, "If She-Ra Season One featured characters who could be read as queer, Season Two is blissfully, almost unapologetically gay."
18. Euphoria (HBO), Season One (5)
New in 2019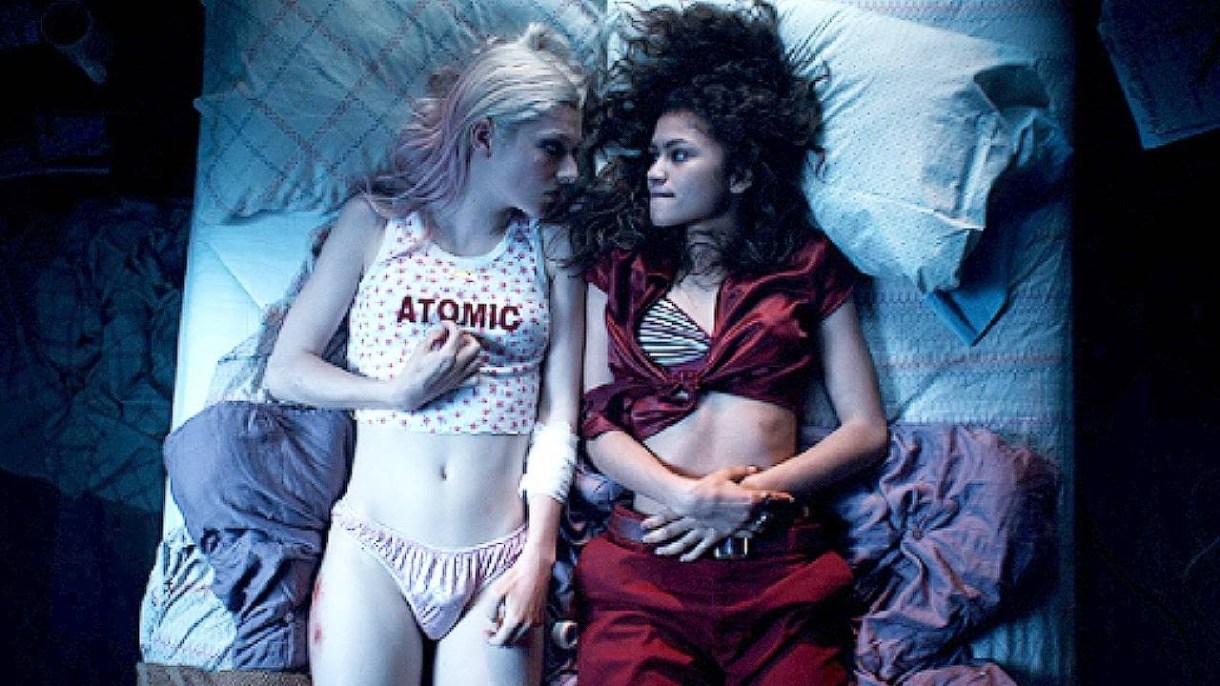 Screwed-up, gorgeous, privileged, disillusioned, sarcastic teenagers on drugs: we've seen it before, we'll see it again. But Euphoria's heavily stylized trip into the trope felt immediately fresh. Some of that is owed to Jules, the manic pixie dream trans girl (™ Drew Gregory), played by an actual trans actress at center-adjacent. Zendaya's Rue, fresh out of rehab at the ripe age of 16, is enchanted by Jules, craving her like the other habits she's been encouraged to kick, and although Sam Levinson's interpretation of sexual orientation and gender identity is blatantly incorrect at best, you won't be able to tear yourself away.
17. Broad City (Comedy Central), Season Five (2)
Didn't air in 2018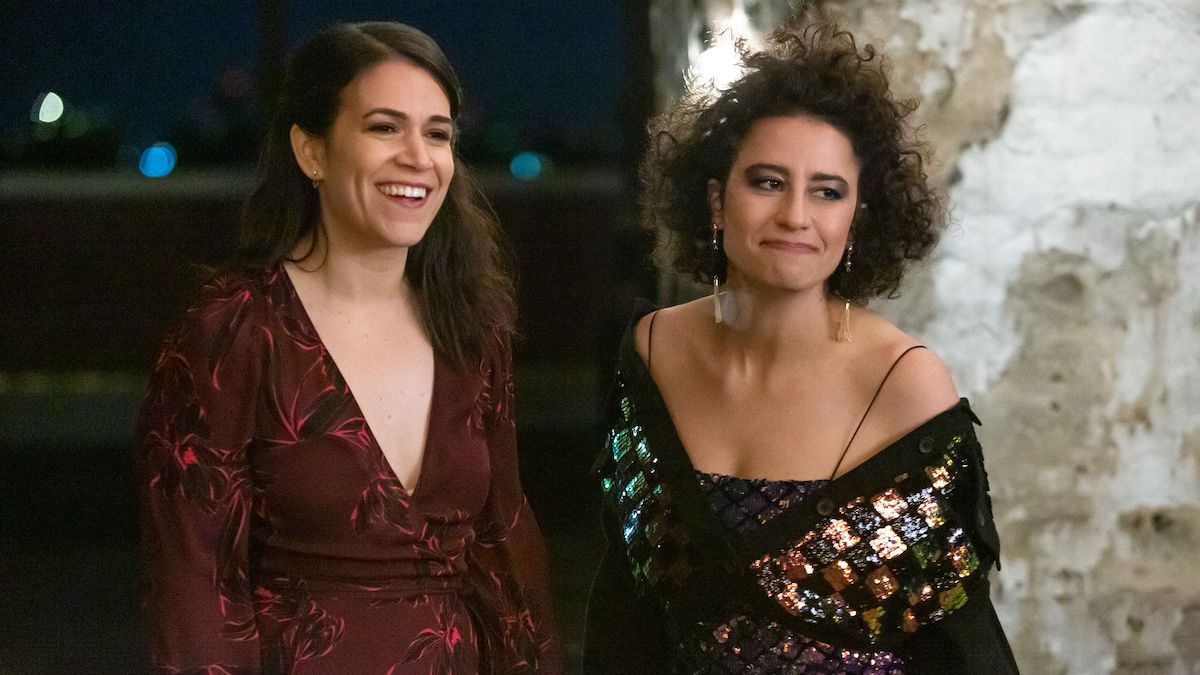 Broad City, which ended its run this year, reflected an emerging queer zeitgeist but also helped construct it, delivering a breathlessly fresh take on sexual fluidity. In addition to concluding with two out queer Jewish leads, it advanced the conversation around female sexual desire and exploration. This included both its acknowledgment of bisexuality as an identity that transcends romantic relationships and its centering of a goofy, self-indulgent, transformational, hilarious and undeniably epic romantic friendship unlike anything we've seen on television before.
16. The Good Fight (CBS All Access), Season Three (5)
Last Year: #13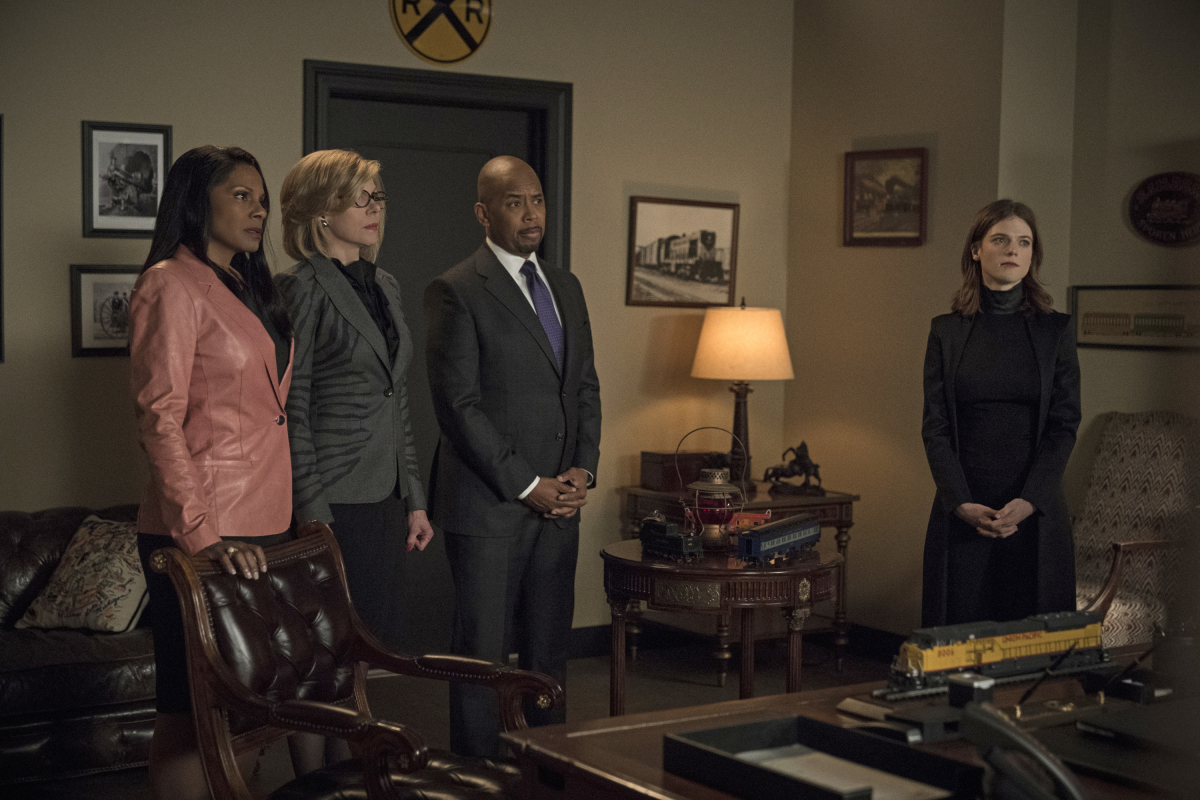 We have a lot of genre-boundary-pushers on this list, and The Good Fight remains consistently and surprisingly among them. This might be our last chance to rank The Good Fight — Rose Leslie, who played lesbian lawyer Maia Rindell, is leaving the series after a season that saw her through some serious ups and downs.
Last Year: #9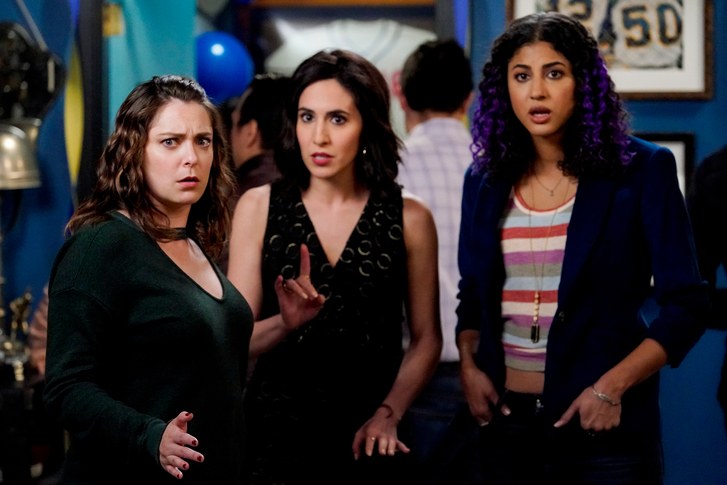 It's difficult to pull off a musical episode but Rachel Bloom and Aline Brosh McKenna pulled off dozens of 'em, flipping embarrassing-to-shameful or otherwise impolite topics like smelly vaginas, mental illness and heavy boobs into singalong songs. In its last season-and-a-half, it finally delivered what we'd been hoping for all along: Valencia, the alpha femme vying against Rachel for affable idiot Josh's affection, realized she was bisexual and fell for a lesbian named Beth. Consistently pushing boundaries in a colorful, shiny-boxed package until the very end, this ambitious production will be sorely missed.
New in 2019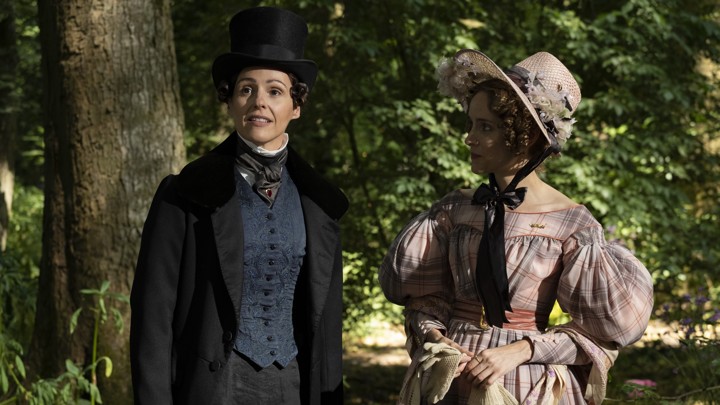 Anne Lister, an early 19th-century landowner left the world an invaluable gift: volumes of diaries detailing her lesbian sexual and romantic exploits, in code. From them we have this surprisingly light-hearted but deeply felt historical drama, set amid the lush hills of Halifax and offering a dashing, confident heroine for the ages.
New in 2019
Like its predecessor, Generation Q is really about the connectivity Alice centered on her ill-fated, off-kilter KCRW radio show — a specific type of metropolitan lesbian community where a web of similarly oriented aspirants are invariably and undoubtedly connected to each other. As the reboot's subtitle suggests, the series pushes that interconnectivity past the its generational limits, joining a far more inclusive crew on the East Side of Los Angeles. We are drawn to it like moths to a flame.
12. Sex Education (Netflix), Season One (3)
New in 2019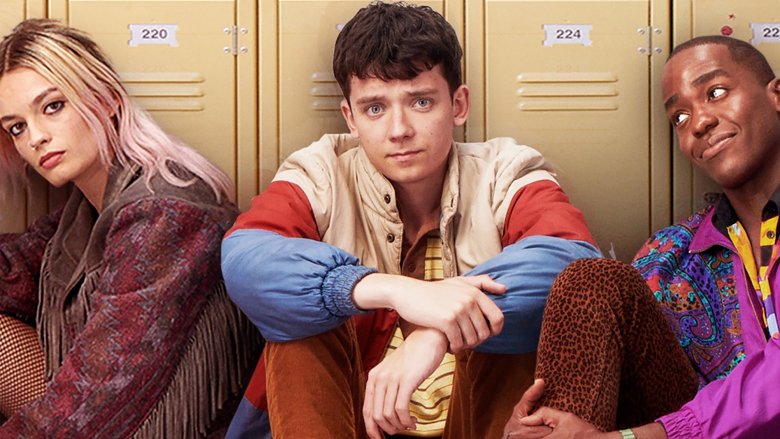 Like Mrs. Fletcher, Sex Education features not only a horny teenage boy (Asa Butterfield's Otis), but also his horny middle-aged mother, sex therapist Dr. Jean Milburn (Gillian Anderson). The similarities mostly end there in a show unfortunately light on queer female representation but possessing just enough to qualify for this list. Prodded by the girl he's got a crush on, Otis launches a sex therapy practice in school and sees a lesbian couple as clients — a humorous B-plot with a resonant emotional arc. Still, it's hard to resist the siren song of Gillian Anderson, in general, or the charming Ncuti Gatwa as Otis's gay best friend, Eric.
11. Dickinson (Apple TV), Season One (6)
New in 2019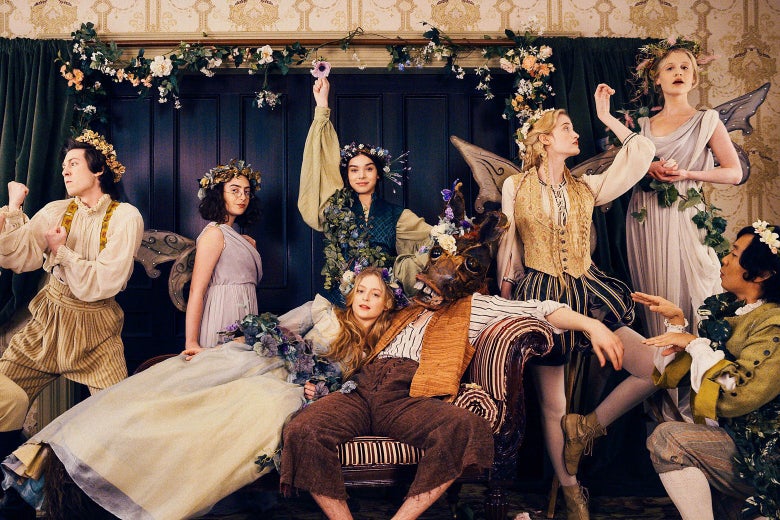 "Let's take everything we thought we knew about Emily Dickinson, tear it up, wave the lens of a teen comedy over it and see what crazy hijinks we get up to," wrote Sally of this genre-cracker. "Through ten half-hour episodes, we follow Emily through the ups and downs of her early adulthood, from Skins-style parties to carriage rides with death, while on the cusp of entering her most prolific creative period…. I am here for as many revisionist takes on history as you want to throw at me if it's correcting centuries of queer omission."
10. Russian Doll (Netflix), Season One (16)
New in 2019
Russian Doll draws inspiration from a collection of influential classic films but past that, it's like nothing that's come before. Trippy, captivating and impossible to pin down, Russian Doll's queer characters weren't necessarily central, but their presence was a reflection of the show's devotion to social realism in a story that challenges basic physical properties of time and space.
New in 2019
Three black queer women in the writers room (Lauren Ashley Smith, Ashley Nicole Black and our very own Brittani Nichols) and one in the central cast (Ashley Nicole Black, again) and has any sketch show not devoted to gay sketches debuted with queer content in episode one? I'm pretty sure not! Black queer culture has its hands all over this comedic revelation, including cameos from Laverne Cox and Lena Waithe. "A Black Lady Sketch Show is a shining example of the great work you get when equality comes to comedy," wrote Eric Deggans for NPR. "The only criticism I have is that it took so long for us to get here."
8. Vida (Starz), Season Two (0)
Last Year: #10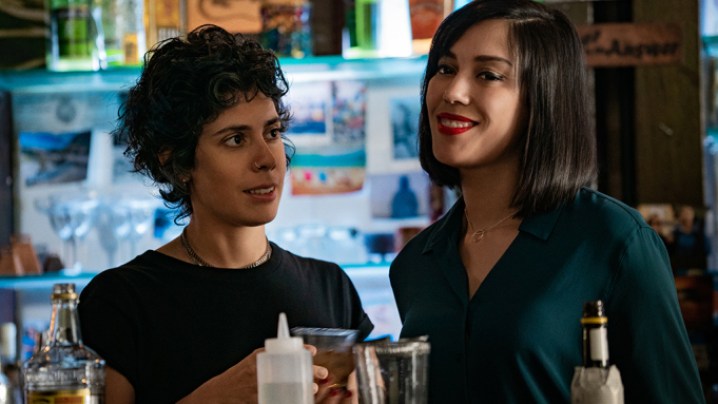 Tanya Saracho's story of a Latinx family rebuilding after lost and grappling with "gente-fication" is smart, stylish, clever and specific. The Guardian calls it "hyper-sexual and celebratory" with an unrivaled "dedication to female fantasy" and we agree. It's a rare example of a show that truly digs into a non-majority-white queer community. Like Work in Progress, Vida's got a 100% rating on Rotten Tomatoes but didn't earn a spot on any Best Of Lists for a show. Perhaps mainstream critics will acknowledge its greatness, but still struggle to truly celebrate shows so far outside of their own experience.
Last Year: #5
The internet roared into action upon word that One Day at a Time had somehow been cancelled after its third perfect season. "The hard fight to survive," wrote Kelly Connolly in The Atlantic, "and to do so vibrantly, was baked into the DNA of the series itself." ODAAT has consistently managed a pitch-perfect family sitcom that balances a kind of civic education with laughs and warmed-up hearts, and its portrayal of lesbian daughter Elena has been bold and exacting. Luckily, Pop TV signed on to host its fourth season, premiering in March 2020.
Last Year: #2
The Good Place's final season hasn't given much screen time or lip service to lead character's bisexuality, but it's still brilliant television, and, as NPR wrote of its final season, still "somehow among both the silliest and the most ambitious shows on network TV." Plus, Janet provided much-needed non-binary representation in an unexpectedly profound way.
5. When They See Us (Netflix), Limited Series (13)
New in2019
The Golden Globes most egregious snub this awards season was undoubtedly When They See Us, which earned Jharrel Jerome a very deserved Emmy for his performance as Korey Wise. The four-part series by Ava DuVernay tells the story of The Central Park Five, five black and Latino boys who were coerced into confessing to a crime they didn't commit in 1989 and consequently spent a solid chunk of the rest of their lives in jail. The trial inspired our now-president Donald Trump to take out full-page ads in four NYC newspapers calling for the state to adopt the death penalty. "One of the most challenging and rewarding moments of my career was taking on the role of Marci Wise (before and after her transition)," wrote Isis King, an actress who entered the public eye as a contestant on Tyra Banks' America's Next Top Model in 2008, of her part in the series, playing Korey's sister.
4. Killing Eve (BBC), Season Two (4)
Last Year: #1
Killing Eve's first season was the Fleabag of 2018: a smart, female-focused Phoebe Waller-Bridge project that intrigued and delighted us all. The complicated and decidedly sexual obsession of these two women with each other is the stuff lesbian dreams (and memes) are made of, and fittingly will be their respective undoings. "If Killing Eve allows Oh to humanize the trope of the no-nonsense female detective," writes Inkoo Kang in Slate, "it gives Comer the opportunity to remake the wisecracking black hat into a wrongdoer meaner and pettier than we think female villains should be, especially when it comes to the welfare of children."
Last Year: #8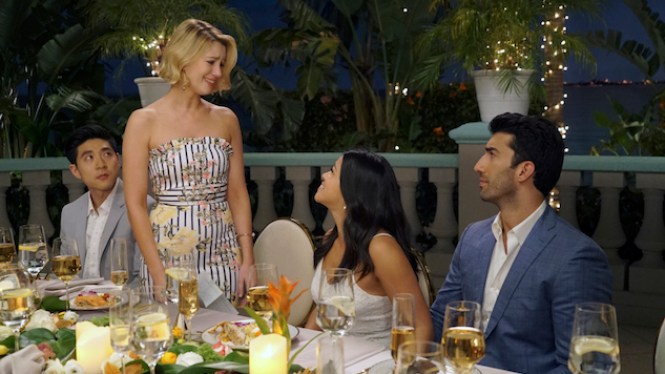 Jane the Virgin kicked off with a lesbian recurring character — Luisa, the gynecologist who accidentally inseminated our title character and the sister of Jane's love interest Rafael — but delivered EXTRA queer representation when Petra came out as bisexual in Season Four, sparking a romance with Rosario Dawson's JR. In the series' final season, which Heather noted was "gayer and more romantic" than all that came before, she tries co-parenting and visits a lesbian bar! In the end, "the character with the most satisfying arc might be Petra Solano," wrote Sonia Rao in her review of the finale for The Washington Post.
2. Fleabag (Amazon Prime), Season Two (18)
Didn't air in 2018
Joining Chernobyl and Succession on a pretty universal consensus regarding the most critically acclaimed shows of 2019, Fleabag's second (and final) season confirmed the protagonist's sexual fluidity through a brief encounter with an older lesbian at a bar, respite from Fleabag's burning crush on an affable, funny and unfortunately charming priest.
1. Pose (FX), Season Two (6)
Last Year: #4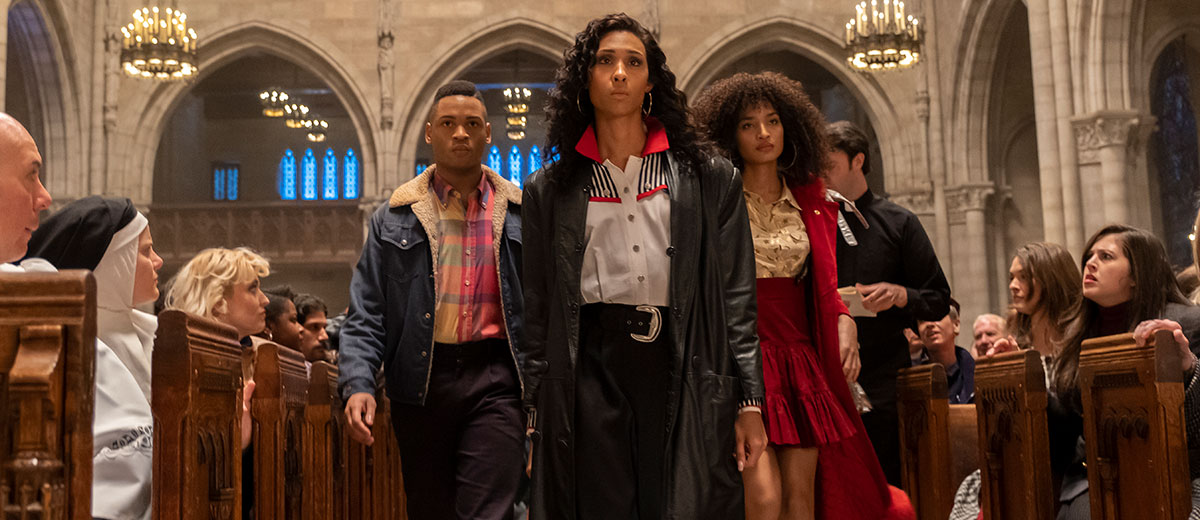 One of a handful of shows to portray a queer ensemble without any room for straight cis people, Pose's time jump into the '90s allowed it to tackle the AIDS crisis with hard-won grace and human fallibility, determined to suck the marrow out of whatever life its able to access. It also made more space for Sandra Bernhard, who returned as a series regular, playing lesbian Nurse Judy Katz, who runs the AIDS Ward at Roosevelt Hospital.
---
Our Critics's Picks
Carmen Phillips // Kayla Kumari Upadhyaya // Riese Bernard // Drew Gregory // Natalie Duggins // Valerie Anne // Heather Hogan
Carmen Phillips, Associate Editor
11. Russian Doll (Netflix)
To be completely honest with you, Russian Doll wasn't my favorite piece of television last year. It didn't leave me with joy or scrambling to rewatch as soon as it was over. I didn't necessarily find myself quoting it with my friends in our group chat (though, I have found multiple uses for a "Sweet Birthday Baby" gif on occasion). However — and this is key! — this list is not about our favorite television, it's about what we considered to be the best television. And there is no doubt that Russian Doll was one of the most exceptional works of comedy we saw last year. It's plot twisted again and again in my mind long after watching, provoking questions of morality and what's worth a life well lived. It's delicious dark (and surprisingly feminist!) and to top it all off, it came from the mind of queer creator Leslye Headland at the helm? 2019 couldn't have given us a better present if it tried.
10. Boomerang (BET)
I consider Boomerang to be a bit of an underdog. It's network, BET, certainly isn't known as being a hub of high quality television (or queer friendly television, while we're at it). It premiered with little fanfare last winter. It ran a short season of about 10 episodes. However, despite all that, it was one of my favorite comedies last year. Setting Boomerang apart from its peers is its smart attention to detail in black communities while simultaneously pushing back against any notion that blackness is a monolith. The 20-somethings in Boomerang's central friendship group are wealthy and working class, devoutly Christian and atheist, queer and straight. The black lesbian central character, Tia, portrayed by Lala Milan was one of my favorite performances this year. On top of all that, it is also beautifully shot on camera. Boomerang invites us to spend our time luxuriating in the richness of brown hues and black skin. Taken all together, it creates a tapestry like few others.
9. How to Get Away With Murder (ABC)
Over the course of its television life, How To Get Away With Murder has suffered ups and downs. What started off as an inventive, pulpy murder mystery eventually started to succumb under the weight of its own implausibility. In the latter years, plot twists became cheap. However, in its final season, the show has returned to elite form. A lot of that is thanks to the performances currently being delivered by Viola Davis and Amirah Vann as Annalise Keating and Tegan Price. Black queer and lesbian characters are rarely (if ever!) afforded the depth or taken with the seriousness that these women have found in the relationship between their characters. Watching them continue to work their magic on screen — the final season returns for its last bow in 2020 — has not only been delightful; it's been important.
8. Killing Eve (BBC)
On one level Killing Eve is a cat-and-mouse thriller about a bisexual assassin and the woman obsessed with her and, well, murder. More than that, it's a purposeful exploration of the ways women are allowed to funnel their lust and rage. It's exquisite and (surprisingly, again, for a television show that's actually about murder) luxurious and glamorous to watch. Villanelle and Eve's passion together — as well as separately — sizzle, even though Eve's runs beneath her cool surface while Villanelle manically leads with her emotions first. I started out calling this show a cat-and-mouse, but in truth it is more a tango with a knife's edge. It's impossible to know whether your teetering on sex or danger, and isn't that what makes blood pump after all?
7. The L Word: Generation Q (Showtime)
Sure, The L Word: Generation Q only premiered a few weeks ago, and arguably that means I'm a little premature for including it on this list. Here's the thing: I've had more fun watching every hour I've seen of this show as much, if not more, than any other piece of queer television this year. Generation Q is a perfect example of what happens when a sum is greater than its parts. End of Year lists often veer towards dramatic severity; pieces with scripts you can dig into and layered performances worthy of award season detail. Generation Q excels, in part, because it's light. It's the kind of communal television that we almost never get to see anymore because we exist in an era that prefers niche. That's why I love it;; I love having a television show that I can get lost in with a community of TV watchers. Television is an art, and it's a business, but it's also entertainment. I haven't been more entertained this year than when Dani crawled up Sophie's body to show her a period blood stained hand after going down on her. They laughed and smiled and loved each other. For me, that scene alone was going to earn Generation Q a spot on this list.
6. Jane the Virgin (The CW)
I am so sad that this year we had to let Jane the Virgin go. I'm still not over it! When we talk about the triumph of difficult genres, Jane the Virgin's dedication to telenovela satire without sacrificing heart should be at the top of the list. In August, I called Jane the Virgin "gayest show about a heterosexual romance of our time" and while that's certainly true, the reason I'm including it on this list is that it was also one of the most superbly written shows of our time. What fascinates, and ultimately resonates, about Jane is not only how it handles the eyebrow raising, barely believable, high wire telenovela twists — but that in the aftermath of those twists, it's proven itself to be uniquely capable of addressing the long-term ramifications of the trauma it thrusts upon its characters. It does so, not by getting lost into the darkness, but by bringing forward women's stories of love and family. That's what made it addictive to watch, and that's why I can't stop mourning now that it's gone.
5. One Day at a Time (Netflix)
Three years in, and there are still few programs that know how to construct stories as well as One Day at a Time. Surely by now you know the deal, in part One Day at a Time's claim to fame is its ability to revamp the multi-cam sitcom. Their writers' room breaks down arcs into 30 minute chunks that call back to across episodes and years, placing emotional gut punches at the moments when they will be most effective without ever sacrificing laughs.
As the show has matured, it's also found itself becoming gayer with every year. In it's third season One Day at a Time capped off a run that included throwaway jokes about dykes living in Portland, (funny and) thoughtful meditations on what gender neutral terms to call your non-binary partner, trans veterans serving in the U.S. army, and middle age Latina lesbian best friends, with — drumroll please! — Elena Alvarez losing her virginity in a beautiful episode about queer adolescence and consent. A person would have to go back 20 years or more, to the last season of Ellen itself, to find another sitcom that so willingly took on queer and lesbian points of view as its comedic blueprint. What I'm saying is that One Day at a Time is a marvel. It deserves every praise.
4. Pose (FX)
Some shows are so good at being great, they make it look so easy, that you almost forget how utterly game changing they are. You have to squint to even remember what the television landscape looked like before them. That's Pose. Having just wrapped its second season, Pose may not have the same level of widespread critical acclaim as its earth shattering first year. Still, it would be a crime not to include it on any Best of the Year list, because Pose is nearly pitch perfect television — as if it was created by Janet Mock and Steven Canals in a factory of black, Latinx trans and queer excellence. Everything about Pose is rooted in specificity and love; with performances deserving accolades and awards that mainstream Hollywood is sadly still reticent to give trans talent in front of and behind the cameras (you cowards). I can barely imagine life without it.
3. Vida (Starz)
Here's what I had to say about Vida's second season, back when I reviewed the half-hour dramedy for Autostraddle in May:
"What's clear to me is that Vida, while masterfully detailed to reflect the actual lives of queer Latinxs, has no interest in bowing to the rules and regulations of what a 'good lesbian show' should be. Their mess is the entire point… Tanya Saracho demands more from her characters, from her audience. She requires our discomfort, our willingness to bring all of our messy selves in front of the television. She asks that of us because it's the only way that we can reach out to hold Emma's hands (as if she would ever take it) and follow her, Eddy, Nico, or Lyn over the next ten episodes. These women flay themselves open, showing us the soft underbelly of their worst impulses and behavior. The least we can do, is do the same."
And I meant every damn word. Vida is a masterclass. It's humbling that we even get to watch.
2. A Black Lady Sketch Show (HBO)
A Black Lady Sketch Show is ridiculously good at what it does. It's effervescent without ever being idiotic or asinine. It's observational and absurdist. It finds room for silliness, for spy action-adventures, for cultural commentary, and yes even sci-fi. All without seemingly breaking a sweat. With three black queer women in the writers' room during its first season (Lauren Ashley Smith, Ashley Nicole Black, and Brittani Nichols), along with a black queer woman in its central cast of four (Ashley Nicole Black, back again!) — ABLSS is guaranteed to leave you in pain from being doubled over in laughter. What I said over the summer is still true, "A Black Lady Sketch Show recognizes that 'black ladies' come across a variety of gender identities and sexualities. Black lesbians are funny. Black queer women are funny. Black trans women are funny. And we aren't going anywhere, any time soon."
I would put ABLSS against other critics' favorites (which never center black women) such as Julia Louis-Dreyfus on Veep, Donald Glover's Atlanta, or even my beloved Kate McKinnon's era of SNL and I wouldn't lose any sleep over it. In fact, the genius of what's being created with A Black Lady Sketch Show is that it has no interest in running in a pack with its peers; it's chasing its own standards of excellence.
1. When They See Us (Netflix)
Listen, I don't even know where to begin with When They See Us. It's breathtaking and masterful and a complete television experience that's probably more culturally impactful than any other similarly packaged event this year. It's Ava DuVernay's greatest creation; a true evolution of her craft. It's poignant and hard to watch, but a necessary reminder of the cruelty and institutionalized racial injustice that's embedded in our police and court systems. I literally cannot find enough words to emphasize not only its political importance, but it's artistic merit — both of which are unrivaled. Watching it means you will be changed.
If anything, against the backdrop of this epic work of television, not enough attention was bestowed upon trans actress and model Isis King as Marci Wise, a role she plays both before and after the character's coming out, which is still a rarity in television. King's work on When They See Us is subtle, but never frail. She has a sense of self that's absolutely core-shattering, even when others attempt to discredit her, and love for her younger brother is one of the central engines driving the mini-series' emotional third act. King's absolutely phenomenal, in what's already a magnificent piece of art.
---
Kayla Kumari Upadhyaya, Writer
15. G.L.O.W. (Netflix)
In its third season, G.L.O.W. heads to Vegas, heightening the stakes of all of each of its characters' narratives by forcing them into a new place and confining them to the weird world of living in a casino full time. Also there's finally lesbian sex on the show!!! But the main reason G.L.O.W. stands out for me has less to do with its romance writing and way more to do with its complicated friendships, like that between Ruth and Debbie.
14. Jane The Virgin (The CW)
Jane The Virgin sticks the landing with its final season, delivering the romance, drama, and intergenerational stories that reach back into the show's long history of telenovela twists. It's brilliantly acted from top to bottom, and the show has such a distinct voice, style, and structure that has long made it stand out. It hits all its strengths in its final chapters.
13. Riverdale (The CW)
I am always trying to get Riverdale on more lists, not because it's necessarily an underrated show, but because I think it's often undervalued for its artistic and narrative merits! The show uses horror camp trappings to tell over-the-top but often fascinating stories about the ripple effects that violence and systemic power imbalances have on a small town.
12. Star Trek: Discovery (CBS All Access)
I honestly don't know why more people aren't always talking about Star Trek: Discovery, which is a fun and flashy sci-fi adventure romp that also has a ton of heart. Amid the space thrills, it touches on trauma and complicated familial relationships quite brilliantly.
11. The L Word: Generation Q (Showtime)
It snuck right in at the end of the year here, and it's still technically finding its footing, but the pilot of Generation Q is the most excited I've been for a pilot in a long time, and it far exceeded my expectations and surprised me in a lot of good ways. It's already trying to be its own show while still tapping into some of what made the original delicious.
10. The Good Fight (CBS All Access)
The tight mechanics of The Good Fight often make it feel like a ballet, and the series slips more into the surreal in its most recent season, making for an impressive feat of controlled chaos. The show is smart in the way it interrogates boundaries (or lack thereof) between personal, political, and professional lives, and the acting in its sprawling ensemble is
9. When They See Us (Netflix)
This miniseries is a tour de force of urgent, visceral storytelling that expertly balances many characters and many years of story. Its casting is impeccable, and Ava DuVernay's sharp, incisive direction is instantly captivating and immersive.
8. Vida (Starz)
While I still think the first season of this show is better, season two of Vida continues a lot of its strengths, especially when it comes to Emma and Lyn's individual arcs as well as the way they both hurt and take care of each other. Its look at grief is particularly powerful, and it's also still a very funny and sexy series. In fact, it still has some of the best/most realistic sex scenes on television.
7. Broad City (Comedy Central)
I was already sad about Broad City ending, and then the show had to really sink the knife in by delivering a decidedly sad final season! It works very well though, offering up a meta storyline that sees its characters through the closing of a huge chapter in their lives. The series finale belongs in the hall of fame of comedy endings.
6. Sex Education (Netflix)
I knew I'd be watching this show for Gillian Anderson reasons, but it ended up surprising me in so many ways. It has a wicked sense of humor, but it's also incredibly earnest, delving into the awkwardness, confusion, and heightened feelings of early sexuality.
5. The Good Place (NBC)
The Good Place somehow pulls off blowing up its own concept over and over, and its high-concept premise is coupled with really grounded character work and simple, situational comedy. So many comedies are about flawed people trying to learn how to be better, but none are quite as explicit and convincing about that mission as The Good Place is. Janet is an icon.
4. Killing Eve (BBC America)
Sandra Oh and Jodie Comer are one of the best dynamic duos television has ever seen, and Killing Eve digs into obsession, contradictions, and violence with the precision and skill of a knife. It strikes the right balance between a flashy spy thriller and a slow-moving psychological one.
3. Schitt's Creek (Pop TV)
The comedy of this show is so simple and so effective, aided of course by a phenomenal cast. Every season of Schitt's Creek gets a little more emotional, and the fact that this season ends up telling such a moving story about personal growth and identity crisis via a community theater production of Cabaret?!?!?!? There truly is no other show like this.
2. Pose (FX)
Pose really sharpens its lens in its second season, leaning into its strengths and serving up characters who are complex, real, and most importantly, allowed to have fun, love, be loved despite the obstacles to mere survival that they face. Queer and trans joy are in the spotlight here, and the ballroom scenes are some of the most delightful forms of spectacle on television right now.
1. Mrs. Fletcher (HBO)
This series is the perfect recipe of sexy, emotional, funny, and honest. The way it engages fantasy and desire is unlike anything I've ever seen on television, and Katherine Hahn is arresting throughout—especially in some of the show's most awkward and intimate moments. It's completely directed by women, and it shows.
---
Riese, CEO
15. A Black Lady Sketch Show (HBO)
I think what sets this year's list apart — and truly every subsequent year since the "streaming revolution" began — is what becomes possible when a series commits to itself rather than to the "masses." A Black Lady Sketch Show is exuberant and uncompromising and that Pose sketch is undoubtedly one of the finest works of sketch comedy to ever bless our screens.
14. The Good Fight Season Three (CBS All Access)
Just when you think it's lost its way, The Good Fight somehow snaps you right back again. The Good Fight is weird. It's a procedural on the surface. Its world is wedded to the current moment in a way I sometimes fear will dim its legacy. But it's also not our world at all. It's our paranoia seen through just to the edge but never quite over. It'd be easy to call it absurd, harder to swallow that its emotional truths are more resonant than shows that limit themselves to the technically probable. The Good Fight is willing to enter all kinds of fights it has no business being party to — the results are mixed, but the attempts are valiant.
13. Pose (FX)
Queer and trans characters can tell certain stories, for sure, but often our most evocative tales require an ensemble. Pose does for trans women of color what Queer as Folk and The L Word did for gay men and lesbians, respectively: a narrative as centered on queer community and chosen family as it is on the individual lives that thrive and die and fuck and fight and love and cry and dance within it.
12. G.L.O.W. (Netflix)
The Gorgeous Ladies of Wrestling left Los Angeles for a Las Vegas residency in Season Three, where the city's signature offering of escape from reality left its zany cast in a windowless casino of the soul. It also got way more queer, making more space to explore Arthie and Yolanda's relationship, which sparked at Season Two's end and faced some real challenges this year as Arthie's reluctance to define herself came up against Yolanda's hard-wrought confidence in her own identity.
11. Transparent Musical Finale (Amazon Prime)
Transparent's celebrated for being the first show centered on a trans woman lead character, but its value has (sorry) transcended that particular cause, a fact made plain by a finale centered on that character's actual funeral. (Jeffery Tambor, the cis white man who played Maura, was expelled from the show for sexual harassment.) Transparent's legacy will be its radical centering of trans women, particularly Alexandra Billings' Davina. But its legacy will also be its willingness to present an almost entirely queer family (Josh remains the only straight cis Pfefferman). The soundtrack of the musical finale was as good as any Off-Broadway show. Exuberant, catchy, sad, and so so so so so fucking Jewish, it was a fitting send-off to Jill Soloway's little queer-show-that-could.
10. Fleabag (Amazon Prime)
Another entry in Horny Girl Summer was Fleabag's ingenious, cheeky and aggressively honest sophomore season. Has there ever been a better time to be so smart but also so sad? There has not!
9. Gentleman Jack (HBO)
Anne Lister, despite existing at a time when women weren't even allowed to wear pants, is one of a very small group of butch/masc leads on American TV. Gentleman Jack delivered a love story for the ages and a solid reminder that yup, lesbians have always been exactly this overdramatic.
8. Killing Eve (BBC)
Season One teased the romantic and sexual obsession between Eve and Villanelle with a light but impactful touch — true, I expected Season Two to follow through on that a little more physically than it ended up doing. Still, Killing Eve remains a gift and Villanelle's outfits deserve an Emmy.
7. Euphoria (HBO)
With its sinuous camerawork and a manic, dizzying finale, Euphoria wasn't always entirely sure what it wanted to be, and its representation of trans women had some major missteps. But it was breathless, intimate, and restlessly inventive. A true joy to watch.
6. Work in Progress (Showtime)
A self-described "fat dyke" eating one almond every day on a nihilistic march towards death while falling for a (much younger) trans guy? That's a new fucking story! I love this show are you watching it?
5. Vida (Starz)
Vida is the first television show to regularly portray a shifting and thriving community of grown-up Latinx queers — and specifically offers more masculine-of-center queer representation than anyone else out there. Season Two added my forever-crush Roberta Colindrez as Nico, a lesbian military vet and bartender, whose hungry bathroom sex with Emma in the season finale was a true highlight of 2019.
4. Dickinson (Apple TV)
Daring and energetic and surprisingly poetic — my first instinct upon finishing the first season of Dickinson was that I wished I could watch it again and again and again for the first time..
3. Russian Doll (Netflix)
Tightly twisted-up puzzle-type stories like these very rarely come with protagonists like Nadia Vulvokov, reliably surrounded by a cast of meme-ready party girls and abstract queers and a lesbian in white overalls and a rabbi and her therapist. Russian Doll approaches the endless loop of trauma with wit and gravity, delivering one of the year's most inventive stories.
I truly never expected I'd ever watch a reality TV show dating game, let alone call it the second-best show of the year, but Are You The One? provided truly radical bisexual visibility in an unexpected package. Between threesomes in the Boom Boom Room and drunken gender-bendy costume parties were stories of genuine sexual discovery, gender exploration and conquering internalized biphobia and transphobia. Are You The One? reminded us of reality TV's progressive potential, once considered a given in the era of '90s MTV's The Real World and or mid-00s America's Next Top Model. 
1. When They See Us (Netflix)
Its qualification as a "queer-women-inclusive" TV show is pretty incidental — transgender actress Isis King played a small role in the series as Marci Wise, the trans sister of Korey Wise, and her story wasn't integral to the plot — but the TV team agreed on its inclusion and thus it must arrive at the top of my list. It is easily one of the most impactful and compassionate works of television I have ever seen. The story of The Central Park Five, deftly told and brought to life by a remarkable cast, is as integral to understanding American culture and history as any Oscar-winning epics about presidents or wars.
---
Drew Gregory, Writer
15. Work in Progress (Showtime)
Work in Progress is The L Word: Generation Q's quirky step-sibling. While the talked about reboot is all pretty and polished, the show that airs right after is committed to its messy reality. I love that we have both! I love that two queer shows so different are airing on the same network back to back on Sunday nights. For all its uniqueness, Work in Progress is radical because of its normalcy. Abby McEnany allows her entire self to appear on screen and acts like that's just the way it should be. And she's right. This is the kind of specific queer television I crave. (Also Gen Q isn't on this list not because I don't love it, but because 15 is a very small number!)
I spent all summer savoring what I referred to as "my baby thief show." Often melodramatic and very adolescent, there was just something so comforting about watching these female friendships and teen romances. It's a show that knows exactly what it is and does that thing very well. It's almost entirely made by women and I think that's a big reason why it feels so nice to watch. It's like an alternate reality where teen television is casually female and queer. Also it has a great soundtrack. Shoutout to my baby thief show.
13. One Day at a Time (Netflix)
The season three finale of One Day at a Time captured a specific aspect of queerness I'd never seen on-screen before. Avoiding spoilers, I'll just say that it allowed room for a lack of queer forgiveness in a way I deeply appreciated. So often queer stories are about the growth of cishet family and that's seen as a happy ending. But the words of the past stick. Actions stick. And yet forgiveness is important too. The show allowed for this complication the way it allows for so many complicated discussions. This is where I'm supposed to shout, "And it's a sitcom!" But One Day at a Time doesn't think of its format as an inconvenience – it's a tool. This is a family show about a wide variety of issues that affect families and it's filled with a sharp sense of humor. Of course, it's a sitcom.
12. The Good Place (NBC)
While it may have lost the narrative tightness of the first two seasons, The Good Place is still one of the most exciting, hilarious, and miraculous shows around. Recent episodes have elicited less of the "HOW IS THIS SO GOOD" response the show used to cause and instead have left me genuinely emotional and thoughtful. I think I like this trade-off? As we go into the last few episodes I'm grateful this show existed not just for its ambitious premise, but also its ambitious heart.
11. Jane the Virgin (The CW)
A perfect show with a perfect finale. Throughout its five seasons, Jane the Virgin never lost its clear sense of purpose amidst all its twisted plot. Jane was a love story. Jane was several love stories. No show made me cry more tears or felt more like a weekly hug. I already miss it so much!
10. High Maintenance (HBO)
When High Maintenance is at its best there's nothing better on television. When it's at its worst it's still really funny and weird and intriguing. Because it's so many stories smashed into one I think we tend to take it for granted as a TV audience, but no show this year, this decade, or dare I say ever, has this much love for people. The decision last season to provide more information about The Guy's own life continued this season and it only acts to strengthen his point of view and therefore the stories around him. The finale this year was a tribute to New York City, and what is a tribute to New York City if not a tribute to humanity. It was a fitting end to a melancholy season that still found time for a bunch of Margaret Cho sex scenes.
9. Pose (FX)
Pose followed up its landmark (and perfect) first season with a second season that was far more frustrating. It felt scattered and disjointed, and Candy's death was an unnecessarily cruel decision for a show that previously had found such a good balance between fantasy and reality. And you know what? Good. I'm glad the second season was a mess and that we're still getting a third season. Because the thing about art, and especially about mutli-season television, is it doesn't have to be perfect. When Pose was at its best this season it was still remarkable. Ricky and Pray Tell. Angel and Papi. Every Elektra one-liner. Every Blanca anything. I'm so grateful that Pose was able to take risks even if I found some of those risks frustrating. There's still nothing else like it on television. It's still so far beyond any other show with trans characters. It exists in the TV landscape of my dreams and I'm so grateful for its existence.
8. Crazy Ex-Girlfriend (The CW)
Crazy Ex-Girlfriend wasn't content with simply being a four-season musical television show. It insisted upon being a Four-Season Musical Television Show. By that I mean it used its unique format to do things no musical had ever done before. A reprise hits so much harder when it's four years in the making. The songs had an arc just as much as the characters. This show was one of my obsessions and that will always come rushing back anytime I listen to "You Stupid Bitch," "Ping-Pong Girl," "Maybe She's not Such a Heinous Bitch," "A Diagnosis," or any of my other favorites from this miracle of a show.
7. Broad City (Comedy Central)
Broad City was so casually a part of my years living in New York. I was a queer Jewish NYU student for gosh sake. Broad City was a reference point for, well, everything. This wasn't something I'd admit, never wanting to appear basic, but the truth of this really hit me as I watched the final season during my first months out of New York. I don't know what to say about Broad City except that it was formative for me and I loved it so much and its conclusion is the end of an era and thinking about it still makes me a little sad.
6. Killing Eve (BBC)
Killing Eve season two was better than season one, baby! That's right! Hot takes coming out you! It was crazier, sexier, funnier, more horrifying, and the outfits were better! I want more. I want it all. Stab me.
5. Mrs. Fletcher (HBO)
One of the smartest pieces of media I've ever seen about sex, Mrs. Fletcher is a difficult show to explain in a few sentences. That's why I wrote 4,000 words about it instead. But I guess I'll just say that Kathryn Hahn and the entire supporting cast are incredible, there are several moments that are downright painful in their sexiness, and hiring women directors makes a difference. Nicole Holofcener, Liesl Tommy, Carrie Brownstein, and Gillian Robespiere made the show great.
4. Are You the One? (MTV)
The eighth season of Are You the One? – the sexually fluid season – has the honor of being the first non-baking reality TV season I watched since Tila Tequila. And I didn't just watch. I obsessed. This became a cultural phenomenon at least among my small bubble of a culture as we all cringed when we related and mocked when we didn't. It also happened to say more smart things about queer culture and queer dating than any scripted show on TV this year. Fuck you, Jonathan forever and always. Amen.
3. Sex Education (Netflix)
Big in style in a way shows about horny teens aren't supposed to be, this show was never content with supposed to's. With every episode Sex Education pushed the boundaries of what a teen sex comedy can be and ultimately lived up to its title. I hope teenagers everywhere watched this show. I hope their families watched this show. It's fun and casually inclusive and I appreciate its intent and its achievements so, so much.
2. Fleabag (Amazon)
I wrote three whole essays about Fleabag this year. Phoebe Waller-Bridge won three whole Emmys. What else is there to say? The writing is so good it makes me want to scream. And I'm pretty sure I have screamed. I might be screaming right now. It's just so good.
1. Vida (Starz)
Vida is my everything. It's a very specific, super queer show with the best cinematography on TV and the best sex scenes on TV. When I think about what TV can do, I think of Vida. When I think about what I want from a showrunner, I think of Tanya Saracho. When we talk about how difficult it is to change Hollywood or to tell certain stories or be creative in a world that runs on business, I think of this show and I know we'll be okay. But Vida is more than an inspiration. It's also my very favorite thing to watch. I just love it so much. Can you tell I love it? I really, really love it.
---
Valerie Anne, Writer/Social Media Co-Editor
15. Batwoman (The CW)
I'll be perfectly honest with you, I re-narrowed my list to 15 like five times, and kept being surprised when Batwoman ended up on it. But it was the sleeper hit of 2019 for me! I feel silly about the things that gave me hesitation before, but I'm happy to report being pleasantly surprised at every turn. Ruby Rose balances the dark and the light well, Rachel Skarsten is a goddamned delight, Kate Kane's sister Mary was an unexpected gift, and WHEW is this show GAY. I continued to find myself excited to watch every week, and Kate's friendship with Kara Danvers in the crossover made me positively giddy, so I hope all this joy continues in the back half of the season.
This year was not the best one for me, personally, so I clung to my go-to bursts of joy with a tighter fist than usual. Where in its first few seasons, Brooklyn 99 was a show I could throw on while I was making dinner and only half pay attention to, this year it became the show I would watch before bed to rid my brain of the day's woes and go to sleep smiling. Rosa Diaz was of course a huge part of that, because tough-on-the-outside, gooey-on-the-inside is 200% my jam. Plus, for being a 30-min, sometimes-slapstick (though often smart) comedy, they never make Rosa's bisexuality the butt of the joke. Sometimes it's part of the joke, but it's never at Rosa's expense, and it always feels good-natured and welcoming.
13. She-Ra and the Princesses of Power (Netflix)
She-Ra is another one of my go-to happy shows, though it's a little more risky because it has the tendency to put you through the wringer, emotionally. Friendship has always mattered to me more than romance, in stories and in real life, so this show has always had a special place in my heart, and this year's episodes were no different. They tackled loss and heartache, fighting and forgiving, abandonment and self-worth. Plus, the addition of Double Trouble and the seamless way every character used they/them pronouns for them without it being a thing was huge, and will give so many children an example that so many of us didn't have, and it will help non-binary littles and their peers for generations to come.
12. Killing Eve (BBC America)
I thought I had reached the height of my love for stories about serial killers until Villanelle came along. That precious psychopath murdered her way right into my heart with her cute little quirks, her accent and outfit work, her adorable brutality. Eve and Villanelle's obsession with each other, while obviously entirely off the rails and more extreme than anything I personally have experienced, is somehow relatable. Did I murder anyone to get someone to fly to the town I was in? No. But did I memorize a girl's schedule so I'd "accidentally" run into her in the hallway between fourth and fifth period? Absolutely. The writing is smart and hilarious and dark and it's just so different from anything I've ever seen before.
11. Jane the Virgin (The CW)
Jane the Virgin is one of the most unique shows I've ever seen, and it certainly had its ups and downs over the years, but its final season was so great. It wrapped up so naturally and maybe it was too happily-ever-after for some people but Abuela told us that's how telenovelas end. I'm so happy Petra's final romance was the only person who ever matched her in prowess and power, because while I'll always have a soft spot for my Jane/Petra ship, JR was the right choice in the end. And Rose and Luisa didn't quite get the treatment they deserved, but I still adored them. Also I will stand firmly atop and die upon the hill that Rose is not dead, because it never stuck before and I have no reason to believe it did this time.
I've loved Stranger Things since Season 1, but I thought for sure that the hints of Barb and Nancy (mostly subtextual, more confirmed by Ingrid Michaelson's song Best Friend than the actual canon of the show) were all we'd get re: queer ladies on the show. I wasn't sure if there'd be room. But you know who made room? Robin. Just when you thought they were going to ruin what was, up til then, a very cute best friendship between her and Steve, she flipped expectations on their head and said she wanted to be LIKE Steve, not be with him. Her bathroom stall monologue was one of my favorite TV moments of the year, if I'm being honest.
THIS SHOW. KEEPS. GETTING. WACKIER. And I love it more and more the less it makes sense. Cheryl and Toni are off in an entirely different universe than their peers, Toni just happily going along with whatever whackadoo nonsense Cheryl comes up with next. Tea with her brother's corpse? Sure. Haunted by a doll possessed by the ghost of a sibling she consumed in the womb? Cool. Feigning cannibalism to scare away evil family members? Why not! Toni's down for anything. It's so delightfully absurd and I'm glad these gothic girlfriends get to be a part of it. Plus, they dressed up as Poison Ivy and Harley Quinn, so that was wonderful. Side note, I think their musical episodes have some kind of subliminal messaging situation going on because every year I get OBSESSED and I have been on a Heathers kick since March.
A few of the times I did my list narrowing, Supergirl didn't make the cut. I was as surprised as anyone, and if Impulse qualified to be on this list, it would have been much harder to narrow to 15. Because I love Supergirl, I do, but Alex has felt a little sidelined lately, and I love Kelly, but they have so much more of her story to tell. But then I remembered this list encompassed the entire year, and while Nia has been MIA for much of this season so far, the end of last season fell in 2019 too, and had some epic Nia moments, including the episode "American Dreamer" easily in my top 5 Supergirl episodes of all time.
Karolina Dean and Nico Minoru are my ideal superhero pairing. One is all light struggling with her darkness, one is all darkness trying to find her light. Sometimes it feels like they're too different to work, sometimes they feel like opposite pieces to a puzzle that fit perfectly together. I haven't finished Season 3 yet, since it will be their last and I'm not ready to say goodbye, so I don't know how their story will end, but I know I've loved going on this ride with them. I love that even amidst the chaos of their runaway lives, they always find time to have little moments of just being two teenagers in love. They are strong on their own and they're stronger together and I will lamp them long after the show is over.
6. Black Lady Sketch Show (HBO)
95% of the time, I am watching TV by myself, alone in my room. So if I'm smiling or weeping or frowning or rage-tweeting, it's nobody's business but my own. However, when I watch Black Lady Sketch Show, I laugh out loud in a way I cannot control, and surely my roommate thinks I'm slowly losing it. It's silly and ridiculous while also being smart and deep. It's pure and it's real and it's hilarious and the cast is ASTOUNDING and I'm sure I'm not the first to say it, but the only complaint I have is that it was only six episodes long.
5. One Day At a Time (Netflix)
I keep thinking this show can't possibly capture the magic of the first season all over again, and I keep being wrong. The second season was just as magical, and the third no different. Elena continues to be one of the characters I relate to the most and one of the characters I most wish my teenage self had known. I've said this about a few different characters over the year, but Elena Alvarez is one that consistently reaches back into my past and heals old wounds I didn't realize I'd been neglecting. It's so refreshing to see this young, queer, nerdy, Wynonna-Earp-loving goofball love her family and her non-binosaur/Syd-nificant other, and go through all the typical family-dramady storylines teens have always been through, learning about sex and dating. It also didn't hurt that this season a wild Stephanie Beatriz appeared.
4. Fleabag (BBC/Amazon)
Fleabag was the raunchy British comedy I never knew I always needed. If you had tried to sell me on the show by saying she talks directly to camera and broke the 4th wall a lot I would have put my hand up to stop you right there. But Phoebe Waller-Bridge's charm makes it WORK and she makes you feel such a part of her story that if someone else even hints at acknowledging they know you're there, you panic like you've been caught. It was so intimate and wonderful and strange and it was such a fun ride. This is one of the very few shows that I cried at the end, purely because it was over. I mourned the loss of Fleabag in my life as if I had to say goodbye to a dear friend I've known for years, not a fictional character I knew for a few binged hours in one weekend.
Legacies checked all my boxes — witches, boarding school, girl power, found family, queer af — before I spent the entire summer neck-deep (vampire pun intended) in the entire franchise of The Vampire Diaries and The Originals. By the time it came back for its second season, just looking at Hope's face made me want to cry because of how much she'd been through in her short life. Now Josie and Lizzie's one-sided phone calls to their mother didn't feel like exposition vehicles, but a genuine character update that left a Caroline-sized ache in my heart. While this season hasn't paired anyone up quite yet, our three leading ladies are all canonically queer, and I feel really good about that.
Season 1 of Legends of Tomorrow was…rough. I watched the whole for Sara Lance, and she never disappointed, but plenty else about the show did. But the showrunners there did something rarely done before: they noticed that their "charming" male lead wasn't working and re-centered the story around a woman. And the show took off like the Waverider through time and space. Sara and Ava's relationship remains top priority, and both of their characters have their own shit going on separate from each other. The show has really leaned into the silly, breaking off from their Arrowverse counterparts in tone quite a bit, and it really works for them.
1. Dickinson (Apple TV+)
Dickinson is the best show I've seen in a good, long time. Hailee Steinfeld was absolutely perfect as Emily herself, balancing deep, introspective brilliance with over-dramatic teenage whimsy. Ella Hunt was positively charming as Sue Gilbert, allowing you to seamlessly fall in love with her, just as Emily did. The story stayed true to some of the prejudices and hardships of the time Emily Dickinson lived while also plainly pointing out we haven't changed as much, as a society, as we'd like to think we have. Emily goes through everything from the heartbreak of disillusionment to the utter inconvenience of getting your period at a party. She writes poetry about everything from wild nights to carriage rides with death. I related to her darkness and her light. It's a show that made me want to lie on the floor and stare at the ceiling about it. Maybe it came to me at just the right moment, maybe it really is that good, but either way I'm looking forward to another season. It dwells in Possibility.
---
Natalie, Writer
It feels good to be seen. In this world that, far too often, tries to render so many of us invisible, being seen feels good. I'm not sure there's a show on television today that is invested in letting people see themselves as Good Trouble. "Everyone's story has value and it deserves to be told," we've heard for years…and this show is one of the few that really lives up to that mantra. The show isn't interested in diversity for diversity's sake, either: white, black, Latinx, straight, gay, bisexual, cis, trans, non-binary….they've all had their stories represented on Good Trouble in a truly substantive way.
All that plus a group dance set to J. Lo's "El Anillo" and a rendition of Swell Season's "Falling Slowly" in the same season? Good Trouble really knows the way to my heart.
12. How To Get Away With Murder (ABC)
Few shows have disappointed me in the way How to Get Away With Murder did this year but, also, few shows have been as groundbreaking when it comes to depicting older queer women of color than HTGAWM either. It's hard to separate the show from its murderous theatrics sometimes — if I never hear the name Castillo again, that'll be alright by me — but, as a character study…of two queer characters of color (!!) embracing ambition while chasing power and love…it really is unmatched. It's been revelatory to watch.
(Would a relationship between them be equally as revelatory for me? Maybe, maybe not…only one way to find out, Pete Nowalk!)
Muslim representation on television remains paltry…and, far too often, what little representation Hollywood offers seems to conflate being Muslim with terrorists or extremists. Progress is being made but — in the wake of Muslim bans and increasing anti-Muslim sentiment — we need more. Ackley Bridge offers that representation but, perhaps more importantly, takes it a step further: it gives Muslim youth space to be about more than their religion. Of one Muslim kid to be Ackley Bridge's star rugby player. Of another, to be a star pupil on her way to Oxford. Of another, to be gay an accepted. It's revolutionary TV.
10. Crazy Ex-Girlfriend (CW)
Sometimes, shows drag you into shipping wars (ahem, Jane the Virgin) and you find yourself torn between which suitor your protagonist should choose. Surprisingly, though finding love was always so central to Crazy Ex-Girlfriend's story arc, I never found myself aligning with any suitor. I wasn't Team Josh or Team Greg or Team Nathaniel. Ultimately, I was just Team Rebecca, wanting desperately for her to get better and love herself…and getting that, at the end of the show's run, made for the most satisfying endings to a series I've watched.
And because no CEG post is complete without it, a few of my season 4 favorite songs: "No One Else Is Singing My Song", "Don't Be a Lawyer" and "Anti-Depressants Are So Not a Big Deal".
We've talked a bit about how improbable Tia Reed's character on Boomerang is…how she exists, loudly and unapologetically, in a network that historically would much rather erase black queer people from the narrative. That character's existence and her storyline is noteworthy on its own. But "Us Too" stands out to me as Boomerang's finest hour: grappling with the #MeToo era through the eyes of the accused's daughter.
8. Jane the Virgin (CW)
I miss this show so much already. I miss stepping into the warm embrace of the Villanuevas. I miss being gifted all these lessons from three generations of Latina women. I miss Jane…and the chance to see a character loved with her whole heart and moved through the world who genuinely believed in the goodness of people. I miss the narrator who, somehow, found the right words no matter how bizarre the situation. But mostly, I miss Petra — which, by the way, is not a thing I thought I'd say when Jane the Virgin debuted — and watching her grow into a devoted mother with the capacity for true love.
7. The Good Fight (CBS All Access)
It's hard to watch or read the news and not feel like each and every second is devoted to gaslighting you, in their misguided attempts at fairness. Somehow, despite being a fictional show, The Good Fight manages to be as grounded in reality as anything you'll see on television. The show will be a great time capsule for life during the Trump years.
6. The Good Place (NBC)
A lot of television tries to meet you where you are and, through telling powerful stories, elevate your thinking. But The Good Place is the rare, incredibly ambitious show, that starts on that elevated plane — its references to philosophical theories feel more apt for a college lecture hall than Thursday night TV — and asks you to meet the show there. It challenges its audience in a way that I don't know that any other television show does…and, to be honest, it's astounding that survived for four seasons.
5. Pose (FX)
I'm still not over the death of Candy Ferocity, if I'm being honest, but the highs of the Pose's second season — culminating with Blanca performing Whitney Houston's rendition of "The Star Spangled Banner" — were so immense that feeling that denying the show a spot in my Top 5 felt like a slight. Mj Rodriguez, Dominique Jackson, Indya Moore and Hailie Sahar injected such joy into Season 2 (namely in Life's a Beach" and "In My Heels") that it's harder to dwell on the sadness.
4. One Day at a Time (Netflix/Pop)
I remain astounded by One Day at a Time's ability to outdo itself. I thought Elena's coming out story — from her mother and grandmother's embrace to her father's abandonment — would be the pinnacle but then came "What Happened" and it just got better. Then came "The First Time" and it got even better still. I am so grateful that young queer kids have this show and Elena to aspire to…and that we'll all have the opportunity to see how ODAAT outdoes itself in Season 4.
3. A Black Lady Sketch Show (HBO)
Can I be honest? I didn't expect ABLSS to rank so highly on this list but as I found myself down a Youtube wormhole of the show's sketches — from Gang Orientation to Purgatory Soul Food — I realized that it was one of the best, most consistent shows of the year. The other realization from my trip down the Youtube wormhole? No matter how many times I've seen the sketches, they're all still side-splittingly funny.
2. VIDA (Starz)
One day, there may be a show that captures the palpable grief of losing a mother or wife, better than Vida. One day, there may be a show that reflects the evolving definition of home — both in terms of how the neighborhood changes and its former residents change — better than Vida. And, perhaps, one day, there will be a show that grapples with queerness and its different presentations better than Vida. It's possible. But what seems unfathomable is imagining another show that addresses all those complexities at once and does it with aplomb.
Vida is the bar and every other show on television is just trying to match it.
1. When They See Us (Netflix)
Years from now, when we look back at 2019, When They See Us will be regarded as a seminal work, impacting not just the way television is made, but changing our perception of what justice looks like. Isis King's scene stealing role as Marci Wise, the trans sister of one of the Central Park Five, honors Marci's memory and grounds the series in a truth that, I think, in anyone else's hands (read: not Ava DuVearney's) would've been ignored.
---
Heather Hogan, Senior Editor
11. Batwoman (The CW)
As I crafted my list of best TV shows of 2019, I kept hearing John Hodgman's voice in the back of my head: "People like what they like. Some people think that culture is a cudgel they should use to swat down other people's tastes and likes and loves, in order to make themselves feel smarter and better. What they don't know, but will know eventually, when they're alone and dying, is that culture is a comfort. Culture is a needed distraction. In prehistory we gathered around fires to tell stories, not only to enjoy the warmth, but also, for a moment, to forget about the horrible, terrifying darkness at our backs." I'm never going to make a best-of list like most critics, because I can't watch shows with lots of blood or guts or sexual assault or stories centered on white men who blow up their lives and the lives of the people around them, bit by bit, and are iconicized for it.
Batwoman came out of the gate deftly balancing all the elements of really fun superhero TV. It dug quickly and deeply into the pathos of Kate Kane; it gave us reasons to connect with and root for every woman on the show; it set up an excellent season-long hero/villain dynamic; it laid the groundwork for an epic romance; it rolled out exciting action sequences; and it flipped a whole bunch of superhero tropes on their head, queering them up and making manifest all the metaphors that have drawn queer people into comics for decades. It played with all the different tones of all the different incarnations of Batman over the years. It was gritty and it was ridiculous. And mostly, just like Batman did when I stumbled upon him at age eight and started my lifelong obsession with the Bat-family, it helped me forget the darkness at my own back, an hour at a time.
10. Pose (FX)
I always worry about shows that time-jump and I always worry about sophomore seasons of shows I love and I always worry about what in the world Ryan Murphy's going to do to my favorite characters during the hiatus — but Pose actually came back with even more focus on what makes it exceptional the second time around, breaking and mending viewers hearts by weaving humor and heart (and heartbreak) in with pageantry like fictional TV has never seen before.
9. She-Ra and the Princesses of Power (Netflix)
She-Ra showrunner Noelle Stevenson reiterated exactly what Steven Universe showrunner Rebecca Sugar already proved: in the right (queer) hands, animated series can explore "grown-up" themes as well (and often better) any other visual storytelling medium. She-Ra is bright and alive and sweet and fun, but it also goes full force at trauma, loss, grief, mental illness, power, chosen family, and the dangers of never questioning authority. It's all very "friendship is magic!" but it's also all very "and here is the path out of facism." It's also gay as all heck and we got a non-binary character who uses they/them pronouns in season four!
This is a bold claim but I stand by it: There is no show on TV that knows exactly what it's doing more than Legends of Tomorrow. In the beginning, this series played out like it was conceived in a focus group incubator, but over time — and with Sara Lance at the helm — it has embraced its own weirdness, leaned into what's wacky with all its might, and used the entire space-time continuum to explore the fullness of humanity for all its characters. Oh, it's plot plot plot but it's also really realized heroes, most of whom are women, and a romantic relationship in which both characters grow on their own, and together.
Derry Girls is exactly the show for this moment in time. It's almost too funny to bear, but beath the madcap wit is social commentary from the '90s that's as relevant today as it ever was. A group of teenage girls surrounded by armored tanks and soldiers with machine guns, pipe bombs and exploding bridges, just trying to figure out who they are, who they can be, all about right now, dreaming of something better.
What makes season five especially wonderful is how Grace and Frankie's relationship storyline mirrors Robert and Sol's. Where Sol decides he's going to stop being Mr. Nice Guy and start doing things that make him happy, leaving Robert to wonder nightly where his dinner is, Frankie decides to return to her roots of veganism and living in a yurt. Can a relationship survive when one person inside it makes big changes? Can two people grow as individuals and as a couple? How do respect your person's autonomy and empower their growth toward their best self and deal with the fear that your person is going to change so much they won't want to be with you anymore? Sol and Robert don't find out the answers to those questions, and at the end of the season, their relationship is up in the air. Grace and Frankie, however, do figure it out by realizing they wouldn't be who they are as individuals without the life they built together.
5. Jane the Virgin (The CW)
Okay, actually, what I said about Legends of Tomorrow is also true about Jane the Virgin: it always knew exactly what it was doing and what it wanted to say, and it did so in a way that made something nearly impossible look easy. Jane never shied away from its telenova roots, pushing the boundaries of reality as far as they could go without breaking! But Jane was also anchored in our very Trumpian reality and determined to explore all the ways love could take shape and grow. That Petra's character became more fully realized as she accepted her sexuality is a rare and wonderful thing. She was a caricature who became a character everyone rooted for, even Jane herself. Such hilarity! Such swooning!
4. The Good Place (NBC)
Like Janet, The Good Place has been rebooted a zillion times, sometimes multiple times in a season. But here in the last one, there's a confident, singular focus that's pulling on all the best threads of the series over the years and weaving them into something bright and optimistic, without ignoring the often debilitating existential questions humans often ask themselves. Yes, of course, I would have loved to see Eleanor's bisexuality explored more fully. And it wasn't until the midseason finale that I actually really bought into her and Chidi. But there's a depth to this comedy I've scarcely experienced on TV. It makes me feel hopeful, and that is no small gift in 2019.
3. One Day at a Time (Netflix)
Often times when we talk about shows being "important" for various representation reasons, what we mean is that we'll also be grading that show on a curve. Which is fine! And has always been a neccessary way to engage with queer storytelling! But One Day at a Time is both essential in 2019 and also one of the absolute best comedies to ever grace a screen. I almost feel like I can't even do this show justice with my words. It's what I turn to, over and over, when I need to laugh and also when I need to cry myself out of tears. When we were hosting our silly little Los Angeles Mayoral race in the lead up to Gen Q, Carmen asked me after round four what we'd do if Bette lost. I said, "To Elena Alvarez? Well, I think we high five that the kids are all right!" Elena did win. Not just the final round. Elena won every round.
2. A Black Lady Sketch Show (HBO)
I don't know exactly what I expected this series to be, but it was certainly not a series of sketches — many of them so so queer — that made me laugh until my guts hurt, set against the backdrop of THE LITERAL APOCOPYSE. A Black Lady Sketch Show was the smartest, funniest, most bananas thing on TV in 2019 and I had to stop watching it in bed at night because I kept waking up my partner with my out loud bark-laughing, multiple times, every single episode. An all-star cast, an all-star writers room, easily the thing I am most looking forward to in 2020.
1. Gentleman Jack (HBO)
I don't know what to say about Gentleman Jack that I haven't already wailed. Forgive me for quoting my own review; fittinly, to quote Jane Austen, if I loved it less, I might be able to talk about it more:
It's a heady thing seeing yourself, really seeing yourself, on TV for the first time in your life at the age of 40. And oh sure, I've seen bits and pieces of myself in stories before. At some point, though I can't remember when, I started thinking of myself less as an Elizabeth Bennet and more as a Mr. Darcy. Except there's not a lot of women characters out here in the wide world of fiction allowed to move through the world like Mr. Darcy — displaying judgment that's both keen and flawed; acting in ways that are both heroic and weak; confidence teetering on smugness, and humble too and afraid; buttoned-up and messy; mistakes born of insecurity and mistakes born of prejudice and mistakes born of over-caring or not caring at all, mistakes mistakes mistakes; learning and growing and holding failure up to the light and distilling strength from it — and, in the end, finding oneself worthy of the love and devotion of Elizabeth Bennet. Women, in general, aren't given the latitude to contain multitudes in stories; and queer women even less so. (And butch women, where are we?) Yet, here is Anne Lister! Here is Gentleman Jack!
I've been writing about LGBTQ television professionally for eleven years and Anne Lister gave me something brand new: shorthand for how I see myself, a way to relate to other butchy, dykey women my age who know who they are; and who, one way or another, are always all right. Because what other choice do we have?