'Tis the season for various media outlets to reveal their list of the 10-40 Best TV Shows of the year, and this year we decided to get in on that. With a caveat, of course — to us, no matter how critically acclaimed any given show is, we cannot personally crown it "the best" unless our specific interests (read: queer women) are included within it. I'm sorry that's just who and how we are!
To prepare for this undertaking, I looked at 18 Best TV of 2018 lists across mainstream media, both high-brow and middle-brow: The Decider, The New York Times, Paste, Vulture, Vanity Fair, The Guardian, Entertainment Weekly, USA Today, The New Yorker, TV Guide, AFI, Complex, The AV Club, Verge, The AP, Variety, Slate, The Daily Beast and The Atlantic. On the list below, you'll see in parentheses a number: that number represents the number of other Best-Of lists the show appeared on.
Last year I documented what felt like — finally— a shift wherein regular and recurring queer women characters were just as likely to show up at the forefront of prestige television as they were in our previous homes of "soapy teen dramas," sci-fi/supernatural epics and very small parts in aforementioned prestige television. This year that trend has continued mightily. Three shows that turned up on pretty much every Best-Of list — The Good Place, Killing Eve and Pose — had queer or trans leads. Frequent inclusions on those Best-Of Lists that did not include queer women were exactly what you'd expect: The Americans, Homecoming, Atlanta, Better Call Saul, Lodge 49, Barry, Bojack Horseman (which did have one lesbian-themed episode but that didn't feel like enough to warrant inclusion on this list, I'm sure you will @ me re: this) and Gianni Versace: American Crime Story. Most baffling to us all was that Lifetime's You showed up on SEVEN Best-Of Lists, despite being insufferable and killing its only queer woman character. It's not on this list.
This list is not, then, our favorite shows of the year, or the shows that brought us the most joy or the best representation. We're doing a lot of lists this year about teevee, and most of them are our Favorites, not "The Best." This list are the shows that have regular or recurring queer women characters and that I personally believe were, objectively, the best. The opinions of other critics weighed heavily into these rankings, and only in a few cases did I pick a show that wasn't on any other Best-Of lists.
I look forward to witnessing your disagreements and agreements in the comments! Also I know there's 27 shows here but 25 seemed like a better headline.
---
"Marvel's Runaways" Hasn't Achieved Its Full Gay Potential Yet, but It's Already a Thrilling Ride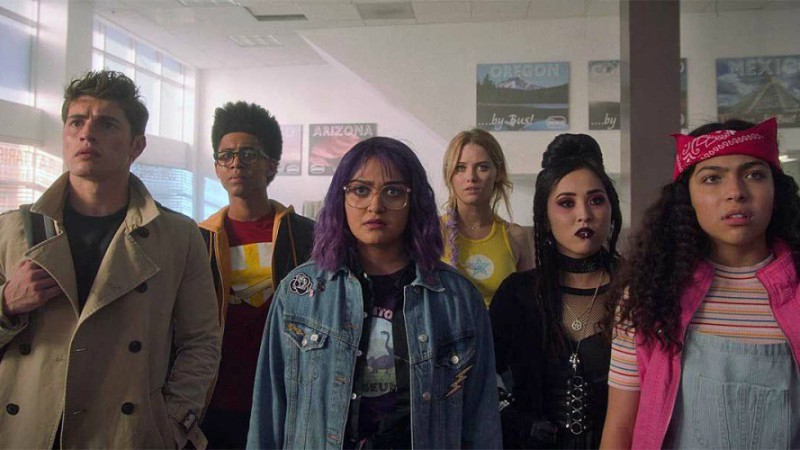 The timing couldn't be better for this lovely comic book adaptation about a group of fierce, supernaturally talented teenagers challenging the abhorrent compromises their parents made, supposedly in their best interest, for a "better world," at the expense of, you know — human lives, wealth inequality, and our planet. Plus, Virginia Gardner literally shines as Karolina Dean, a human-alien hybrid initially hiding her superpowers and her lesbianism 'til coming out near the end of Season One. Her revelation is refreshingly well received by her crush, cynical goth Nico Minoru, in what feels like a fairly honest depiction of Generation Y's alleged tendency towards nonchalant sexual fluidity. Season Two sees the lesbian couple trying to make it work amid pretty challenging circumstances. Despite an enormous ensemble — six children and ten parents for each — Runaways has mostly succeeded in making each of them count. At times it fumbles, having bit off more than it can chew thematically and w/r/t sheer population, but it still manages to combine the easy joy of a teen drama with the satisfying anxiety of suspenseful sci-fi. — Riese Bernard
---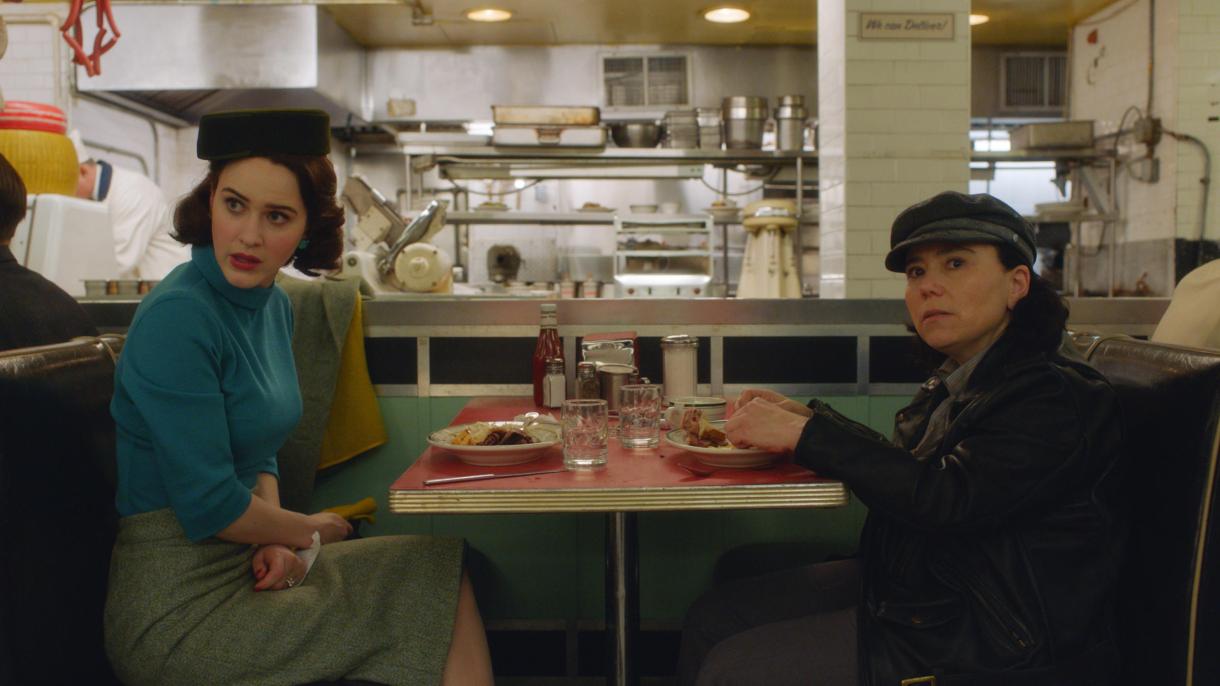 Undoubtedly the most cheerful show on the list and a bona-fide critical darling, The Marvelous Mrs. Maisel is hawkishly agreeable, floating through its second season on unmistakable charm, its trademark breakneck quip-laden dialogue, and a generous budget devoted to picturesque sets and locations that leave no affluent late-'50s stone unturned. Then there's Mrs. Maisel herself, a plucky heroine who occasionally does wrong but when she does, it's always very cute, and often laugh-out-loud funny. It's frustrating that Susie's lesbianism remains bafflingly unspoken, especially when Mrs. Maisel's primary flaw continues to be its chronically low stakes, like a cake inside another cake inside another cake slathered in buttercream frosting. I do love cake, though! Regardless — Susie deserves a sexuality. I hope in Season Three she finally gets it. — Riese Bernard
---
HBO's "Sally4Ever" Is Hilarious, Horrifying, Tries to Make Lesbian Toeing Happen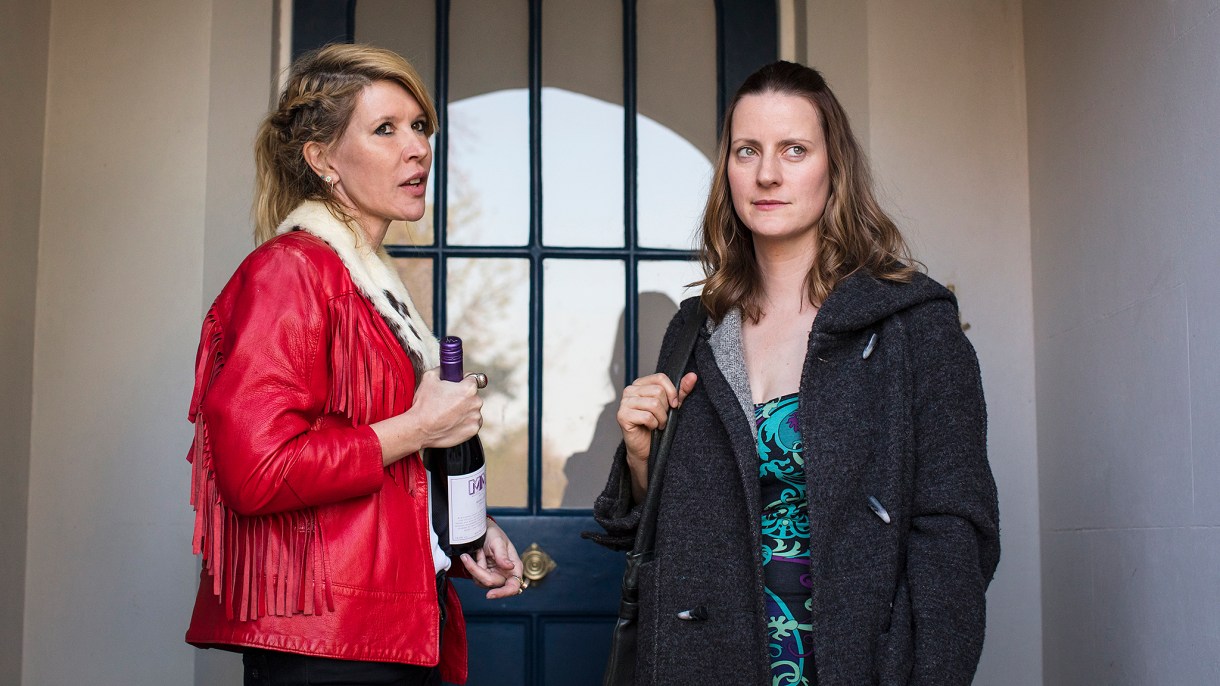 Earning points for sheer pugnacity, Sally4Ever, described by The Guardian as "a lurid lesbian sitcom," is a disgusting, often offensive and downright bizarre comedy about an absurdly passive middle-aged woman, Sally, who leaves her droll underachieving partner for a wildly manipulative narcissistic lesbian musician / actress she first sees on the Underground. Julie Davis's Emma is a madcap creation only Julie Davis's mind could've created. Sally4Ever is one of four reminders on this list that you can always rely on British television to wallow in discomfort and failure in a way optimistic American TV is rarely willing to do. — Riese Bernard
---
How "Legends of Tomorrow" Became One of the Best Queer Shows on TV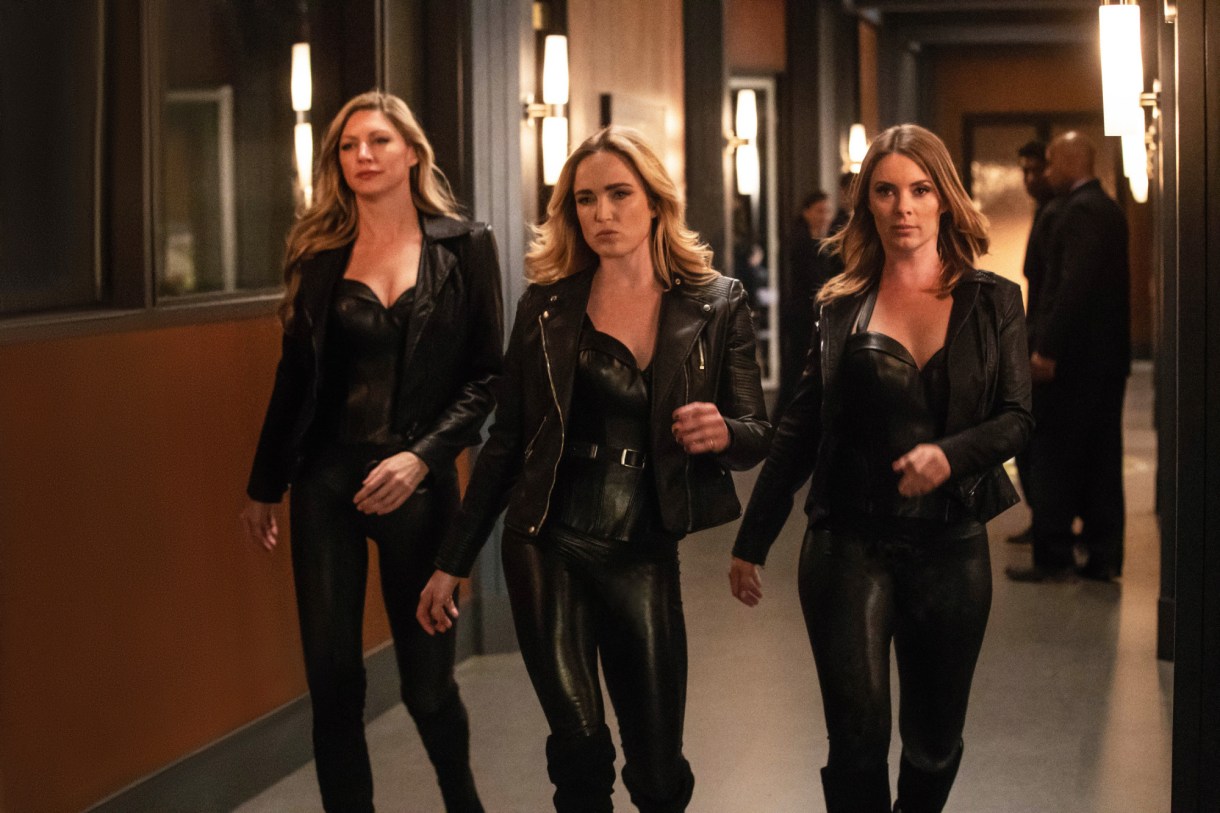 Legends of Tomorrow is one of the weirdest shows on television. With everything from Julius Caesar on the loose in Aruba to a stuffed animal worshipped as a god of war, you truly never know what's going to happen next. On paper, it seems like the writers play mad libs with storylines, picking random nouns and locations out of hats and running with it. The most dramatic lines of dialogue are, simply put, absurd. But in 2018 this goofy-ass show has blossomed into something truly spectacular, as bisexual badass Sara Lance became, in the words of Zari, "not just the captain of the ship, but its soul." It was still everything we love about the show – the misfit camaraderie, the wacky storylines, the outfits, the heart – but turned up to eleven. Sara also got her first post-Arrow longterm relationship with another woman. Their love story was fraught, sweet, sexy, complicated — and oh so rewarding. Best of all, it's still going strong. — Valerie Anne
---
Everything Sucks! is a Bangin' TV Show With a Sweet Lesbian Lead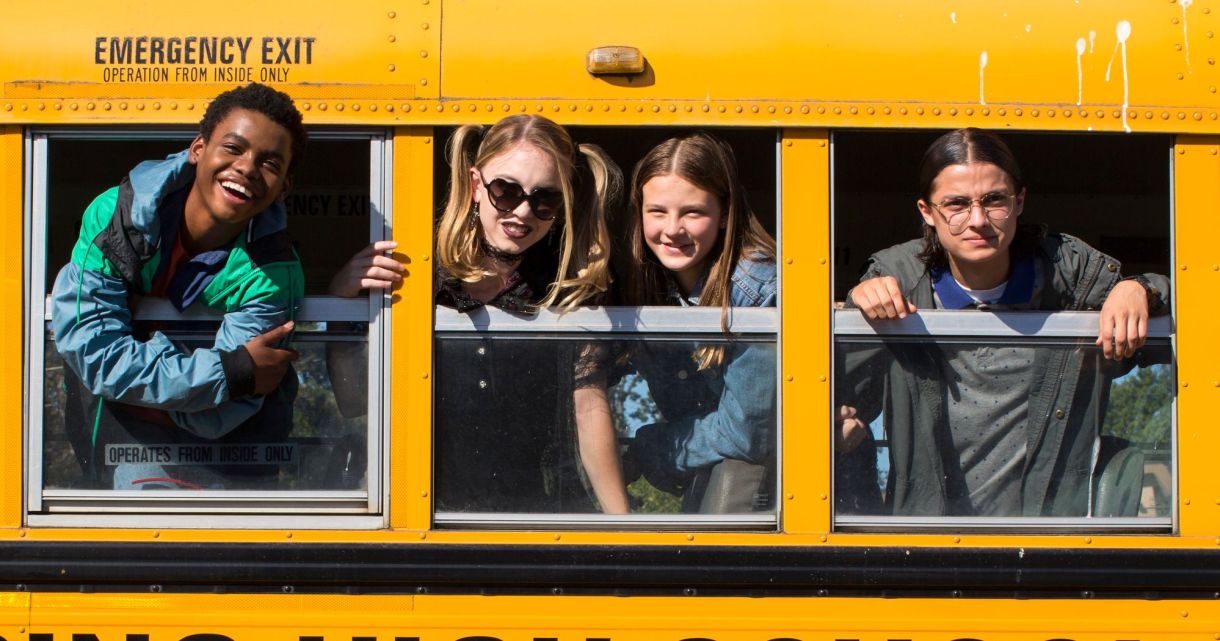 Sure, everything sucks, but something that specifically sucks is that this show only got one tiny season to breathe. Sweet and nostalgic, Everything Sucks! made the noteworthy choice of placing a lesbian character front and center of a tender coming-of-age dramedy set in Boring, Oregon. Amid pitch-perfect references to Frutopia, "Wonderwall" and the Columbia House Music Club, we have two girls on separate journeys towards queer revelations (and each other) and in this story, the pre-teen boys in their crew aren't the main event. Considering all that, I suppose, perhaps it's not so surprising it got cancelled.— Riese Bernard 
---
23. Forever Season One (3)
Maya Rudolph's Forever is Finally Here and Quietly Queer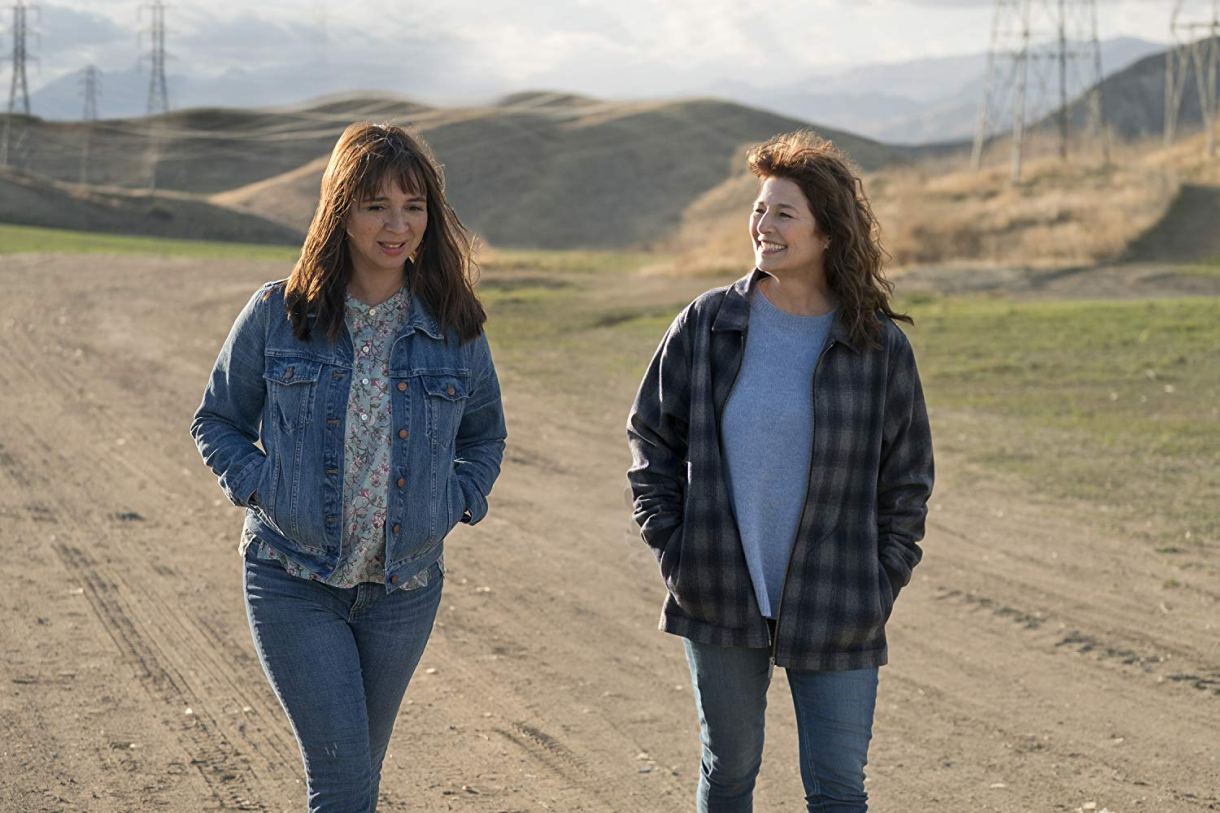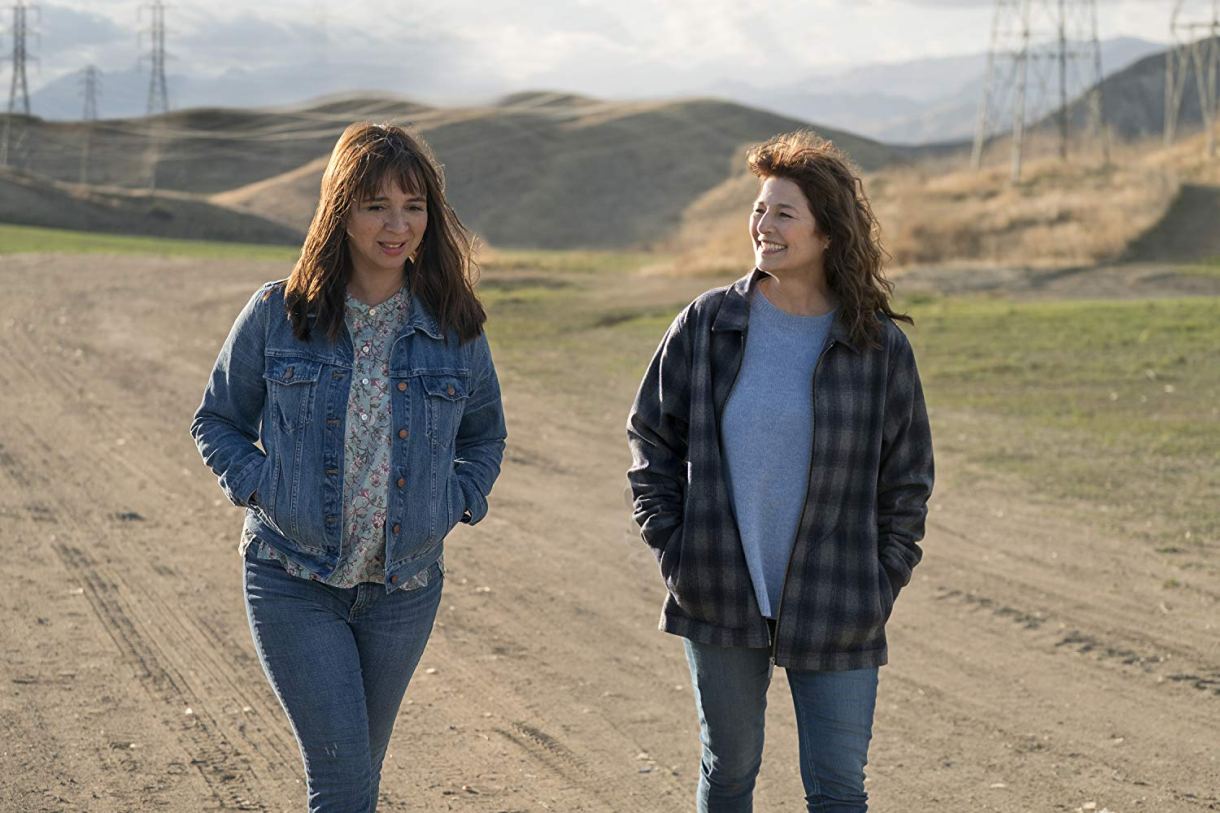 Every critic on earth adored Forever, partly because of the show's unique and brilliantly executed concept, but mostly because of Maya Rudolph's stunning and triumphant return to TV. What made Forever even rarer than those two things was the central conflict for Rudolph's character, June, who experienced a middle-aged queer awakening at the hands of an enigmatic, furious, and sometimes even unlikable(!!) Kase, played by Catherine Keener. It does seem like maybe some vital character development for Kase was left on the cutting room floor in an effort to make sure the audience didn't root too hard for her relationship with June — but what remained was still breathtaking and frankly revolutionary.  — Heather Hogan
---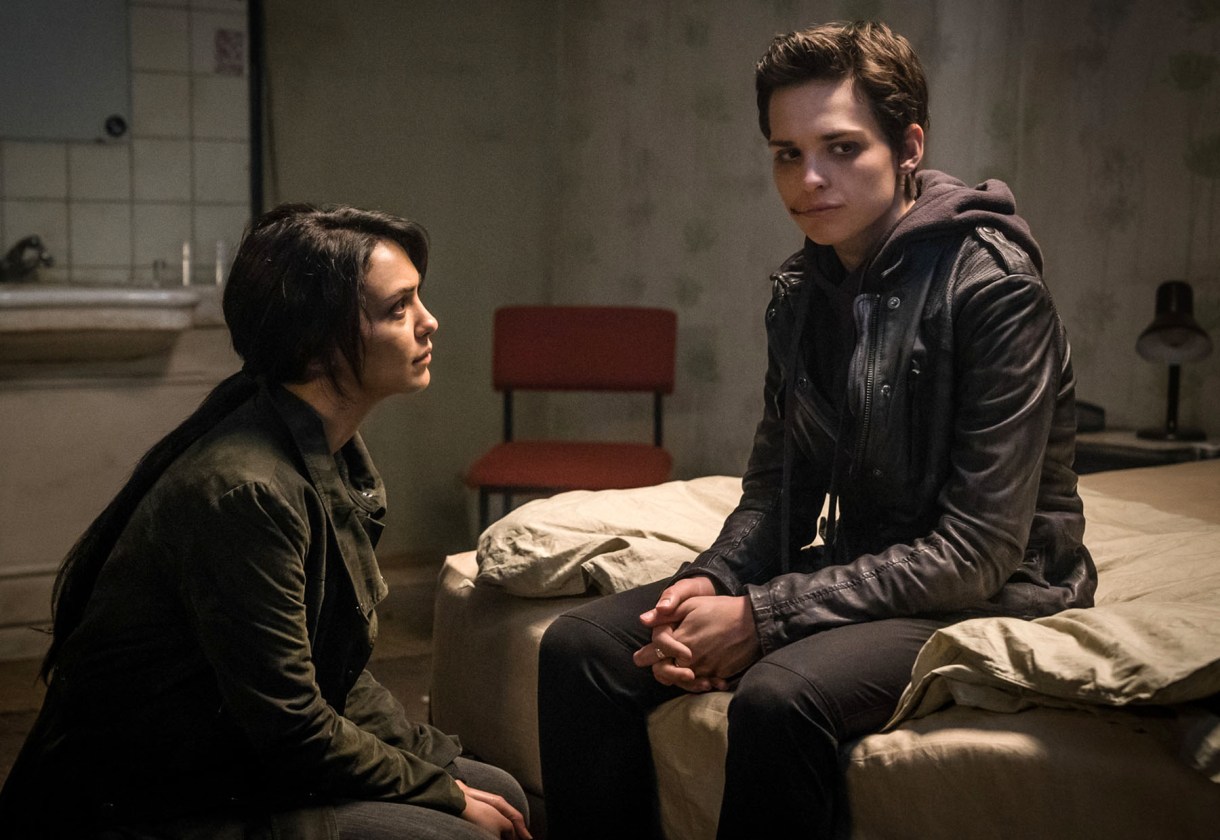 After years of lurking in the Showtime/HBO shadows, Starz has emerged over the past few years to, intentionally or not, feature queer women characters in nearly all of their original programming. And what original programming it has been! A lot of the well-deserved praise for this taut, suspenseful, dystopian spy thriller has gone to J.K. Simmons for his riveting performance as two versions of the same man, one in each of the show's two parallel worlds. But the reason I tuned in was for one of the year's few masculine-of-center lesbian regulars: Baldwin, a trained assassin never given the chance to develop a true emotional life or any dreams of her own, a fact laid bare when she's forced to watch her counterpart, an accomplished classical violinist, die in an alternate dimension. She struggles with her sexual and emotional connection to a sleeper agent and an unexpected romance with a waitress, as brooding butches are wont to do, but we never struggle with our affection for this unique point of connection in a really good story.— Riese Bernard 
---
Princess Bubblegum and Marceline Smooch On-Screen, Live Happily Ever After in the "Adventure Time" Series Finale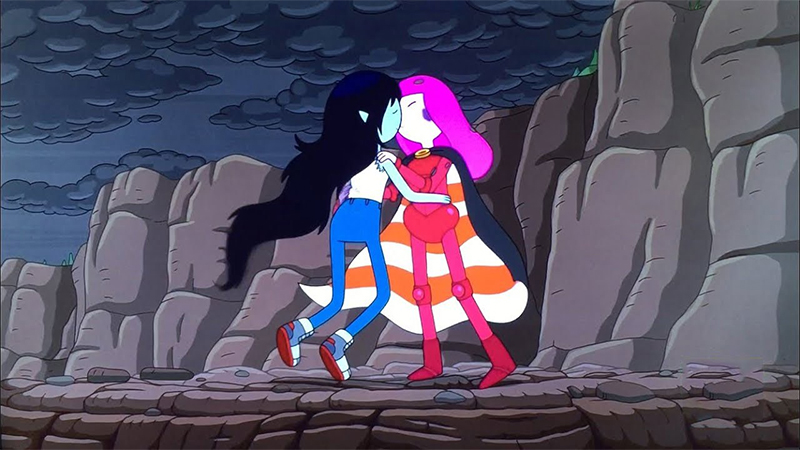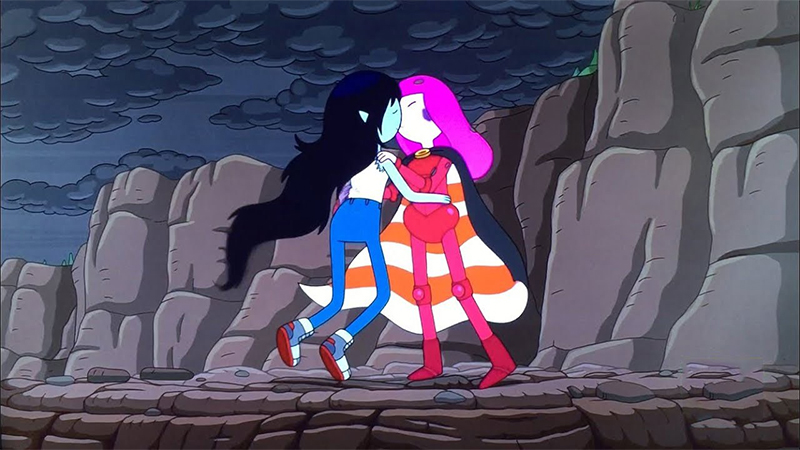 Adventure Time is easily the most influential show in Cartoon Network's history; echoes of its style and themes reverberate far beyond kids TV. And really Adventure Time never was kids TV. Yeah, it was animated and as silly as bing bong ping pong. But as it evolved, it became as philosophical weighty and psychologically curious as Battlestar Galactica. Fans of Princess Bubblegum and Marceline enjoyed growing canonical support of their favorite couple over the seasons, both on-screen and in spin-off comic books — but they'd never actually confirmed their relationship physically until the series finale when Bonnie got womped in the dome piece and almost croaked and Marceline rushed to her and caressed her and professed her love and they smooched right on the mouths. — Heather Hogan
---
"The Handmaid's Tale" Season Two Gets Even Darker, Queerer, Curiouser and Curiouser
Season Two of Handmaid's Tale was darker than Season One, which's saying a lot. I mean we opened with a fake-out mass-hanging and before long Offred was basically slicing off a chunk of her own ear, then staring at the camera while we watched her bleed. And there would be so much more blood where that came from! But damn, the artistry of this brutal show and its magnificent cast, capable of communicating entire worlds without a single spoken line. The season's most unspoken message, though, was this: pay attention. Look up. Don't wait for them to come for you. Clea Duvall and Cherry Jones graced us with winning cameos and lesbian characters Moira (Samira Wiley) and Emily (Alexis Bledel) took greater prominence. So did Gilead's persecution of lesbians in a specific dystopia designed by religious fundamentalists who are obsessed with traditional gender roles and able to rationalize their actions in the wake of a fertility crisis. It's not a pleasant world to witness, yet it remains a seductive watch. Every moment of dark humor is hard-won, like, I suppose, freedom itself.— Riese Bernard 
---
I Demand a Lesbian Cop-Show Spin-off of The End of the F*cking World
Sure, we could watch fresh-faced teen dreams fall in love in the lemon-scented hallways of suburban California high schools, or we could watch … whatever this was? A 17-year-old self-diagnosed psychopath who loves knives goes on a traveling caper with the only girl in town who's sad, alienated and nihilistic enough to wanna run away with him. Hot on their tail are two lesbian detectives who had a thing once and definitely deserve their own show. — Riese Bernard 
---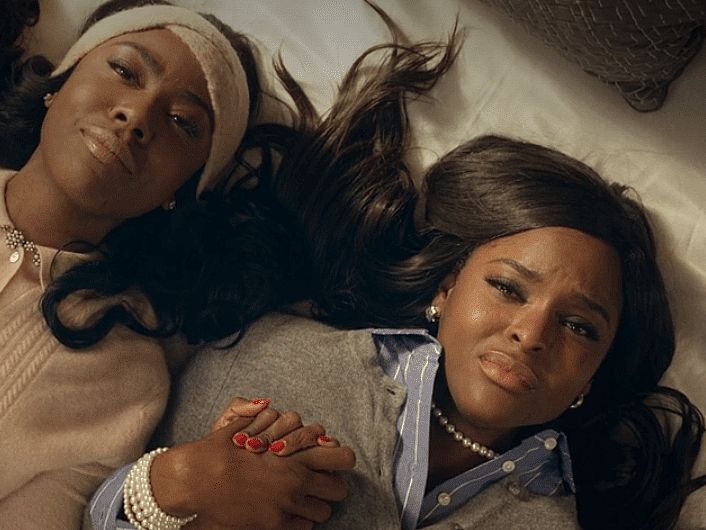 In this current television landscape, binges come and go. A television show drops on streaming, you watch it, maybe even obsess for a spell, and then it fades to the recesses of your memory to make room for whatever trendy new show is coming next. In those dips and waves, sometimes something really special falls through the cracks. I say that because there's a chance that you didn't watch Dear White People last year and that's a mistake.
The first season of Dear White People was regrettably uneven, particularly in regards to its lesbian representation, but the second season aired this year and came back stronger, more focused, and razor-sharp! It's a stylized and poignant exploration of being a black student at a predominantly white university that is as smart (if not smarter) than almost any other comedy I watched last year. The weekend of its drop, I finished all 13 episodes in two days. The next weekend, I watched it again. I couldn't shake how insightful it was, how bright, how one-of-a-kind. You can watch the second season with no knowledge of the first and follow along easily. As a bonus, it comes with the bittersweet gift of two smaller, but significantly better executed black lesbian plots. One of those plots stars Lena Waithe. It also features Tessa Thompson as a parodied take on a Stacey Dash's "black republican television pundit" figure. Her character plays out over a series of cameos, but as far as I'm concerned her final scene is worth the entire season by itself. — Carmen Phillips
---
"Steven Universe" Makes History, Mends Hearts in a Perfect Lesbian Wedding Episode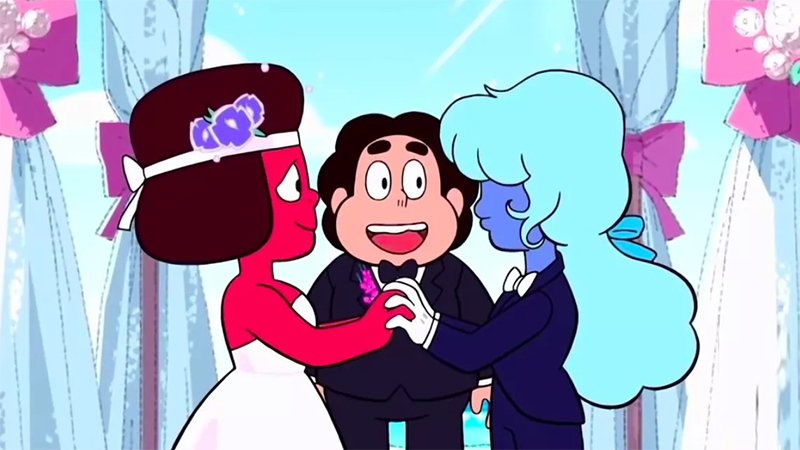 Steven Universe continues to explore more adult themes more fully than nearly every non-animated show on TV: family, grief, depression, commitment, betrayal, duplicitousness, forgiveness, puberty, gender, gender presentation, sexuality — and it does so in a way that's warm and engaging and funny and, most of all, hopeful. This season, Rebecca Sugar's beloved non-binary lesbian gems, Ruby and Sapphire, broke more ground by becoming the first same-sex couple to get married on all-ages TV. Their wedding featured masc gems in dresses, femme gems in tuxes, kisses right on the mouth, and swoon-worthy proclamations of eternal love. Also, of course, ass-kicking. Steven Universe remains one of the best shows on television, full stop. — Heather Hogan
---
Recaps of Season One & Two of Black Lightning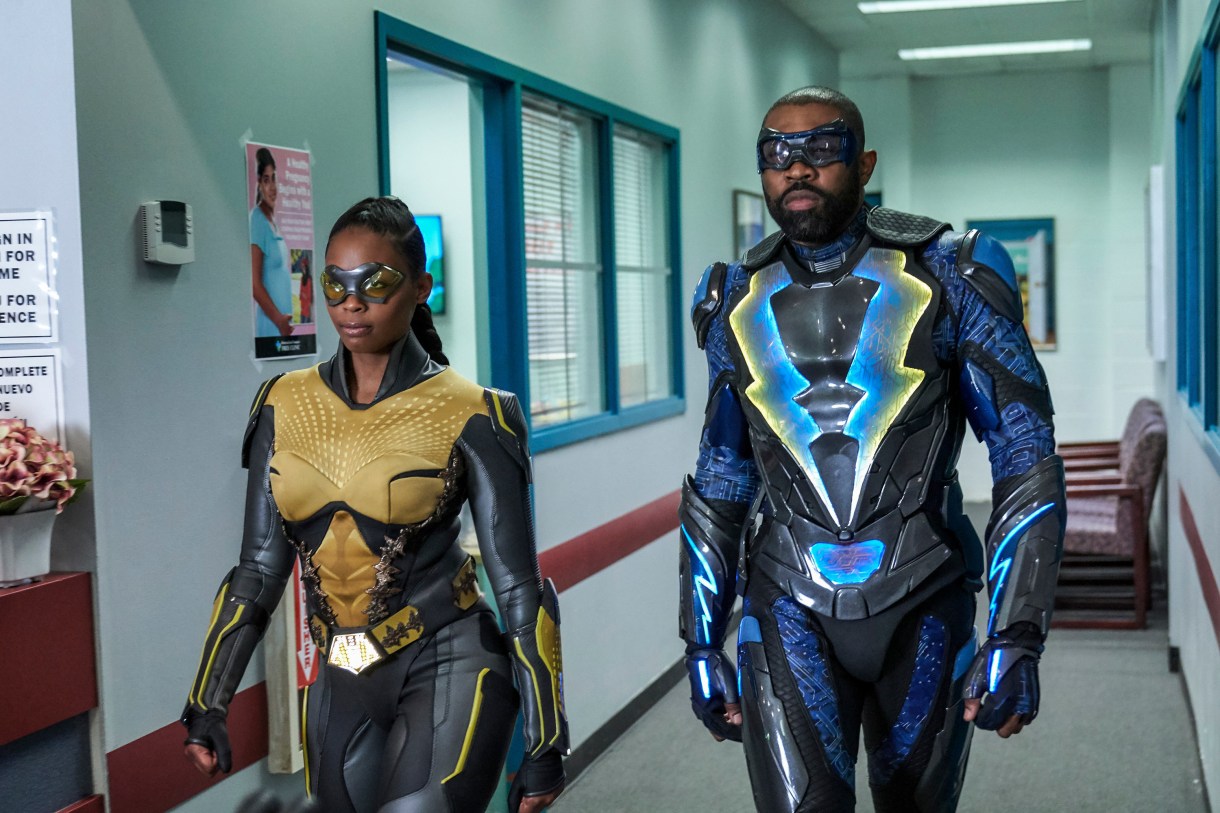 The CW has delivered a very entertaining batch of fresh-faced white superheroes determined to battle off some wacky Big Bads, but Black Lightning really elevates the genre and takes notable risks. The story is rooted halfway in this world, too, spotlighting a family wrought together over love and a deep commitment to their community and social justice, while divided on how best to manifest that commitment. Annissa Pierce, aka Thunder, became network television's first out lesbian superhero when she debuted in early 2018. "I've said before that bullet proof black people is my favorite superhero trope," Carmen wrote in a Season One recap, "but there is also something so sweet about a television lesbian who can't be shot." We hope to see more in future episodes of her girlfriend Grace, played by Chantal Thuy. Don't sleep on Black Lightning. Wherever it's going, you'll want to be on board.— Riese Bernard 
---
Hulu's "The Bisexual" Is Here to Make Every Queer a Little Uncomfortable
This has been such a great year for queer weirdos with their fingers acutely upon their own pulses. In between impeccable L Word references and fetching fashion choices, The Bisexual is an uncompromising journey of sexual discovery, jump-started when Leila breaks up with her much older girlfriend (and business partner) Sadie. Akhvan's world feels undeniably authentic — she points out that "it's the only show on TV where you can watch two Middle Eastern women in a car, talking, taking up the screen with their different bodies and different ethnicities." Fumbling and unafraid of its own potential, The Bisexual also portrays a multi-generational, diverse network of queer and often gender-non-conforming women in London's East End in all its messy, self-reflexive glory. — Riese Bernard 
---
The Good Fight lives in that very special sweet spot that I like to call organized chaos, almost ballet-like in its sweeping rhythm. It is very much a playground for Christine Baranski and Cush Jumbo to do their impeccable work. But it also, better than any other show, captures the collective meltdown that has become a ceaseless hum in Tr*mp's America. It's sharp, and it's dark, and it's still funny and fun, with a very women-driven, diverse cast. And one of its central lawyers, Maia Rindell (Rose Leslie), also happens to be a petite lesbian mired in staggering lesbian drama, and by lesbian drama I mean her girlfriend literally testifies against her in a massive court case that Maia's parents have her swept up in! Also, in season two we learn that Maia was in love with her tennis instructor as a closeted baby gay, and I have never felt more Seen. — Kayla Kumari 
---
12. Harlots Season Two (0)
Harlots Season Two Is Here, Queer and Transcendent
Harlots might be the year's most underrated show (Seriously, how does this show earn a nearly perfect score on Rotten Tomatoes but not make it onto anybody's Best Shows Of the Year list? I endeavor to suggest that the reason is Men). I declared Harlots the most accurate portrayal of indoor-market sex work ever represented onscreen in Season One — surprisingly more resonant to me as a former sex worker than any contemporary portrayals — and its extra queering in Season Two made it moreso and then some. If Season One was about sex work, Season Two is about the reality that what's done to sex workers is inextricable from what's done to all women — the lessons about power, violence, solidarity and struggle in stories about sex work are ones that the larger conversation about gender ignores at its peril. — Riese Bernard 
---
11. High Maintenance Season Two (6)
In between High Maintenance's first and second season, a lot happened for husband-and-wife co-creators Ben Sinclair and Katja Blichfeld — including Katja coming out as gay, thus ending their marriage. Although the split hadn't been finalized at the time, Season One ended with the reveal that Sinclair's "The Guy" marijuana-delivery character lived down the hallway from his ex-wife, who'd left him for another woman. Its Season Two, then, is a long time coming and imbued with a rapturous affection for contemporary queer culture. The characters calling upon "The Guy" negotiate languid lesbian sexual dynamics, LGBT-affirming churches, sexually fluid teens and anti-Trump feminist gatherings attended by well-intentioned, hysterical liberals. Particularly touching was a bittersweet episode that saw "The Guy" visited in the hospital by aforementioned now-lesbian ex-wife. But honestly, with few exceptions every story in this scene is like a nice hybrid edible that makes you giggle, relax, and occasionally feel profound.— Riese Bernard 
---
10. Vida Season One (2)
"Vida" Review: Starz's New Latinx Drama Is Sexy, Soulful and Super Queer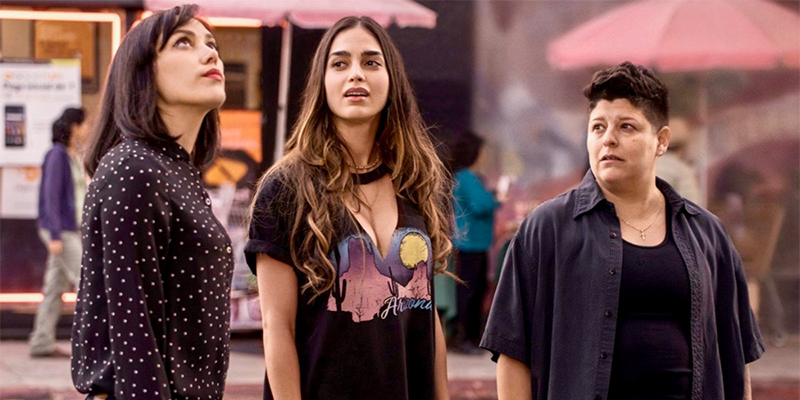 Tragically overlooked by mainstream critics, one of 2018's most innovatory offerings sees emotionally estranged sisters, bisexual attorney Emma (Michel Prada) and Lyn (Melissa Barrera), reuniting in their home of Boyle Heights after the death of their mother who, it turns out, was in fact dating her butch lesbian "roommate," Eddy. Showrunner Tanya Saracho's writing team is entirely Latinx and mostly queer, and they deftly address the complications of "gente-fication" and the joys of living breathing loving community with all the nuance and authenticity it requires. But perhaps most notable for all of us here was the graphic butch/femme sex scene that opened Episode Three. "It isn't just about the hot sex — though the sex is very hot — it's about creating spaces where Latinx queer bodies can feel ownership," wrote Carmen in her recap. "It's tearing down shame. It's about saying that our love, our sex, our sticky sweat is valid."— Riese Bernard 
---
"Crazy Ex-Girlfriend" Is Singing Our Song: Valencia Has a Girlfriend!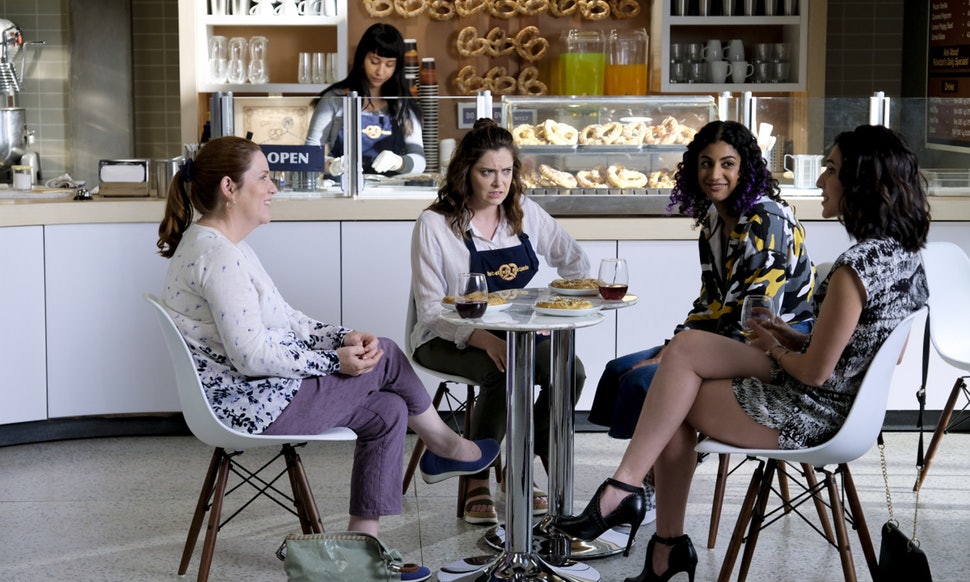 Maybe we should've seen it coming — after all, soon after we meet Valencia for the first time, she's kissing Rebecca on the dance floor and lamenting the fact that everyone wants to have sex with her — but it wasn't until Valencia met Beth that we got to see her bisexuality as something other than comedic fodder. Crazy Ex-Girlfriend has always been a queer-friendly show but with Valencia and Beth, it finally put lady-loving ladies on centerstage. Valencia's bisexuality was the pitch perfect end to a show-long character arc: she's evolved from the vain yoga instructor who couldn't build meaning relationships with women to loving, working and living with one.
The Golden Globe-winning series is currently in its fourth and final season and Valencia and Beth are still together, happy and, in an unusual twist for Crazy Ex-Girlfriend, relatively normal (unless you count the $8000 they pay in rent for their new closet size NYC apartment). We feared that the couple's recent relocation meant that we wouldn't get to see as much of them but the show's found a way to bridge the distance between West Covina and New York. Hopefully, Valencia's recent return for "the rest of the series of holidays" means we'll finally get that lesbian loving musical number we've all been craving. — Natalie Duggins
---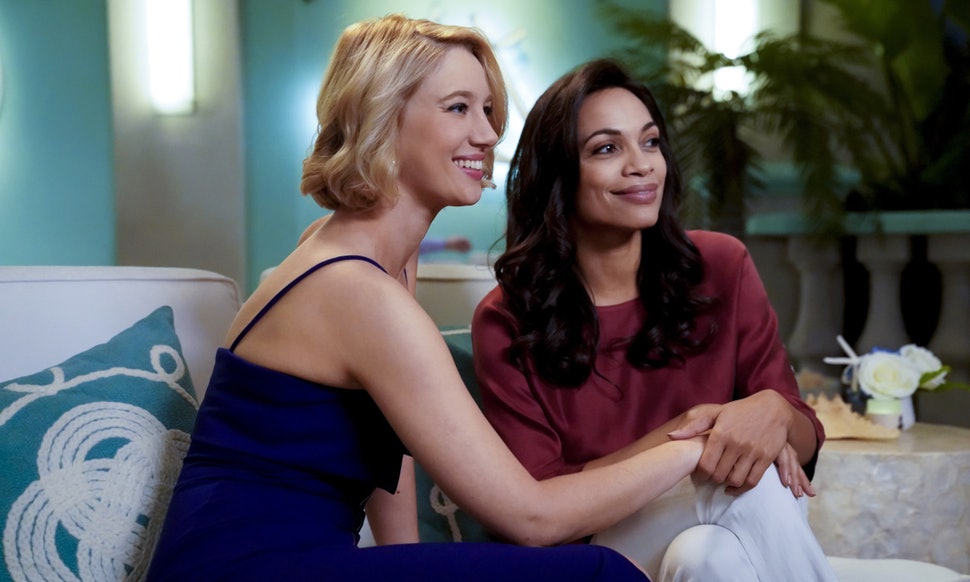 While Jane the Virgin has been rightly critically acclaimed since day one and praised for its revolutionary diversity, it's always had a complicated relationship with its queer characters. Luisa started off strong but was ultimately relegated to a one-dimensional punchline before essentially disappearing, and Rose was never really fully formed. This year, though, the writers picked up on the long-running fan theory that Petra is bisexual and agreed. Unlike Luisa, Petra actually started out as a caricature and became more layered and complicated as the show went on. Her coming out journey was essentially realizing she's into women because her chemistry with Jane Ramos spawned a sex dream into her subconscious — and then just going for it. The self-revelation, the exploration, even the way she told Jane and Rafael about it was so sweet and sexy and prickly and Petra. Jane the Virgin has gotten better every year, and the surprise of Petra and JR's storyline was one of the reasons season four was its best ever. — Heather Hogan
---
Netflix's New "Haunting of Hill House" Gave Us a Lesbian Who Lives, Took Our Whole Weekend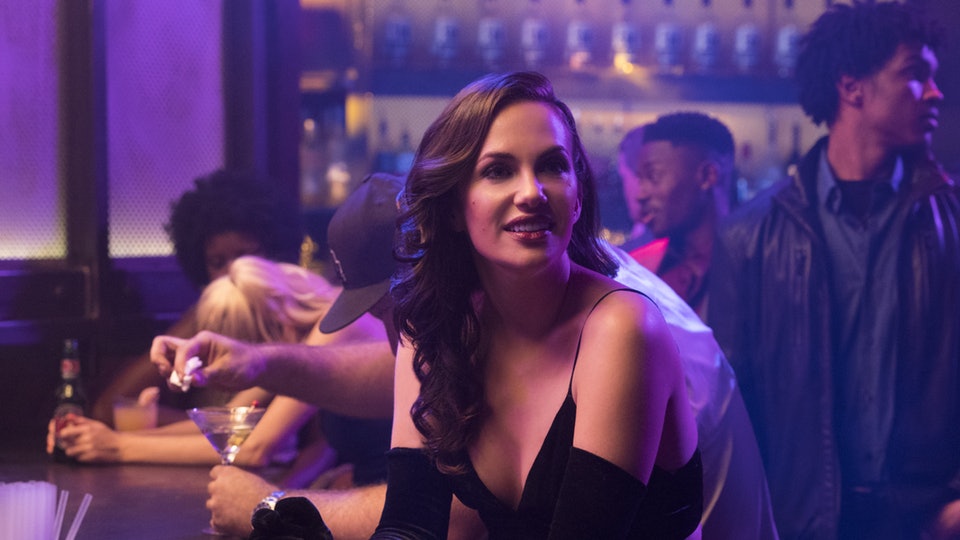 The Haunting of Hill House had a challenge ahead of it with adapting its queer storyline; the original text had one of pop culture's first recognizably lesbian characters, but preserving her "authentically" would mean falling far short of today's expectations for representation, as in 2018 we look for more to signify lesbianism than "wears pants" and "is unmarried." So Haunting gave us Theo, a lesbian character whose sexuality isn't her whole storyline, but does tie into it; who goes through some wild and traumatizing stuff, but on a level that's comparable with the also very wild and traumatizing stuff that her straight siblings go through. And in a show where romantic relationships are rocky at best, Theo does manage to both survive and get the girl.  —Rachel Kincaid
---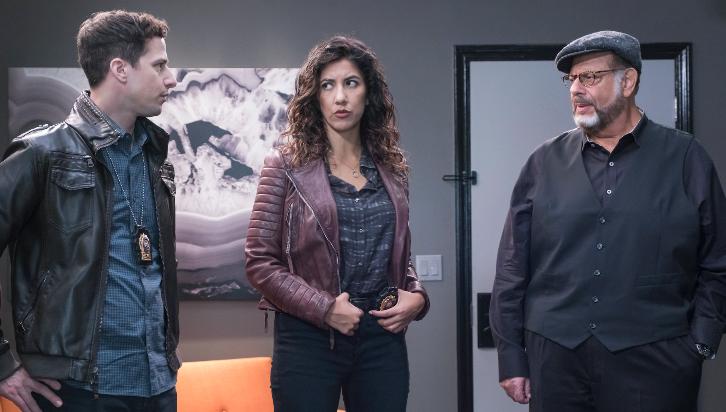 As evidenced by our very own Gay Emmys, this year was a very good year for Stephanie Beatriz and her character Rosa Diaz, who came out as bisexual — like, actually said the word! — on this season of Brooklyn Nine-Nine. The show itself had a good year, too, almost annoying in how persistently it outdoes itself year after year with its annual, always excellent Halloween episode. The Backstreet Boys lineup might go down as one of the greatest comedy cold opens of all time (up there with The Office's "Fire Drill"). And even though we're now five seasons into the series, that doesn't mean the writers are just coasting by on humor that relies on how well we know all of these characters. It still regularly serves up new, emotional character arcs that peel back the layers to this lovable squad, as with Rosa's personal life developments. Above all else, the show celebrates earnestness and friendship in a really lovely way that proves you don't have to be mean or cynical to be really fucking funny. — Kayla Kumari 
---
"One Day at a Time" Brings Even More Heart and Humor and Gayness to Season 2


There's an easy reason that One Day at a Time shows up on so many critics' "End of the Year" Best Lists. It's quite simply that damn good. One Day at a Time is the most generous, compassionate, loving family sitcom on television. It's also not afraid to have frank, sometimes dark discussions – PTSD, depression, the fragility of age, the perils of being a young queer teen, the financial struggles of being a working class family in the 21st century. It's all on the table.
As I wrote in my Season Two review, some of the show's brilliance comes from leaning into its multi-cam sitcom roots. One Day at a Time uses an old school format, and they are proud of it. They leverage the intimacy and familiarity of the genre to their advantage, luring their audience into cutting edge and weighty conversations from the comfort of the Alvarez's living room. It's a stand-out in a class of stand-outs and I would put it against any other comedy on television. In fact, I'll go further. The fact that One Day at a Time has now gone two years without any acting or writing Emmy nominations is one of the most shaming indictments of the white, male majority of the Television Academy that we have right now. Yes, it's just that damn good. — Carmen Phillips
---
4. Pose Season One (13)
"Pose" Is Full of Trans Joy, Resistance, and Love


This show just flatly rejected the idea that the best way to tell our stories is slowly, character-by-character, putting one white cisnormative queer in one show and then another show until we somehow achieve critical mass. The problem with that has often been that that's not how we live — we're not out here one by one, lone queers in schools/towns/families composed entirely by normals. Enter Pose: a show written by and for trans women of color, set in an era when the only thing louder than the daily trauma of oppression and omnipresent fear of HIV/AIDS were the LOOKS, and all the beautiful ways a body can move to express itself. Pose radiates with a glittery, gorgeous aesthetic and complicated characters. Trans bodies are so often portrayed as somehow tragic or compromised, and Pose — in addition to being a story about real human lives, love, friendship, and "chosen family" — is about the triumph of the body, its ability to mean as much to the world as it does to itself. — Riese Bernard 
---
3. G.L.O.W. Season Two (11)
G.L.O.W. Season Two Doubles the lesbians, Doubles the Fun
After a first season that bafflingly pursued outlandish homoeroticism yet was seemingly void of homosexuals, Season Two introduced a Latina lesbian fighter and pulled Arthie off the bench for a romantic awakening. G.L.O.W., based on the real-life Gorgeous Ladies of Wrestling, was a delightful mid-summer ride that took a more decidedly feminist bent as the Gorgeous Ladies explored how to advocate for, instead of against, each other, in an industry hell-bent on exploiting women for male fortune. Still, with its electrifying outfits, ostentatious costume drama and carefully-calibrated balance of comedy and drama, it only failed at one thing: an ensemble this dynamic needs longer episodes or a longer season, or both. — Riese Bernard 
---
The Good Place, like The Office and 30 Rock before it (although I'm, admittedly, not a 30 Rock fan), has accomplished nothing short of a complete re-imagination of what the half-hour network comedy can be. It's got everything: prestige sci-fi level world-building, cartoonish aesthetics, highbrow esoteric wit, running gags and plenty of 'ships. Its premise, writes Sam Anderson in The New York Times, "is absurdly high concept. It sounds less like the basis of a prime-time sitcom than an experimental puppet show conducted, without a permit, on the woodsy edge of a large public park." And yet it works. And in Season Three, The Good Place amped up Eleanor's bisexuality and Janet's particular take on non-binary, and we are so pleased, because that means we can put what will undoubtedly be one of the most legendary television programs of all time on lists like this one. — Riese Bernard 
---
Killing Eve is Your New Queer Obsession
Crescendoing, relentless, all-consuming obsession fuels the narrative of Killing Eve, Phoebe Waller-Bridge's sexy, smart, distinctly feminine action thriller starring Sandra Oh and Jodie Comer as the toxic spy-assassin duo who can't stop thinking about each other. Watching Killing Eve feels exactly like that: seering obsession. This category was stacked with great, complex dramas, but there's something just purely intoxicating about Killing Eve that sets it apart. Though it's the phrase most often used to describe Eve and Villanelle's dynamic, "cat-and-mouse" hardly covers what Oh and Comer bring to these characters or what's even on the page. It's never quite clear whether they want to murder each other or make out. Hunting each other, longing for each other, Eve and Villanelle might be one of the most complex queer relationships on television. But beyond that dripping subtext, it's just a very good thriller with compelling twists and turns and sharp edges that refuse to be dulled. — Kayla Kumari Upadhyaya