It's a busy month for horror fans, with new releases both in theaters and on streaming platforms, but it's worth it to make time for the Netflix re-imagining of classic The Haunting of Hill House. You've likely heard by now that it isn't a faithful reproduction of the original, and that's true! But it's worth it, and for more reasons than just the lesbian character. (Also, though, for the lesbian character.)
In the mid-90's, the Crain family moved into the ancient Hill House mansion with the intent to fix it up, flip it and move out over the course of eight weeks. They don't make it that long, with Hugh Crain escaping with his children one mysterious, horrifying night that sees his wife die mysteriously inside the house. Now, the house has stood empty for over 20 years, but the five Crain siblings — sensitive twins Nell and Luke; tough, brooding Theo; uptight Shirley and asshole celebrity writer Steven — are finding that the house won't let them go until they face what really happened in it.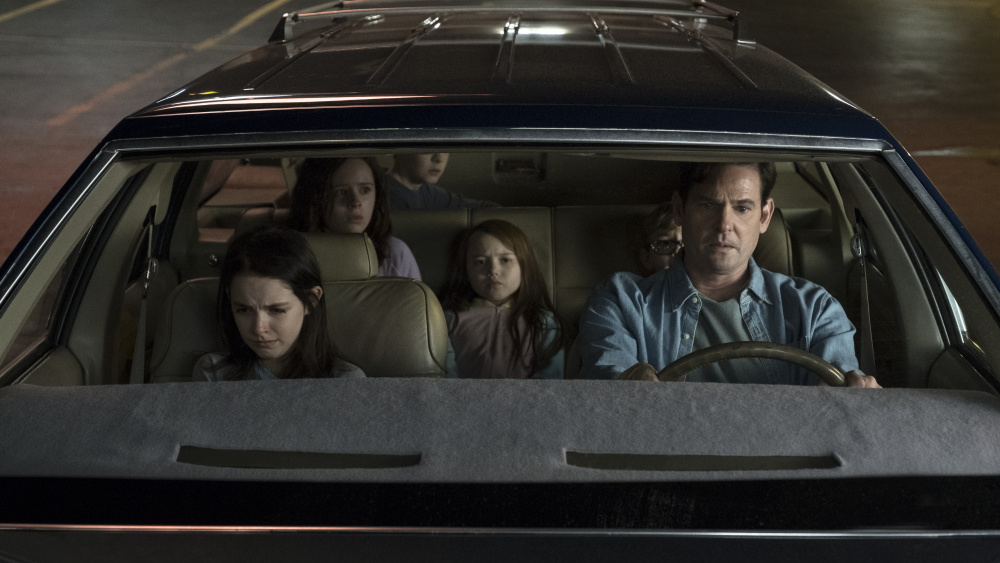 The Hill House adaptation, as others have noted, is only nominally related both to the original and to Shirley Jackson's school of horror in general. Instead of six strangers entering Hill House, the story begins with six people leaving it in terror in the middle of the night and spending the rest of their lives trying to put the pieces back together. As genuinely interested in the occult and supernatural as she was, Jackson usually landed solidly in the camp of human nature being the true terror. While Haunting of Hill House definitely explores that theme — watching how callously the older siblings can wave off the struggles of the deeply traumatized twins is a trip! — its take is ultimately more empathetic than Jackson usually aimed for. The cruelty of the living characters in Netflix's vision is borne out of their own pain, fear and damage, as opposed to the petty sort of genuine evil that Jackson saw in so many people ("The Lottery" is an accessible example). For devotees of Jackson and the original text, there are plenty of little superficial nods; the siblings' names are taken from the original characters and Shirley herself, and the show keeps the book's incomparable opening lines (although puts them in the mouth of Steve, an unfortunate downgrade):
"No live organism can continue for long to exist sanely under conditions of absolute reality; even larks and katydids are supposed, by some, to dream. Hill House, not sane, stood by itself against its hills, holding darkness within; it had stood for eighty years and might stand for eighty more. Within, walls continued upright, bricks met neatly, floors were firm, and doors were sensibly shut; silence lay steadily against the wood and stone of Hill House, and whatever walked there, walked alone."
Also making it through relatively intact from the original Haunting is Theo, the psychic, self-assured brunette in smart trousers who is also understood to be a lesbian. Hattie writes about what made Theo such a remarkable character for her time:
"…she's smart, has some great lines (and great style — lots of black and even *gasp* trousers) — she beats Luke at cards, which his aunt has already said is an impossibility. She isn't married, or anything like Eleanor (who is financially dependent on her sister and brother in law) and she seems far more confident and perceptive than the other characters — okay maybe the psychic abilities help. Basically Theo kicks ass… In horror we're so used to seeing women as victims or as evil, but Theo is neither. …there is no moral judgement placed on Theo — she doesn't die. The house doesn't punish her for her sexuality."
Theo's lesbianism is no longer subtextual in the adaptation; in the first episode we watch her take home the beautiful, tattooed Trish from a Boston-area nightclub, and immediately afterward whip out some truly impressive emotional unavailability. (If the lesbian sex doesn't tip you off to her sexual orientation, Theo's persistent focus on "having boundaries" as a pretext for being emotionally shut down will!) Poor Trish is confused about why they can't talk about their feelings after sex, and hurt that Theo kicks her out immediately afterwards (while wrapped in a flannel, duh). That's Theo's whole thing, though. There's no hint that Theo grows up with any overt messaging about shame over being gay, but we can see her keeping everyone at arm's length from childhood on. Her psychic power is the ability to know things about people and events through touch, something that overwhelms her as a little girl until her mother gifts her a pair of gloves. She moves through life like that afterward, gloved in more ways than one — protecting herself from feeling too much, and simultaneously afraid of what will happen if she succeeds. The impossible tension makes her coil tight, constantly tensed; "a clenched fist with hair," her brother describes her.
In many ways Theo's sexuality is played as incidental to her character; her family is a little surprised but not upset when they learn about it, and despite Theo's melodramatic performance of emotional stonewalling, her and Trish's not-quite-relationship is maybe one of the more functional on the show. (It's kind of a low bar!) But her relationship to intimacy feels honest and sad, true to her specific identity; a gesture at Shane-like lesbian fuckboy behavior made more nuanced with a view on how scared Theo has a right to be about how to move through the world feeling what she does. Although the show's monologues aren't generally its strongest point, Theo's hits home; and if her epilogue feels a little too easy, it's hard to be mad about that (after all, she lives!).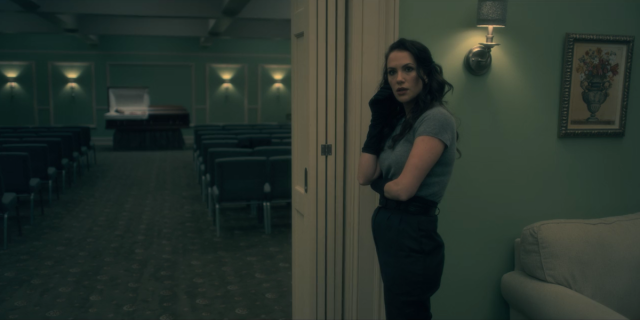 The new Haunting of Hill House is aimed at fans of contemporary horror like The Babadook or It Follows, films that really dive into the human trauma and grief that accompany horror, often bordering on the allegorical. Hill House succeeds with that effort most when it's able to evoke the genuine, sick terror of not being able to tell when something is real or imagined, a real experience or just what you hope or fear most. It's weaker when it leans too hard on the allegorical; a house is like a body, a marriage is like a house, all of them can be haunted; by the time Steve explains these things out loud in the finale, the point has already been sufficiently made over the previous nine episodes. Sometimes its psychological take on haunting makes a messy marriage with its outer scaffolding of classic gothic horror; the device of having us wonder whether any given horror is a product of the haunted house or crazed grief only works when the show feels in control of it, for instance. As is so often the case with television, the show gambles and loses a bit on the interest of its male characters' relationships. Skeptical eldest brother Steve is just a fundamentally frustrating character who doesn't work well as an entry point for the audience, and it's unfortunate that so much time at the emotionally busy finale is spent on his relationship with his dad.
The new adaptation doesn't feel particularly Jacksonian, but she'd likely appreciate its successes anyway; after all, she too was a frazzled mother of a gaggle of kids whose husband infantilized her and largely ruined her life. It's not far off to call it "a spooky This Is Us," but that isn't a bad thing; at its best moments, the humanity and sadness of The Haunting of Hill House work along with the horror to make the relationships as memorable as the jump scares.