For the first time in a long time, I was so excited about a show that I made sure to watch it live as it aired on television. I was so excited about seeing trans women of color on prime time that I gleefully settled down to watch the 79-minute pilot episode of Pose on FX. I'm so glad that I did. Pose proved to me what I already knew – when trans women of color are centered, the stories told are bound to be rich and fulfilling.
The first thing I appreciated while watching the opening scene where we're introduced to house mother Elektra (played by Dominique Jackson) and the children of her House of Abundance (including Angelica Ross as Candy, Indya Moore as Angel, and MJ Rodriguez as Blanca), was the hypervisibility of trans and queer people of color having fun. In fact, I don't think we see a white cishet person on screen until almost half-way through the episode. This is a story about trans and queer people of color in 1987 living in New York City which means that it's a story where white people and whiteness, although an important B-plot, aren't the main story. While trans women of color so often are depicted as flat, one-dimensional characters for the sake of a well developed white character, this show almost does the opposite. Right away their lives are dynamic, interesting, and most of all, joyful.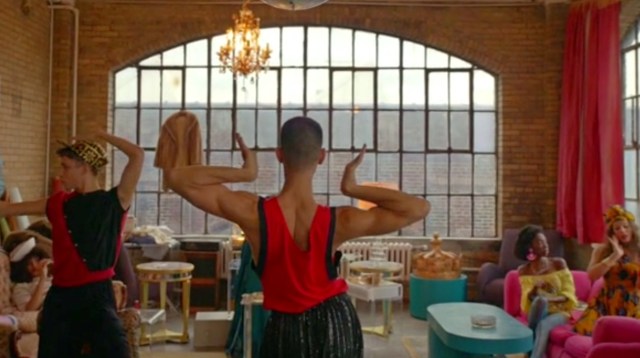 Pose is a lot of things, but most of all, the show contains multitudes of love and joy. And it makes sense. I love American Horror Story as much as the next dark trivia-loving queer, but Ryan Murphy is best, in my opinion, when he's making shows that are centered around communities where joy is abundant. In Pose we see trans women of color, and very often black trans women who are creating communities of tenderness, joy, and love as a response to the hatred and oppression they otherwise experience. None of the characters are jokes or punchlines. From the very beginning, we are rooting for them all.
https://twitter.com/SmartAssJen/status/1003455329710067713
And just because the show is full of love and joy doesn't mean that it is without pain. The show tackles homophobia, LGBTQ youth homelessness, HIV/AIDS, and sex work throughout the episode, but the issues don't define the characters.  Instead, the characters' way of resisting this oppression is through their joy. The show has found the perfect balance between tackling issues and recognizing that people still need and want to have lives full of joy and love in the wake of those things. What an important lesson to see on television as queer folks, especially in Pride month: the best way to say fuck you to our oppressors is to still work to live joyfully.
The idea that LGBTQ characters on screen can be more than just issues is what makes Pose a show you need to watch if you aren't already watching it. While explaining what a ball is to Damon, Blanca says that "balls are a gathering of people who are not welcome to gather anywhere else. A celebration of a life the world does not deem worthy of celebration." There are clear moments when we know that the characters are aware of their othered status in the world, like when Angel tries to apply for a job at a perfume counter, or when Elektra cruelly attacks Blanca's appearance, and yet these characters make time for celebration. And through these celebrations, we see trans and queer people of color not only experience tremendous amounts of joy, we learn that even parties can be training grounds for survival techniques. Blanca explains the importance of realness as "being able to fit in the straight white world to embody the American dream," which especially in the late 80s with Regan and the rise of the ultra-rich on Wall Street, meant getting as close to wealth and whiteness as you could.
One of the most touching scenes is between Angel, a sex worker, and Stan, a white executive who works for Donald Trump. Stan (Evan Peters) is enamored with Angel, and he treats her with gentleness and kindness. I was so nervous during my first watch because I feel trained to expect violence when I'm seeing a trans woman have sex on screen. Instead, I got to see a trans woman being desired by a man who clearly admired her. And their relationship is not perfect! Far from it in fact, but their sexual relationship so far is based on respect, consent, and desire. I have never seen that on television, and it was so refreshing and healing to be able to witness.
We wanted to show that trans women's bodies are desirable and not *always* points of trauma/violence #posefx https://t.co/HEGKsU24Nw

— Janet Mock (@janetmock) June 4, 2018
As a piece of historical fiction, Pose also corrects much of the revisionist histories that have surrounded ball culture since the release of Paris is Burning in 1990. After the documentary and Madonna's "Vogue" video, so much of the culture was appropriated and contributed to white people. Pose is taking that narrative back, centering it in black and brown poor communities of resistance, and reminding viewers about its original role. In addition to being influenced by the legends highlighted Paris is Burning, it also feels like Murphy is taking some cues and inspiration from the 2017 documentary Kiki, which in opposition to Paris was directed by a queer person of color. Murphy uses his privilege throughout not so much to highlight how good of a director he is, but to tell honest, truthful stories for, by, and about trans and queer people of color.
One thing I love so much about #PoseFX and queer history – in general – is how intertwined Black and Latinx communities are. Like Marsha and Sylvia, we've always been down for each other and co-creators of this Movement.

— Raquel Willis (@RaquelWillis_) June 4, 2018
Raquel Willis wrote more about the important role Pose plays historically in her review on them.
Pose is also poised to combat the historical revisionism and co-opting that has long plagued both ball and drag culture. After the success of Paris Is Burning, the brilliance of these arts was snatched up by the cishet masses. Once secret, underground scenes of solace, they became used, mistreated, and misrepresented in popular culture. Cis white gay men, and notably, drag superstar RuPaul, have rebranded many of the elements of these cultures in the name of capitalism. The lingo born from the mighty ball battles of yesteryear are now chewed up and spat out by people who have little to no birthright to them. As well, the contributions of trans women of color are regularly dismissed as many cis gay men ascend to success and wealth via assimilation. Pose reclaims that rich heritage and places queer and trans people of color at the forefront as the rightful OGs.
If you missed it on Sunday, please find a way to watch Pose, and keep watching it. It's available on Amazon Prime and iTunes and is probably on demand if you have cable. It is so rare that we get to see a show about trans women of color that isn't about their trauma. It is rare that we get anything about trans women of color that isn't about trauma. But people are more than their traumas, even if that trauma seems overwhelming. People still find ways to experience joy, they still thrive for and create communities filled with love and laughter and respect, and they support each other. This is the heart of Pose. Blanca says that her house "welcomes any lost souls." Pose is about radical hospitality in the face of oppression, and the result is overwhelming joy.