Two weeks ago, Netflix gifted us a series based on the acclaimed 2014 film Dear White People, and what's more, they gave us the incredible gift of seeing Nia Long play a lesbian professor. Those are significant gifts, to be sure, but unfortunately the show overall, as well as its handling of Nia Long's character specifically, often misses the mark despite its best intentions.
In case you missed it, Dear White People was a film chronicling a group of Black students' experience at Winchester University, the ninth Ivy League university. They deal with what every student of color at a predominantly white institution (PWI) deals with — racist macro and microaggressions. The show expands off of the movie's main conflict — a blackface party hosted by the school's satire magazine Pastiche — and gives us background on each of the characters.
And in Chapter III, we get the best addition ever. Nia Long plays Neika Hobbs in my dream job as an African-American studies professor and a beautiful self-proclaimed lesbian. She's engaged to a beautiful Black femme with short blonde hair, she can't be a politician because she says she needs to tell people to "go fuck themselves at least four times a week", and she doesn't want to get married because she wants to, "enjoy our love pure and untouched by the heteronormative culture, the way God intended." Amen and me too.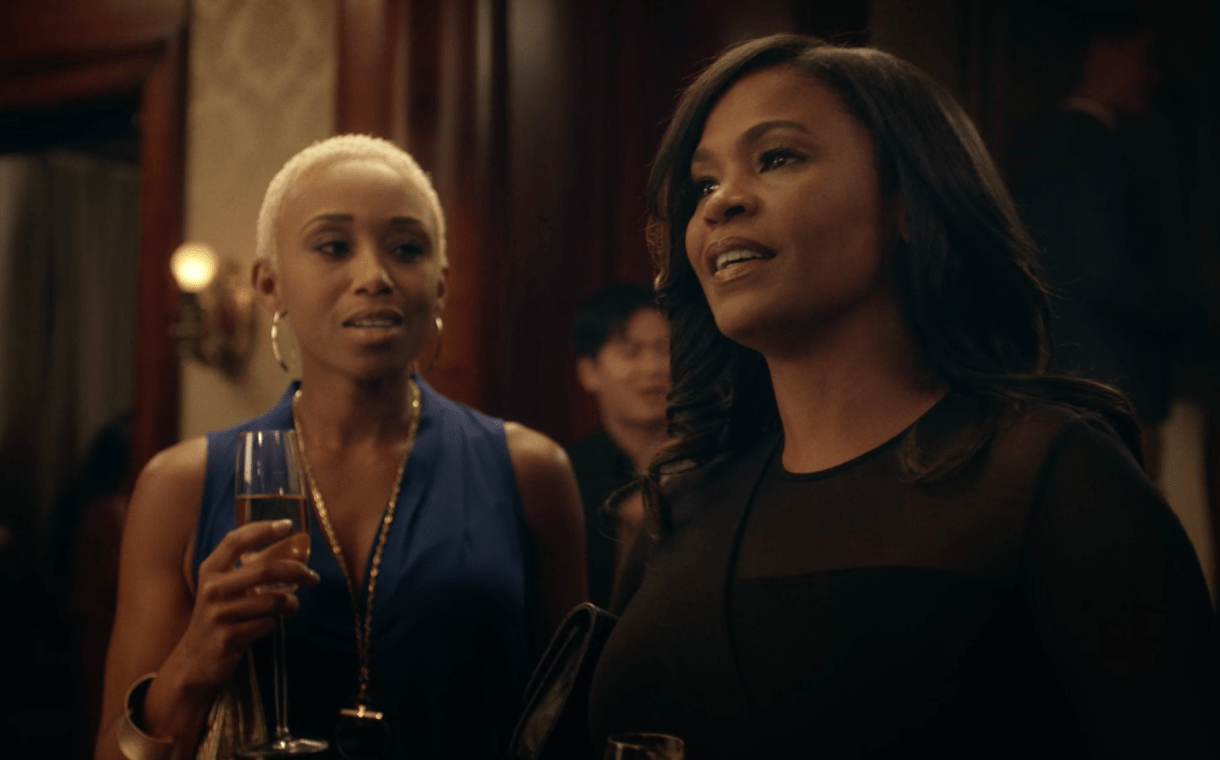 But then something weird happens. She hooks up with a student! With a guy student! Did we have to do that? Haven't we been fighting against this ridiculous trope for decades? Plus, hooking up with a student makes her seem predatory, and not in the hot kind of way she seems predatory when she slaps her girlfriend's ass and says "let's go baby," when it's time to leave. This is a gross misuse of power, and honestly it's my least favorite thing about her. Friends, I wish they hadn't written that part in. I wish Neika Hobbs was just happy and partnered and didn't sneak off with men under 21. Plus, we don't get a lot of black queer female characters on television, period, and when we do get them, we almost never see them in a serious relationship with another black queer woman. The Wire and Queen Sugar are two of a very small number of mainstream television shows where a black woman dated another black woman for more than one episode. It was encouraging to see Dear White People show a black lesbian couple, but the majority of Neika Hobbs' screen-time was dedicated to her affair with Troy. And why, if she is attracted to both men and women, did they choose to have her identify as a lesbian instead of as bisexual or queer?
I think the writing of this storyline is indicative of what Dear White People is overall. It's a show that is literally co-opting activism and activist culture. And I get it, activism is in right now. My social media feeds are filled with friends, celebs, and politicians who are taking pictures of themselves and their signs at a different protest every weekend. And I am not here to say don't protest — please, protest, because we live in a garbage world right now, and we need to change it.
However, watching the show just felt like watching someone who knew how to use buzz words correctly. Like, the writers knew what they were talking about, but it felt rehearsed. I mean, the main character is a very light-skinned, mixed-race straight black woman. She has not one, but two dark-skinned sidekicks. Other than Nia Long's character, there are no queer women students all season long. With a few slight variations, Sam is a 2017 version of the "tragic mulatto" stereotype: never fully able to be understood by anyone because of her "unique" positionality. And so when I think about the show as a whole, it makes sense to me that the writers thought it would be okay to write a lesbian professor who preys on a male student.
I wanted to like Dear White People. I really, really, really did. It has 100% on Rotten Tomatoes! But as a black person who attended a PWI for undergrad and attends a different PWI right now, it felt contrived. My friends and I don't say "woke" to each other because we are woke. Because we have to be. We already know town halls are staged, we already know the administration is always looking for one of us docile enough to be in conversation with so that they can say they tried. We know.
So next season (because I do want a next season) I want more queer women who aren't abusing their power or cheating on their partners. I want their sexuality on screen, too. Neika has full-on sex with a guy, but we never see her be affectionate with her own fiance. I want the writers to work on finding language that feels natural and doesn't make it seem like they've been lurking on DeRay's twitter.
Would I suggest this show? That depends. If you're white, or even non-black, yes totally 100%. If you're Black and want to see a dramatic reenactment of your undergrad experience, with a few great one-liners thrown in, then sure. If nothing else, Nia Long slapping another woman's booty will be enough to get you through the season.