Although most Quality of Life indicators for LGBTQ people and civilization in general nose-dived this year, one thing got notably better: television for queer women.
Granted, the bar was low.
For decades, we settled for relative invisibility, unsatisfying subtext and brief storylines buried within otherwise deficient programs, but that had started changing, along with the culture at large — and then 2016 happened. In 2015 and 2016, hoards of bisexual and lesbian characters were seemingly invented just to get murdered, like our own private Westworld (but with a lot more queers than actual Westworld), and several queer fan favorites met their untimely deaths. But "Bury Your Gays" was never the problem so much as a symptom of the disease; a virus that evolved from decades of tragic, small, desexualized, evil or sidelined queer characters into a new dawn where finally we were allowed to exist, as long as we didn't take up too much space or live for too long.
More Shows, More Lesbians and Bisexuals
The most surprising aspect of putting together the list of 193 Dead Lesbian or Bisexual Characters last year wasn't, actually, the death count. It was being made aware that we weren't, as we'd thought, aware of every show featuring lesbian/bi characters out there. We didn't know they'd lived, let alone died!
Peak TV was in full swing, and we were benefiting. There were 455 scripted original shows released in the US in 2016, a steady climb from 182 in 2009. In their 2010/2011 report, GLAAD found 53 LGBT characters on scripted cable shows, and only 34% were women. In 2017/2018, that number had increased to 173 (49% women), plus 70 more on streaming networks (66% women).
The growth of cable, streaming and on-demand technology has eased our ability to access a vast programming roster often more accountable to its audience than advertisers. Whereas in 2010, it was revolutionary for Pretty Little Liars' lesbian character to make it through an entire season without returning to heterosexuality, by 2016, we were confident enough to criticize its employment of damaging trans tropes and the diminishing screen time offered to Emily's romances. Quantity wasn't enough anymore. We wanted quality, and we wanted it now… and in 2017, we started getting it.
But before we get into that, let's go back in time a little bit.
The Torrid Herstory of Lesbian & Bisexual Women On TV
While gay men certainly aren't winning television, they've always been more represented than gay women, often accounting for 65%-75% of LGBT characters.
Throughout the '90s and early '00s, women-loving-women were rare, precious, elusive creatures: a little Ellen or Nancy here, some gay-but-not-too-gay doctor or lawyer there. From the mid-'00s through the early '10s, we generally found lesbian and bisexual characters in one of seven places:
1. Secondary or sweeps week storylines on a teen primetime soap (The OC, 90210, Once and Again, Secret Life of the American Teenager, Gossip Girl)
2. Regular or recurring spots on a network ensemble program with minimal screen time devoted to girl-on-girl romance (ER, Bones, House, Rookie Blue, The Good Wife) (The Wire is a rare premium cable drama that fits into this category.)
3. Recurring or guest roles on a prestige drama (Mad Men, Six Feet Under, Heroes, Deadwood, Rome, Boardwalk Empire)
4. Queer-targeted series like The L Word (2004-2009), Lip Service (2010-2012), South of Nowhere (2005-2008), Dante's Cove (2004-2007), Queer as Folk (2000-2005), Exes and Ohs (2007 & 2011).
5. The latest Degrassi iteration
6. A Ryan Murphy project
7. Diamonds in the mainstream rough, like Buffy the Vampire Slayer, True Blood or Skins.
When we lost a Category 4 Show — and we lost 'em all by 2012 — the number of lesbian and bisexual characters on TV would come tumbling down. (Faking It is a rare example of a more recent Category 4-ish show, which lasted three short seasons.) Ilene Chaiken told Entertainment Weekly earlier this year that after The L Word went off the air in 2009, "I think a lot of people thought, 'Okay, the baton is passed now, and there will be lots of shows that portray lesbian life.' There's really nothing."
Things began shifting in the early '10s following the success of a few stand-out programs with front-and-center lesbians and bisexual women like Glee, Skins, The Fosters, Lost Girl and Pretty Little Liars. Glee, particularly, challenged the commonly accepted practice of tightly curtailing the queers-per-show quota. Sadly, it's likely that 2010's stream of press-garnering gay teen suicides played a role, too — we needed our stories in order to live and we needed happy endings to believe that things could really get better, and many media-makers answered that call, some better than others. In 2013 on Grey's Anatomy, Callie and Arizona did the unthinkable by having multi-season lesbian relationship on network TV.
Groups like One Million Moms, The Parents Television Council and the Florida Family Association, who regularly rallied against LGBTQ inclusion and pressured advertisers to drop support, faded into the political background, drowned out by our increasing Civil Rights and the ever-more-powerful media representation advocacy organization GLAAD. Teen-oriented networks like The CW, ABC Family and MTV learned they could safely produce this content and easily earn massive free buzz from social media platforms, GLAAD, and websites like ours.
How we watch television has also changed how television gets made — whereas an '80s sitcom scored big if it could entertain an entire family at 8 PM on a Tuesday, shows these days can thrive by attracting significant numbers of solo laptop viewers. Syndication contracts, which provided lengthy profit streams, favored backstory-lite formats like sitcoms and procedurals. Now, shows can earn a solid shot at an afterlife with a plot so compelling you're likely to Netflix-binge 15 nail-biting episodes at once.
Although high-concept television has flourished in this new era, it rarely featured queer women. Prestige TV has always privileged male-centric shows generally, and male antiheros specifically (e.g., The Sopranos, Breaking Bad, Mad Men). On this track, the shift began in 2013. That's when Orange is the New Black, a series with a racially diverse cast that showcased more queer love stories than straight ones and centered a bisexual protagonist, topped every "Best Of" list and demolished expectations on social media. Just as The L Word's rise was enabled by the growth of online communities like fansites and AfterEllen, OITNB hit the market just as wealthy companies like HuffPo and Buzzfeed launched LGBTQ verticals, which quickly filled with OITNB-adjacent content. Transparent, in 2014, sealed the deal OITNB started — a trans woman lead presiding over an entirely queer ensemble put Amazon Prime on the map, racked up Emmys, and challenged previous conceptions of what was considered "too niche" to get made.
But in 2016, GLAAD's annual report revealed that lesbian representation had gone down for the first time since 2004, and "while bisexual women are getting a small boost in visibility, it's often coming at the cost of damaging cliche." Our Senior Editor Heather Hogan called 2016 "the most frustrating year ever for queer women who love television," even compared to years when we had "hardly any TV representation at all." Every year for the last ten, we'd seen more and better portrayals of queer women on television, but "Lexa's death, and the landslide of lesbian/bi deaths that came after it, were crushing because they shook the hope out of us."
---
What Got Better For Lesbian and Bisexual TV Characters in 2017
I've spent the year building a database of every lesbian, gay and bisexual teevee character ever on English-language programming accessible on U.S platforms, and the past two months looking at 2017 specifically, finding 116 total shows with LBQ regular/recurring characters, compared to 80 in 2016. (From here on, I'll abbreviate "Regular or Recurring Characters" as "R/Rs.") 39 new shows in 2017 had lesbian and bisexual R/Rs, and five returning shows that previously lacked lesbian and bisexual R/Rs, added them; compared to 16 new shows and five returning in 2016.
Those 116 shows accounted for 105 lesbian and 99 non-monosexual R/R characters. These shows also featured 10 trans women (straight or queer) and non-binary R/Rs. (Four shows that included non-binary characters or straight trans characters but no lesbian/bisexual cis or trans female characters were not part of the database count, but they are discussed in the trans section later in this post.)
I personally watched 51 of these shows, and other team members bring the "Autostraddle saw this show" count to 83. For the rest, I relied on recaps and reviews from other sites, YouTube clips, wikipedia, show-specific wikis, and databases (specifically this one and this one).
Then, we made you this infographic:
The movement that started when Lexa died put LGBTQ women in the spotlight. So far this year, we've lost less than a dozen R/Rs to stray bullets and wayward stabbings, and of those, only two were potential 2018 regulars, as the majority occurred on anthology series. In 2016, LGBTQ viewers pointed out a persistent unconscious bias and also made it known that queer fandom is absolutely nuts about our teevee, we're tired of being exploited and we're happy to give praise where praise is due. Did showrunners choose to let queer characters live? Maybe shitty shows stopped inventing new queers just to kill them. Maybe good shows began negotiating potential lesbian/bisexual deaths with the same careful consideration they do straight ones. Whatever the reason, it feels like we're finally getting somewhere.
Because moreso than a lack of death, 2017 gave us a tiny burst of life — myriad disappointments, to be sure, but small steps in the right direction too.
Also, everyone is gay and so every television show should be about us, the end.
Lesbian and Bisexual TV In 2017: Highlights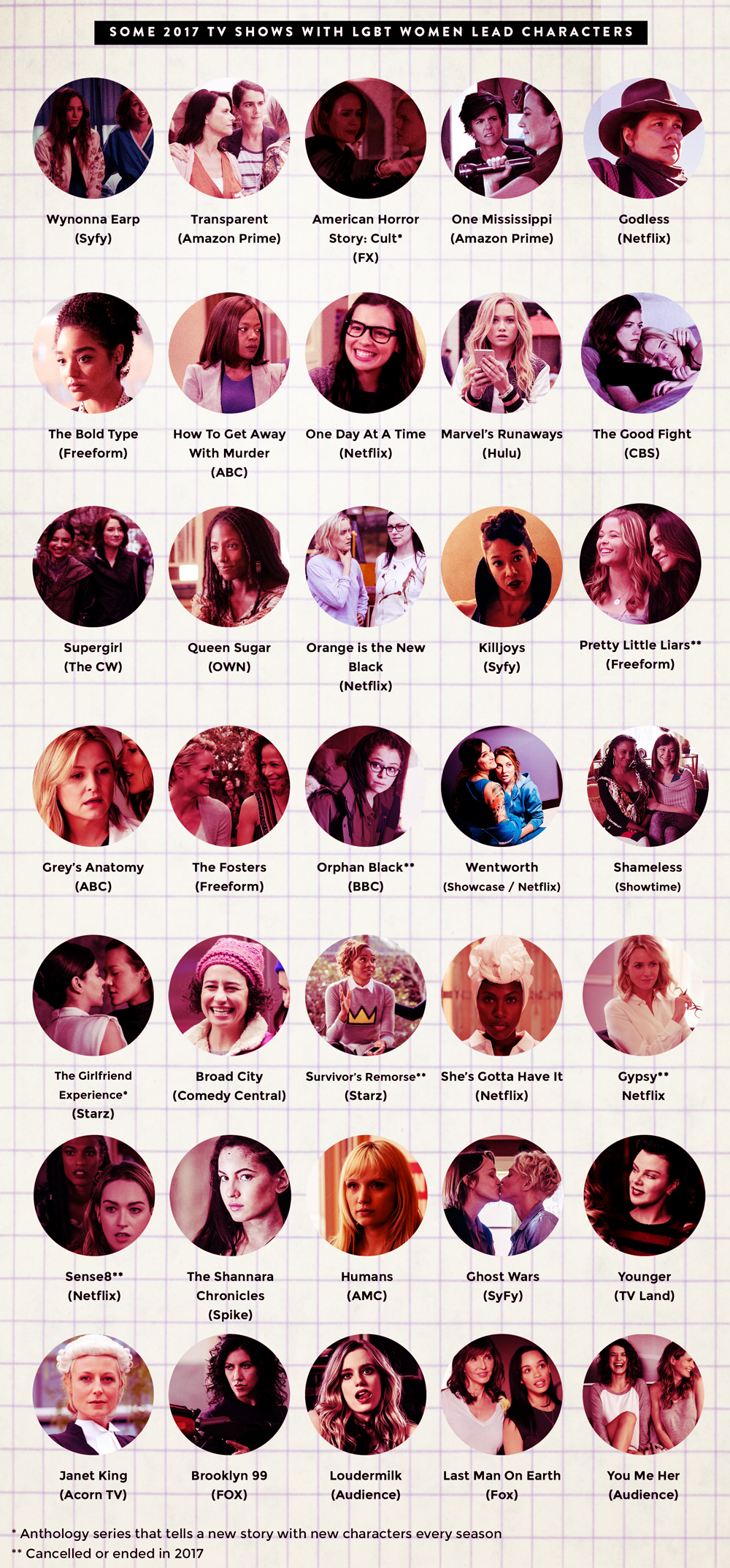 2017 opened with the charming, surprisingly captivating multi-cam sitcom remake of Norman Lear's 1975 feminist show One Day at a Time, re-packaged as a story of a Latinx family with 14-year-old Elena struggling to come out to herself and her family (who tried brushing up on lesbian lingo by checking out Autostraddle.com). The LGBT history mini-series, When We Rise, debuted in February, and although its mediocrity excludes it from "Golden Age" territory, it's very existence was an important milestone.
The second season of UK TV series Humans hit the states in February, opening its first episode with the beginnings of a lesbian love story between a synth, Niska, and a German lesbian, Astrid, that wove its tender way through the show's action-packed narrative. One of the year's most buzzy and critically acclaimed series, Hulu's The Handmaid's Tale, debuted in late April, with lesbian characters played by Samira Wiley and Alexis Bledel. Two artsy, high-brow dramas with all-female production teams — Hulu's Harlots and OWN's Queen Sugar — also showcased queer women's stories in revolutionary ways.
Although Denise's screen time was mininmal in Master of None's second season, the "Thanksgiving" episode, which followed Denise through several generations of Thanksgiving as she came into her own as a Black lesbian, made up for all that in a perfect hour of television that made Waithe the first Black woman to win an Emmy for Comedy Writing.
Mid-summer, Jill Soloway's esoteric performance-art-inspired I Love Dick came to Amazon Prime with a Latinx butch heartthrob, Devon, played by Roberta Colindrez, set at an artist's retreat in the hazy Texas desert. The second season of Tig Notaro's One Mississippi is perhaps one of lesbian television's most impeccable works of art, as it deftly navigated rough topics like sexual abuse with delightfully dark humor and a truly beating heart. Transparent's fourth season bounced back from a lackluster third, with Sarah and her ex-husband entering a poly relationship and Ali beginning to come into her own as non-binary.
Freeform found a summer sleeper hit with The Bold Type, a refreshing dramedy centered on three best friends working at the same magazine, including Kat, a Black social media director who realizes she might like ladies when she falls for Muslim photographer Adena. Kat and Adena were one of only four R/R QTPOC couples featured this year.
We closed out the year with several unexpected gifts on network television: Sara Ramirez landing a regular role on mainstream cable as a dapper butch government advisor on Madam Secretary, Stephanie Beatriz's Rosa Diaz coming out as bisexual on Brooklyn 99, Chris Alonso coming out bisexual on S.W.A.T., Luisa returning to regular appearances on Jane the Virgin, bisexual Toni Topaz joining Riverdale, Simone Davis getting gayer by the minute on Star, Nicole coming out as a lesbian on Fresh Off The Boat and, after several lifetimes of brutal queerbaiting, two women finally kissing with tongue on Once Upon a Time.
Over on Hulu, Marvel's Runaways brought us lesbian Karolina coming to grips with her superpowers and feelings for her friend Nico. On premium cable, Audience Network debuted lesbian and bisexual characters in two new shows, Loudermilk and Mr. Mercedes. On Showtime, Shameless brought on a new lesbian of color.
Meanwhile, Danger & Eggs, Steven Universe, Big Mouth and Loud House produced important all-ages content with queer protagonists.
Lesbian and bisexual characters had guest or R/R roles on many programs dominating year-end "Best Of" lists, including American Gods, Halt & Catch Fire, The Marvelous Mrs. Maisel, The Deuce, Better Things, Veep, Mindhunter, Mr. Mercedes, One Day at a Time and The Handmaid's Tale. We also got an Asian lesbian on the obnoxiously problematic teen sensation 13 Reasons Why, which was terrible but also a prime example of the year's most buzzed-about programs seeming to come up lesbians this year.
There was also some intense lesbianism/etc on entertaining programs that may not attract wild critical acclaim but are wildly endearing nonetheless: Supergirl (although Maggie Sawyer's departure was one of the year's toughest storms to weather), Wynonna Earp, Younger, Degrassi: Next Class, Grey's Anatomy, Into the Badlands, Killjoys, Saving Hope, The Fosters and The Shannara Chronicles.
"At first, I thought I had imagined them, or maybe even willed them into existence," wrote Caroline Framke at Vox. "In 2017, the year after I came out as 'not straight,' television suddenly seemed to be teeming with compassionate, realistically messy coming-out stories — many of them anchored by women." A lot of this is owed to women behind the camera, too: One Day At a Time and Fresh Off the Boat have queer women of color in the writing room, and actress Stephanie Beatriz worked with Brooklyn 99 writers to tell her coming out story authentically.
---
What Didn't Get Better For Lesbian & Bisexual TV Characters in 2017
Despite centering their seasons on lesbian relationships, neither American Horror Story: Cult or Season Two of The Girlfriend Experience delivered solid stories. We were also unimpressed with lesbian and bisexual representation on shows including Top of the Lake, Famous In Love, Orange is the New Black, Claws, Dark Matter, She's Gotta Have It and Dear White People. Because Autostraddle has already devoted countless hours to criticizing various elements of queer-inclusive television shows this year and this article is already quite long, I won't rehash all of it here.
Instead, I'd like to talk about an area of unacceptable persistent failure and the primary problem currently facing queer TV: a severe lack of diversity.
Gender Identity
Butches, Please?
The sidelining of gender non-conforming lesbian and bisexual characters gets more absurd every damn year.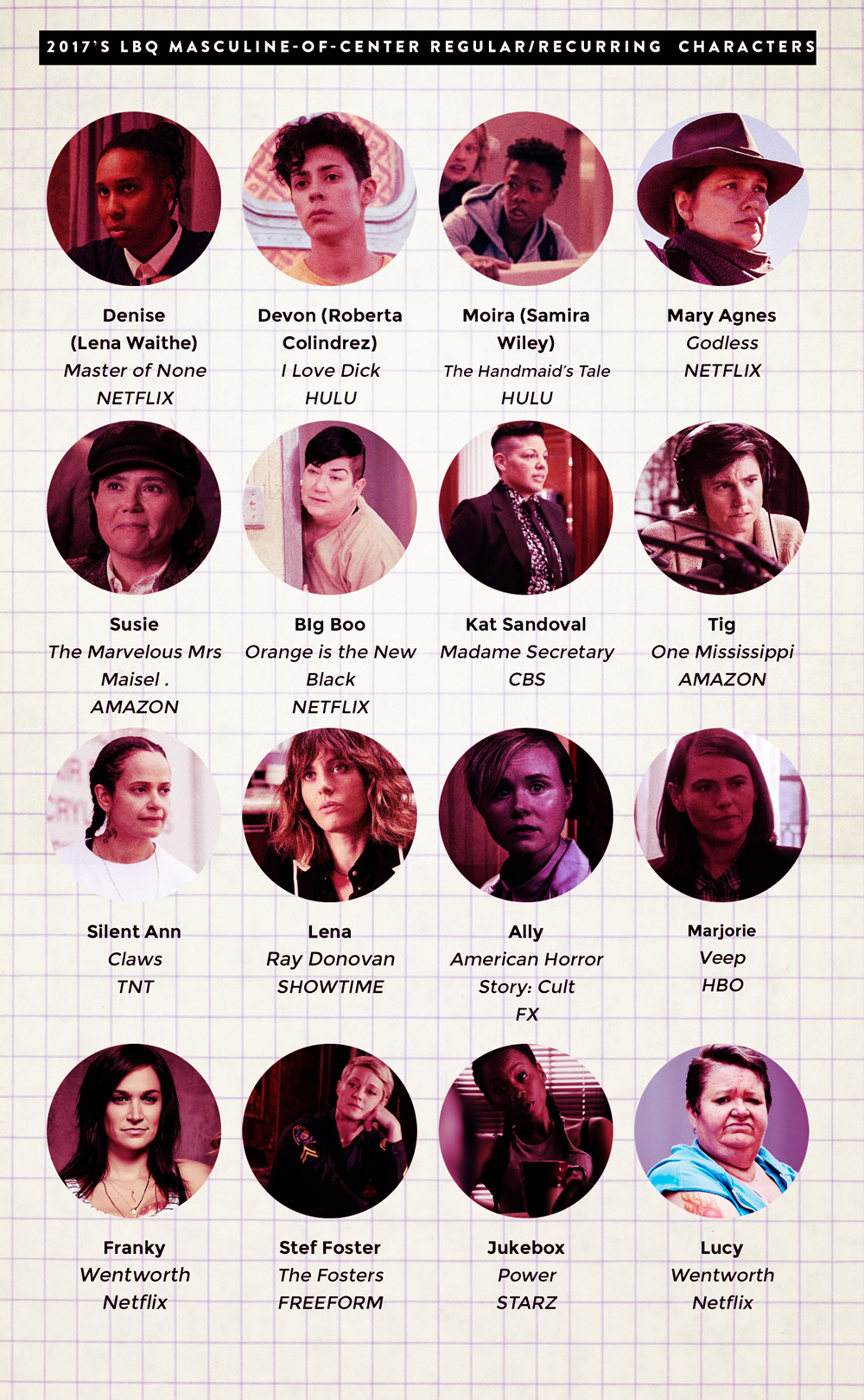 Butches are most likely to appear in prison or somehow involved in crime or criminal justice. Lucy is a convicted rapist. Franky, Silent Ann and Big Boo are all convicted criminals. Jukebox is a (now-killed) corrupt cop. Mary Agnes and Stef are both gun-toting law enforcers, albeit in very different scenarios. Ally kills humans with knives and Lena works for a Hollywood "fixer" who's often helping criminals get away with it.
This year's biggest gains for masculine-of-center representation were a black masculine-of-center lesbian winning an Emmy for a black lesbian story, Kat Sandoval and her pocket square on Madam Secretary (remarkable for reasons including how rarely we see a not-skinny butch in a suit on any kind of screen), Devon in I Love Dick (my favorite character of 2017) and Tig Notaro's One Missisisippi, starring and written by a masculine-of-center lesbian. Those were four incredible portrayals, but 16 masculine-of-center R/R characters (two of whom died, and some of whom are really only television-butch) out of 204 is ridiculous.
Furthermore, Seeso's shuttering this year has left hilarious wives Cameron Esposito and Rhea Butcher's second season of "Take My Wife" in limbo, which says a lot about where television's comfort with gender non-conformity begins and ends.
Transgender Representation: Better Still Isn't Good
A few steps forward and a few steps back: this year offered three non-binary characters (up from zero in 2016), including thoughtful season-long gender journeys for Yael on Degrassi and Ali on Transparent. The animated program Steven Universe also has a non-binary character, Stevonnie.
Trans representation gets a little better every year, but the bar is so low there that it's practically an underground tunnel, and we're still lacking lesbian, bisexual and queer trans women. Moira Pfefferman began dating men in Transparent's Season Four, but does seem to still identify as queer. We're hoping they'll recast Moira with a trans actress for Season Five, now that Jeffrey Tambor has been outed as a sexual predator, rather than kill her off or exile her geographically.
Laverne Cox's Sophia Burset, who had a diminished role in the past two seasons of Orange is the New Black, is queer, but her sexuality is rarely addressed. Nomi Marks, the transgender hacker from Sense8 played by Jamie Clayton, has a girlfriend and an inspirational arc — but Sense8 was cancelled this summer. "In some instances," GLAAD wrote of trans characters in their 2017-2018 report, "it appears that the show's creators haven't given much thought to the fact that trans people also have sexual orientations."
Straight trans women aren't exactly thriving either. Four shows with trans characters — Doubt, Daytime Divas, Gypsy and Lopez — were cancelled. Maxine may not return to Wentworth. Although sources strongly suggest Cotton is returning to Star, they did leave possibly-murdered in the season finale. On the upside, the always-incredible Davina from Transparent broke ground this year with a full-frontal.
Danger & Eggs was created by a trans woman with multiple side trans characters and trans actresses — but its future is unclear. (Take My Wife's second season, also in limbo, promised trans-inclusiveness.)
Trans men remain woefully underrepresented in media. Elliot Fletcher plays a gay trans guy on Shameless and a straight trans guy on The Fosters, and apparently The Orville has a regular trans male alien character. There is speculation about Frankie, Sam's daughter, on Better Things, as well as the child in the now-cancelled Gypsy. "I didn't know they existed," trans male actor Ian Harvie told Screencrush this year about trans men, "and I didn't know I existed as a result of it."
---
Racial Diversity
As Carmen Phillips wrote in our Favorite / Least Favorite Characters of 2017 roundtable, "representation for queer women of color was plentiful this year, but uneven in execution."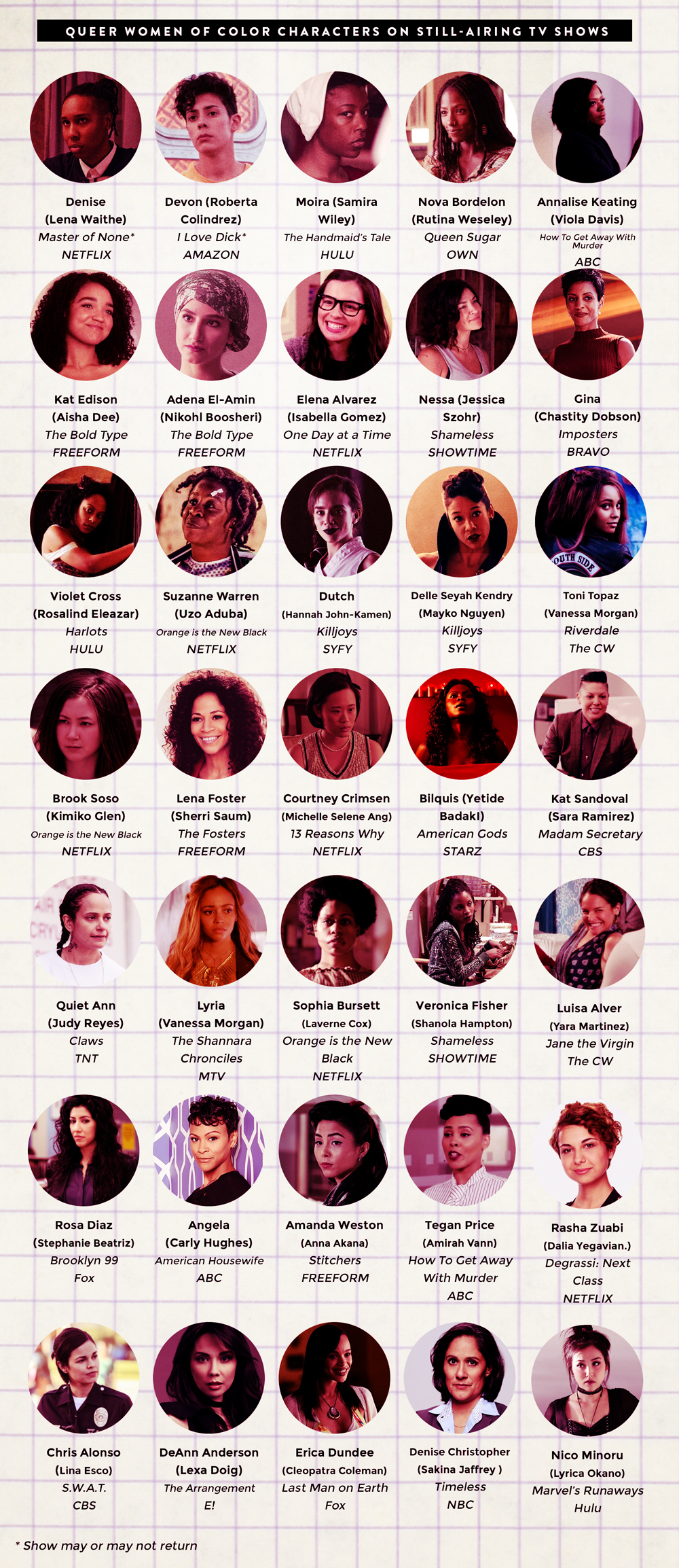 It felt like a big year, between The Bold Type and the "Thanksgiving" Emmy win and Queen Sugar and The Handmaid's Tale and Rosa Diaz — but the big picture isn't great.
GLAAD reported that broadcast scripted programming for the 2017-2018 season is "finally making serious strides towards more racially diverse representations" but "GLAAD would like to see that racial diversity also represented in the increased inclusion of LGBTQ characters who are also people of color." They found the number of QTPOC characters decreasing on broadcast, to 36%, and increasing on cable, to 35%, with streaming lagging behind at 23%. GLAAD was looking at a different data set than us — all characters (not just women), only U.S. primetime shows, and the 2017/2018 season rather than all shows that aired in 2017. But our numbers were similar: 70% of the R/R characters we counted were white.
Comparing the population to its accordant representation isn't a great standard — I'd argue when it comes to sexual as well racial minorities, we need extra representation, not just proportional representation. Still, it's worth noting the extreme discrepancy for Latinx people — 18% of the population, yet only 4.8% of LGBT female characters! The small, sliver of a silver lining is that those nine Latinx characters were some of the year's best characters, period.
GLAAD reported a sharp dip in API LGBT characters, from 13% in 2016-2017 to "a meager 4% this year." Our number was slightly higher, but still dismal. There's a quality/quantity issue and the only API character on network television, bisexual CeCe from New Girl, had zero lesbian romantic arcs. Other interesting numbers: of 12 shows with API characters, 33% were Canadian and 42% were sci-fi/supernatural. Just two of the 12 identified as lesbians, and none of the 12 had a present or past relationship with an API female. In fact, from a cursory look at the data, no API character in our database of 303 shows has ever dated another API woman. (I'll talk more about this in an upcoming piece on race in lesbian TV relationships.)
19% of this year's characters were Black, which is fine but not great — especially when you take a closer look.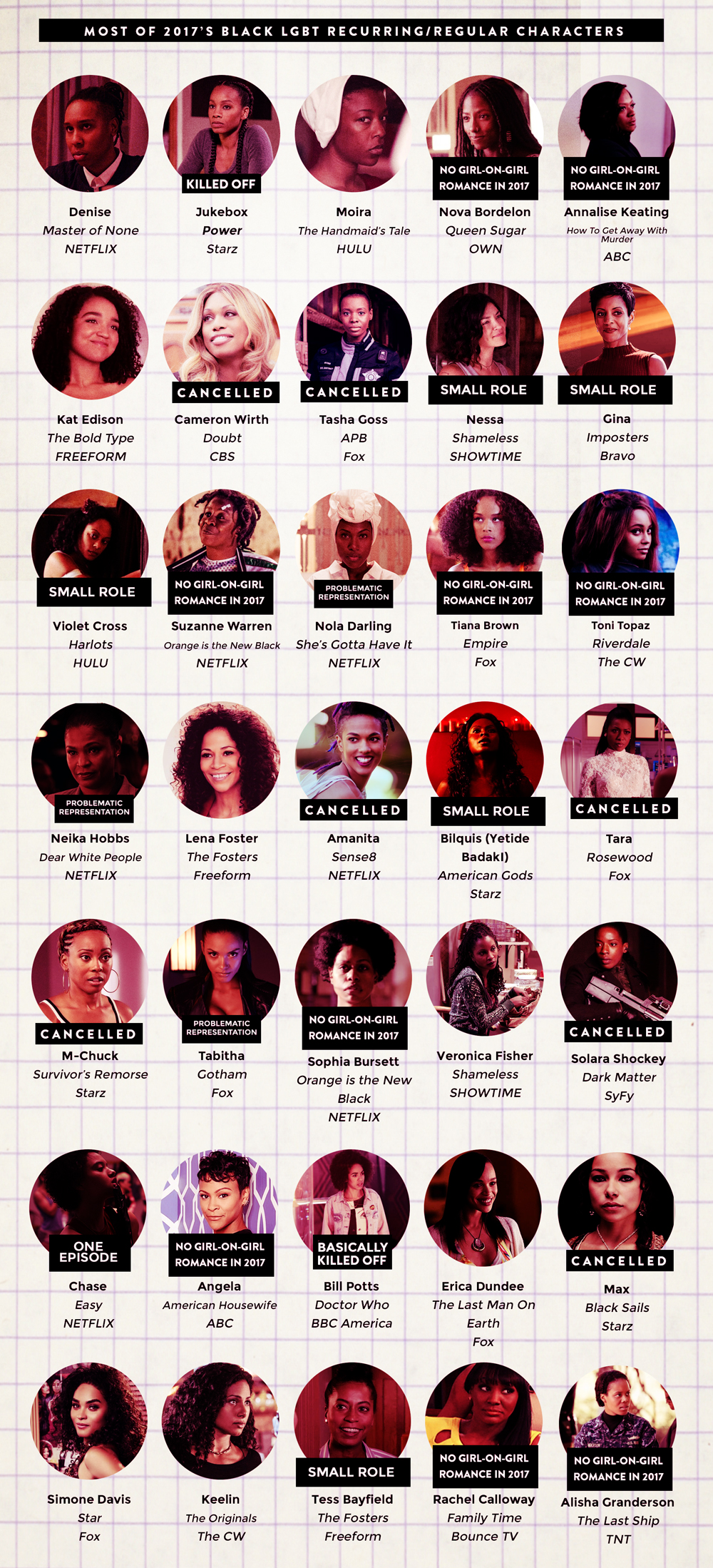 Although Nova and Annalise remain beloved bisexual characters, and don't need to date women to prove their bisexuality, it's still worth noting that neither had a romantic storyline with a woman in 2017. Nor did Empire's Tiana, on a show which previously imprisoned one Black butch lesbian and killed a Black bisexual woman. Nor did Suzanne or Sophia on Orange is the New Black, which killed a Black lesbian last year and has tortured the aforementioned for many moons now. Cancellations buried Survivor's Remorse's M-Chuck (before she ever got a big romantic storyline), Rosewood's Tara, Sense8's Amanita, APB's Tasha, Dark Matter's Ayisha and Doubt's Cameron Worth. We were immediately drawn to Moira (The Handmaid's Tale) and Kat (The Bold Type), but both shows fell into the trap of having characters of color in very race-relevant environments where their race was somehow never mentioned. Two shows that addressed race directly with majority-black casts, Dear White People and She's Gotta Have It, endorsed problematic tropes about queer women (click those links for more on how).
Another interesting phenomenon: Fresh Off The Boat, American Horror Story: Cult and Transparent all included Black guest characters as love interests for white regular/recurring characters, but zero Black recurring/regular queer characters.
I'll conclude with this quote from Brittani Nichols (a gender-nonconforming Black lesbian actress and writer who was part of that Take My Wife Season Two I keep bringing up) from her piece I Demand To Be Sexualized: "I rarely see anyone that looks like me in movies/web series/TV. To the point that the most glaring examples of people that look like me ARE ACTUALLY ME ."
---
The Future of Lesbian & Bisexual Characters on TV
If we're able to stave off nuclear war, there's a lot to look forward to. Thirteen new shows for 2017 have promised LGBTQ female characters, including the hotly-anticipated Black Lightning, with a Black lesbian regular and a bisexual Asian-Amazon recurring character.
Starz is vying for Best Network of 2018: they're developing P-Town, a drama about the opoid crisis with a "hard-partying" Federal Fishery Service Agent lesbian lead character as well as Vida, focusing on two Mexican-American sisters in Los Angeles and promising representation of "all genders and sexualities," including at least one queer female lead. Sweetbitter has cast its lesbian bartender, American Gods will add Native American bisexual character Sam Black Crow in Season Two, and The Counterpart debuts its masculine-of-center lesbian later this month.
Ryan Murphy's Pose, which promises 50+ LGBT characters and is centered on four trans woman of color, begins filming this month.
The Heathers reboot, on the Paramount Network, will introduce an amab genderqueer character and a black lesbian.
The Dime, centered on a lesbian cop, has been given a script commitment from Fox. Marvel's New Warriors, with "confidently out lesbian" character, is being shopped around after Freeform's pass.
Of course the biggest news of the year is that Showtime is developing, bless our collective souls, an L Word reboot. Autostraddle's roots are in L Word fandom, and although this isn't a great time to be alive, it is a great time to be a living television writer for lesbian, gay, bisexual and queer women.
The television industry has a major opportunity right now. Scores of cis white men are getting fired for abusing power and (surprise!) also women. It's time to promote, hire, and elevate women, queer people, trans people and people of color.  It's time to tell new stories, and getting LGBTQ folks behind the camera is a great way to get more in front of it, too. Time's up. We're ready, and we've got so much left to talk about.
SaveSaveSaveSaveSaveSave