Note: If you aren't caught up on this season of Grey's Anatomy, there are possible spoilers ahead.
Instead of ending in a homicidal bloodbath or a deadly plane crash like previous seasons, Grey's Anatomy's ninth season is concluding on a marginally more realistic note. Last week — in true Grey's fashion — Arizona Robbins (Jessica Capshaw) cheated on her wife Callie Torres (Sara Ramirez) with Dr. Lauren Boswell (played by Hilarie Burton of One Tree Hill fame) in an on-call room during a blackout. The aftermath of this will play out in the season's final episode which airs tonight on ABC.
https://www.youtube.com/watch?v=_gSJ3dDsUck
If you're not a big Grey's fan (or if you dipped out seasons ago when most of the original cast did), no big! Nine seasons of any show is a hefty commitment, and like Riese said two years ago, "the lesbian storyline became the only reason to watch it at all."
Here's a quick recap to get you up so speed: Way back in season four, Callie developed a thing for Dr. Erica Hahn (Brooke Smith AKA Senator Martin's daughter from Silence of the Lambs). She romantically pirouetted between Erica and Dr. Mark Sloan (Eric Dane) for a handful of episodes before coming out as bisexual — at which point Brooke Smith was fired from Grey's and the powers that be at ABC received lots of angry emails.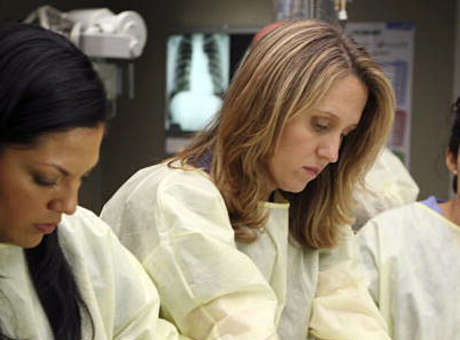 Enter: Arizona Robbins, a lesbian pediatric surgeon who sustains her peppy persona with a diet of espresso and Tickle-Me-Elmos. Predictably enough, Arizona soon pranced up to the bone-tired bone doctor in a grimy bar bathroom and kissed her sad, heartbroken face.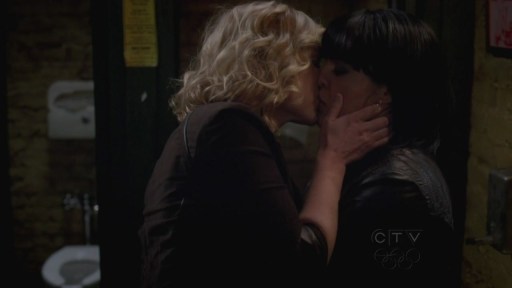 Fast-forward four seasons. Between dealing with homophobic parents, baby daddy drama, chicken pox, a near-fatal car wreck, a lost limb, and plenty of patients, Callie and Arizona (Calzona if you're fluent in Fangirl) have somehow managed to get married and start a family, in turn making me feel wildly inadequate about my own time management skills.
By having a relationship that's lasted longer than a sweeps episode, Callie and Arizona have become network television's golden lesbian couple, receiving nominations for GLAAD Media Awards and faring well in the organization's Network Visibility Index. Ramirez has also received a nod from NAACP for her portrayal of the most prominent QWOC character on television. Grey's exec producer/puppeteer Shonda Rhimes has gone as far as declaring that Callie and Arizona are "made for each other" and that their chemistry rivals the two hetero leads on the show.
Which brings us back to the finale! While Arizona's end-of-season infidelity is a big blow to devout Calzona shippers, it's actually luring me back into watching Grey's. With the exception of an occasional YouTube supercut of the lesbian stuff, I haven't watched a full episode since Callie and Arizona stabilized as a couple. At the risk of feeling like I'm biting the network that feeds me, Calzona became such an immaculate representation of a queer couple, so intentionally squeaky clean, universally likable and perfect that they felt sterilized, and a little bit… boring.
Good visibility and good entertainment are two very different things. While Callie and Arizona look fantastic on paper as a happily married interracial powercouple complete with an adorable daughter, they've fallen flat when it comes to compelling storylines; until now, they've been safe.
For awhile, 'safe' was all that we really wanted in lesbian and bisexual network television characters. If you're a queer woman, it's never as simple as just liking a show. I have a learned tendency to approach any portrayal of our community on television with jaded caution. I'm leery of getting attached to a queer character, let alone a couple. From The OC to Degrassi, the list of LGBT character casualties is simultaneously impressive and depressing. Not long ago, just having two lady-lovin' characters share a handful of scenes together without them being written off, killed off, or fleeing back to their ex-boyfriends felt like a colossal accomplishment.
Fortunately, we're finally moving beyond that. Queer TV characters are sticking around and actually staying queer! Arizona hasn't so much as batted an eyelash in McDreamy's direction, and Callie's remained true to her bisexuality. Over on Glee, Santana Lopez regularly drops lesbian pop culture references with the best of us. There's something really satisfying in knowing that Pretty Little Liars' Paige McCullers dated another girl while Emily Fields was away for the summer, and that Lana Winters was able to find another woman to love on American Horror Story: Asylum. In 2013, lesbian sweeps stunts feel so ten years ago.
Because lesbian and bisexual characters now have longer shelf lives, network TV is beginning to go beyond the same trope-tastic story arcs. If I never see another coming out, lesbian wedding, or gayby narrative on television for the rest of my life, I will have zero complaints.
This is why Arizona's infidelity is so refreshing to me; there hasn't been anything like this on network TV before. We haven't really witnessed a queer woman cheat on her partner, let alone behave unconscionably. Because Calzona have been so tidily written for the past three seasons, I actually trust the decision to throw them this curveball. "We're equal opportunity over here at Grey's Anatomy. Straight people have their cheating moments all of the time. We've created this relationship that's very interesting and complex, and I feel like we're at a moment where this [temptation] feels earned. We're doing something that feels very in keeping with what's right for these characters," Shonda Rhimes told TV Guide's Michael Ausiello.
Positive visibility doesn't have to mean perfect visibility. While it might sound like the reverse of what were initially asking for, queer characters doing f*cked-up things only serves to make them more authentic and multi-dimensional in the long-run. Not every LGBTQ character on television has to be an upstanding citizen and role model 24/7; they can be divisive and even villainous. It's only problematic if they're divisive and villainous because of their sexuality. Media representation's goal shouldn't be to canonize our community as saints, but to humanize us.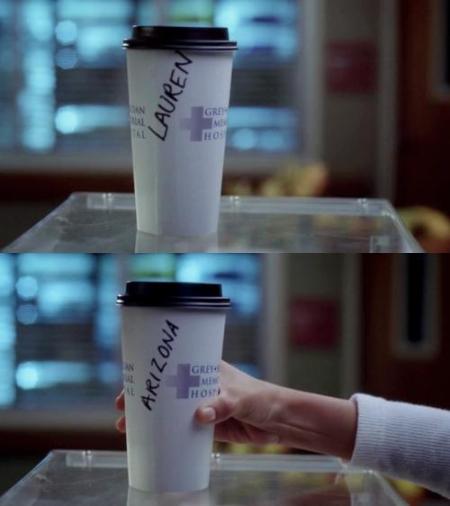 Besides, saints have never made for entertaining television. It's nice to see Arizona — who has always been all Heelys, "good man in a storm" speeches and Hollie Hobbie scrubcaps — emotionally tailspin into bed with another woman after losing her leg in a plane crash. Along with much-welcome tension, there's also comfort in knowing that even the best of gay women can be vulnerable, conflicted, and fall apart (something we really haven't seen outside of dyke-centric shows like The L Word and Lip Service). This is so much more than a breakdown: it's a breakthrough for queer characters on network television.