I don't know if I ever "watched" Grey's Anatomy. Like I've never known what night it was on. I saw the first season on DVD and let me tell you — that clipped way Meredith and Sandra Oh are always talking? The clever quip, the nasal aside, the eye roll, the Sorkin-esque snatching-of-the-clipboard-and-quickly-rounding-the-corner?  Listening to those voices, hour after hour after hour? That's what it sounds like when sparrows sing in hell. Hellsparrows.
After that initial overdose my interest languished, as did my access to cable television. I'm somehow fundamentally opposed to the idea of Katherine Heigl having a career, I can't figure out why. The guy from Felicity — McDreamy? (UPDATE: Patrick Dempsey was not in Felicity. I have no clue where I've been subjected to his face before.) Ew. Then, in 2006, producer Shonda Rhimes snatched Sara Ramírez from Broadway, and I liked that, because I like her, and my best friend had a crush on Addison. There was nothing else on. I believe it was in this spirit I half-watched half of Season Two.
In October of 2006, Isaiah Washington allegedly insulted TR Knight using a gay slur and by June 2007, Washington was off the show and TR Knight had officially come out. In other words — gay shit was starting to go down in Seattle Grace, albeit offscreen. Gay shit went onscreen in 2008, when Erica Hahn, played by Brooke Smith (obviously I just looked this all up) was introduced the same season as an allegedly bisexual newcomer played by Melissa George (she was quickly given the boot, however).
Henceforth Dr. Hahn, apparently, extracted Callie's latent bisexual yearnings and a Lesbian Storyline was born, only to be cut short in November 2008 when Grey's Anatomy cut Dr. Hahn, saying, "Unfortuantely, we did not find that the magic and chemistry with Brooke's character would sustain in the long run." Many suspected ABC wanted to "de-gay" Grey's.
Somewhere along the line Grey's became a shitshow.  Somewhere along the line, Grey's re-gayed itself when they brought Bette Porter's TA onto the show. Arizona (played by Jessica Capshaw) would be Callie's new lady-love interest. Because Grey's had become, by that point, terrible, the lesbian storyline became the only reason to keep watching at all.
Not reason enough for me, though. Instead of viewing any more episodes, ever, I did that thing we've all done at three AM: The YouTube Lesbian Storyline Ritual! The YTLSR requires lighting a sacrificial joint, finding a megafan's YouTube channel, and subsequently watching only the lesbian scenes until someone dies or you fall asleep.
So that gets me to the POINT of this entire article, which is that on Thursday night, Callie and Arizona got married, and I saw it — the entire episode! Even the heterosexual parts! — and I have some feelings about it.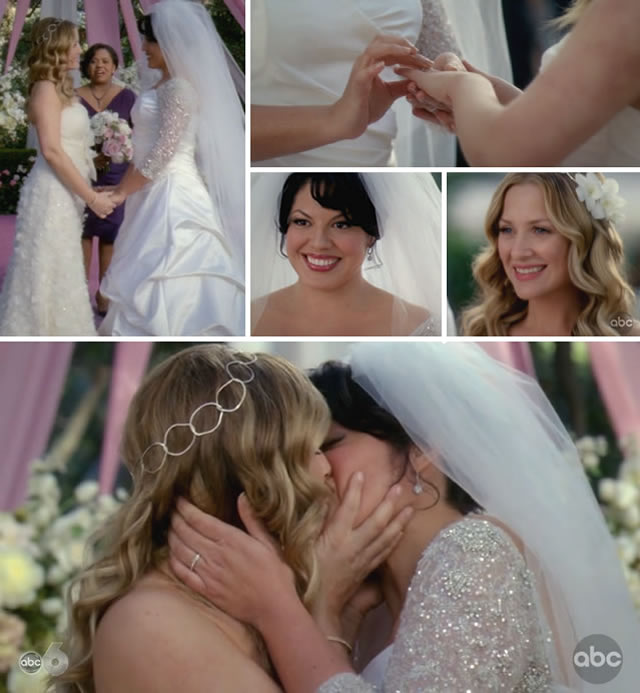 Maybe I missed a YouTube video, but last I saw these cats, Callie had just been granted permission to go home from the hospital (after the car accident) with mini-baby in tow. I feel like teevee weddings either take ten episodes to plan (The Office) or they happen instantaneously (Glee) and in this case hey-o the gang's all here BADA BING BADA BOOM! Both sets of parents have gathered for dinner in anticipation of the upcoming White Wedding, which is the name of the episode.

Callie's even gotten a Minister to marry them to please her Mom who likes church and so forth. They're getting married in a church, even, because Callie wants this to be as easy on her Mom as possible. Then her Mom says: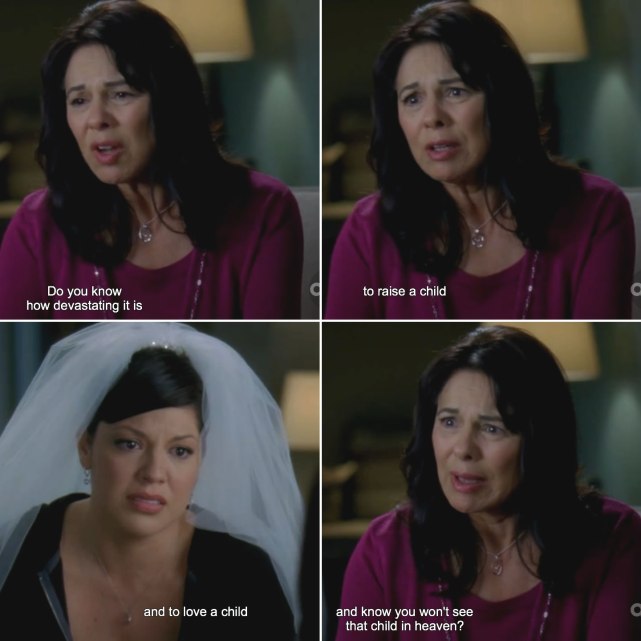 At first you think — what's going on, is Mrs. Torres going blind in both eyes? Is she part of the Alzheimer's Trial that Meredith keeps talking about? NOPE. Mrs. Torres expects continued vision in both eyes but won't see Callie in heaven because Callie will be in the firepits of hell, partying with the other homos. Seems unlikely, but it wouldn't be a lesbian wedding episode without one parent bailing. That should be a TV Trope, if it isn't already (Unforgiving Mother, something like that).
So this is a blow–right?  Maybe I'm projecting, but her mother's insistence that it's not real in the eyes of the law hits hard — when you write discrimination into the US constitution, you condone discrimination in the personal lives of American people. Homophobes should be required to defend their beliefs from inside, they shouldn't be able to outsource evidence to the American Government.
So Mom's ditching. Callie's Dad wants to stay but Callie's like, you have to go with Mom, bitch can't drive, and also if he stays Callie will cry. Then the minister bails and she's like what the fuck, I had all of Mikey's assistants ON THAT shit, it took forever to find one that would take our money.
ANYHOW! So then Callie is like, fuck it, let's call the whole thing off. Bailey returns to talk her out of it and Callie says that thing that we're not supposed to say —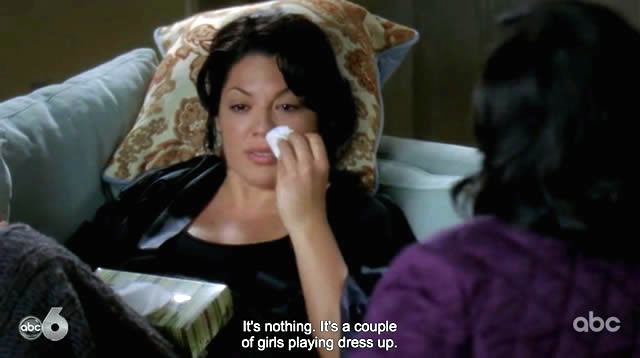 And Bailey says the thing we are supposed to say —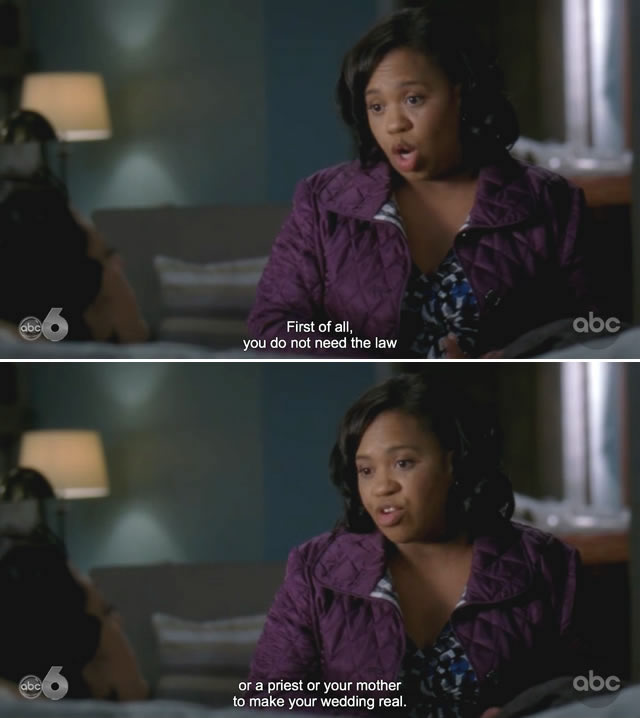 I'm sure many of you can attest to the truth of that statement. But still.
Okay so — in Seattle, they've got this "everything-but-marriage" law that survived a vote in 2009, thank the Lawd, it's called Referendum 71, which expands domestic partnership legislation to include a lot of the same rights as marriage. So they do have that, and Callie knows that, because Ricky Vasquez came to the hospital in a kilt and told her so. I wish they'd mentioned it.
So eventually Callie stops crying long enough about her Mom being a douche for Arizona to have a minute to cry about her brother being dead. So now everybody has cried, feelings feelings feelings, it's time to go get married in the garden they booked, decorated and rented chairs for in 24 hours during which I'm pretty sure everyone was at work.
Have you noticed how in like, Season Ten, TV shows basically have just switched all the bad guys into good guys and the good guys into bad guys because they ran out of other shit to do? Like since when has Mark been the best character?
OKAY SO! So much love, yet so much rage.
AND THEN ! AND THEN!
With about ten minutes left before the show close, Dr. Felicity tells Meredith Gray that he met this little baby earlier today! She was crying but then when Dr. Dreamybits picked her up, she stopped crying, and now he's in love with the baby and look at her, she's just so fucking cute!!!
"Let's adopt her!" says Dr. Felicity to Meredith Voiceovermachine. How fun! It's a baby! Look how cute she is look at her teeny tiny hands and her baby laugh! Let's raise a little baby! Together! Man and woman! Adam and Eve with baby!
"Okay!" says Merrydith. Dr. McDoctor always looks hungover, doesn't he? Does that actor have a drug problem?
Anyhow flash back to these two women who want to make a lifetime commitment to each other, and instead of walking with the father of the Bride, Callie's walking with the Father of the Bride's Daughter, which is sweet but also moreso bittersweet.

Then we flash back to Mereck jetting off to City Hall to sign some papers!
You know how some straight couples are like, "We're not gonna get married legally until EVERYONE can get married legally," like they're being a martyr for our civil rights or whatever?
Not only are they getting married even though Calizona cannot, but they're literally missing Calizona's wedding TO GO GET MARRIED. Nice, right?
So the ending montage makes a pretty strong political statement, either on purpose or not, and it also gave me RAGE. RAGE RAGE RAGE. It flipped back and forth between Meredith & Derek getting married and Callie & Arizona getting married. What's interesting about it is that by doing this, they put the ceremonial nature of marriage and the legal nature of marriage right up against each other and it tasted just as weird as you thought it might. Also, obviously Callie & Arizona's wedding was WAY better.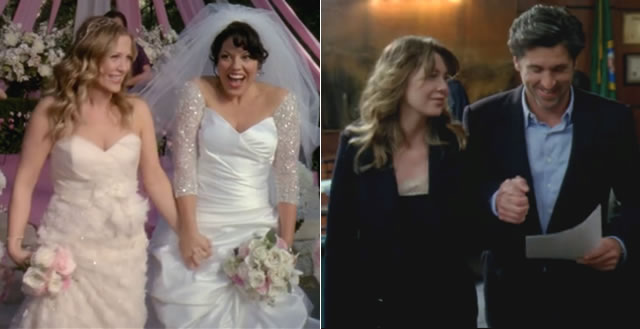 Here's how straight people can play it — well, not just any straight people, I guess, but upper-middle-class white straight people can do it — they can find a baby in the hospital that employs them, decide they want to adopt it, and then just hop over to city hall and sign some papers. There they are. Legally bound for life. Just like that. And G-d they're so fucking SMUG in this montage.
How does this show want us to feel? I couldn't figure out how to feel.
Meanwhile these two women have been through hell and highwater just for the permission to wear two pretty dresses in front of people and share their relationship with G-d and the world and each other but that stuff is all inside you, like Bailey said earlier in the episode. It's all inside you. Which is fantastic.
Butttttt I guess as Callie learned a few weeks back in that car accident — it's scary to hold all that inside you. It can break. It's a beautiful idea but I think some people like structure. We like contracts. We just need some things to be settled, outside of us, over there. On a piece of paper in a building where we can't fuck it up.
So here's how gay people can play it. The dresses and the tent and the heartache and the family not being there but so so so so so so so much love. But somehow unworthy of legal recognition… although it sure is sweet! And very important. Look at this: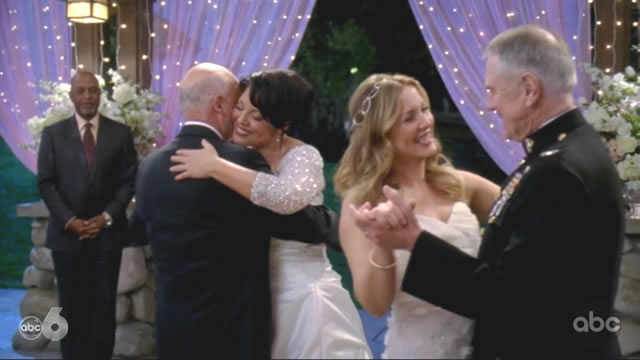 At the end Callie's Dad showed up to dance with her and I almost cried. Almost.
What did you think?