Hello squirrel friends! I have a lot of feelings to share with you today, so let's dive in, shall we? And don't worry about the news, I'll pepper that in as we go, along with some other asides. Oh, and if you missed my full Glee recap, go read it now! And also Intern X's Dexter recap for episode 402, look no further! Oh! And! Riese watched the premiere of Three Rivers so you didn't have to!
And now…
The Carlytron Television Awards for the Week Ending 10/04/09!

The Ilene Chaiken Award For Personality Shifts – How I Met Your Mother
Episode 502 – Double Date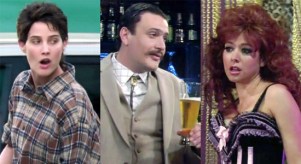 The doppelgangers were amazing (Stripper Lily, Mustache Marshall, LESBIAN ROBIN!) but the part I didn't really appreciate was how Robin was suddenly acting like she wasn't cool with Barney going to the strip club, and got even more upset when it become very obvious that he went there all the time. You know, my favorite thing about HIMYM is the awesome personalities that we've come to love amongst the 5 main characters. That's what draws us in. So to take Robin, who was basically Barney's bro on several occasions, and to make her into a jealous girlfriend (jealous for no reason, mind you), well that's just not cool. And I get it, Barney's her guy now, so maybe she'd suddenly be a little weird about him ogling strippers (though last week they decided to only pretend to be in a relationship, so I'm just confused all around now). But it seemed like a complete 180, not something Robin would normally do. Who is she, Helena Peabody?
Anyway, ranting aside, they just cast Rachel Bilson as the ladyperson in Ted's storyline for the super-special 100th episode. Could she be the mother? I'd buy it.


The Quotes of the Week Award: Gossip Girl
Episode 303 – The Lost Boy
"There are not enough curse words in the world that could satisfy me now." – Blair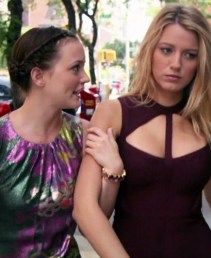 The truth shall set you free, Upper East Siders! This week everyone (sorta) told the truth and Serena and Blair wore hideous dresses to an auction (see right). Serena admitted to trying to find her father all summer, Georgina admitted to fucking with Blair, and Lily and Rufus' lovechild finally (sorta, not really at all) came clean. He goes back to Boston (yay!) but Georgina is hot on his heels. Also Nate and Bree resurfaced, making their relationship known, but Bree and Carter turn out to have some sort of weird past. Have I mentioned how much I love Chuck and Blair lately? Not sure that I have. Love, love, love! (Also Blair made this face when she walked in on Dan and Georgina, which is the most appropriate face to make in that situation).
"When it comes to Blair Waldorf, I don't have to do much but sit back, light a match, and watch her go up in flames." – Georgina

The Dollhouse Award for Dollhouse
Episode 202 – Instinct
Hm. Ok. So, I didn't love this one? I'm sorry. I wanted to but didn't. And apparently no one else did either, cause this one was a ratings low for our lil' show, and that makes me nervous. Topher (ugh) is able to manipulate physical parts of Echo, as opposed to just mental ones, but that leads to some complications and she gets all horror movie on everyone. Yawn. Bored now. (SEE WHAT I DID THERE?!)



Intermission 1: Hey, do you guys like movies? I wanted to be a filmmaker when I was younger, but then I grew up and realized I liked TV a whole lot better. Anyway, Robin and I saw Whip It this weekend and it was so awesome. I want to watch it over and over because it was so fun. I wish it had been a little gayer, or had some more Eve, but it was great. But apparently it didn't do great at the box office, which is indicative of a larger problem. But in happier news, they started working on the Arrested Development movie script! "Excuse me, do these effectively hide my thunder?"


The Funniest Thing I Saw All Week Award – It's Always Sunny in Philadelphia
Episode 502 – The Gang Hits the Road
Ok I lied, this was actually on two weeks ago but I forgot to write it about it then. Also this week's ep was kinda lame and product-placement-y. Anyway, if you want to laugh more than you've ever laughed, watch this episode of It's Always Sunny in Philadelphia. Here, I've embedded it for your convenience.

SPECIAL COMMENT: Grey's Anatomy
Episode 603 – I Always Feel Like Somebody's Watchin' Me
You guys, seriously? They did it again? Show of hands, how many people — while watching Grey's this week — thought to themselves, "Oh I bet Carly has some feelings about this"? Well if you did, you'd be right!
The whole episode was about everyone being insane over the impending layoffs. Gee, how topical. Anyway, Arizona got to yell at Cristina and then stitch up a baby's arm (extra gross-out points here because the baby hadn't actually been born yet! Ack!), and Callie got to pretend she was going to take a job far away to try and get a rise out of Arizona. Typical woman, am I right folks? Their final scene together involves them deciding to officially be girlfriends, which is totally sweet and cute, but then it just ends. No signs of affection at all! What the hell?! And obvs there was food involved. I think the writers are substituting the lezzies eating and/or drinking for any physical signs of affection. What is this, Willow and Tara?! And to top it off, their scene is followed by Alex and Izzie cuddling in bed and the other three McHetero couples playing baseball and drinking beer together. kjahsdgh;ashgk;
I don't know about you guys, but when I have a terrible day at work or am really stressed out or am overcome with feelings of girlfriend-ness, the last thing I want is to be comforted by my girlfriend. This show is so realistic. Intern Emily and I were discussing this episode of Grey's and we decided that we should make a video series about lesbian relationships according to Grey's Anatomy, and it could involve ladies arguing and making up from across the room. Fine holiday fun.
Ugh, I'm so worked up I think I need a little break.



Intermission 2: You guys, I'm totally in the midst of a girl power week and didn't even realize it until last night! On Saturday I saw Whip It!, Monday night I saw Pink (holy crap, she was amazing), last night I saw Kelly Clarkson, and Friday I'm seeing the Gossip! It's a semi-gay girl power week! And can I just say, I'd love to get drunk and try to get into a bar fight with any of the ladies involved in of these activities, as long as I'm on their side. And then after my girl power week ends it's off to D.C. for the big gay march! Yes, that's right, after going back and forth on this for weeks I finally got a bus ticket and I'll be gaying up our nation's capital with the rest of you. Ok, break time's over!


SNL Sketch of the Week
I'm not even going to get into the absurdity that was SNL this week. We already covered it in the Daily Fix on Sunday. Obviously my favorite sketch of the week was the porcelain fountain commercial (sequel to Marble Columns and Chandeliers). ScarJo FTW!

The Hot Girl of the Week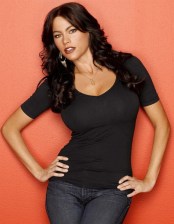 MsNJS, we heard your request and are finally honoring Sofia Vergara as the Hot Girl of the Week! What's not to love? She's hilarious, smokin' hot, smart… did I mention hilarious? Also she has a son who is going to college shortly. Wow. She was on Chelsea Lately this week (repeats are on currently so you can still catch it) and it was the funniest interview I've ever seen. I'd embed it here but it's not online anywhere, which is tragic. Anyway, she's on Modern Family, which is amazing and hilarious. Also I do not recommend doing a Google image search for "Sofia Vergara" at work, as it could possibly get you fired.

Gay Moment of the Week
Boy, Deep House Dish sure was pretty gay!
And SNL's Weekend Update Thursday had a Suze Orman sketch, which referenced sailing on a boat with Rosie called the Scissors of the Sea, which is very very gay!
A potential upcoming GMotW might come in the form of Sam Ronson is guest-starring on an upcoming episode of 90210. So there's that.


Honorable Mention
Heroes – Absolutely confused as to why I still watch this. Claire asks the creepy girl to be her roommate. The ratings stunt hasn't happened yet, but apparently it was Hayden's idea.
Flash Forward – I'm officially hooked! Don't let me down, show!
Community – Still funny! Really funny, actually.
Cougar Town – Ok, this is pretty funny. The montage of photos on Courteney Cox's phone was really, really hilarious.
Parks and Recreation – Season two is so much better than season one!
The Office – Actually annoyed me a lot. It was good but having two bosses is sort of the worst thing ever. This week — the Jim & Pam wedding!
Eastwick – Still pretty enjoyable, but I'm not really hooked yet. The plot's just starting to get going so we'll see.
'Tron out!