PRESIDENT GAGA: Lady Gaga can do whatever the fuck she wants. First she's going to drop Kanye from her tour. Then she's going to attend the HRC dinner this weekend, where apparently President Obama will be speaking. Then she's going to come down to DC and join the National Equality March, which Autostraddle will be at. That's right. Lady Gaga is going to spend the weekend with Obama and Autostraddle. She's going to have the best weekend ever. (@lez get real)
THE SHANE SHOW IS NOT AS GOOD AS THE FIRST SHANE SHOW: The Shane Show Three Rivers might run dry before Kate Moennig has a chance to get a new hairstyle (WIG  people it's a WIG) — the ratings sucked last night, and at last one dude thinks it should be canceled immediately. We tried to watch it for The Shane Parts, but there's nothing worth saying, really.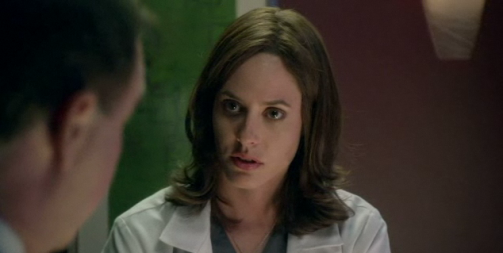 Well, there's this: because of recasting and re-uniforming (the old ones were WAY sexier), they premiered Three Rivers with Episode 2, rather than Episode One, therefore leaving out the actually interesting character development elements necessary to care even remotely about this totally medicore show. I shared some of the pilot's script with you a few months ago (Three Rivers Spoilers #1, Three Rivers Spoilers #2), if you'd like to begin filling in the blanks.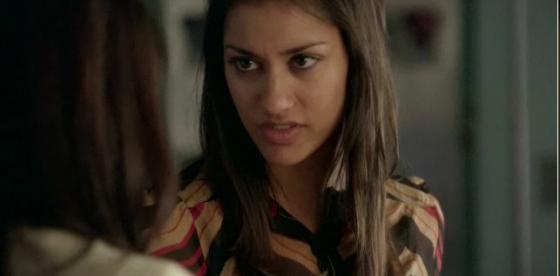 This is Papi, cramping Shane's style by not wanting her Dad the vegetable to donate his organs to the dying people at Three Rivers. Anyhow, here's a snippet from the Three Rivers CBS Fan Forum (to whomever wrote: "SHANE. OBVS" we know you are one of us and we salute you!)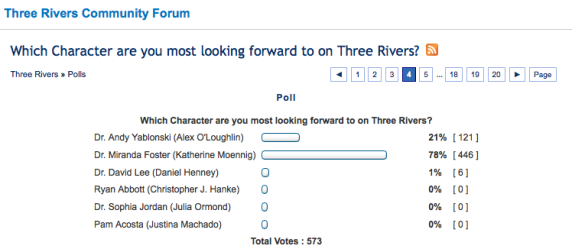 Look the show wasn't exactly awesome, but Kate was great, even if Haviland insists she looks just like Erin Daniels the whole time.
DEXTER: Autostraddle recaps DEXTER, and begins Autostraddle Dexter Study Club!
TEGAN AND SARADORABLE: The Quin Twins don pirate aprons and make ink blots. Lots of them, which will be sold to a limited number of fans when they preorder Sainthood, which by the way, is a mere 21 days from release. (@tegan and sara)
READ A F*CKING BOOK: Because you're literate. With the upcoming releases of adapted screenplays like Where the Wild Things Are and The Lovely Bones, you're going to want to know which books to read so you can talk about how they were so much better than the movie. Also on the list is Derby Girl, the inspiration for Whip It! See? Reading is totally homosexy. (@cinema blend)
WHIP IT! Eclipse It! Did anyone else not know this was going on? Drew Barrymore was reportedly supposed to follow up her leztastic directorial debut with…the third installment of the Twilight series? Well, she decided not to, and she's happy, and we're happy and everyone go see Whip It! for the fourth time now. Break! (@eclipse movie)
However, why didn't Whip It bring in more bank?: Everyone we know in the whole world went to see it and liked it. Except me, because clearly I am part of the problem here. On the upside, I can assure you I did not see Zombieland either.
GIRL POWER:Top Five Girl Power Movies: "I realize I am a dude, meaning I'm hardly an authority on what women want at the multiplex — and yet I do find it curious that I can think of dozens (if not hundreds) of films about groups of guys bonding in situations (like combat, cattle drives, casino heists, etc.) where romance is secondary (if not completely irrelevant) to the main plot, whereas films about females bonding over anything but romantic travails are few and far between."