Humans is a show that poses Westworld-esque big picture questions about the blurred lines between artificial intelligence and humanity, with love — romantic and familial — at its heart. It also explores themes of discrimination and acceptance, holding up a mirror to our own society through powerful metaphors. Oh, and while you weren't looking it sneaked in one of the best queer subplots on TV this season.
Humans takes place in a future where realistic-looking humanoid robots (called Synthetic Humans, or Synths for short) are commonplace — they do service and factory jobs, and they're even common in households for cleaning, cooking, and basic childcare. Though they look believably human, and they feature an adaptive artificial intelligence, they're really just computers in a pretty package.
That is, until now. One maverick scientist made a band of conscious Synths, and the first two seasons of the show follow their journey of staying safe from those who wish to shut them down forever, and trying to figure out if they'll ever find their place in this world. With the help of the Hawkins family, which includes Laura, a tough-as-nails lawyer; her husband; and their three kids. I could write a whole thesis on their youngest, Sophie, and the way she started to mimic Synths more and more as the episodes went on to try to shut down her own feelings and keep the chaos from hurting her precious little heart, but we're not here for Sophie, or any of the Hawkins', really.
We're here to talk about Niska.
I knew there'd be a queer storyline in season two, but I didn't know who it was between, and yet Niska is who I fell in love with in season one. Every conscious Synth had a different reaction to being awake, and Niska's was largely a defensiveness, and for good reason. Her creator, the scientist who built them, the one they call their father, treated her like a sex robot even though he knew the scope of her consciousness. And even her brother, the human with synthetic parts, the only hybrid among them, left her in a brothel to be a sex slave until he found somewhere "safe" for them. As if somehow she was safer in there than on the run.
One day a man came into the brothel and wanted her to act scared, to act like a little girl. This was Niska's breaking point. She said no, and when he got violent, she got violent right back. He got under her skin, and she's metal under there, so she snapped his neck and used his hand to escape.
Though Niska has as many feelings as the rest of the conscious Synths, she has learned all too quickly that expressing her feelings leaves her vulnerable, and being vulnerable can be dangerous. So she builds walls, like any traumatized human might, making her seem at a glance like the most robotic of the Synths. Funnily enough, the person who elicits the most emotional response from her is Sophie, who Niska recognizes as the first person to accept her for who she is, full stop.
At the end of season one, Niska sets off on her own journey; she dyes her hair and puts in contacts to hide the synthetic color of her eyes, and tries to navigate the world as a human. I'm not sure what exactly she was looking for, but in the beginning of season two, what she found was Astrid.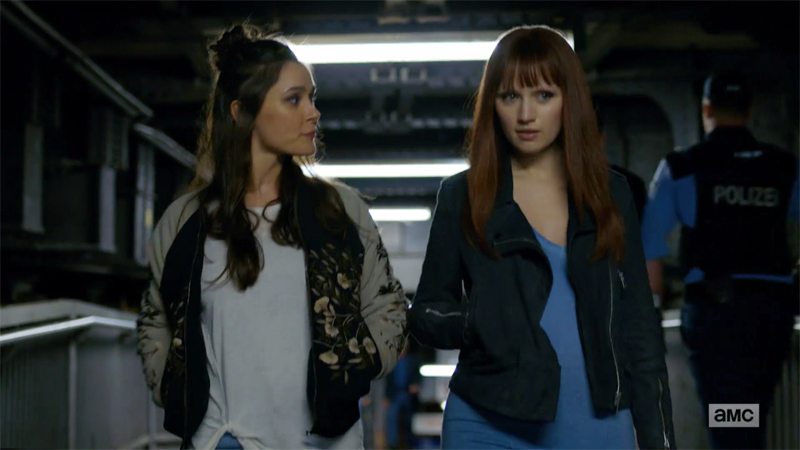 Astrid and Niska dive headlong into a romance, Astrid trying to figure Niska out little by little — the bandage she never removes from her side (her Synth charging port), who hurt her in the past — without realizing Niska is trying to figure that out for herself, too.
Overwhelmed with her feelings for Astrid, Niska goes back to Laura Hawkins and says she's ready to turn herself in for the murder she committed, but she wants to be tried as a human. She, the most seemingly unfeeling of the lot, wants to pave the way for equal rights for conscious Synths. This will be especially important because they now have a code that can wake up Synths; it's currently rolling out slowly, but could be a mass awakening someday, and Niska is willing to sacrifice herself to make sure their lives were better.
During the trial, where Laura's task is to prove that Niska did indeed think and feel like a human, Astrid is called in as a last-ditch effort to get Niska's readings to show feeling the way the opposing lawyer wanted them to. Astrid has no idea before being brought into court that Niska is a Synth, and much to Niska's surprise, she doesn't care.
Realizing there's no way this trial ends in anything but her being shut down, she breaks out of holding and hides out with Astrid. She tells Laura she tried to be selfless and it failed, and now she has something worth living for.
There's something beautiful in the way she reaches for Astrid's hand. That urge isn't something she was programmed with — in fact, most affectionate touching was programmed as inappropriate by anyone not designated a Synth's "primary user" — yet when a group of conscious Synths were broken out of an evil corporation's lab, many of their first instincts were to reach out for each other.
And Laura understands. It's not fair to put the social acceptance of conscious Synths all on this one girl. She's been through enough. But ever since Laura first met the eyes of a conscious Synth, she knew they had more humanity in their heads and hearts than some humans made of flesh and bone, and she's going to keep fighting for them.
And they'll need her, because more Synths are "waking up" and even before there were conscious Synths, there were Synth-free communities, and radical anti-Synth groups. But she's ready to be a Synth ally; she's ready to do the work to change people's minds.
The last scene we see Niska and Astrid together in takes place on a train platform. They're ready to get the hell out of dodge, but Astrid can see that Niska is thinking about her family, worried about them. Niska's voice is near desperate when she says, "I won't lose you again." Astrid laughs lovingly; she realizes now she's the first person Niska has ever been in love with. "No wonder you're so intense," she jokes, eliciting a rare smile from her girlfriend.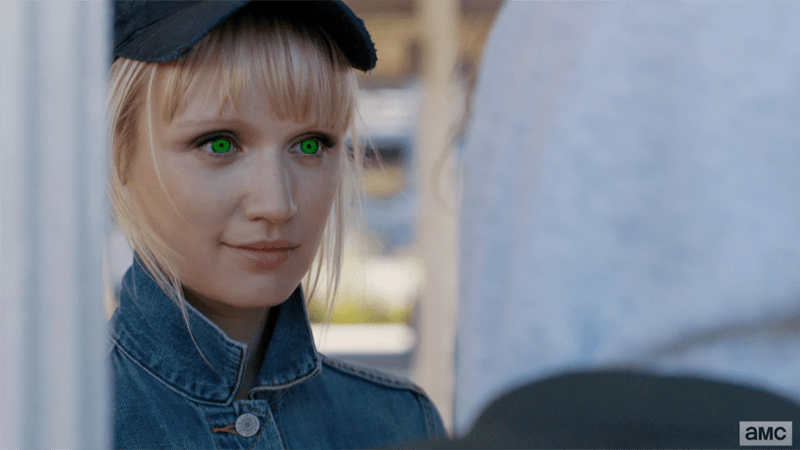 Which honestly isn't that different from a person who comes out at an older age. You're like a teenager again, you have to start all over. Suddenly all the conversations your friends had when you were younger come back to you, finally translated into a language you understand. All the cheesy love songs make sense.
Astrid tells her to do what she has to do for her family, just to make sure she comes home. Niska is feeling another new feeling for the first time — this sense of anxiety that she might not be back. She never cared before, she'd run right toward the danger. But now she has something, someone to live for.
Astrid sends her off with a kiss and hopefully that's not the last we see of her.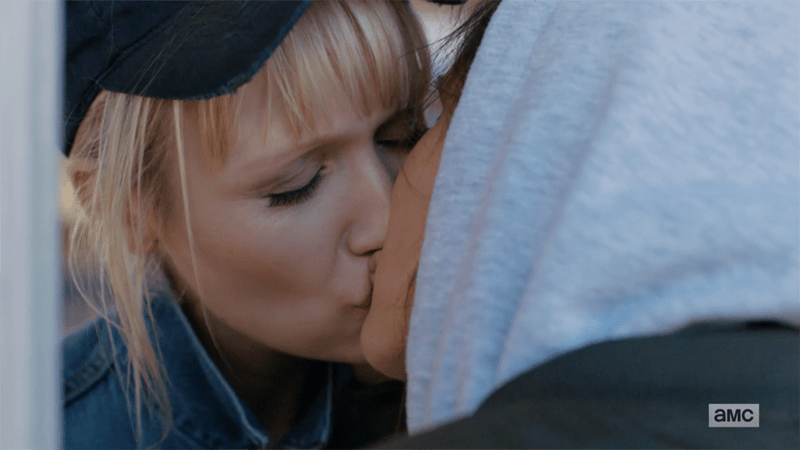 Astrid and Niska remind me a bit of Nomi and Amanita on Sense8. Just like Amanita, Astrid was surprised to find her girlfriend tangled up in a web of life-and-death chaos, but also like Amanita, it didn't change how Astrid felt about Niska. She was on her side no matter what.
Of all the relationships on Humans, Niska and Astrid's was the only one — Synth or not — that survived and thrived. Mia had a boyfriend who SHUT HER OFF to sell her on the black market. Laura's husband wanted to move them to a Synth-free community. Leo slept with a Synth whose wiring was a bit twisted and she proceeded to try to murder him; plus, another Synth/human relationship that ended in death. The teenage son did have a cute relationship, but Niska and Astrid's was definitely the best adult relationship. And the issues weren't what you would expect — it wasn't a Synth/human scandal, it wasn't a woman/woman scandal. It was Niska running away from her feelings (which had more to do with feelings being new than anything else) and Astrid not letting her. It was a surprising happy place amid the carnage, and even though so many people — humans and Synths alike — didn't survive the season, our lady-loving ladies miraculously did.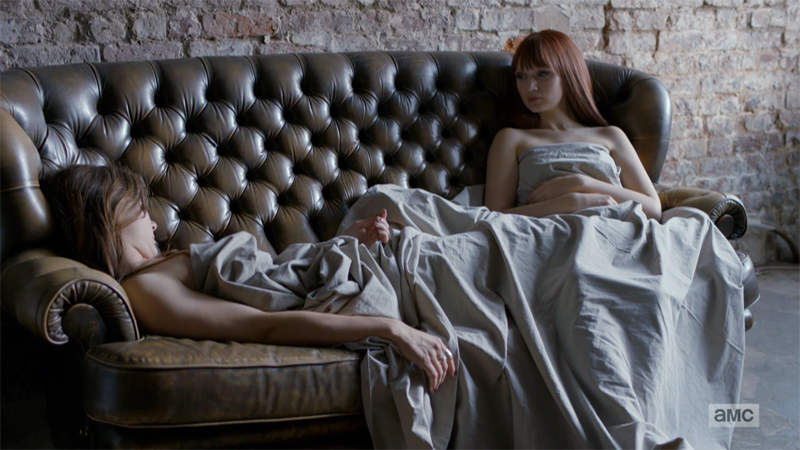 Humans left a lot of avenues open for another season, which is good because it was just renewed for eight more episodes set to air in 2018. I'd love to see more of Niska navigating the world of dating and having feelings — and what will surely be persecution from people, who are outwardly against human/Synth relationships, once conscious Synths are the norm. It'd be nice to see Niska and Astrid bumped into the spotlight (as long as that doesn't also put them in any crosshairs).
Sci-fi and fantasy are where our stories thrive. Think about what survived the Bury Your Gays purge of 2016: Supergirl, Orphan Black, Wynonna Earp — and now Humans. It's unfortunate that we can't turn on any TV show in any genre and have the same amount of hope that a well-written queer storyline will appear, but I'm thankful there's a genre where we continue to shine. Stories like Niska's give me hope that there are people out there who do want to tell our stories, and who can tell a meaningful stories, even as a subplot, while still managing to avoid all the worst tropes. Whether or not our future involves Synths, conscious or unconscious, I hope it involves more stories like Niska and Astrid's.