We didn't get a recurring lesbian character on American TV until 1988 and it wasn't until 1990 that two women kissed on American television, but lesbian characters did show up before that point — although rarely in a positive light and rarely for more than one episode. Today, the fight for better queer representation is about diversity and whether or not characters play into popular stereotypes and tropes. Back then one could only dream of what we're fighting for today. In television's earliest years, explicitly gay and lesbian characters only showed up on television in talk shows and documentary programs, and when a lesbian character appeared on a scripted narrative television show she was usually a homicidal maniac. In this post, we're gonna look at what I've gathered through research are the ten first lesbian characters to appear in primetime scripted shows on American TV, although I suspect there are more that I've missed or haven't been recorded for the ages. Characters in TV movies are not included, only on regular scripted programming.
I wrote this article with the assistance of two reference books; The Prime Time Closet: A History of Gays and Lesbians On TV, by Stephen Tropiano, and Alternate Channels: The Uncensored Story of Gay and Lesbian Images on Radio and Television, by Steven Capsuto.
---
1. Miss Brant (Virginia Christine), The Asphalt Jungle, "The
Sniper," April 1961
This one-season ABC police drama featured one episode about a "rifle-toting, implicitly lesbian sniper" who killed young, pretty women out with their boyfriends. After a woman is murdered while hooking up with her boyfriend at a Lover's Lane, the police assume that the suspect is a man. They're wrong, of course: it's that old deviant Miss Brant, the female owner of popular teenage hangout The Paradise Diner. Once apprehended, Miss Brant confesses that she was on a quest to punish women for making themselves sexually available to men, exclaiming:
Those girls! Carrying on like that! They had to be punished! I told them! They shouldn't kiss, hug like that with the boys! They wouldn't listen to me! Wouldn't listen! Those girls! Those stupid girls!… I never meant to do any of this! It just came over me and I couldn't hold it back.
Although Miss Brant isn't specifically labeled a lesbian, it's pretty clear. For example, she flirts mercilessly and aggressively with a female employee, even asking her to move in, telling her what to wear, and getting jealous when she goes on a date with a boy. Basically, Miss Brant cannot handle her attraction to pretty young women and therefore must kill them. Makes perfect sense.
---
2. Hallie Lambert (Kathryn Hays), The Eleventh Hour, "What Did She Mean By Good Luck?", November 1963
The Eleventh Hour, a medical drama about mental health professionals that aired from 1962-1964, featured guest star Kathryn Hays as actress Hallie Lambert in "What Did They Mean By Good Luck?". Lambert was struggling with her role in a play with a female director, Marya and was convinced Marya was out to get her, leading Lambert to behave erratically and become impossible for the rest of the cast to work with.
Through therapy — and conversations with Lambert's overbearing stage Mom, Gerry — the therapist rightly concludes that Lambert has failed to become a proper heterosexual adult and is madly in love with her director. This is all rooted — OF COURSE — in Lambert's adolescent crush on her high school drama teacher! "…Everyone at one time has a crush on a school teacher or camp counselor of the same sex," the doctor explains to her, concluding that Hallie's family situation prevented her from growing out of these childish longings. "You defend yourself from the shame of having unnatural feelings by pretending you are persecuted."
Robin Richards, reviewing the episode in lesbian magazine The Ladder, wrote that the episode "dealt frankly with lesbianism, on an adolescent level and in sophomoric language and platitudes… the only good angle was that Hallie has a so-so ending instead of being dragged to the nut hatch." The theme of "make sure women know an adolescent crush doesn't mean they're an actual lesbian" is pretty common in shows and films at the time — and probably, to some degree, effectively convinced a bunch of lesbians that they weren't actually lesbians.
---
3. Meg Dayton (Kristina Holland), Owen Marshall: Counselor at Law, "Words of Summer," September 1972
Meredith Baxter — who came out as a lesbian six years ago — also starred in this episode, as a collegiate diving superstar who is accused of molesting a fifteen-year-old girl. Meg Dayton (Kristina Holland), her sullen and closeted ex-roommate who writes for a lesbian newspaper, is asked to testify, as the prosecution has decided the best way to prove Ann is a pedophile is to prove she's a homo. (This was an effective legal strategy at the time, for real.) Ann's not guilty, of course. It turns out that her accuser was in such a panic over her own feelings for Ann that she decided to press charges against her (??!!). On the stand, Meg says the kids in college knew she was a lezzer from the get-go, and that Ann's only guilty of one thing: being a really good straight ally.
Get this, though: the character of Ann was inspired by Babe Didrikson, says the screenwriter of the episode (this was the first pitch to the show he'd had accepted, of four), and he'd envisioned her to be a bit masculine-of-center. The producers wanted her to be "pretty," though, and he agreed 'cause he was so desperate to sell the script. Apparently, Meg was the first young adult character to state unequivocally that she was a lesbian on a TV drama.
---
4. Valerie DeMarco (Donna Mills), The Bold Ones: The New Doctors, "A Very Strange Triangle," October 1972
The four-season NBC medical drama The New Doctors centered on a brilliant neurosurgeon who is so brilliant that he has his very own clinic of brilliance. In "A very strange triangle," the brilliant neurosurgeon's number two, Dr. Marty Cohen, is reunited with his ex-girlfriend Valerie and immediately wants to get back together. Unfortunately, Valerie's got a girlfriend of her own, an older woman named Eleanor. Marty is shocked to find a "lesbo" at Valerie's when he swings by her place, and laments to his cool liberal doctor friend Dr. Hunter, "If I can't spot a lesbian when I'm about to propose to her, what kind of shape am I in?" Hunter corrects him, "I'd hope you'd think of it as a threat to her femininity."
As per ushe, Valerie's homosexuality is presented as a psychological condition stemmed from family issues, and Eleanor (who's getting a degree in clinical psychology) is the matronly surrogate who cured Valerie's Mommy Issues (her Mom was a self-involved alcoholic actress). Marty, like so many men before and after him, continues pursuing Valerie despite her lesbianism, and eventually Marty and Eleanor are reduced to fighting over Valerie. Valerie sleeps with Marty, because why anything, but it doesn't change her feelings for them. The next morning she admits, "I think I just wanted to prove that I can do it." Fed up with the feuding lovers, Valerie quits her job and skips town.
---
5. Dr. Annie Claymore (Lois Nettleton), Medical Center, "Impasse", October 1973
Medical Center, a CBS medical drama, featured a lesbian character in its fifth season, one of six characters played by Lois Nettleton during the show's seven-season run. Dr. Annie Claymore was a psychiatrist called in to handle a heart patient, Tobi, who's not taking her medicine and is refusing a life-saving operation. Tobi keeps having seizures, apparently triggered by phone convos with her BFF Sarah. Dr. Gannon, one of the series main players, has a crush on Annie, and aggressively hits on her, unaware that she's a lover-of-ladies. Meanwhile, Tobi's boyfriend Sam is aware of Annie's Sapphic tendencies and tells Gannon that Annie's out to convert his girlfriend, a charge Gannon denies 'cause Annie's obviously super into him and all lesbians hate men. He confronts Annie, who's like, yup, I'm a homo, and it's totally ignorant for you to think all lesbos hate men, declaring:
I am a person. I am a woman. I am a psychiatrist. And I am a homosexual. And we are not all the same anymore than heterosexuals are the same. I am not — I am not repelled by the opposite sex. But on a deeper level, any fulfillment comes with other women, that's all.
As for Sam's conviction that Annie's gonna turn Tobi gay, Annie rejects the notion that "a lesbian can't be trusted to live up to her professional vows and treat a patient of the same sex without pouncing on her." Sam tells Tobi that Annie is a lesbian, which inspires Tobi to call Sarah over for "a talk." Then Tobi tries to jump off the roof, explaining that she's afraid of being a lesbian 'cause Sarah always makes her feel good and Sam doesn't. Probably it's 'cause Sam is a jerk, but whatever. She insists to Annie that all she wants in life is to be a wife and have children, which Annie assures her are not "the words of a lesbian. Or a swinger. Or a fool," and, furthermore, Tobi is clearly "a sweet, honest, healthy girl with honest, healthy ideals."
Alternate Channels cites her Annie Claymore as "American TV's first productive, happy lesbian character."
---
6. Mame (Fay Spain), Janet (Lynn Loring) and Gladys (Laraine Stephens), Police Woman, "Flowers of Evil," November 1974
Around this time, gay activist groups, most notably the newly-formed Gay Media Task Force, began communicating directly with television studios and screenwriters about the appalling representation of gay men in televised media. Most of this representation occurred on talk shows and documentary programs, but even there, the focus was usually on men. The Lesbian Liberation Committee complained to the GMTF that the needs of women were being ignored by the group. Soon, another independent group, Lesbian Feminist Liberation, began taking action against negative portrayal on programs like The Dick Cavett Show.
"Flowers of Evil" was radically transformed from its initial cut to air, in response to aggressive and overwhelming protest from lesbian activist groups. The episode focused on a nursing home run by a lesbian gang who were killing off and stealing from their residents. Pepper (Angie Dickinson) goes undercover in the nursing home as a nurse to expose the killing-and-stealing scheme. From Alternate Channels:
The ringleader, Mame, is a growling, scowling, swaggering, crude-talking, racist ex-Marine nurse — an austere bulldyke who wears men's shirts and puffs bitterly on little black cigarettes while leading sweet old women to their deaths. The most likeable gang member is the most traditionally feminine-looking: Janet, portrayed as a young innocent led astray by older lesbians.
NBC responded to protest by removing all explicit references to lesbianism, which of course, just made matters infinitely worse, as the lesbianism remained obvious even if nobody said the word "lesbian."
It was a time of great conflict between networks and activists. In September, NBC had aired the TV movie Born Innocent, a television movie in which Linda Blair portrays a young woman sent to jail who is violently sexually assaulted by lesbian inmates. In October, nationwide protests were sparked by an episode of Marcus Welby M.D. featuring a teenager boy sexually assaulted by his gay male teacher.
Lesbian Feminist Liberation members went directly to NBC headquarters ten days after the "Police Woman" episode aired, with Stevye Knowles accessing the building by saying she was there for lunch with her husband (she brought her three children along) and the rest entering through a door they'd duct-taped unlocked. The group staged an overnight sit-in, demanding to speak with the NBC Vice President. Outside, around 75 women were marching and handing out leaflets. Networks were realizing we couldn't be ignored. Consequently, anti-gay groups ramped up their efforts, attempting to stop networks from ever portraying homosexuality in a positive light. That fight continues today.
---
6b. Marlena (Patricia Crowley), Police Woman, "Trial By Prejudice"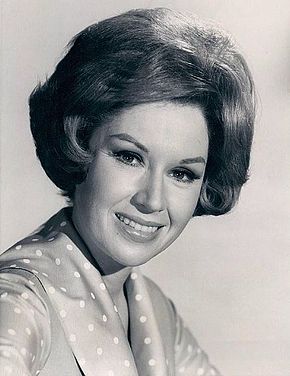 Police Woman did so good with their first lesbian episode that they gave it another shot — this time working with the Gay Media Task Force when developing the story. This time, Pepper is accused of sexually molesting a female suspect. If Pepper wants her job back, she's gotta find a way to prove she didn't molest the female suspect JUST KIDDING she's gotta find a way to prove that she is heterosexual! Pepper calls on her college roommate, Marlena, to testify on her behalf. Marlena, a lesbian and a successful business executive, had feelings for Pepper back in the day which Pepper did not reciprocate, and worries that testifying could ruin her career. But like so many lesbians before her, she's eternally willing to do anything for her straight crush, and testifies, earning Pepper her job back.
---
7. Julie Solkin (Geraldine Brooks), Executive Suite, "Re: The Sounds of Silence," December 1976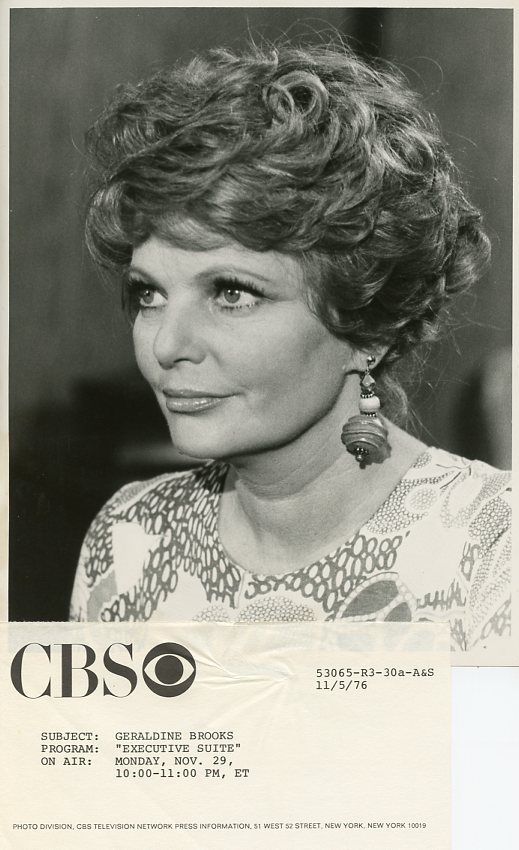 Executive Suite, a show about the personal lives of rich people who own a massive corporation, featured a lesbian character who dared to exist for more than one episode! Julie is in an abusive marriage with her husband Bernie (Norman Fell) and confesses her lesbiansim to her bestie, Leona (Patricia Smith). Bernie takes it upon himself to inform Leona's husband, Andy, that their wives are interested in scissoring each other. Leona confesses to Julie that she kinda likes her, too, and then, feeling very upset about this, walks into traffic with Julie close on her heels. Consequently, JULIE IS HIT BY A TRUCK AND DIES. Bernie blames Julie's death on Leona and Leona has a nervous breakdown. What a life!
---
8. Flora Jessup (Blair Brown), Family "We Love You Miss Jessup," November 1977
Somehow future lesbian Meredith Baxter keeps showing up in shows with lesbian characters! This one's a double foreshadowing whammy, as "Family" also starred Kristy McNichol, who came out in 2012. In this episode, McNichol's character Buddy suddenly gets interested in reading under the tutelage of her new teacher, Miss Jessup, who turns out to be a lesbian. A concerned parent, Ms. Palmer, outs her at a school board meeting and suggests they fire the teacher, but few others have a fuck to give, so Ms. Palmer sets out to prove Miss Jessup was fired from her last teaching position for seducing a student. Helen Hunt plays Stacey, the mean girl daughter of the concerned parent, who bullies Buddy for her attachment to the lezzie teacher. Rumors snowball while Buddy panics that Jessup will be coming onto her next, especially because Buddy's a tomboy who tried out for the boy's basketball team and "moons" over Miss Jessup. Miss Jessup comes over for dinner, explains herself, and wins over Buddy's parents and support. "Until recently, homosexual men and women have had two constant companions," Jessup explains to Buddy's parents. "Fear and shame."
Meanwhile Buddy's flipping out that she could be "like that," which must've been a real trip for Kristy McNichol. "Buddy, I don't think you should assume that Miss Jessup's private life has any bearing on her relationship with you," Buddy's Mom, Kate, explains, adding that she's not gonna "defend Miss Jessup's way of life," but also that it's not that important w/r/t her qualities as a teacher.
The episode has a happy ending and Miss Jessup's portrayal is overwhelmingly positive — the respectability politics at work are blinding, to be honest. Miss Jessup is the best teacher anybody has ever had, literally the first teacher to inspire Buddy to open a book, in order to garner sympathy and support.
This was a particularly hot topic at the time due to the Briggs Initiative and other efforts to prevent gay and lesbian people from serving as schoolteachers.
---
9. Veronica (K. Callan), All in the Family  "Cousin Liz," October 1977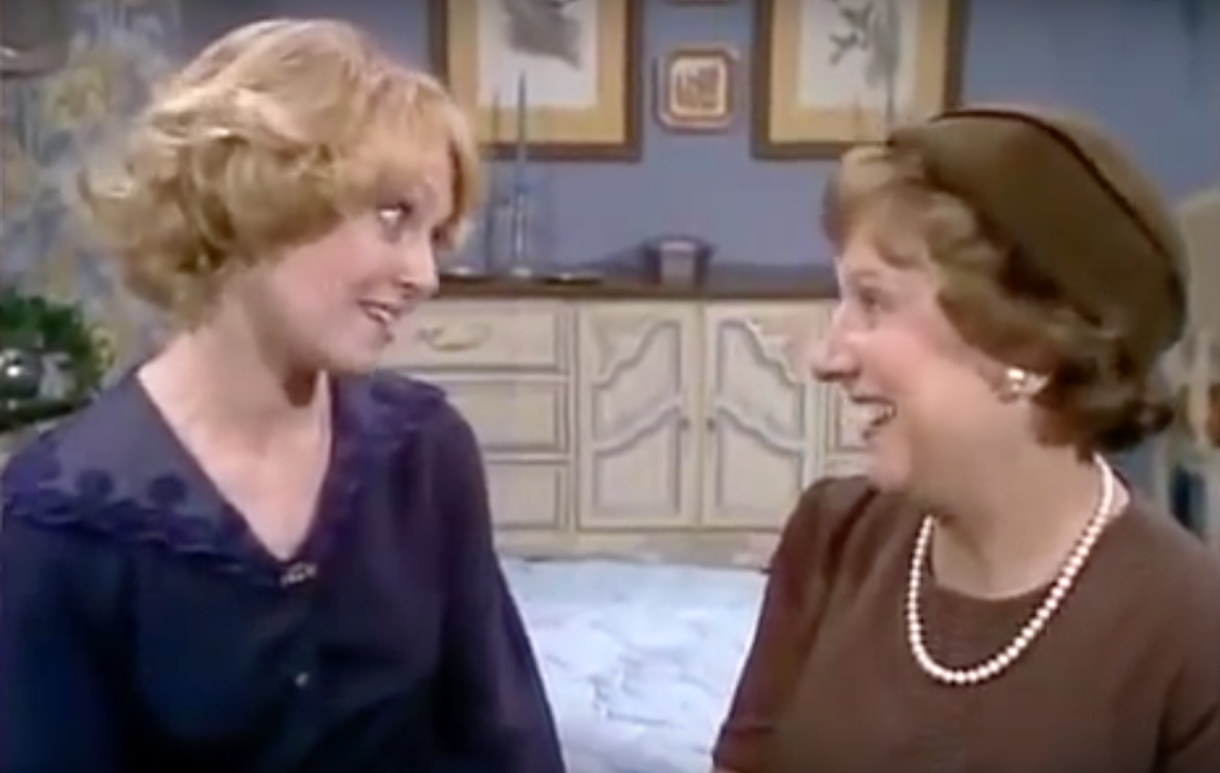 The Bunkers attend a funeral for Edith's schoolteacher cousin, where they meet her roommate, Veronica, who turns out to have been Liz's partner. Veronica wants a tea set of Liz's, and Edith lets her have it, much to Archie's dismay, who threatens to take Liz to court over it, which'd lead Veronica to lose her job. Edith tells Archie that Veronica is "all alone in the world now. And she's got nobody to take care of her, like I have… Archie, I can't believe you'd do anything that mean." Archie relents to avoid being on his wife's shit list. THAT'S LADY POWER FOR YOU. The episode won an Emmy.
---
10. Jackie Collins (Devon Ericson) and Tina (Joanne Nail), The Streets Of San Francisco, "Once a Con," March 1977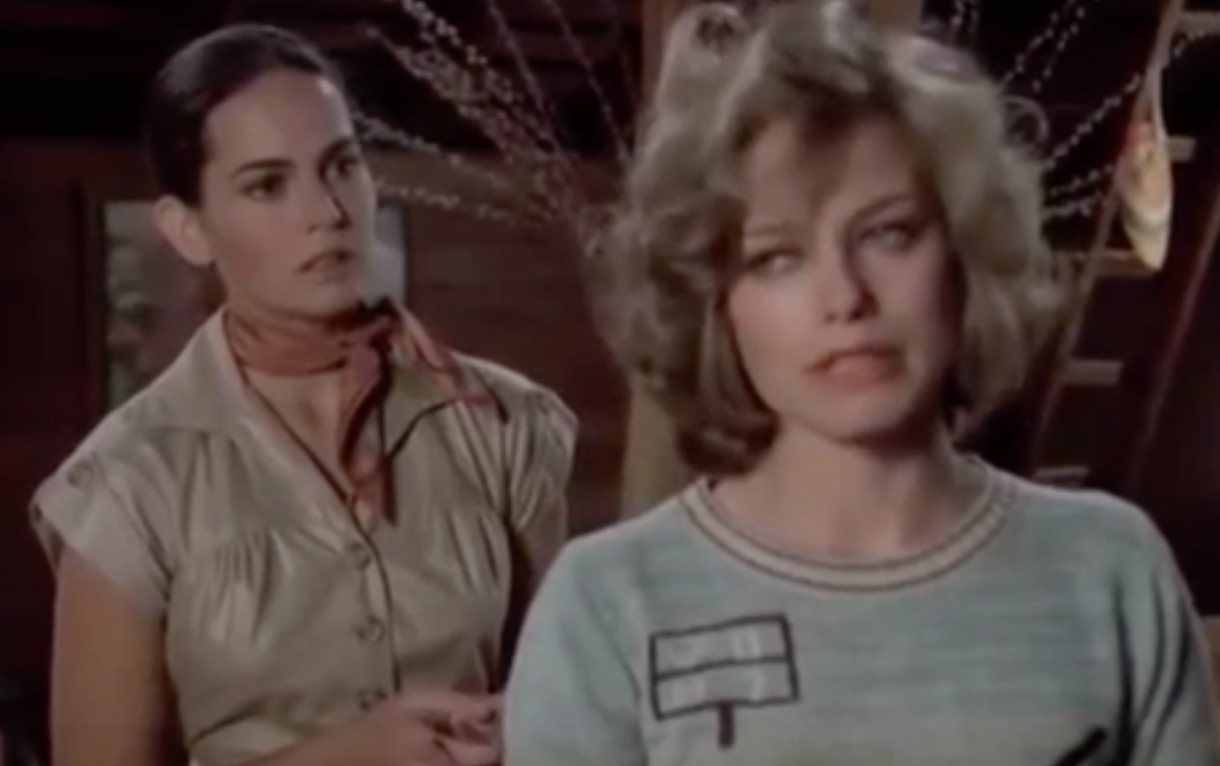 Those schoolteachers were neat but let's finish the list with another crazed muderer! In this episode, Jackie murders her girlfriend Tina's best friend out of jealousy. "I only meant to scar her because she was so beautiful," explains Jackie. "And then she turned, the knife slipped and — Tina, I was afraid I was losing you. I was afraid you'd leave me." Tina's pretty pissed. You know how lesbians are, such drama queens!