If you're a queer lady who came of age in the 70's and 80's, it's very much quite possible that you had a crush on Kristy McNichol, who was best known for her roles on the TV series "Family" and "Empty Nest." The certified tomboy pinged, so to speak.
Well, she pinged because she's gay, obvs! The 49-year-old, who has been out of the public eye for many years, has lived with her partner Marite Allen for the past two decades and came out yesterday in People magazine because she is "very sad about kids being bullied… She hopes that coming out can help kids who need support. She would like to help others who feel different."
McNichol, a friend of Desi Arnaz and sister of fellow actor Jimmy McNichol, was cast as Leticia "Buddy" Lawrence on Family in 1976, after several years working in commercials and playing bit parts in series like Starsky and Hutch, The Bionic Woman, Love American Style and The Love Boat. McNichol won two Emmy awards for her role on Family, a show which broke ground for its attention to 'real-life issues.'
One of the biggest teen stars of the era, she began recording music with her brother, appearing in holiday specials with The Carpenters, and participating in shows like Battle of the Network Stars. She broke into films with The End in 1978 but perhaps is best known for her role in Little Darlings, a cute coming-of-age movie about summer camp, co-starring Tatum O'Neal, Matt Dillon and (fellow lez) Cynthia Nixon. Future film parts saw her earning an unprecedented six-figure salary and Golden Globe nominations.
Her career faltered a bit in the 80s, and McNichol did as well. There were rumors about drug use and she developed a reputation for ditching work. She was cast as Barbara Weston on Empty Nest in 1988, but her attendance on the set was erratic. In 1992, she was diagnosed with bipolar disorder and left the series to focus on her health.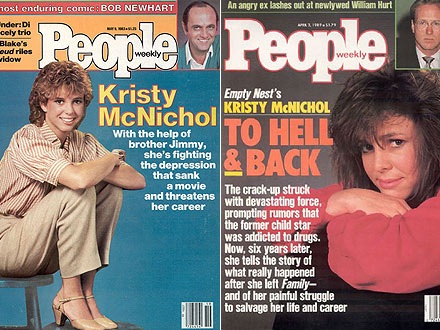 Since then she's been working as a teacher and "focusing on tennis, yoga, travel and raising her beloved miniature dachshunds." In the Kristy McNichol True Hollywood Story, she told E!:
"A lot of people have wondered what I've been up to. I retired from my career after 24 years. My feeling was that it was time to play my biggest part – MYSELF! I must say that it has been the best thing that ever happened to me. So many fans are disappointed that I'm not currently acting, however some may not realize that the process I'm in at this time is necessary and vital for my personal happiness and well-being."
She's more or less stayed out of the public eye until yesterday, when she came out! Look at Kristy winning a relay race!