Last Friday, a reader alerted us on Twitter that Netflix's new show One Day at a Time had name-dropped Autostraddle. After collectively jumping around screaming because ohmygod we're a cultural reference on TV, we were off to the races to find out what gayness lay ahead in this multi-cam family sitcom. There turned out to be quite a lot of gayness, actually. So much gayness it warmed my gay Latina heart — I ugly cried by the end of it.
One Day at a Time is a remake of Norman Lear's 1975 hit show of the same name that followed the lives of a newly divorced single mom and her two teenage daughters. The updated version pays tribute to the original show in some ways — like keeping the landlord around with his original name, Schneider (although in the update, Schneider isn't just the landlord, he also owns the building) — but adds a refreshing twist: it's not about white people!
The new One Day at a Time is the story of a Latinx family, specifically a Cuban-American family, living in an apartment in Los Angeles' Echo Park neighborhood. Justina Machado plays Penelope Alvarez, an Army veteran and nurse, who is recently separated from her husband. Her mother, Lydia, played by the legendary Rita Moreno, moves in to help raise Penelope's 14-year-old daughter Elena (Isabella Gomez) and 12-year-old son, Alex (Marcel Ruiz). Each episode revolves around various issues like immigration, sexism, and being a veteran, all served with a dose of Cuban repartee and side of laugh-track.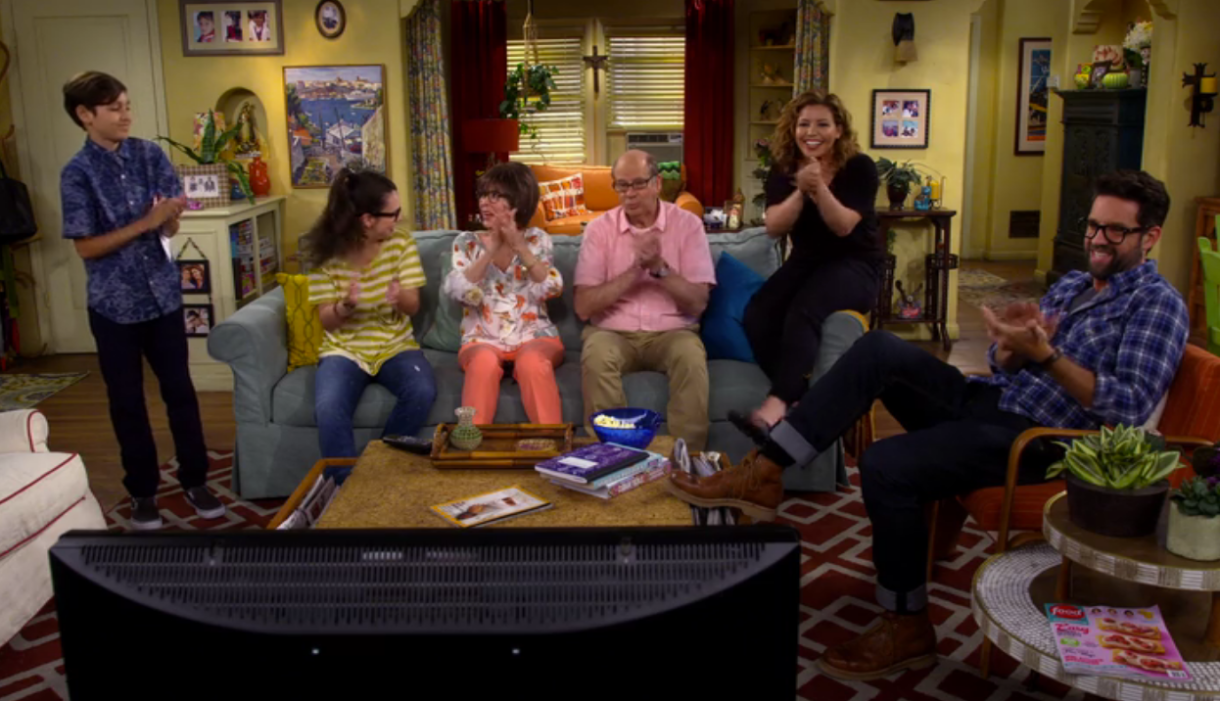 Family sitcoms like these usually end up feeling nauseatingly cheesy, tired, and  honestly quite boring, but One Day at a Time is so much fun and endearing and feels so fresh and satisfying to watch because this show gets it. It gets what it means to be Cuban and Latinx, to be a woman, to be gay, to be Catholic, to be a single mom, to be an immigrant, to be a veteran and to be The Diversity. It feels real and that's what makes this show such a gem.
One Day at a Time proves something we've been saying for years: The shows that resonate, that feel authentic, that get inside our hearts and minds and work that magic only stories can do, are shows that hire writers who share identities with the characters they're bringing to life.
So many badass Latinas were involved in writing the stories of this predominantly Latina family! After Sony Pictures Television, who owns the original series, green-lit the project, writer-producer Mike Royce was tapped to work with Norman Lear on the program. But it seemed risky to put two white dudes in charge of this story, so they sought out writer-producer Gloria Calderon Kellett, whose Cuban-American upbringing in Portland became the basis for One Day at A Time's family's story. Kellet and Royce, as co-showrunners, created a diverse team of 12 writers — half women, two queers, and an overall diverse mix of background: Puerto Rican, Mexican, Salvadoran, Jewish, Irish and English.
Final tweet before launch: our amazing, diverse, talented, insane #OneDayAtATime writing staff, you lovely assholes pic.twitter.com/bA2BWevVhR

— Mike Royce (@MikeRoyce) January 6, 2017
Within the very first five minutes of the show, Elena's dishing out some feminist-as-fuck commentary, refusing the quinceañera her Mom and abuelita have been looking forward to on account of what she perceives to be the celebration's inherent misogyny. She eventually changes her mind, but that's for a feminist reason, too: she wants to show people what an incredible daughter her single Mom has raised, against so many odds. Elena spars with her family on feminist and liberal issues throughout the season, like when she insists on reducing her carbon footprint by taking public transportation. She's a big nerd and a captain of the debate team, she wears Dr. Martens; she loves Buffy; she's best friends with a goth bruja named Carmen. She's a smart, confident, feminist teen — and oh yeah, she's gay. The cultural references — yes, including our own — are so on-point it's shocking, like suddenly realizing how sadly we've grown accustomed to the opposite.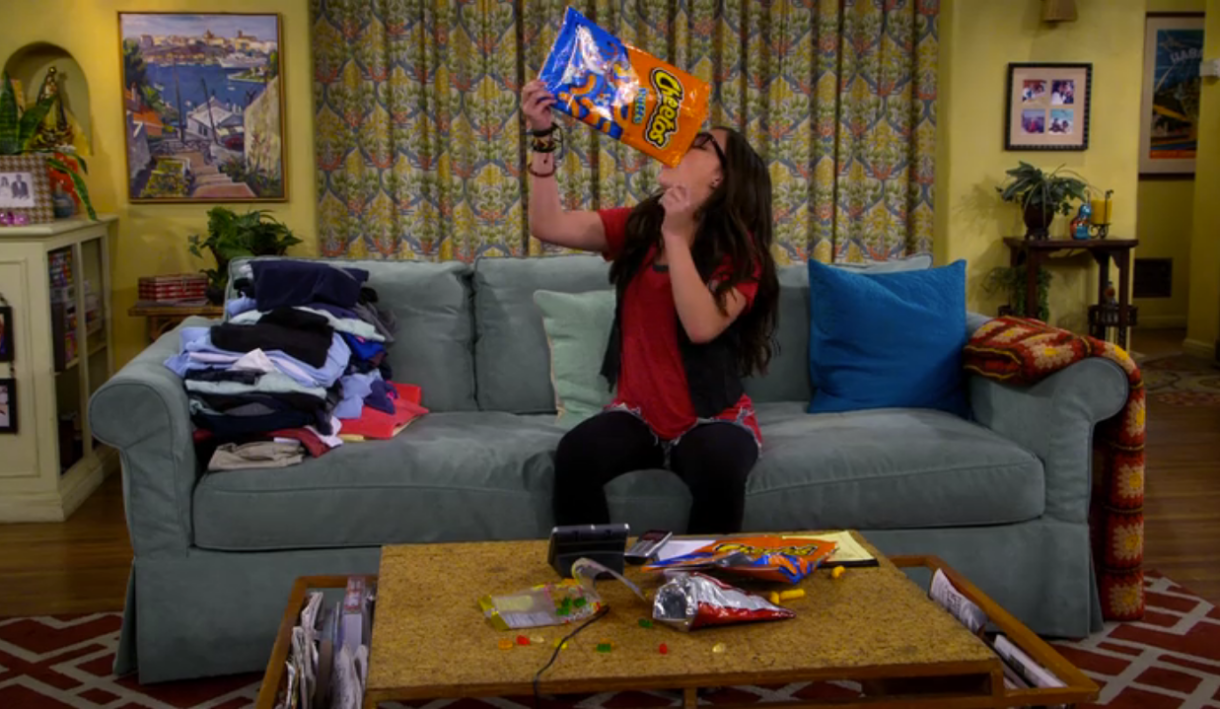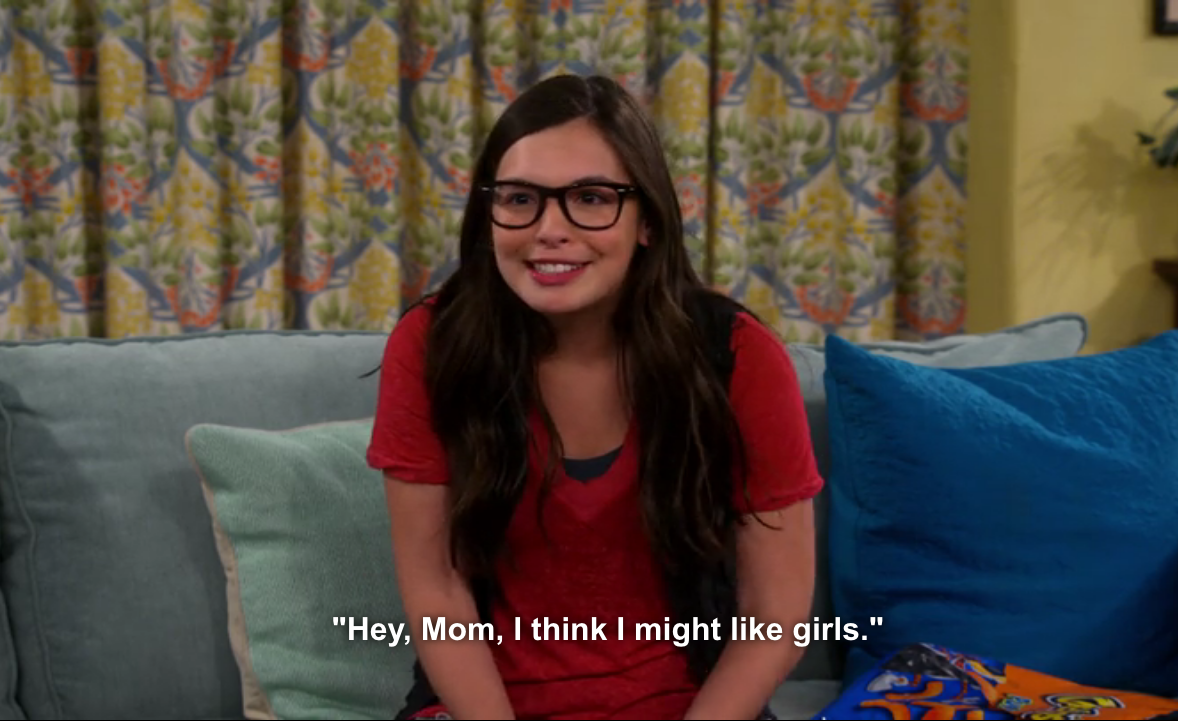 Elena's coming out process goes beyond the one-episode coming out story most shows grant us; it's a primary story arc of the entire season, beginning most clearly in Episode Five when we meet Carmen, sharing a snuggie with Elena on the couch that the two are unable to extricate themselves from for pretty much the entire episode. Lydia is suspicious of the friendship, speculating to Penelope, "Pero still, that friendship, is a little bit, eh, como se dice? Intense," Lydia tells Penelope. "They're teenage girls," Penelope retorts. Lydia counters, "Yeah, but no, no, no. I think there's something a little bit, uh, queer." Abuela's gaydar is on point, man.
We eventually learn that although the intense friendship was indeed a little queer, the reason Carmen sleeps over every night is more complicated: she's undocumented and her parents have been deported. The episode that confronts this situation is one of the season's best. It mixes wry humor with politics yanking tears right out of your face, and getting a well-meaning white Canadian man who had a pretty easy time sorting out his immigration status to confront his own privilege in real time without distracting from the story's true protagonists.
Later in the season, Elena is conflicted when she's told she must pick a boy as her quinceañera escort, as the tradition goes. Thinking she's alone in the house, Elena monologues to herself about not wanting a boy as her escort because she might not even like boys. But Alex, her younger brother, is behind the curtain (Lydia's room is located behind a curtain in the living room, which proves an excellent comedic device) and hears everything. What ensues is a very sweet moment where Alex is totally cool with Elena's queerness. "I promise. I won't say anything," Alex says. "Anyways, it doesn't matter. It's not like you'd be in trouble. I mean, who cares, right?"
Later, Elena confides in Alex about the popular, handsome guy who surprisingly agrees to be her escort, confessing that he's always had a crush on her. Should she give boys a try? This turn of events could make you grimace, but Michelle Badillo, who is queer and the youngest writer on the show, wrote that storyline because it happened to her. Badillo spoke with Broadly about writing her own coming out experiences in Elena's character. She hoped to "shape her character as honestly as possible,wp_postseven if it meant using a lesbian trope.
"What gave me the most anxiety is that, at first, Isabella [Gomez]'s character Elena dates a boy and is pretty sexually aggressive with him. But there's a prevalent and understandable complaint in the lesbian community that every time we see a lesbian character, it has to be in the context of a man. On screen, a lesbian always has to make out with a man to realize she's gay, but that was my real experience. I kind of knew I was gay, but I was so desperate not to be gay, that I was very aggressive with men and wanted to have physical experiences with them just to feel normal. I knew I was contributing to the writing of a trope I know lesbians hate, but that trope was my life."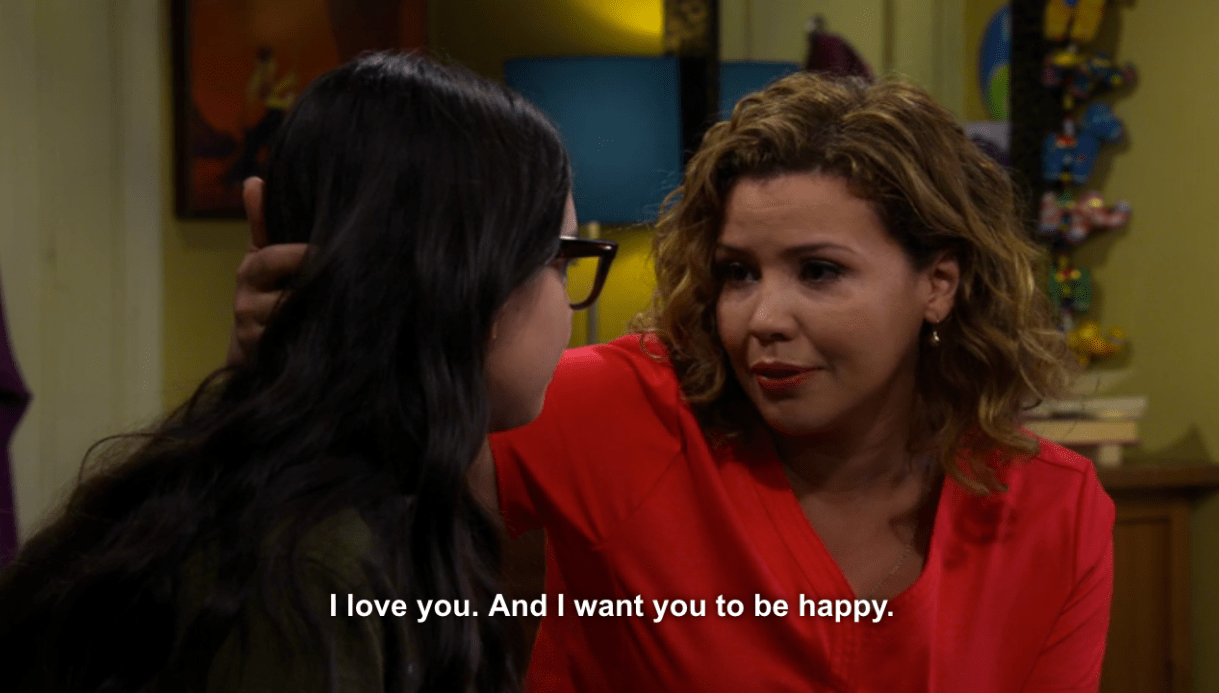 When Elena finally comes out to her mom, she's honest and says she doesn't like her quinceañera escort "in that way" — in fact, she has more feelings for a picture of Kristen Stewart than she does for him. She tells Penelope she can only see herself loving a woman, and in the most perfect coming out scene, an emotional Penelope reassures Elena that it's okay, she loves her daughter and just wants her to be happy. It's not that simple, of course: later on, we learn that Penelope was putting on a front. She wants to be supportive of Elena, but feels weird about it, and had ideas about Elena's future she's scared to let go of. It's realistic and handled gracefully. Parents aren't perfect and aren't necessarily 100 percent on board in the beginning, but Penelope is obviously trying her very best to understand because she loves her kid. She reaches out to her own lesbian friend, Ramona (Judy Reyes), who she met at a women veterans therapy group, for support and to quiet her concerns. Ramona's advice is for Penelope to continue to be communicative, supportive and loving of Elena while dealing with her reservations on her own time.
There's a bunch of single moms out there just like Penelope trying to work and raise their kids and for Latinas, that often includes involvement from their parents, living under the same roof. I love that One Day at a Time features strong ass women running the household and providing for their family. Justina Machado is awesome in her role as a veteran mom. Machado is funny but makes the hard shit so real which makes for one hell of a performance. Penelope deals with sexism in the workplace head on and confronts her white dude coworker like a boss and then goes home to parent her kids. Penelope struggles with getting the medical attention she needs from the VA. She juggles being a newly single woman in the dating world. Meanwhile, Rita Moreno gives life to the show with her over-the-top personality and had me laughing throughout each episode and had me in tears at a couple of points, one being when she recounted Lydia's story fleeing from Cuba and ultimately leaving family behind. Lydia is such a diva but also is warm and teaches some powerful lessons to her daughter and grandkids. The women on the show made the show move during its fun, boisterous moments and during its serious, quiet moments.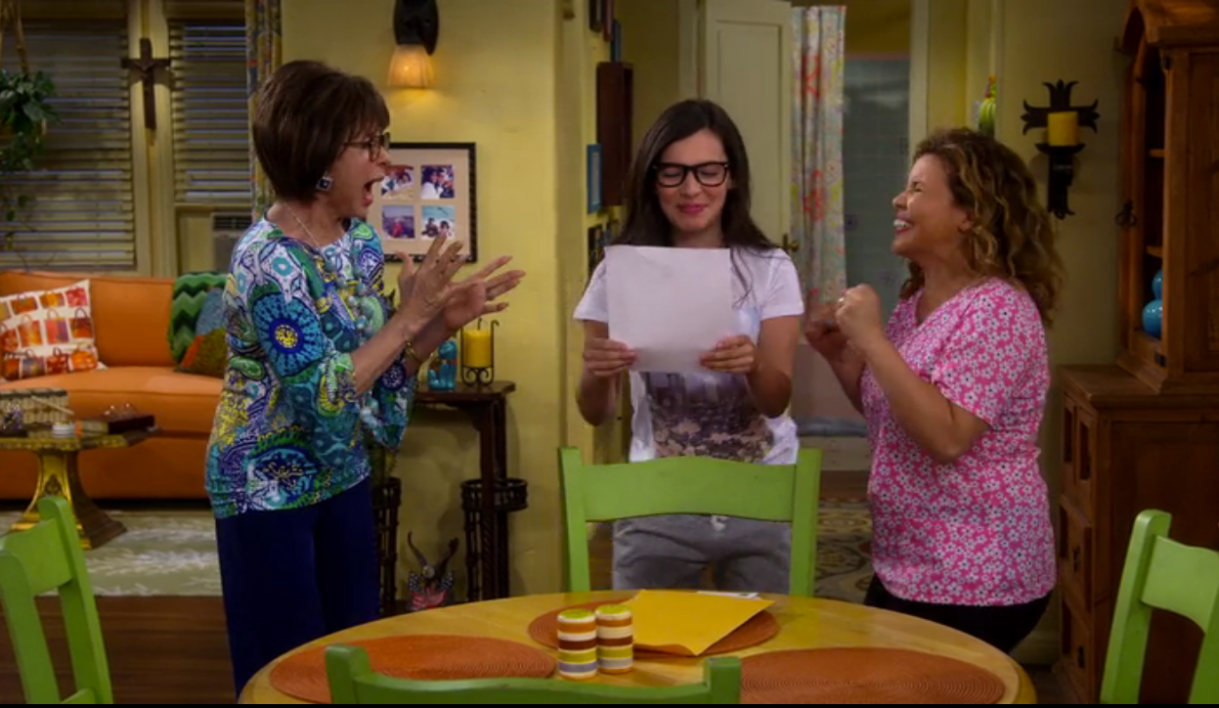 Even though I'm Mexican American, I loved that One Day at a Time centered around a Cuban-American family and was deliberate in its specificity. It's very easy for media to homogenize Latinxs and lump us all together and erase all our different identities that we get lost in who we really are. We need more media that dives into a specific Latinx culture and tells our rich histories and inside jokes and culture. As a Latina, I learned so much about Cubans from this show, specifically regarding Cuba's history and how exile affected its people. The Cuban coffees made with Cafe Bustelo and the "¡Azúcar!" and certain insults in Spanish and even the way the family refers to a quinceañera in the plural "quinces" all the time is not part of my culture. But I understood every last bit of it and felt at home with them because my family is just like them.
At the same time, I shared so many common experiences with the characters. Besides the gay story arc, the other issue that really resonated with me was when Penelope was so hesitant to tell her mom she was taking anti-depressants and going to therapy. I've never seen Latinxs on TV tackle a subject like it. Just as Lydia demonstrated, in Latinx families talking about depression or anxiety is taboo, let alone trying to get help. You just don't talk about your mental health problems because it means you're weak because you can't handle your shit or it means you're just being stupid and your problems aren't real and you just need to toughen up. I was so scared and nervous to tell my mom that I was going to therapy that I had to talk about it in therapy! Watching it being talked about on TV made me feel not so isolated. I was so happy One Day at a Time can show other Latinxs that mental health is important and just as routine as going to the doctor's office.
My all time favorite part of the show was the last episode which leads up to Elena's quinceanera. Throughout the episode, Lydia keeps tailoring Elena's fancy dress for her big day. Even though Elena says she loves it, Lydia doesn't believe she's in love with her dress. Elena admits that she doesn't feel totally comfortable in it like she does when she wears ties, fedoras and jackets. Apparently, Lydia finally gets the final wardrobe adjustment right because when Elena sees it she's in tears and even though I didn't see what she's gonna wear, I'm in tears too. When Elena walks out for her big reveal, she's wearing a glitzy, fabulous femme white suit. I busted out crying again, my friends, because her abuela made her a gay little suit. It's more than just Elena stepping out in this beautiful suit, it symbolizes Elena's coming out in more ways than one — as a young lady who is comfortable with who she is and with a family who's by her side no matter what.
You might say multi-camera comedies are a thing of the past. After all, the last multi-camera comedy to win an Emmy was Everybody Loves Raymond in 2003 and 2005. Single-camera comedies without laugh tracks are the norm now, and that's especially true if you're talking about comedies that center on any group of people who aren't straight white men. Veep, 30 Rock, Black-ish, Modern Family, The Mindy Project, Fresh Off the Boat. You know, the kind of comedies that give Trump voters heart attacks. But back in the '70s and '80s, sitcoms like One Day at a Time managed to confront important social issues within the family unit. Norman Lear's shows, specifically (All In The Family and Good Times) were at the center of this trend.
As the multi-cam format has fallen out of favor with young viewers and coastal elite liberals (where most TV criticism gets written), the format has aimed its arrow directly at middle America, bringing us (more) tales of ordinary white families, centered on the middle-aged mundane dad and his straight man shenanigans. Even newer multi-cam sitcoms that have been recently nominated for Emmys — Two and a Half Men and Big Bang Theory — are about white men.
One Day at a Time is so revolutionary in its depictions of what a family might actually look like in America. It's got the same recipe of an old school family sitcom but turns the norm on its head because it centers the family's brownness and provides ample social commentary to deliver a fantastic modern-day sitcom.