You know Kristin Russo. She's the co-founder of Everyone Is Gay, the co-director of A-Camp, and she co-hosts the critically acclaimed podcast Buffering the Vampire Slayer with her wife, Jenny Owen Youngs.  Several months ago, Kristin started hosting a show called Getting In Bed With Kristin, where she answers questions and gives advice and hangs out in bed with special guests — and now Kristin is bringing that show to Facebook Live on Autostraddle dot com!
Her first livestream will be in an "Ask Me Anything" format, so that you can bring any of your burning advice questions (ie: "How do you make long-distance relationships work?" or "How many cats is too many cats?") or ask Kristin about herself, her work, or anything else that will help you get to know her better! You can submit your questions to Kristin in one of three ways, because variety is the spice of life: 1) You can ask live, during the stream on Facebook, 2) If you'd prefer to stay anonymous, you can go on over to everyoneisgay.com, click on the "Ask" button, and begin your ask with #GIBWK, or 3) You can tweet your question @autostraddle and use that same hashtag, #GIBWK!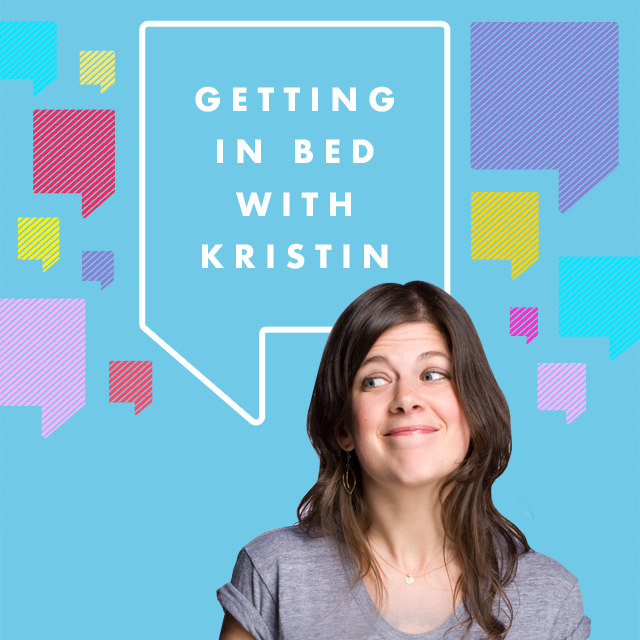 While Kristin and I were on Skype yesterday sorting out the details of this new and exciting collaboration, I sprang a bunch of questions on her so you can really get to know her before you get in bed with her.
Kristin, hello! You are inviting queer people to get into bed with you. Why?
Well. Jenny gets old from time to time. [laughs] No. I just thought it would be a fun place to gather and have conversations about everything from regular relationships to advice to what's going on in our world right now to taking care of cats — which, Heather Hogan, I've been learning more and more that you are an expert on that topic.
If there were a Facebook Live called Getting In Bed with Cats, I would be a very good choice for host, that's true.
I have a feeling Getting In Bed With Cats would have much higher ratings.
What about Getting In Bed With Cats And Kristin? Oh, whoops. I gave the cats top billing. Well, that's everything you need to know about me. Back to you. Why do you think right now is an important time for us to gather and talk about these things as a community?
Oh my gosh. Not to give you the most obvious answer, but we don't seem to be able to escape it all. I've been doing these Facebook Lives for about six months, and it has always been important to hold space for each other and approach these topics as a community, and to be able to see each other's faces — at least virtually — while doing so, but after the election it's just more important than ever. You know, the day after the election, Jenny and I hopped onto Facebook Live unscheduled and just sat and talked and were confused together and grieving together with our community.
Getting In Bed With Kristin is advice-based, but it's rooted in dialogue, which means we can shape it around our current social and political climate in real time. We're reaching for each other right now because we know we have a lot of work ahead and a lot of fighting to do, and taking care of ourselves by sorting through stuff in our own brains is critical in the process of stepping forward and doing other work.
Absolutely. A lot of people know you from Everyone Is Gay, or from being the co-director of A-Camp, or from your Buffering the Vampire Slayer podcast. You're all about creating safe queer spaces. When did that start for you?
I was getting my master's degree in gender studies eight years ago and I didn't know what I was going to do. I stumbled into this space where I was talking about LGBTQ issues but in a way where I also wanted us to be able to laugh. Everyone Is Gay was born out of that. Like, let's talk to each other like we're sharing a beer and having a conversation, and that opened up more and more doors to spaces that I didn't really know were needed, but it turns out they were very needed. So through my work with Everyone Is Gay, I started speaking at colleges and schools, and it just sort of became this avalanche. But like the good kind. Not the kind that hurts people.
A pillow avalanche.
A feather avalanche.
What do you think makes Facebook Live a good platform for this kind of thing. It's not like someone writing in and you're writing back, or even calling into a show; you're answering live on social media with your own face. What do you think makes that special?
Well, my face.
Absolutely agree.
No, I'm just kidding. Two answers, actually: Number one, using the hashtag #GIBWK you can ask anonymously through EveryoneIsGay.com, which allows you to get information about things you don't really want to put your name on if you're too nervous. And similarly, you can watch this anonymously. You can logout of Facebook and then click on the Facebook live link and watch without anyone knowing you're watching.
The other piece of it is that it's just fun to interact in real-time. There's no way I would have been able to do that five years ago because I would have been terrified — and I still totally run the risk of saying the wrong thing, but because I've been having these conversations now for so many years, I feel more comfortable in both having the information I need and knowing when I don't so I can direct my answers to people who do have that information. I know enough now to be honest about what I don't know.
That's awesome. Okay, well, if people are going to get in bed with you I feel like they should know you a little bit, so I'm going to ask you a couple of hard-hitting questions that may or may not win me a Pulitzer prize. Number one, and most importantly, which Hogwarts house are you in?
I'm a Hufflepuff like you, Heather Hogan.
Loyal, patient, fair, sheer perfection. I love our house motto. Would you rather read a paper book of a Kindle book?
A paper book! I like to smell them and hold them and turn their pages and crack their spines. It's very important to me! If I'm traveling and want to take several books I'll bring my Kindle, but I'm not a huge fan of screens. I am in front of screens half of my life.
Can you change a tire? On a car?
Wellll, Jenny taught me how to change a tire on our honeymoon and I did pay attention but I haven't yet tried it. So, I think that I could? But it hasn't been put to the test yet.
Can you remember the best taco you've ever eaten? Not a euphemism. The best actual food taco.
Oh man, oh man, oh man. I don't remember the name of the place, but when I lived in New York I went to visit some cousins who live in San Diego and there are all these surfers there and so there's all these places to get breakfast tacos and burritos and stuff when you come out of the water. I had a fantastic fried fish taco at one of those little stands.
Mmm, that sounds good. Okay, so what is one story Jenny tells about you that you wish she would never tell again?
I have a story about Jenny that she wishes I'd never tell again.
Please proceed with that one.
Well, that's the story of how one time she took me to see her old house and there were two baby black bears in a tree, and I was like, "Oh, shit!" And she was like, "Oh, shit!" And there was a mama black bear in the tree next to it and we had to get back to the car and we were trying to do it all chill like it wasn't a big thing, but then the mama bear started coming down the tree and Jenny ran away from me at full-clip and did not look back for me at all. Luckily, the mama bear registered that we were walking away and didn't KILL ME, which is good.
Okay well now you really have to tell a story about yourself that you wouldn't want Jenny to tell people.
I feel like one I shouldn't want people to know that she tells all the time — but I don't care — is when people ask us how we got engaged, she's like, "Well, Kristin told me I had to propose to her, so."
[Spit-laugh] Is that true?
Oh, yeah, that's totally true. It's so horribly true, Heather. It was a different place and a different time, and, you know, Jenny's the kind of person who does need a nudge from time to time. But yeah, I was definitely like, "Before you go on tour again, you better propose to me or this shit's done."
Amazing.
Everyone wants a super romantic story, but really it was just, "Kristin made me."
What's your dream Jeopardy category?
Oh, absolutely Nightmare on Elm Street.
Just the original or the sequels too?
No, all of 'em. I got all of 'em. I love Wes Craven, and I watched all the Nightmare movies when I was a teenager. Then there was the Scream series and Cabin in the Woods. I like horror in general, but I'll bet I've seen the Nightmare on Elm Street movies at least ten times, and the first one and the third one, many many more times than ten times.
So maybe when Jenny ran away from you and left you to those bears, she was like, "Man, you know what Kristin loves? To be scared to literal death, so I am going to give her this gift." Right?
She loves things with giant claws; why wouldn't she want to be abandoned to these bears?
What's the greatest cereal ever created.
Kix.
What!
Do you remember Kix?
Yeah, those little spherical tan cereals that taste like nothing? Do they even still make Kix?
No, probably not, but it's still the best cereal ever created. They're little fucking corn balls! I love what people love, like Cinnamon Toast Crunch and whatever, but if I'm just getting real with you, Kix is my choice for best cereal.
Okay, final question. Be honest. What's the last video you watched you YouTube?
Ooooh. Oh my god, do you know what I think that it might be? [dissolves into embarrassed laughter] The title credits to the '90s TV show Blossom.
Does Blossom have a theme song?
Oh, Heather, it's the best theme song ever. It includes the word "opinionation."
Okay, now I feel like everyone is fully prepared to get into bed with you. 
I feel like I know myself a little bit better now too.
Join Kristin this Thursday at 6pm EST/3pm PST for her first Getting In Bed With Kristin on Autostraddle's Facebook live. All episodes will be posted in A+ the day after they air!