On Thursday, according to The Daily Beast, staff and members of the Boys & Girls Club in Troy, New York gathered to mourn 11-year-old Jeremiah "JJ" Myers, one of four victims in a grisly quadruple homicide that also claimed the lives of Jeremiah's 36-year-old mother Shanta Myers, her girlfriend, 22-year-old Brandi H. Mells, and his 5-year-old sister, Shanise. JJ wanted to be a firefighter, according to The Daily Beast. JJ  had a "smile that could light up a room" and "loved playing basketball." Hollyanne Buntich, whose son played basketball with JJ at The Boys and Girls Club, said "Whenever he would see another kid that would be down or upset, he'd walk up to them and wrap his arms around them."
As the community gathers in Troy to share memories and grieve, two men from the nearby town of Schenectady are being held in the Rensselaer County Jail without bail on first-degree murder charges: James W. White, 38, and Justin C. Mann, 24. Both men have criminal records and have spent time behind bars: White from 2001-2010 on first degree manslaughter charges, Mann from 2014 until June of 2017 for first-degree robbery. According to CBS6, White had faced second degree murder for a 1999 robbery that led to a fatal stabbing. He pled guilty. More recently, he lived at the Schenectady City Mission, but was eventually banned for violent outbursts. Still, shelter Director Michael Saccocio told CBS6 that "He never gave us reason to believe that he represented that kind of threat." They have pleaded not guilty.
Mann was on parole at the time of his arrest. Photographs of the arraignment and the courtroom full of family and friends are available at the Sidewinder Photography facebook page.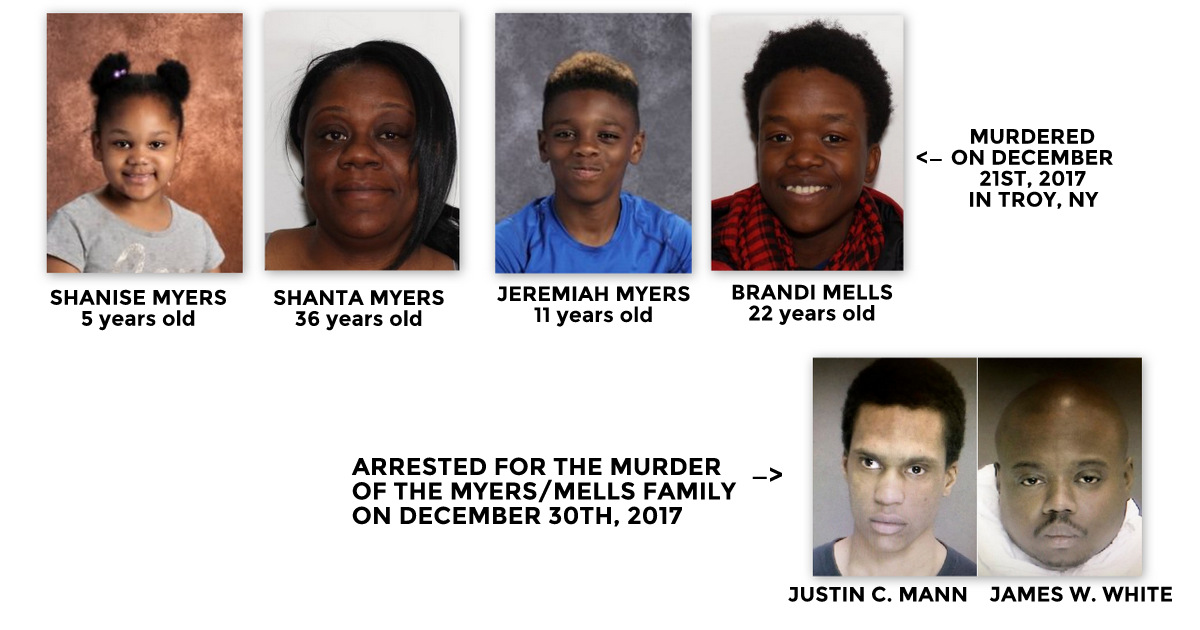 During a Saturday morning press conference, Troy Police Chief John Tedesco told the public, "I don't need to tell you how good it feels to have these two defendants in custody. It's a great feeling of relief. This was never an us versus them. It was about the victims from the beginning." A plethora of agencies contributed to identifying the suspects, including the FBI's Albany office and local residents who provided anonymous tips through the Capital Region Crime Stoppers interface. Pastor Charlie Muller of Victory Christian Church in Albany offered a $10,000 cash reward to anyone willing to come forward with information, which The Troy Record cited as a possible factor in the arrests. Shanta's sister, Shakera, made her own plea to the public: "If you know something that could help us put the monster away who did this to my sister and  her beautiful babies, you've got to say something. The longer you wait, the further away this perpetrator gets."
The crime scene was scrutinized, as were cell phone and cell tower records and video surveillance cameras. At the press conference, Tedesco cited "technological devices" as the primary method of confirming their involvement in the murder. The Troy police are confident that they have the right men.
The police confirmed that one of the victims was acquainted with one of the suspects, but withheld details. However, Shanta Myers' nephew Khalif Coleman told The Daily Beast that "some of my family members recognize [Mann] as Brandi's friend. He supposedly always hung out with her."
A bloody knife and a second blade were found at the crime scene, and the time of death is now believed to be the night of December 21st, five days before the bodies were found. All four victims were found with their throats cut and their hands and ankles bound.
According to The Daily Beast, Mells' mother last saw her daughter on the 21st, but couldn't reach her when she called that night. They didn't know yet if Shanta, Brandi and their children were coming to New Jersey for Christmas — money was tight, and travel was expensive — and when calls went unanswered, it was assumed they'd stayed in Troy.
Shanta's oldest child, 15-year-old Isaiah Smith, stopped by the apartment on the 23rd to drop off presents for his siblings, but when nobody answered the door, he assumed they'd just stepped out for a minute and went on to his basketball tournament in Massachusetts. Shanta and two of her children had moved in to Mells' apartment earlier this year to save money, but Smith was living with relatives 'cause the apartment was too small for all five of them.
On the 26th, Mells's mother called the property manager to ask him to check in on the family, which is how the bodies were initially found.
Brandi Mells, who had dwarfism and was often teased for it as a teenager, has been described as "the sweetest person you could ever meet." Her cousin, Sharonda Bennett, who grew up with Brandi, told The Daily Beast, "She never would have want to have a confrontation at all. She hasn't had a problem with anybody. That's why I don't understand how or why … who would make her an enemy." She considered JJ and Shanise to be her children, too, and spent the days before the murder looking for ways to get holiday gifts for the kids with their limited resources.
Brandon Logan, 23, told The Daily Beast that Brandi, one of his best friends at West Genessee High School, wasn't close with her family, and another Syracuse mom said Brandi often crashed at her house and "was like one of my children."
Shanta Myers is described as a hard-working single mother who "really did care about people." Her godmother told The Daily Beast, "no matter what she was going through, I mean some hardcore stuff, she just cared about people." She worked at  the Joseph's House homeless shelter and as a bus monitor for Troy schools. She is remembered as an excellent cook with a very memorable macaroni and cheese.
A friend on Facebook said of Shanise that the five-year-old girl "had a heart full of love" and was "always smiling and running behind her brothers."
A GoFundMe campaign for a funeral and memorial for the Myers family already earned over their $40k request and is no longer accepting donations. A GoFundMe for Brandi Mells' funeral expenses is still ongoing.
When we initially wrote about this murder last week, an Autostraddle reader posted her own memories of Brandi and Shanta from seeing them through her job at the ER, recalling, "both women were very sweet and very much in love and were good loving parents trying to make a better life for their kids. No matter how bad they felt or how much pain someone was in we always managed to share a few laughs."
Little information has been released about the alleged killers. A commenter on facebook recalled working with Mann on an Albany People Ready project in Ballston Spa, cleaning out soot from a school that had caught fire. He is likely referencing a February fire at a Ballston Spa middle school.
I followed Facebook links for probably an unhealthy amount of time trying to get a grip on what's been happening around the conviction, and it's just devastating. They had big families, both of them, biological and chosen, and their networks are in total despair and deep mourning.
Mann and White are due in court on January 4th.
Last Spring, Brandi posted a collage on her Facebook wall of friends who'd passed away, three of whom appear quite young. One of the pictured friends was 15-year-old Armoni Sexton, a gifted basketball player expected to make the NBA who was killed in a drive-by shooting in April of 2015. Armoni's mother commented on Brandi's post with a series of crying emojis. Brandi replied to tell her that he was the sweetest man she ever met, that he never judged her and accepted her for who she was, even when she was homeless. She said he encouraged her to keep her head up and go back to school and she did (Brandi was working on getting her GRE.) She told his mother that she'd signed the lease for her new apartment the same day she heard of Armoni's death.
"smh that still gets to me time to time," Brandi concluded. "'Cause I say all the time that could of been anybody. It could of [been] me."