The Degrassi franchise is a friend to the queers. Always has been, seemingly always will be. If you were a youngster in the '80s, you might remember the original Degrassi, a Canadian program which was one of the first shows to tackle a lot of taboo teen issues including teen pregnancy, alcohol abuse and — surprise — homosexuality!
The original series, Degrassi Junior High and Degrassi High, which aired on Canada's CBC network and also in America on PBS, ended in 1991, and Degrassi: The Next Generation began in 2001 on CTV, later picked up in the US by "The N" (home of South of Nowhere) which is now "TeenNick." The American episodes were often edited to suit the psychotic conservatives who dedicate their lives to protecting teenagers from learning about issues that face teenagers.
Past seasons of the new Degrassi have featured characters like Marco Del Rossi (gay), Cheerleader Paige Michalchuck (bisexual), Dylan Michalchuck (gay), Alex Nuñez (lesbian) and football players Zane Park (gay) and Riley Stavros (gay).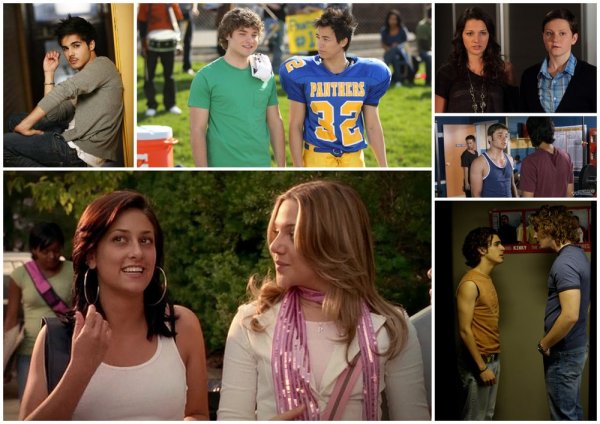 So it's no surprise that when Degrassi introduced a transgender character, Adam Torres (no relation to Callie), in Season Ten, that they nailed it in the way you probably wish Ilene Chaiken would've done instead of what she did do which was devastating and terrible. Degrassi even snagged an mega-elite Peabody Award for its episode My Body is a Cage, Pt. 1 the first in a two-episode set that featured Adam being outed as transgender at school and dealing with his mother's refusal to let go of "Gracie." There's a few inevitable bullies, of course, but Adam's friends are refreshingly supportive and nonchalant, setting a good example for impressionable children about how not to be assholes to their LGBTQ friends.
It's also no surprise that the Florida Family Association is asking companies to withdraw their advertisements from Degrassi because of the Transgender Agenda it imparts:
It is very concerning that your company would knowingly advertise during a television show that condones and promotes transgender lifestyles to an audience that is almost exclusively watched by young teens and children. You would think by the number of episodes that MTV devotes to including the relationship between a female to male transgender high school student and a bi-sexual lesbian student that such relationships are a common occurrence in America's high schools. The odds of this bizarre relationship occurring in high schools are extremely rare. Yet, MTV feeds this salacious and irresponsible propaganda to an audience made up of almost exclusively young teens and children as if it were common place. MTV airs a free promo for PFLAG on DeGrassi which directs kids to an organization that will encourage our youth to embrace a different sexual identity that may stay with them for life. Will your company continue to advertise on this irresponsible show?
Firstly, "bi-sexual lesbian" ? AMAZING. This is further discussed in this incredible World Net Daily article on this topic:
The family group notes the "Chasing Pavements II" episode of the program "contains graphic intimate relations between the female to male transgender character Adam (Gracie) and bisexual, lesbian character Fiona."
"In one scene Fiona kisses Adam, pulls up Adam's shirt and rubs her hand slightly above Adam's groin," the alert said.
GROIN! The piece is sensationalistic and the author seems absolutely delighted to dish every detail of this program which they apparently don't think anyone should watch. Except, of course, whomever wrote this article and subsequently tracked down a fan-vid of Adam and Fiona kissing to share with their readers! World Net Daily points out several reasons why this storyline is so fantastic, like this:
"The episodes contain a clear message that the rest of the world must change in order for "transgender" individuals to get what they want."
Perfect! I feel it's unlikely that any advertisers will actually listen to this nonsense — which also includes some extensive hand-wringing over an Transgendatastic PFLAG PSA — but hopefully it'll bring the show some extra publicity so that more kids and families find out about it and tune in, like with Skins, except this time the show is actually good.  Yes — Degrassi is a show for kids, that's why it's on the kid channel, and so things are a little cheesy sometimes (most of the time). But it's easy to get hooked, and if you start from the very very beginning you'll get to see a young Drake playing Jimmy in the Wheelchair, and it will tickle you, and Alex Nunez is smokin' hot. Like Skins, Degrassi uses actors the same age as their characters so it doesn't feel fake like Saved by the Bell or 90210. Apparently America prefers its high schoolers to look like college students.
I won't get into Adam's storyline or the storyline between Fiona and Adam any more than I already have, because maybe you want to watch the show and not have everything all spoiled. I'm sorry that I told you about the groin thing though. I just had to.