Master Of None's second season comes as close as you can get to Denise telling her own story; in fact, it was co-written by Lena Waithe (the actor who portrays her). The character-driven Thanksgiving is set almost entirely in a single location, and unlike most small-screen coming out stories, this one spans 26 years because Denise's journey is a marathon; not a sprint.
We open on a small, pink two-story house. Inside, it's cozy and familiar: A piano here, a cross and family photos on the wall there. A large microfiber sofa covered in plastic — the good couch. Mom (Catherine) prepares a turkey with Aunt Joyce while Grandma Ernestine enjoys a cigarette in the living room. She wants to help but she's not allowed because no one in the household appreciates Newport potatoes.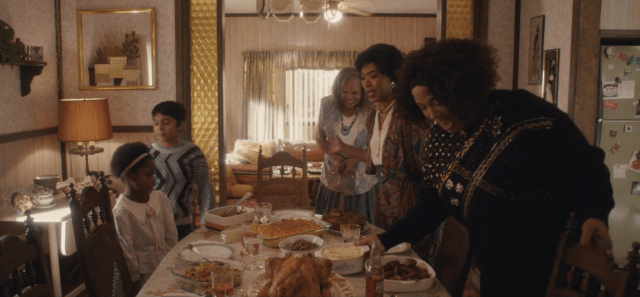 Denise and Dev's lifelong friendship originates hereabouts and right before dinner Denise discovers that Dev isn't black. Catherine is quick to remind them both that despite that minor detail, the two will encounter similar hardships in life due to their shared minority status.
Denise learns that as a black woman (double minority) she's "gonna have to work three times as hard" to get half as far in life.
I mean technically, she'll have to work FOUR times as hard but we'll cross that bridge when we get to it.
1995
Four years later, 12-year-old Dev and Denise hang out upstairs in her sexy-lady-poster-plastered room watching the D'Angelo video for Brown Sugar.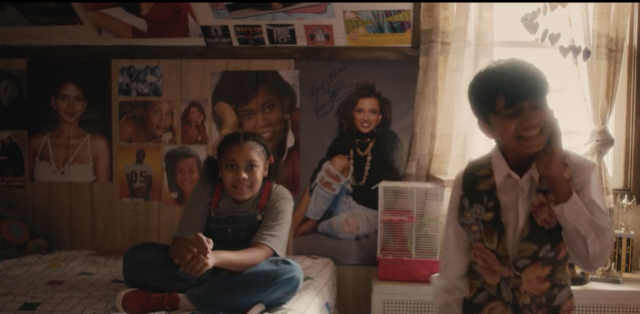 As Dev sways and sings along (a little pitch-y but it's D'Angelo so I get it), Denise is entranced by the taut, sweaty bodies of his femmetastic backup dancers. Mom doesn't notice because she's too busy looking for the frilly white dress she wants Denise to wear to dinner. Denise surprises everyone by instead descending the staircase in her finest hoodie/sweatpants combo, complete with a Cross Colors Malcolm X snapback.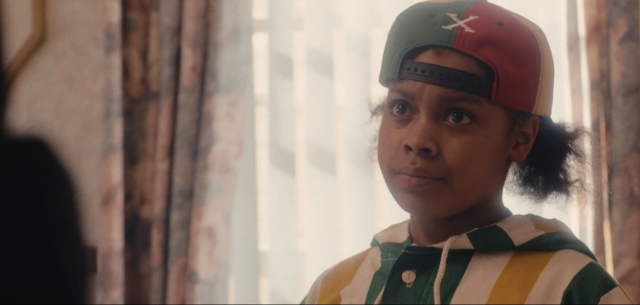 Thanksgiving dinner quickly broaches the topic of whether or not OJ and Michael Jackson are guilty and how the dynamics of race and class intersect in relation to their respective trials and tribulations.
1999
16-year-old Denise comes out to Dev without much fanfare aside from him agreeing to call her "Lebanese" because she's not yet comfortable with the word "lesbian".
Denise reveals that she's not ready to come out to her mom because she doesn't want Catherine's parenting skills to be judged by a community that sees being gay as a choice and having a gay child as a "tarnished trophy".
They smoke a blunt rolled from a very sad-looking baggie, attempt to hide being high from Catherine, and we discover Denise's guilty pleasure, the Jennifer Aniston poster on her ceiling.
2006
Denise finally comes out to Catherine after college during breakfast on Thanksgiving day. She first tries to go the subtle route, letting her mom know that she doesn't have to worry about her getting pregnant, to which Catherine asks if she's found religion.
Once Denise spells it out, Catherine bursts into a tearful admission that she doesn't want life to be hard for Denise. Plus, grandma is so forgetful she'll have to come out every other week.
Later that day she recaps the meeting with Dev whose reality of all things gay seems to have been shaped by white people with inwardly disapproving yet outwardly supportive parents. Denise reality checks him with "This ain't no episode of Growing Pains!" Note to baby youths: Growing Pains is the only good thing a man named Kirk Cameron ever did with his life.
Meanwhile, Aunt Joyce reminds a visibly distraught Catherine that Denise has never been arrested, always has a job, graduated college, and respects her elders, which is pretty much the definition of a trophy child.
2015
It's turkey day nine years later, and Catherine, much like Angela Bassett, still hasn't aged. The women hilariously argue about their terrible taste in men while upstairs, Denise nervously anticipates her (perfect) girlfriend Michelle meeting the family for the first time.
When she arrives, tiny femme-y Michelle is greeted with awkward dap from Catherine and Joyce, while grandma welcomes her with a sincere and warm hug because she's oblivious to the whole gay thing (or is she?).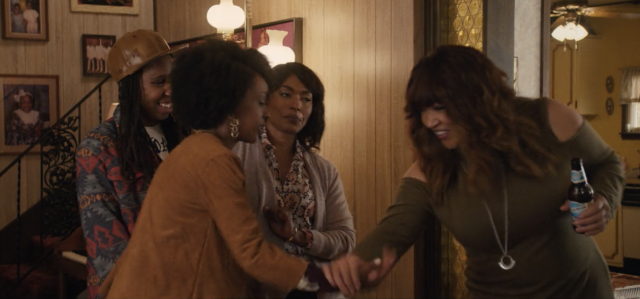 During dinner, Michelle proves herself an archetype of the girl you wanna bring home to mom, but the couple's ketchup-mild PDA vibes are still well beyond the limits of Catherine's comfort zone as she fumes: "You used to make that look at Rachel from Friends! I always thought you were looking at Joey."
Denise retorts with, "Mom, that character was an idiot!"
2016
Table talk this year includes the murder of Sandra Bland and echoes the tone of the now decade-ago OJ conversation. We come full circle to the very first Thanksgiving dinner, where Denise and Dev are once again reminded of how similar their lives are despite surface differences. In regards to unchecked police brutality, Dev knows that as an Indian man he's very likely to be profiled by racist cops who see black and brown as one and the same.
Michelle has broken up with Denise over commitment issues so there's also a new dinner guest this year. Nikki is cute and bubbly and painfully unaware of current events or social cues. She calls World Star Hiphop "the news" and interrupts the aforementioned discussion about police brutality with a cute animal story. Basically, Nikki is the Joey to Michelle's Rachel.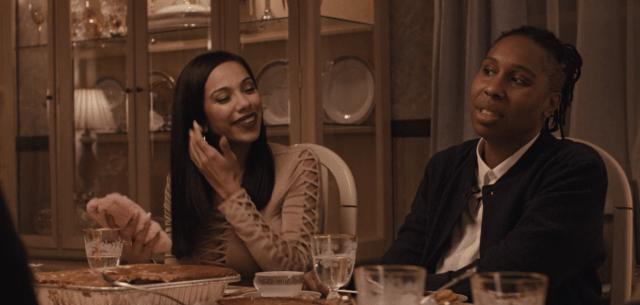 That same evening, the three curl up on the couch watching Do The Right Thing. Yes, Nikki kicks Dev off the couch so she can stretch out and get comfy. Yes, this occurs during the tearjerking riot scene. Yes, she requests that someone fetch her a glass of chocolate milk while police murder a man onscreen. Yes, I yell at my TV that she has got to go right this fucking moment.
Mom and Joyce agree.
2017
The final vignette takes place during Thanksgiving of 2017. That's right, it takes place in the future. Is it because this particular chapter is Denise's fantasy of how she hopes her family will finally wholeheartedly accept her and whomever she falls in love with? Is this dinner Denise's Growing Pains episode?
Denise has reunited with Michelle who has returned like a prodigal daughter-in-law. Case in point: the dap. Everyone remembers how unbearable Nikki was and Michelle is a dream even when you're not comparing her to the selfie-addict from hell. Catherine bonds with Michelle and finally lets Denise know she's happy for her.
Like the first Thanksgiving, we close on the family seated around the table, holding hands, ready to break bread in the spirit of gratefulness and hopefulness.
This episode stays true to the rest of the series through storytelling without resorting to the tired tropes and stereotypes so commonly found in queer and POC characters that are created by white (and often male) writers. Denise is a thirty-something, masculine-of-center, black lesbian who exists in the Master Of None universe as a multidimensional human with dreams and a future and a past; as opposed to say, the lesbian character in Dear White People who serves only as a fuck toy and moral barometer for the straight male hero.
Tonally, it's unapologetically black and female, and it doesn't pander to over-explaining or watering down the story or even its pop culture references for a white audience's digestion. Also notably refreshing is how Dev's character is so at home on the sidelines in a household helmed by strong black women. He's effortlessly comfortable in a unique brand of masculinity that embraces matriarchy instead of feeling threatened by it. It's Denise's world; he's just living in it.