So, our writer Kate is currently strapped to her chair consuming Orange is The New Black so she can recap the whole g-damn thing for y'all, but while she's doing that, I have an idea: you should start watching Orange is The New Black. Like right now.
We just saw the first four episodes and holy shit, this show is really fucking good and funny and smart and gay. See I'm in this cabin in the woods right now with the four other humans in charge of Autostraddle for an Editorial Summit, and last night we put on the first episode to enjoy while eating dinner and then before we knew it, it was one AM and we were still watching it. We're four episodes in and if we didn't have so much work to do, we'd be marathoning this bitch 'til sunset.
I don't want to spoil anything major for you, so I'm gonna keep this list as general as possible.
Ten Reasons You Should Watch "Orange Is The New Black"
10. This show is super gay.
Emily Nussbaum described it as "the love child of Oz and The L Word." Accurate.
9. Jodie Foster tried out TV directing for the first time to direct the third episode of this show.
We get a press release every time a lesbian makes a fimo bead, how did we not already know this.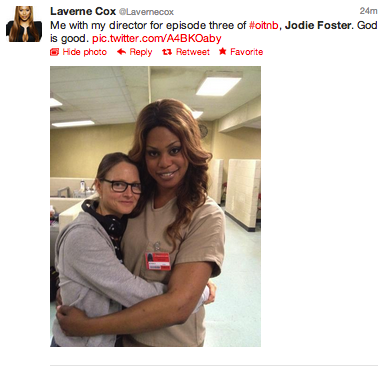 8. Transgender actress Laverne Cox plays transgender character Sophia Burnett
Having a trans* actress play a trans* character! What will they think of next??? Cox told The Huffington Post (where she's also a regular writer), that "the scripts are amazing and the directors are amazing."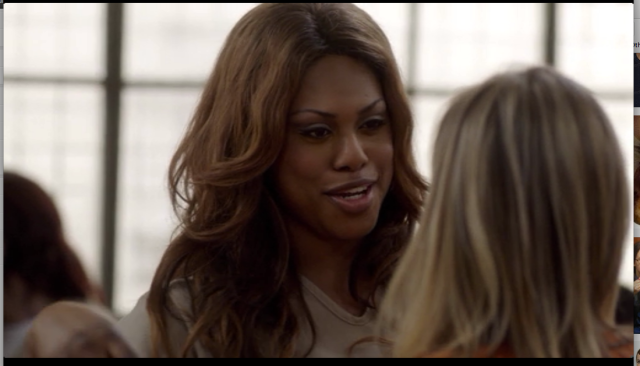 7. Hot Girls
Seriously every five minutes Rachel was like "why is everybody on this show so attractive???" 
6. Created by Jenji Kohan
Kohan wrote Weeds and Tracey Takes On, among other amazing television programs. This lady's good at her shit. As Emily Nussbaum pointed out in her rave review of the show for The New Yorker: "In different hands, this might be a cringe-worthy premise." Other writers include Lauren Morelli (a woman!) and Sara Hess (a woman of color!).
5. Taryn Manning
From the moment I first encountered Taryn Manning in Crazy/Beautiful, I knew I'd had a crush on her all my life. I don't think she's shown up yet in the episodes we've seen, but SHE WILL.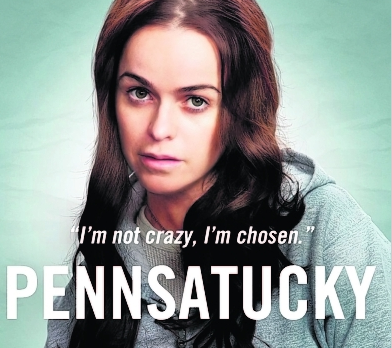 4. Natasha Lyonne
Bitch is back! I love her forever, because But I'm A Cheerleader. (Sidenote: Clea Duvall was at the OITNB premiere!)
3. Legendary lesbian comedian Lea DeLaria as butch lez "Big Boo"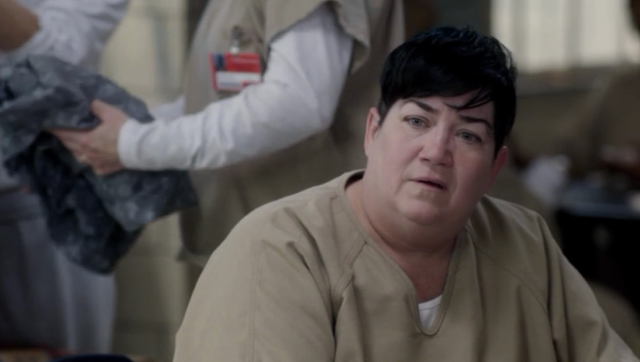 2. Captain Kathryn Janeway from Star Trek: Voyager Plays "Red"
1. So. Many. Women.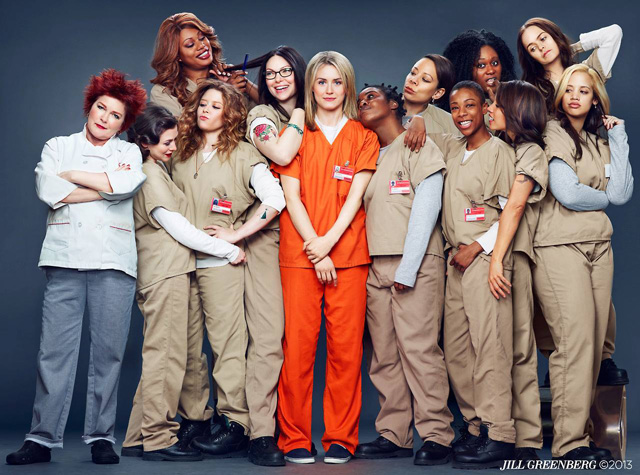 So many women! Different kinds of women, too, like crazy diverse. According to imdb, for a lot of these actresses, Orange is the New Black is their first big project, which is amazing. And then there are actresses like Michelle Hurst who you spend forever wondering where you know her from, only to discover she's played NINE DIFFERENT CHARACTERS on various Law & Order franchises. I've never seen Dascha Polanco before and can't wait to see her again and again.
In her Hitflix interview, Kohan noted: "You have this huge talent pool that is generally tapped for very limited visibility roles, but they're so good and to be able to let them flex and shine is just so exciting. I would get these audition tapes and it was just one after the other, so good. So we started creating more characters because we wanted to use more of the girls we saw in the audition tapes. There were just so many great Latina actress and black actress that hadn't had the opportunity to really do this thing, especially in New York, which was a fresh pool for me in terms of faces and talent. Like I said, it was an embarrassment of riches and we really got amazing people."
It's true. And the best way for you to get rich fast is to watch it on Netflix!