​​​​​​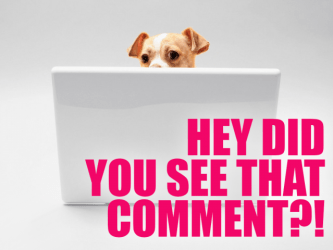 Hey there, magical moonbeams! Has the week been treating you well?
I'm kind of a jerk because I forced my girlfriend to watch "Orange Is the New Black" around midnight last night even though she was sleep-deprived and had just spent $20 on the book. No regrets though. I mean, have you seen it? Oh, and are you going to see Ender's Game even though Orson Scott Card is a big bad homophobe?
If Gabrielle isn't your work style guru by now you're doing it wrong. Also Hansen needs to stop being so crafty and cute (jk please don't ever stop, Hansen!). And is anyone cleverer than Stef? I'm planning to eat "Butch Peas" for lunch every day next week.
In DeAnne Smith's latest podcast she discusses whether exes can be friends, with one of her exes. It's as glorious and awkward as you can imagine. I don't know about you, but if I were DeAnne's Smith's ex I'd stay friends with her just to hang out with that adorable ukelele-playing cat.
---
On VIDEO: "Little Horribles" Episode 4 – Road Rage:
The Things They Don't Tell You In Driver's Ed Award to Amy York Rubin:


On Butch Eyeliner Tutorial with Julie and Brandy:
The Eye Candy Award to Jellybean:


The Cue Some Awkward Winking to Cassie:

On Style Thief: Couples Formal Attire Part Two – Celebrity Couples:
The Angry Forever More Award to Dena:


On Erotica: Handcrafted Bamboo:
The Best Reason To Hang Up On Your Mom Award to Amanda ling:


On It's Official: GLSEN Says Internet Is Both Best and Worst Thing Ever for Queer Teens:
The Why Are You Guys The Cutest? Award to SarahCT:

On 10 Reasons "Orange Is The New Black" Is The New Lesbionic TV Show You Should Watch Now:
The Birth of a Thousand Fanfics Award to IraeNicole:


---
See a clever, hilarious or thought provoking comment around this website-ship? Email it to me at: carrie [at] autostraddle [dot] com!