Real life sucks. It's full of bills, debts and people we'd rather avoid. Which is why a lot of us retreat to the internet. But while the internet is full of cat .gifs or pictures of attractive ladies, for some teens the internet is a place where they're reminded that bullies are just as shitty on the net as they are in the real world. A 2011 survey had already proven that real life sucked for teens, but yesterday the Gay, Lesbian and Straight Education Network released a survey showing that queer teens are subjected to three times more online and text-based bullying than their straight counterparts.
Out Online: The Experiences of Lesbian, Gay, Bisexual and Transgender Youth on the Internet, surveyed 5680 13 to 18 year old students –1,960 of which identified as LGBT – between August 2010 and January 2011. While the results aren't exactly surprising to anyone that's seen the way we're treated in the real world, the results are still unsettling.
Back in my day, coming home from school would be enough to separate you from your harassers, but this online generation isn't as lucky. With smartphones, laptops and tablet computers becoming affordable and accessible to youth, so are the new ways to harass one another. Queer teens tended to spend an average of five hours online each day, 45 minutes more to their straight peers. But all of that online time wasn't without consequence; almost a third of queer youth had been sexually harassed in the past year and of those 42% bullied online, more than a quarter acknowledged they were singled out for their sexual orientation or gender expression. Due to the prevalence of online bullying, queer teens felt almost as unsafe online (27%) as they did at school (30%) or commuting for school (29%). This unrelenting torment takes its toll, as those subjected to near-constant harassment tended to have lower GPAs, lower self esteem and higher rates of depression than those that were bullied online or offline or completely spared.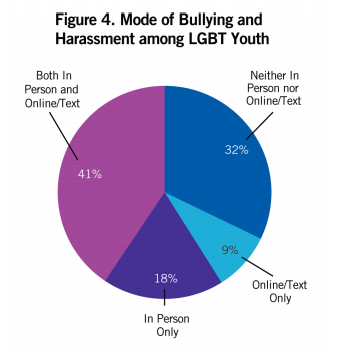 Although cyberbullying is prevalent and intervention methods are murky, the survey shows that internet access can also be a saviour. Queer kids need role models and allies to validate their existence, but not everyone is out enough or lucky enough to access them, so more queer kids are forging their own support systems online. It's easier to see high school's endpoint with outreach programs like It Gets Better and the Trevor Project, but sometimes you just need friends to get you through your day. Almost two-thirds connected to other queer peers in the past year and more than half that lacked real-world resources found LGBT friends online. GLSEN looked at how comfortable queers were in their own skins and found that 29% could be more out online than they could in real life. Because when you find your own niche of humans in cyberspace, sometimes you can de-stress enough be  honest with yourself.
But if this survey shows anything, it's that LGBT youth are taking their futures into their own hands and not simply standing at the sidelines as victims. If knowledge is power, these millenials will have more firepower than any previous generation. In addition to the 62% of queer participants researching their sexuality, queer youth were four times as likely to seek info on AIDS/HIV and other STIs than their straight peers. And 95% of trans* youth took to the internet to seek health and medical information compared to 77-80% of their cis peers!
LGBT youth aren't only interested in helping themselves, as the survey showed that they were much more likely than their straight peers to involve themselves in online causes. Given that they're growing up in the midst of a social justice movement with a megaphone at their fingertips, it's heartening to hear that 90% of those surveyed are picking up their smartphones for good. Of the queer youth surveyed, 77% had participated in online communities, 76% had spread the word about theses issues, 68% blogged about the causes they were seeing and 51% had invited people to join in. Because while some of us grew up hearing about the atrocities befalling us, this plugged in generation can make a difference.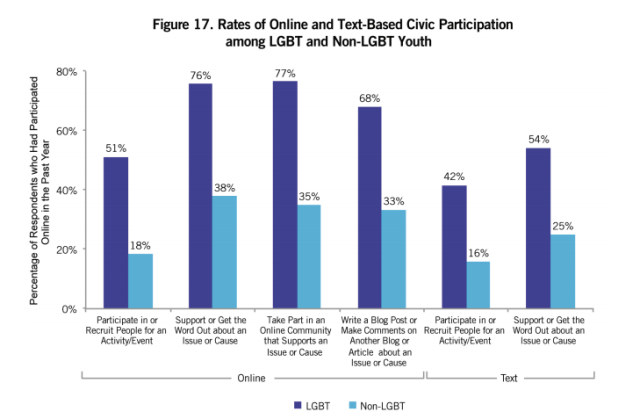 The lesson to take away from this survey is that queer students need allies to cope with the day-to-day. More intervention is so students can still freely access LGBT resources they need without fearing harassment. Even though bullying takes place out of school hours, school officials need to take a stand along with parents, so bullies realize there are real life consequences for their actions. For youth in rural areas where they aren't able to access an in person community, the minimum schools can do is to provide students with internet access so they can find the resources and community they need. Eliza Byard, GLSEN's Executive Director outlines the problems and where they hope to go.
The importance of the Internet for LGBT youth and their peers overall also poses a challenge to educators, who must help students learn how to seek out and identify reliable sources of information and safe sources of support amidst the deluge of potential connections online. It is also a challenge for youth advocates and LGBT community organizations, who must continue to increase the availability of in-person support while developing and enhancing online spaces and resources for these youth.

As we look to the future, it is clear that the Internet and digital devices will continue to transform the way youth connect and communicate, and the way we educate. We can only hope that someday LGBT youth will be unlikely to remember a time when their experiences online were anything other than positive.