by carolyn & riese
Books! They are really great. You just won't believe how great they are. You may think that the Internet's great, but that's just peanuts compared to books. Welcome to Lez Liberty Lit, our column about literary shit that's happening that you should probably care about.
The name "Liberty Lit" was inspired by the short-lived literary journal produced by Angela Chase at Liberty High School in 1994.
Header by Rory Midhani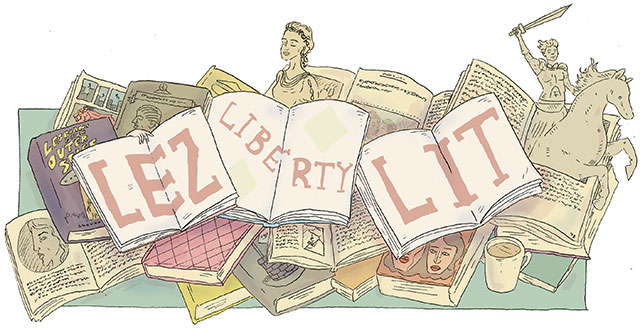 Lit Links
POC authors make up only 10% of publishing. Ellen Oh, author of the Prophecy series and editor of Diverse Energies, an anthology of short stories that depict alternative futures featuring people of color in contrast to commonly white-washed YA dystopias, writes about the importance of diversity in publishing and why being a POC author sucks sometimes:
"Publishers seem to believe that multicultural books just don't sell as well. But do they get the same marketing push as non-POC books? Are all things equal when they are sent out into the world? I would hazard a guess that they are not. Because if you do not believe that multi-cultural books will sell well, then you will not put the marketing money behind them and thereby you create a self-fulfilling prophecy. Now I have been lucky, my books have had terrific marketing support from my publisher. So the question then goes to the other side of the coin. Where are the booksellers, the librarians, the teachers on pushing the multicultural books? It's not just enough to ask publishers to publish the books, there must be help from the other side. There has to be a support system for these books once they are published, to help get them into the children's hands. And that is not all up to the publisher."
New data has also revealed a lack of diversity in newsrooms, with POCs making up only 12.37% of editorial staffers.
At In Our Words, H. Melt writes about how picking up a queer zine was life changing, and "understand[ing] the need to document our performances, our writing, our art, our loves, and our own lives. If we don't document ourselves, who will?"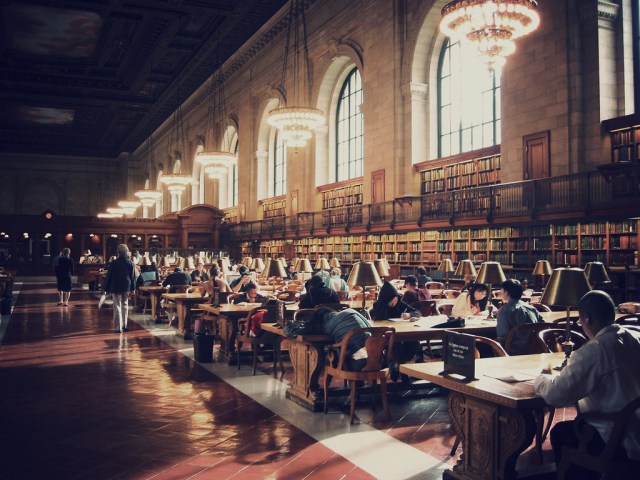 A new pop-up zine shop has appeared at the Lorimer/Metropolitan L/G subway stop in Brooklyn, and features zines, records, novels, photographs and a surprise zine vending machine.
In an interview at Emily Books, Imogen Binnie, author of Nevada, talks about being queer famous, writing, solitude, telling stories about trans women, community and more.
Joan Didion received a National Humanities Medal yesterday. Maud Newton profiled her at the National Endowment for the Humanities: "In Didion's work, the comedy is so dark and so deadpan, some readers don't seem to notice how endemic it is. 'I don't see any point in writing anything that isn't funny,' she says."
The history of typography is now in stop-motion animation.
A growing number of adult fiction authors are branching out into YA and children's literature. At the Los Angeles Review of Books, Courtney Sender discusses why so many authors switch audiences.
Mattilda Bernstein Sycamore's new memoir, The End of San Francisco, is about San Francisco as a queer haven, as well as visiting her dying father, Le Tigre, the search for radical queer comment and more. In an interview with the Rumpus, she says: "I know that's one of the big questions I ask in my life right now—radical queer politicking and community building have been so central to my life, but it definitely hasn't gotten to the point where I feel like I have a queer community that I can depend on. And if it hasn't gotten that way for me, and I've been so central to so many of these worlds, then I know it's not working. So it's not working. And so what does it mean, that it's not working? And how could something like that work? Because I still believe in the same sort of ideals."
Judy Blum spoke to Rookie about boobs, censorship, which of her books have been banned, growing up and more.
The covers of ten classic books, as created by street artists.
Miranda July spoke about her new project, We Think Alone, in a recent interview with the Rumpus.
At the New York Comics Symposium earlier this month, Samantha Meier, the gender and politics editor at PolicyMic, spoke about the gender politics in underground comics from the 1960s to 90s.
National Pen knows what your handwriting says about you.
Thousands of rare books were destroyed in the recent Calgary flood.
The Penguin Random House merger is complete.
Literary agent Ginger Clark will be answering all your publishing questions monthly at the Toast and her first column is up now.
A lot of swear words are going extinct.
The Millions has posted the second half of its 2013 great book preview. Also check out Lambda Literary for new queer books coming out in July.
At Bisexual Books, Sarah Stumpf reviewed Jennifer Baumgardner's Look Both Ways: Bisexual Politics, a blend of non-fiction and memoir that she describes as "a book about bisexual feminist politics in the classic 70s feminist model of the-personal-is-political."
Sistahs on the Shelf has updated her Sizzlin' Reads 2013 with seven new book recommendations for summer.
At the Lesbrary, Tag reviewed Dancing with Venus, erotica by Roscoe James. Marcia reviewed Born Wicked: The Cahill Witch Chronicles, by Jessica Spotswood.
At Lambda Literary, it was queer comics week. William Johnson interviewed the president of Prism Comics, a LGBT organization that supports queer graphic novelists, artists and readers. Charline Tetiyevsky discussed comics and alternative sexuality. Justin Hall wrote about Jon Macy and queer visual splendour.
Don't forget to check out all the awesome book-related things we published recently: Laneia wrote about International Zine Month. Malaika wrote about a Canadian kids' book that explains babies in a gender-neutral way and author and performer Rae Spoon's upcoming tour. Cara wrote about the word "pride." Carmen reviewed Yoko Ono's Acorn.
Events To Watch Out For:
July 12, San Francisco: This edition of Word/Play, a series of literary games, will feature authors Malinda Lo, Saeed Jones, Nate Waggoner, Casey Childers, Joshua Mohr and Alani Foxall (Booksmith, 1644 Haight St.), 7 p.m.
July 15, everywhere: Today is the deadline to submit to THEM, a new literary journal of poetry, fiction, genre fiction and non-fiction by trans*-identified writers.
July 19, New York: Contributors to Wild Girls, Wild Nights: True Lesbian Sex Stories will read at Bluestockings (172 Allen St.), 7 p.m.
July 26–28, Brandon, Manitoba: Queer author and performer Rae Spoon will be at the Brandon Folk Music Festival at 8:00 p.m.
July 30, New York: The Women's/Trans' Poetry Jam and Open Mike, hosted by Vittoria Repetto, is tonight at Bluestockings (172 Allen St.), 7 p.m.
August 12, Montreal: The Queer Comics Conference is part of Montreal Pride 2013. La Cinémathèque québécoise (335 Maisonneuve Est.), 7 p.m.
September 1: Natural Selection, a companion novel to Malinda Lo's Adaptation, will be released.
October 19, Toronto: Toronto is getting it's first queer zine fest!
Know of a queer event with literary merit? Send it to us!
What We've Been Reading:
Carolyn: This week for something light I read Max Brooks' The Zombie Survival Guide, which made me want to promptly stockpile seeds, canned goods, maps and a hand axe in case I ever have to destroy a staircase to protect my apartment from a zombie hoard (which, according to the book, would only be a temporary solution. I also maybe need to learn parkour or something). I also read The Ordeal Of Gilbert Pinfold, by Evelyn Waugh, which is basically about a writer haunted by disembodied words.