Welcome back to Style Thief, where I steal the clothes off queer style icons' backs. Metaphorically, that is. I'll try figure out just exactly what makes queer style icons tick by breaking down their look into itty bitty bite size pieces. I get a lot of questions about how to look like different celebrities/characters, so I'm finally tackling the question "How the hell do I dress like that?"
Header by Rory Midhani
This week on Style Thief we're continuing our dive into the fabulous world of formal couples styles! Instead of looking at individual looks, we're stripping down dynamic duos.
It's wedding season and DOMA just got struck down so you know you're about to attend a dozen engagement parties and weddings. If you're fortunate enough to have made your way out of the singles table, then you might just be trying to coordinate outfits with your lady friend. While it's, of course, totally okay to each wear whatever the heck you want, sometimes it's fun and refreshing to coordinate your outfits. I mean, just think of the pictures!
It's hard enough to put together cohesive outfit alone, let alone with with your significant other. There are no rules for lesbians the way there are for straight couples. You can't just say, "hints of the color scheme of her dress in his tie." Well, you can if you're rocking a traditional butch-femme look, but for many couples that's not their personal style. You have to find a balance where you like the way your outfits look together, but you avoid twinning out or looking like cheesy prom dates.
Last edition of Style Thief we took a look at the perfectly coordinated outfits of lezzie TV couples. This week we pop back into the real world and examine real life girl-girl couples. Without a costuming department (but surely with the help of a stylist) these women don't have the luxury of a perfectly framed scene showing off their coordinating shoes, but they do have genuine love! Love, my friends, is what really ties these outfits together.
Sara Gilbert and Linda Perry
One thing couples often lose sight of is that it really is okay for both partners to wear pants. Sara Gilbert and Linda Perry do to nearly every red carpet they attend! I know we're the reckless queers taking down the patriarchy, but even we can occasionally find ourselves stuck in a butch-femme/pants-skirt dichotomy. This can be especially frustrating if you and your partner are both center of center.
Some people might try to tell you that for a formal event you should wear a dress regardless of your preferences. While this is a particularly difficult situation if you are genderqueer or butch, this pressure is also extreme for very femme women. The assumption can be that because you wear dresses sometimes you'll want to wear a dress for the event. That is total BS. Many women, regardless of their gender presentation or sexual orientation, wear pants for formal events and you shouldn't let anyone make you think this makes you less femme. On the contrary, there are many extremely femme and center of center ways to wear pants.
You can do like Sara and opt for heels or metallic pants. While her skinny pants are undoubtedly a more femme cut, the gold color and shine make them feel more formal. If heels aren't your thing, many traditional women's dress pants, such as Linda's, are a great option too. You can make pants more femme by pairing them with a flowy shirt like Sara, or more androgynous by going for a boxier blazer like Linda.
Ellen Degeneres and Portia de Rossi
Is there any more classic a couple than Ellen and Portia? For some couples, a suit for one partner and a dress for the other is what makes you both most comfortable. This is totally awesome and there are still so many ways to coordinate adorable couples looks. I love Ellen and Portia's look because while their colors and shapes differ, they bring their outfit together by combining similar textures. The sheen of Ellen's silk-blend suit and even the gloss of the leather lapels compliments Portia's satin dress. Additionally, Ellen opts for a suit color in almost a navy shade of black that looks nice next to Portia without being too matchy-matchy.
Lindsay Lohan and Sam Ronson
Some nights I wake up around 3am in a cold sweat still upset that Lindsay Lohan and Sam Ronson broke up. They had some seriously good couples looks. One look they regularly shared was a black and tan or black and gold style. The couple may have fallen into this pattern as the black and gold accentuate both Lindsay's natural red roots and Sam's light skin, however, they're an excellent combination for anyone.
Black and gold are a great combination because, besides looking completely excellent together, they look classy year-round. You might opt for more golden-orange shades in the fall, but swap those out for light beige or tan shades in the spring and summer.
Additionally, the variety of shades and shine of gold and tan clothing allows for flexibility for an ambiguously formal event. You'll notice that individually Lindsay's outfits are dressier than Sam's. Still, side by side, they present an overall look that it somewhere in the middle. A gold dress can dress up your partner's plain black sweater, or her tan sweater can dress down your black cocktail dress. Gold and black are a great option when you're not exactly sure how formal you need to be dressed or where the night might take you.
Wanda and Alex Sykes
Wanda Sykes and her wife Alex walk a whole lot of red carpets together. What I like about the two of them is that they aren't bound by "You wear the suit and I wear the dress" kinds of rules. Often these sorts of roles are natural, but other times they can start to feel restrictive. That's why I love Wanda and Alex's looks so much. While both tend to the femme of center, they alternate wearing dresses, suits and everything between.
I also like how Wanda and Alex are so openly committed to sequin. I feel like this means they understand me on some deep level.
Beth Ditto and Kristen Ogata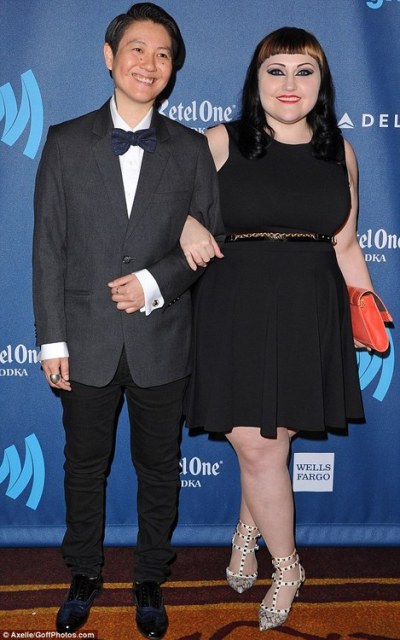 You also don't need to feel like every set of outfits you wear together needs to be something to stress over. Beth Ditto and Kristen Ogata keep things classic and simple, pairing Kristen's suit with Beth's cocktail dress. While Beth's shoes do bring out the grey in Kristen's jacket, the two bring many solo elements to the table as well. Beth's bright orange pop-of-color clutch is not overtly tied in with Kristen's outfit, she's merely holding it because it accents her belt and hair (and probably to hold her cell phone). Similarly, Kristen's blue tie adds character to the outfit, but there is no element within Beth's look that picks up on those cool colors. Regardless, it totally still works.
One thing worth noting is that Beth and Kristen do a great job of wearing similar toned blacks. One of the easiest ways to look haphazard is by wearing blacks that clash with each other. Sometimes this might just mean getting ready in the same room and choosing which black pants to wear carefully. Other time this might mean a trek out to the mall together. That might seem like an awful lot of effort, but keep in mind that because  wearing black gives you so much freedom in your accessories, it might be worth the effort. A little bit of thoughtful coordination goes a long way.
The takeaway here is that if there's a bow tie you desperately want to wear, or even a crazy jacket, there's no reason you can't wear whatever you want and still look wonderful standing with your beau.
You can't always expect that you and your date are going to be a perfectly matched pair of fashion royalty. People are busy, colors clash, accessories are lost or loose or hated. You might, plain and simple, have completely different styles. But special occasions are special because they come just once and a while. Picking outfits together doesn't mean you have to turn into the dreaded twin lesbians or even siblings in a family portrait. It just means you get to think about each other more. Which is probably what you want to do anyways.
---
If there's a queer style icon you'd like to see stripped down in Style Thief, send me an ASS message, ask on my tumblr, or tweet me @Ohheyitslizz