Welcome to the fourth installment of Style Thief, where I steal the clothes off queer style icons' backs. Metaphorically, that is. I'll try figure out just exactly what makes queer style icons tick by breaking down their look into itty bitty bite size pieces. I get a lot of questions about how to look like different celebrities/characters, so I'm finally tackling the question "How the hell do I dress like that?"
Header by Rory Midhani
---
I wasn't quite sure if I could steal Beth Ditto's wardrobe. I mean, sure, there are dozens of pictures of her on my harddrive in my People I Want to Be folder, but could I really parse the queen of craziness into simple pieces? Well, I sure as hell tried.
Beth Ditto lives in a world where the skirts are short, punk is alive, and everyone is singing at the top of their lungs. She is bold, femme, beautiful and never ceases to amaze. Regularly partnering with stylist Frederic Baldo and designer Jeremy Scott, Ditto has seated herself as a style icon for all women who know there is more to fashion than whatever everyone else is wearing. While the mainstream seems obsessed with rules about who should wear what and who should show what, Ditto's style says, "Oh cool you do that, I'll be over here wearing whatever the fuck I want."
Here, listen to her talk about it:

I love to break all the rules I was taught as a kid…. I think, you know, when I was around 18 I started to undo all these rules I had learned and started to dress really crazy all the time.

The foundation of your Beth Ditto look is a totally awesome dress. Ditto wears the kind of dresses you normally see in the store and think "Oh that's cool, but I could never pull it off." Except you totally, totally can. She regularly wears avant-garde dresses that one might  sooner expect at an art show than on the red carpet. Think A-line skirts, bright colors, sequin, glitter and black lace. Think tight as hell.
While Ditto can be regularly spotted in ruffled, silk, strapless dresses on the red carpet, she also has a slew of  short, spandex, long sleeve dresses in goofy patterns. Ditto's are nearly all the creations of Jeremy Scott and can be impossible to find. You can steal her look at a fraction of the price by snagging spandex cotton tube dresses from American Apparel or Forever 21. I really love these dresses for a more casual but still attention grabbing look, particularly with a long sleeve to balance out the short skirt.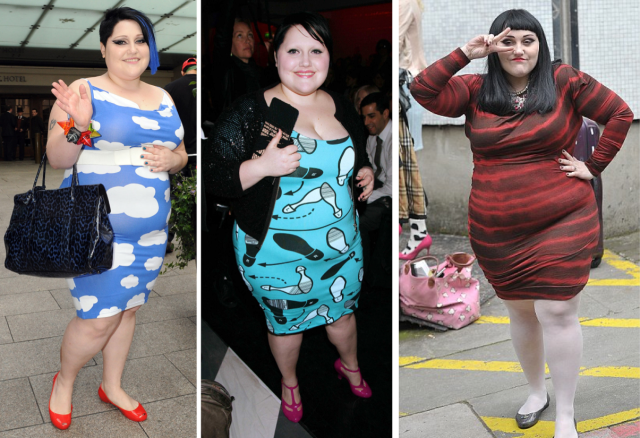 While you can take Ditto's dresses in a lot of directions, the key is to remember you're not going for subtle. These are the sort of dresses you might not be able to find in mainstream stores. You might have to hit up the vintage stores or your mother's closet from the '80s. You might have to sew the sequin or lace on yourself. It takes a bit of work to find the dress that's partially an art piece. You might feel a little weird at first if you're not used to a lot of attention, so make sure you first try this look out somewhere you feel comfortable. This is not the time for your simplest black dress and crossing your fingers that the cute girl across the room notices you. This is a dress that say "Hey you! Look the fuck at me!"
The great thing about wearing a statement dress is that 90% of your outfit is complete! Now all that's left to do is accessorize. Some people will try to tell you that in order to wear a dress you have to wear heels. Those people are wrong and Beth Ditto is the woman proving it, rocking flats everywhere from the sidewalk to the stage.  Flats with dresses are great because no matter how hot you look, you'll look silly if by the end of the night you're hobbling around complaining about your feet. While Ditto will certainly rock six inch gold heeled sandals, she's the poster child for adorable amazing flats. Though there seem to be no end to the number of round-toe flats Beth Ditto owns, she most often rocks red, black or gold. Red flats particularly add a bit of pizzaz to an all black ensemble and gold flats pump up the volume with a matching gold dress.
Whenever Beth Ditto looks like she's wearing a somewhat subdued outfit, she nearly always pairs it with statement jewelry. Ditto was wearing chunky necklaces, big plastic bracelets and cat eyed sunglasses before any of us knew it was cool. If stealing Ditto's style feels a bit too intimidating for you, ripping off her accessories is a great place to start. Ditto's jewelry ranges from plastic to pearls but always manages to subvert her own outfit — in a good way. Ditto seamlessly pairs tight modern dresses with old world gem necklaces or classic vintage lace sleeves with jet black spike bracelets. The best part is a lot of her pieces look expensive but could potentially be pulled out of your grandmother's closet. Again, in a good way.


One sneaky little stylish part of Beth Ditto's look are her nails. While Ditto occasion paints her nails red, she is most often seen with a black or dark dark blue nail. Black nail polish is one of the easiest and cheapest ways to give your look a little edge. With that in mind, it's important to keep your nails short and well groomed. While I know you all have super important reasons to keep you nails neat anyways, chipped black nail polish is the quickest way to take your look from rock star glam to sloppy eighth grader.


Most importantly, it wouldn't be Beth Ditto's look without that hair and makeup. While Ditto mixes it up with short red hair, I've always been a fan of Ditto's black blunt-cut bangs. It's seriously one of the great disappointments of my life that I can't wear my bangs super short like hers. I can't in good faith tell you all to go cut yourself blunt Bettie bangs. I just can't. Please please go to a hairstylist or a friend who knows how to cut bangs (or better yet Phresh Cutz). 'Cause if you cut them yourself for the first time we both know you're going to cut them all off and hate me forever for even suggesting it.
As for Ditto's make-up, well that's something you can definitely do one your own. Ditto's signature look is heavy eye makeup and bright red lipstick. That can be really intimidating if you've never worn heavy makeup before. Particularly the cat eye eyeliner can take some practice to master. I suggest starting really basic until you're comfortable applying and wearing heavy eyeliner.

If, on the other hand, you're an old pro you can one of Ditto's more advanced looks.
You can seriously get crazy with the Beth Ditto makeup. It's awesome.

No matter how you slice it, Beth Ditto's style is one to be reckoned with. Most importantly, Ditto is brave, so rock your look with the same confidence she does and you can't go wrong.

---
If there's a queer style icon you'd like to see stripped down in Style Thief, send me an ASS message, ask on my formspring, or tweet me @Ohheyitslizz