Hi crush monsters, welcome to the third installment of Straddler On The Street, a new feature where I celebrate all of you incredible Autostraddle readers by hunting you down, demanding you chat with me, and then writing about you on the Internet where we can all ohhh and ahhh about how perfect you are! Every Monday I'll introduce you to a new Autostraddler that you can totally crush on. So get excited, because butterflies in your stomach 24/7 is a fantastic way to live.
Header by Rory Midhani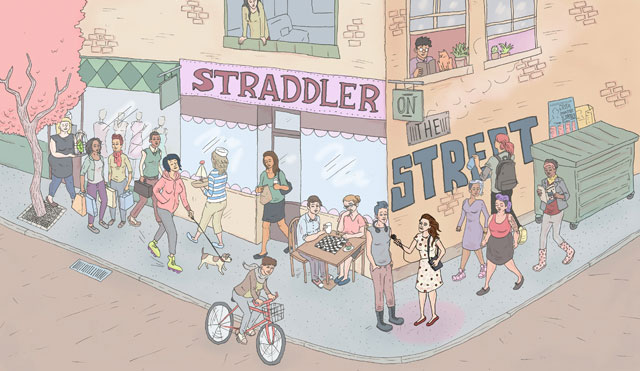 ---
Straddler On The Street: Ryley, 23
Ryley does a lot of stuff. Between starting a blog, hosting various queer parties including Truck Stop as MC Specs, Work Those Pecs, and their own monthly party slash networking event (that has been on hiatus but will be returning full-force come January 2013) Queer & Utter Bedlam, and being really awesome at going out and having a good time, you'd think Ryley may feel a tad overwhelmed. But no, not at all — Ryley told me, "I'm always looking for new parties to lend my voice and management skills to," and says that since being laid off this summer they're focusing on going back to school and collaborating with others for events and such.
Hailing from Montclair, NJ but currently living in Long Island while looking for a place in Brooklyn, Ryley has a lot to say and isn't shy about sharing any and all opinions. Ryley and I chatted about dapper style, tea, and The Hunger Games, and then Ryley attempted to convince me that New York nightlife isn't terrifying. I remain unconvinced on that last point, however I am convinced that Ryley is seriously smart and sexy to boot. I think you'll agree.
Hi, Ryley. So you're a fellow blogger. Can you tell me about your blog, QueerGrub?
I started QueerGrub as a place to put my musings. I wanted to create a space that was both uplifting and also made people think about the community they are a part of.
If I were to direct a person to your blog for the first time, are there any particular posts you'd suggest? Sort of like a QueerGrub 101?
Definitely. I have a lot of thoughts about dating and trans/genderqueer issues. Why Dating As A Lesbian Is The Hardest Shit You Never Signed Up For, The Plight Of The Femme Lesbian, and The Best You are three posts that show what QG is about, and show my range of emotions on topics that are very relevant to The Gays now.
Speaking of genderqueer issues, can you boil down in a few sentences what being genderqueer means to you?
Being genderqueer for me is being in the middle. I connect with my body, and do not feel as though I was born in the wrong one, but I do mentally feel connected to both genders. It's like being the middle circle of a venn diagram. Everyone has different ideas, and I think they're all good and gravy, but I kinda need the queers to chill out with the labels. I get it, you want a place in this world, but stumbling over words to classify yourself…at the end of the day it just doesn't seem worth it. No word is going to bring you happiness you know? You are.
That's true, though I do love calling myself a dyke. And in true lesbian form, I have to ask where I can purchase your whole outfit in that top image, because I need to buy it for my girlboifriend immediately.
Shoes are Steve Madden. Pants, H&M. Shirt, Express. I borrowed the blazer from a guy friend but H&M has amazing blazers.
How would you describe your style?
Daily I keep things pretty simple, skinny jeans and a v-neck, always wearing a snap back and low top sneakers, really clean and put together, simple. I'll throw on a button up and a bow tie when I'm going out. I get ready in like .2 seconds. I'm from Jersey and grew up in the show scene so it's my gut to always wear Levi's and Vans. You can absolutely wear jeans and sneakers to an event as long as you're rocking a blazer.
You're also always rocking your tattoos. You mentioned you're obsessed. How many do you have?
Sixteen, I think. I love them. I'm absolutely and totally addicted. I started when I was 18 and I don't plan on slowing down. I have my next, like, 10 planned out.
Do you have a favorite place to get them done around here?
There is a dope spot — in fucking Staten Island — that is mega queer friendly and run and owned by all girls. It's called Ink Chyx. The head tatter Jess is a babe and sweetheart, and her work is dope.
I am a grandma and thus do not have any tattoos, but anything queer friendly and lady run gets my vote. Being a grandma also means I'm terrified of "going out." You seem to be very good at Nightlife. Tell me what it's all about.
You have to either go out with a bunch of people or be like me and literally act like a puppy who knows how to dance, as in flirt really well and not offend anyone while also tearing up the dance floor.
You also host some parties. What's that like?
I get to control the party a bit, and I get to interact with people in a different way. They have no choice but to listen to me when I'm on the mic, so I joke around a lot and really try to show my personality and how happy I am to be there and around them. I love people. Usually I won't get super tipsy — it depends on the event — but you have to lead the night when you host, so being drunk is not okay.
How does one become an MC?
By being that loud fool by the bar and on the dance floor.
Hm, I usually cower at the bar with a glass of water and beg someone to take a cab home with me.
You gotta stay! You gotta flirt, because everyone needs their ego stroked.
That sounds so scary. Can't I just invite you over for tea?
I love tea. I got into a huge debate with a friend about tea the other day.
Now you're speaking my language!
She seemed to think it's okay to put milk in it. IT ISN'T.
Oh my gosh stop. IT IS.
Well, I am also lactose intolerant so that has a lot to do with it.
The truth comes out! Okay, let's end with some quickies. Favorite NYC bars?
Doc Holliday's on Avenue A. And 3 Sheets over by West 4th is super "BRO BRO" but the staff are really gay friendly, plus their drink specials are amazing.
And your favorite NYC restaurant?
Extra Virgin, though coming in a super close second is Buttermilk Channel. If you have not been, go now. Get the steak, chicken and waffles, and their house salad. You will die.
Celeb crush?
Jennifer Lawrence.
Yes x 10000!
She is a sweetheart and gorgeous. I would win the Hunger Games for her. Hell, I would die in the Hunger Games as long as she kissed me before she shot me.
That's true devotion. I'm so into it.
---
If you would like to be featured as a future Straddler on the Street, please email vanessa [at] autostraddle [dot] com. Include a few photos, 3-5 sentences about yourself and put "Straddler Submission" in your subject line. Photos must be high-resolution. Please include at least one vertical shot that is taken outdoors or in very amazing indoor lighting — low-light selfies, while sexy in their own right, will never ever ever be considered. Also you guys are super awesome and so many of you have already submitted, so please be patient as I work on responding to all of you.