Happy holidays, chums! Every year the Autostraddle staff puts together this giant-ass wish list gift guide, and this year is the most giantest-assed one yet! Perhaps it will help you find something extra special for your dearest friends, or maybe we are your dearest friends and you were wondering if we still wanted those Steve Madden boots (we do). In most cases, these items are linked through our affiliate programs, meaning when you spend money after clicking the links, we get some pennies and nickels, too! We like to think of it as Robin Hooding the big corporations and we really REALLY appreciate your support! Seriously.
We also think you should pick up a couple of t-shirts and pre-order the Autostraddle 2013 Calendar at the Autostraddle Goodsie Store while you're at it!
Ok grab some hot chocolate or tea, or let's be real — bourbon, and get comfy because this is gonna take a while.
For Your Fingers, Ears, Keys & Diseases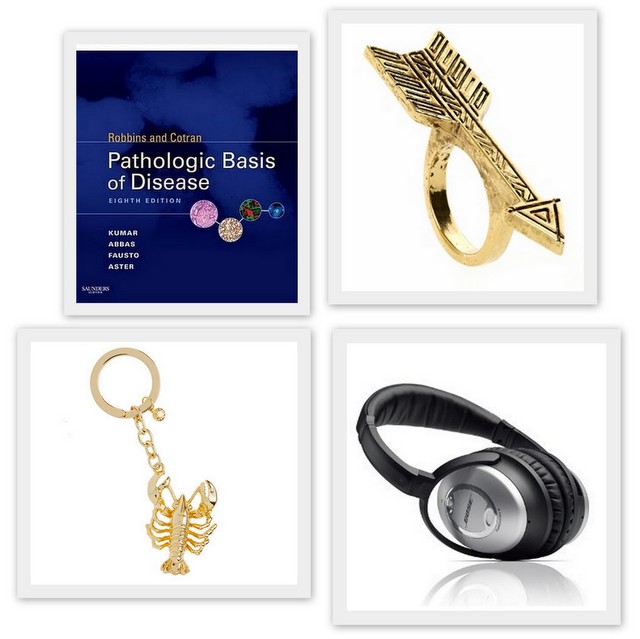 Noise canceling headphones are truly the only thing I feel like I genuinely need this Chanukah. I tried to fake it with a pair of good quality outside-my-ears style headphones but I can still hear the commotion of the coffee shop when I'm studying. I understand that some people thrive on the background noise of public spaces, but I really need all that to go away immediately.
I lost my key chain later winter and never replaced it. Obviously this lobster is most amazing thing ever to be attached to keys.
Robbins and Cotran Pathologic Basis of Disease
Yes, I understand that I'm asking for a med school textbook for Chanukah this year, thus making me the biggest loser of all time, but hear me out! This is like a really expensive textbook. No, seriously, it's like $150 and it's even expensive used. Normally I would just nut up and buy it, but I already bought the abridged version Robbins Basic Pathology for like $60 and I'm having trouble justifying buying the bigger version. Except it's the biggest and most amazing textbook of all time. So.
I'm usually against giving rings for the Holidays unless you're on one knee, but I'll make an exception for this bad boy. I've been eyeing this arrow ring from House of Harlow 1960 ever since Emily wore the corresponding necklace on Pretty Little Liars last February. Every time I see it I'm like "Man, I want that ring," but it's the kind of thing I would never pull the trigger and just buy for myself. It's cool because it has that look where it crosses your fingers without actually forcing you to wear an uncomfortable double ring situation.
---
Femmecessories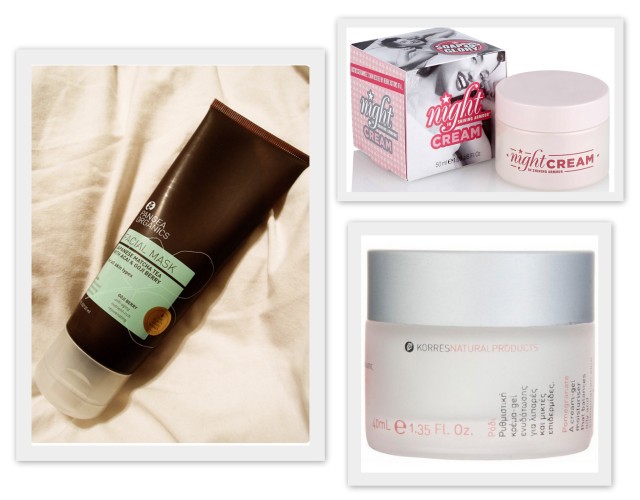 In addition to mistletoe, office holiday parties, and awkward family get-togethers, the Holiday Season also means the beginning of months of dry skin and chapped lips. Here area few of my favorite skincare products to help you (or the femme in your life) survive the winter.
Pangea Organics Facial Mask – Japanese Matcha Tea with Acai & Goji Berry
This exfoliating mask helps clear your pores and always leaves my skin feeling soft and healthy. It's loaded with everything you want (all-natural ingredients and essential oils) and nothing you don't (parabens and synthetic fragrances).
Soap & Glory Night in Shining Armour Night Cream
Ignore the heteronormative product name — this calming and moisturizing night cream is one of the best that I've tried. I apply it to my face and neck right before going to bed, and I always wake up feeling refreshed. Your skin does most of its repair work at night, so it's important not to neglect this important step in your beauty routine!
Korres Balancing Cream-Gel Moisturiser, Pomegranate
This lightweight, natural moisturizer helps minimize pore and tone skin without every feeling greasy or heavy. I use it under my primer and foundation, but this moisturizer is perfect on its own as well.
---
Real Needs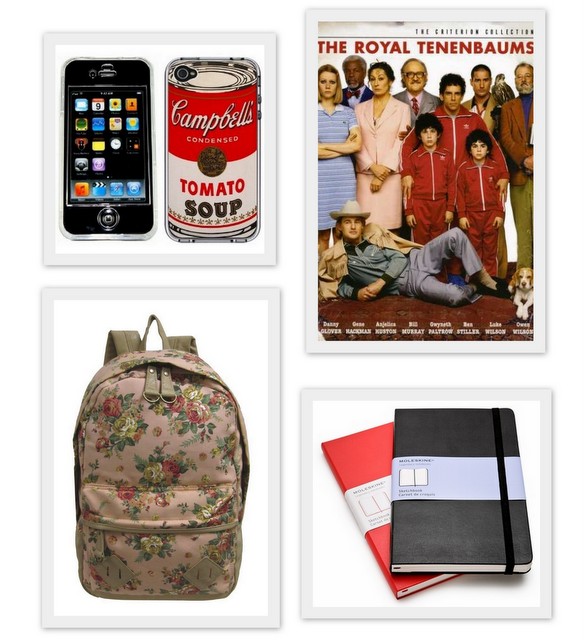 If I were writing to Santa this year I would start, "Santa — Can you save Hostess?" But I digress.
I want Wes Anderson movies, but particularly The Royal Tenenbaums because once I couldn't watch it and wanted to so badly that I read the screenplay on the way to the work and listened to the soundtrack at the same time. Also because I think Margot Tenenbaum is my new fashion icon.
I need a notebook I can bring to work and camp and into my bed where I sometimes have lots of feelings I need to write down, but almost never a pen. So I want this red leather Moleskine sketchbook because I love Moleskine shamelessly and you can't change a person.
Once I get all this shit I'll need to transport it, though. And guess what? My backpack fucking broke, you guys. I guess now I need a new one and therefore need to find a way to get it for free. What great seasonal timing! To be honest, the decision of which one I want is causing me to have a reluctant femme moment about this floral one. I like this pink beige color but really any will do.
I hate only asking for shit I need though, so if we're gonna get into what I really, really want the answer is going to be this case for my now-outdated iPhone. If I had an Andy Warhol soup can iPhone case it would be the final memento in my weird, mall-caliber collection of his memorabilia.
---
Stef, Contributor
Weird But Useful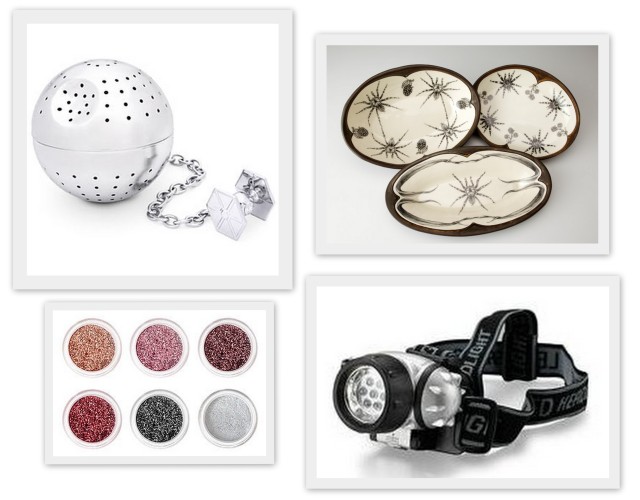 Star Wars Death Star Tea Infuser
Cleverly combines two of the best things in the world: loose leaf tea and the dark side of the force.
Obsessive Compulsive Cosmetics 6 Piece Glitter Set
Basically everything that comes from this all-vegan cosmetics company is pure magic. The colours are amazing, and I love knowing that I've bought an ethically-made product that wasn't tested on animals. Also, GLITTER.
This is a really good way to prepare for A-Camp, Frankenstorms and slumber parties.
Spider Serving Dishes by Laura Zindel
Because if there's one thing I want to think about while eating a lovingly prepared meal, it's the giant spiders crawling around on the dish underneath.
---
Just Practical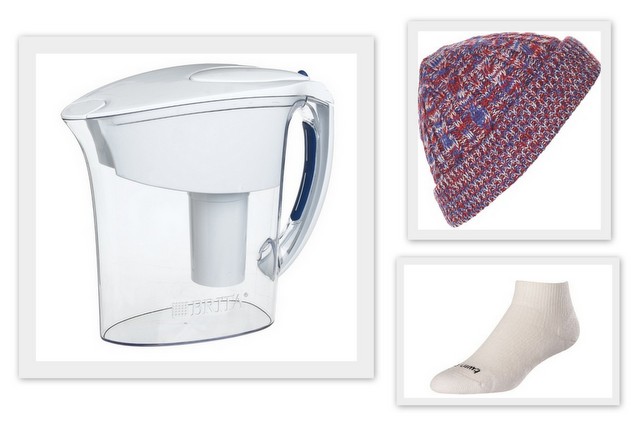 I'm literally the worst person to shop for in the world because I don't like anything and the things I do like, people deem too boring to be called a "gift." When my girlfriend asked me what I want for Christmas, I said a strip tease and a Brita filter. I don't think I'll be getting either but it's worth a shot.
The aforementioned Brita filter. Whatever you have to say about water filters, I don't care. I want one. It's this kind of blind consumerism that drives this country.
Beanies have never sat well with me. I love hats but for some reason beanies always seemed odd. I think I've finally realized this was no fault of beanies but more an issue with people wearing beanies that aren't doing them any favors. I'm now open to beanies, is what I'm saying.
I lost two good socks to holes this year. These are dark times in the sock drawer, but it's a good enough reason for me to add the best pair of socks in the world to this list. They are so thick and comfortable and perfect for winter. It's like hot chocolate for your feet. They also aren't a brand name, so no worries of mixing Adidas socks with your Nike shoes or vice versa. I know you might not care about that kind of thing but I, like most black people, do.
---
 Next Up: vibrators, lizard skulls and bento boxes!
Pages: 1 2 3 4 5 6See entire article on one page