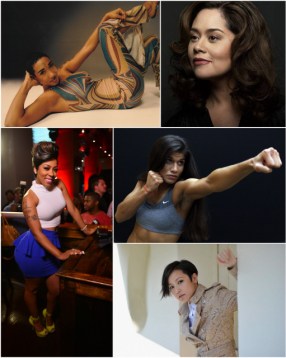 For the past few years, the ladies have been coming out in droves, each new year bringing another list of big stars breaking through to the other side — Wanda Sykes, Cynthia Nixon, Amber Heard, Evan Rachel Wood, Meredith Baxter, Chely Wright — the list goes on and on. This year lacked a definitive female megastar Coming Out Moment (Megan Rapinoe, maybe), but it didn't lack a plethora of really fantastic Coming Out Situations. Perhaps most exciting is how many women of color came out this year — half of the women pictured below, in fact!
So, who came out this year?
The 2012 Summer Olympics brought a slew of out athletes to our attention: three-time US Olympic volleyball player Stacy Sykora, South African archer Karen Hultzer and WNBA Star and Team USA basketball player Seimone Augustus. Furthermore, two Team USA Soccer players made their sexual orientation public at long last: Lori Lindsey, who actually came out right here on Autostraddle, and her best friend, heartthrob Megan Rapinoe, who came out in an interview with OUT Magazine and made your pants explode.
Other athletes who came out this year are Mexican-American Mixed Martial Arts fighter Jessica Aguilar and Swedish skier Anja Pärson.
Some celebrities already known to be gay came out "officially" this year, like Style Icon JCrew Creative Director Jenna Lyons who essentially came out two years ago but officially came out last month. When comedian Tig Notaro revealed her cancer diagnosis in the most brilliant stand-up set of all time, she was also revealing her gayness publicly for the first time. Many were unaware of Australian chef Kylie Kwong's sexual orientation until she announced that her girlfriend of five years was pregnant. Celebrity Chef and Reality TV Personality Anne Burrell was herself shocked when Ted Allen allegedly "outed" her because she already felt pretty out, but now she's really out.
Lots of musicians this year, too, like Australian country music artist Beccy Cole, former American Idol contestant Frenchie Davis (bisexual), Jamaican reggae singer Diana King, hip-hop artist Azealia Banks, Cantonese pop star Denise Ho and controversial hip-hop artist Kreayshawn. Also, punk rock star Laura Jane Grace of Against Me! came out as transgender!
Screen stars who made the leap this year include Filipina singer/actress Monique Wilson, Bold & The Beautiful star Joanna Johnson, Australian actress Magda Szubanski and child star and iconic 70's/80's tomboy Kristy McNichol. Actress/singer Raven-Symone didn't officially come out, but she didn't do so in a way that many interpreted to be essentially "coming out" in so many words — it's debatable! — and The Matrix director Lana Wachowski spoke publicly about her experiences as a transgender woman for the first time.
The 2012 elections brought out queer politicians in droves: Texas State Rep Mary Gonzalez, previously out as queer or LGBTQ, came out as pansexual this year. Wisconsin State Rep JoCasta Zamarripa came out as bisexual and Kyrsten Sinema became Arizona's first out bisexual congresswoman. Others came out because of relatives in politics, like Australian Opposition leader Tony Abbott's sister Christine Forrester.
Some of the people in this gallery have been "out" in their private lives for some time but didn't have public lives until this year — humans vaulted from relative obscurity onto the gay mainstage in 2012 include reality TV stars like The Glee Project's Dani Shay, The Voice's De'Borah Garner and America's Next Top Model's Laura LaFrate. (Her fellow queer contestant AZMarie has been out in the public eye since before ANTM, otherwise we'd include her here too!).
Reality TV also proved an ample venue for other women to come out — on Love & Hip-Hop Atlanta, dancer Joseline Hernandez came out as bisexual, as did R&B/soul singer/songwriter a K.Michelle, while R&B Divas offered R&B singer-songwriter Monifa Carter a platform from which to come out.
Without any further ado, the class of 2012:
Did I miss anyone? Do you feel upset about the inclusion of this or that person? If so, please refrain from beginning any sentences with "um…" but feel free to employ as much punctuation and all caps as possible. If you feel full of joy about the inclusion of all of these people, I encourage you to also employ a lot of punctuation and capitalization!