Heard was referred to as an "openly lesbian actress" in a press release from GLAAD. She has since clarified that she is bisexual, and the headline has been adjusted to reflect this.
---
According to the mainstream media, actress Amber Heard "came out" on Friday night at a GLAAD event (Autostraddle was there, stay tuned for our video!). How do you feel about that? I'm guessing your feelings can be broken down into two basic questions:
1. Wasn't Amber Heard already out?
2. Who is Amber Heard?/Where do I know her from?
Now, I'm way more tuned in to "who's out" than I am to "movies" or "television," so I asked myself both "1" and "2." I feel as though I've been casually aware of her existence and her bisexuality for what seems like a while, though I can't remember why, nor can I remember ever looking into her "work." I imagined she'd perhaps been on the cover of NYLON at some point or had appeared in an action-adventure movie I'd never seen.
Anyhow, her coming out wasn't breaking news to the gay community — our invite to GLAAD's 25th Anniversary Event in Los Angeles even included the following paragraph —
Jonathan Murray, Executive Producer of the Real World and Project Runway, will be presented with the Pioneer Award by Amber Heard – the openly lesbian actress starring with Johnny Depp in Rum Diary and Nicholas Cage in Drive Angry 3D.
But it is breaking news to the community at large, which makes it pretty freaking important. As you may know, hot blonde actresses who look good in bathing suits are our best representatives in the fight for equality.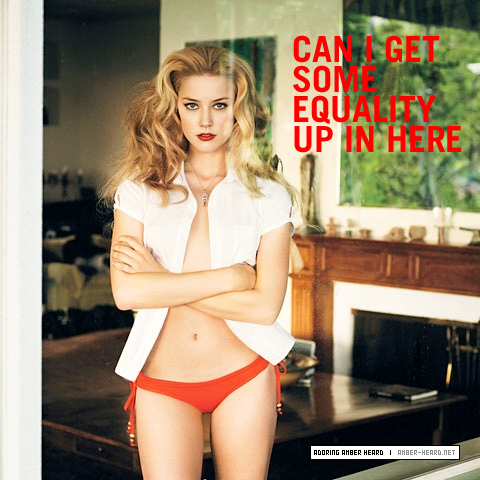 Especially when they're smart, well-behaved, confident, talented, and dating a photographer.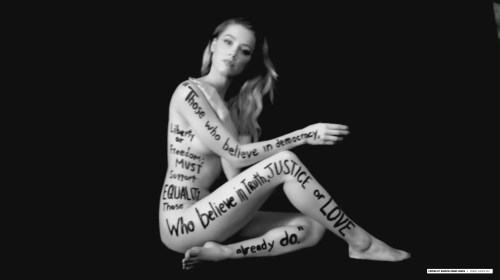 Here's Amber Heard giving her speech at the GLAAD's 25th Anniversary Event:
On the topic of "coming out" officially, Amber said on Friday night:
"I think when I became aware of my role in the media, I had to ask myself an important question 'Am I part of the problem?' And I think that when millions and millions of hard-working, tax paying Americans are denied their rights and denied their equality, you have to ask yourself what are the factors that are an epidemic problem and that's what this is. Injustice can never be stood for. It always must be fought against and I just was sick of it being a problem. I personally think that if you deny something or if you hide something you're inadvertently admitting it's wrong. I don't feel like I'm wrong."
So anyhow, because Amber Heard has now officially come out to your grandparents, Maxim's subscriber base and everyone else who didn't already know, you probably wish you knew a little more about her. So, let's begin. With a photograph:
That's from her first cover for MAXIM. She ranked Number 13 on their 2010 Hot 100. Yup, THE MEN, THEY LOVE HER. She's posed for GQ, FHM, Maxim, Details and Arena, in addition to every other magazine ever.
Here's a photo of Amber with her girlfriend Tasya van Ree at the Prop 8 Rally:
Amber's been fighting for equal marriage rights as well as hitting the town with her girlfriend pretty regularly for most of this year, like at Tasya Van Ree's Art Exhibition in August. In 2009, some assholes followed her around with a video camera and made a video called "amber heard is a lesbian." You shouldn't click on that, I'm just including it so you know I'm not making it up.
In 2009, Amber Heard told Details:
"I'm open to whoever. I think it is absurd to assume that I have to look in a certain category. A person should make choices—about who they want to marry, who they want to spend time with, who they want to fuck—based on a variety of options, and I hope that one day people will be more open-minded about that. It's silly to look in one category or another. I would never imagine a mate based on a certain sex or race."
To which Dorothy Snarker pointed out in August:
Of course, actresses saying they're "open to whoever" is one thing. Having a real girlfriend that you walk the dog with and go to protests with and pose for sexy photoshoots with that's another.
Earlier this year, Heard was on the cover of Jezebel Magazine. Here's the opening paragraph from that article:
Having made it onto nearly everyone's "up-and-comer" list, Amber Heard is a new breed of Young Hollywood. The paparazzi never follow her, there are no rumors about her love life, and she's not widely recognized by the masses. In fact, she's one starlet who you rarely see anywhere but on-set or on-camera. Having starred in such films as Pineapple Express, Zombieland, and The Stepfather, Heard is markedly well-spoken and poised, and possesses a conspicuous self-confidence for one so new to the business. But perhaps most notable is that the young actress is strategically formulating and executing her career like a carefully crafted battle plan."
+
Perhaps you remember Amber from the 2008 film Pineapple Express?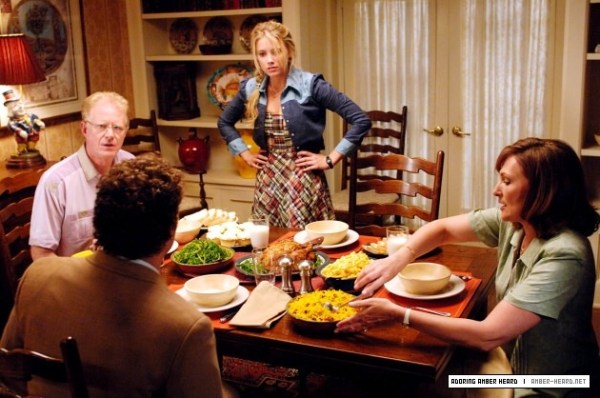 Or the 2009 film Zombieland?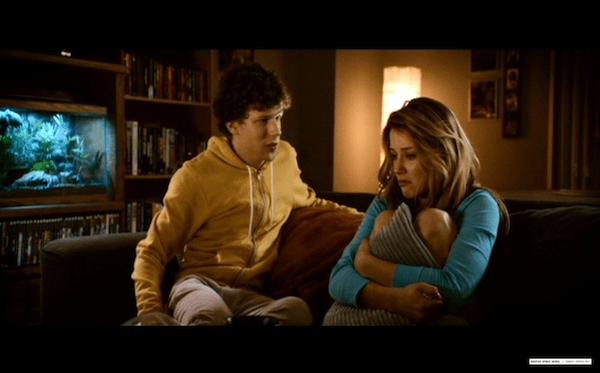 If you're still thinking "where do I know her from, I swear I've seen her in something," these are your options: Jack & Bobby (TV), Friday Night Lights (movie), The Mountain (TV), The O.C. (TV, only one episode), Drop Dead Sexy, North Country, Price to Pay, The Prince (TV movie), Alpha Dog, Criminal Minds, All The Boys Love Mandy Lane, Spin, Remember the Daze, Hidden Palms (TV), Californication (TV), Never Back Down, Pineapple Express, The Informers, ExTerminators, The Joneses, Zombieland, The Stepfather, And Soon the Darkness, The River Why, The Ward. Her current projects include Drive Angry 3D and The Rum Diary.
Here she is in The Stepfather with Penn Badgley:
Here she is posing for her first MAXIM cover:

Amber was born in 1986 and grew up in Austin, Texas, where she attended private Catholic schools all her life. Amber says she always found "a way to rebel." Amber speaks Spanish fluently. She isn't a big party girl and has kept her private life very private since she first entered the limelight.
Probably the most important piece of info to you dorks will be this list of "Things That Make Amber's Home a Home," (via her Scene & Heard interview earlier this year):
THINGS THAT MAKE AMBER'S HOME A HOME:
1. My kitchen is not complete without Emeril's copper-lined pots and pans — the best.
2. Fresh flowers — I never have an empty vase in my house. Roses are my favorite.
3. Scents — Aquiesse candles and Voluspa incense reminds me of the importance of scent.
4. My parents' first record player — it's my treasure — and a collection of the best vintage vinyl that nine years of flea market and thrift store shopping has to offer.
5. The most practical item in my home (and therefore the most valued) — my Cuisinart Coffeemaker and Coffee-Mate Hazelnut Creamer.
6. Cookbooks by Padma Lakshmi, Jamie Oliver, Mario Batali, Maria Khalife
7. Mrs. Meyer's Clean Day Geranium Cleaning and Laundry products.
8. My travel journals (where I keep all my travel plans and notes) is always a black leather Moleskine notebook.
Her first gig was a brief spot in the pilot for Jack & Bobby but her breakout role was playing Maria in Friday Night Lights in 2004 — the film inspired the TV series by the same name.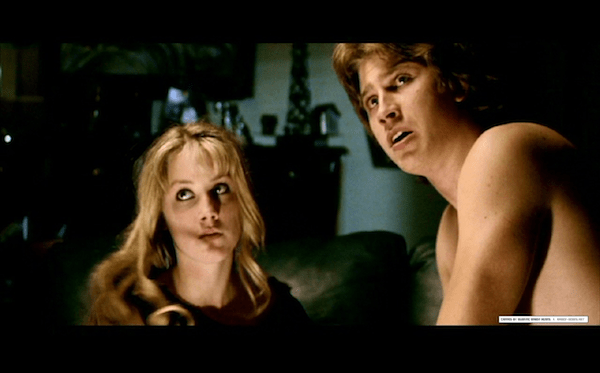 Amber in Friday Night Lights
+
In 2005's SideFX, Amber kissed a girl, but according to the Lesbian Scene Guru from ELMS, "This is just a mild scene compared to the other scenes in this movie. Heard starts to kiss Phillips on the forehead in one of those consoling kind of ways. That of course leads to a kiss, but since it is shot at a weird angle, you don't quite get to see it."

+
Here's Amber's guest spot on Criminal Minds (2006):
+
Interview/clips from All the Boys Love Mandy Lane (2006)
+
Amber played Greta on the 2007 CW series, Hidden Palms:
+
As Maja in Never Back Down (2008):
+
Now here's a movie I would've seen if I knew it existed: The Joneses, in which Amber Heard co-stars with Demi Moore and David Duchovny, from 2009:
+
A 2009 Interview with Current:
Amber's Big Gay Life: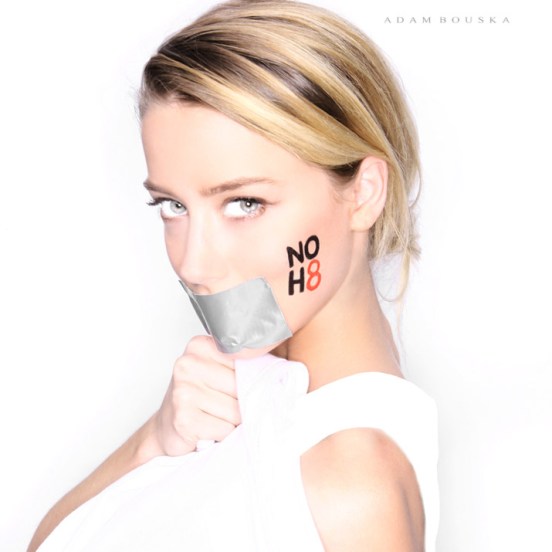 Who is Heard's girlfriend (since 2008), Tasya van Ree? She's an artist, photographer and filmmaker based in LA.
Recently Tasya founded the I Equals You project to promote equal rights for homos. Furthemore Tasya enjoys making short black-and-white films set to music, usually starring Amber Heard. You can see these on Tasya's YouTube page, and right now you can watch this one, titled "Amber Heard for Equality":
Hey-o! Look Tasya recently made a video starring The Real L Word's Tracy Ryerson:
So there you go. Now Portia De Rossi will have some serious competition on those men's magazine polls about which lesbian its readers would like to bang.
Oh and writing this article, I finally figured out where I know Amber Heard from. She was on the cover of MISSBEHAVE, my favorite magazine which has since folded: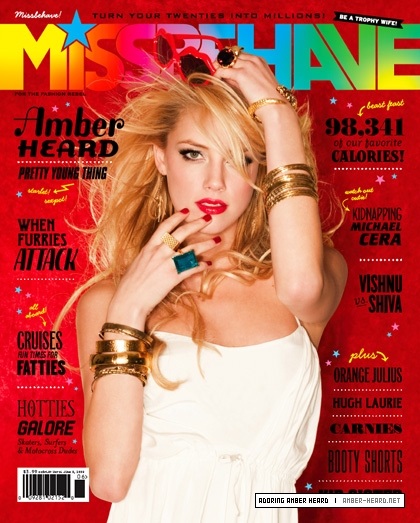 I bet you feel really really smart now. Here's another photo, from May 2010: