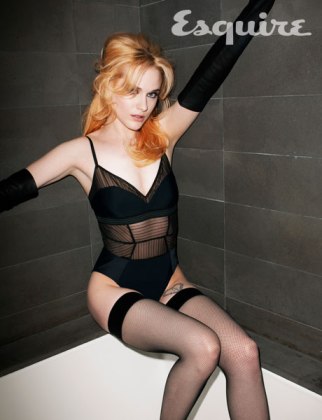 Evan Rachel Wood is bisexual. She told Esquire Magazine all about it very recently so it's a super big deal. I mean just google "Evan Rachel Wood bisexual." She's like the new Anna Paquin! Im going to type "Evan Rachel Wood Bisexual" a few more times. Evan Rachel Wood Bisexual.
No but really — I think we all could deduce, at least, that Evan Rachel Wood Bisexual had a fairly progressive view of gender after her on-again off-again and passionate long-term relationship with Marilyn Manson, who she told the press she liked because he wore eyeliner.
From the oh-so-tastefully-and-not-remotely-objectifying titled article "Evan Rachel Wood: A Guided Tour of a Woman We Love":
"I love [Oh! You Pretty Things!]! I grew up in love with David Bowie.*"
*PING
She has a tattoo on her upper thigh to prove it, a heart with an Aladdin Sane lightning bolt.) "So I was always into very androgynous things. Guys, girls … I'm into androgyny in general." She says this helps explain the appeal of her ex Marilyn Manson.
Later on in the interview:
"I'm up for anything. Meet a nice guy, meet a nice girl…"
This is the third such hint in the conversation, after that androgyny comment and saying she'd "marry" her Mildred Pierce costar Kate Winslet if she could.
You date women?
"Yes," she says proudly, as if she was waiting to be asked.
Do you look for different things in men than in women?
"Yeah, I'm more kind of like the guy when it comes to girls. I'm the dominant one." It's with women, she says, that her inner North Carolina gentleman comes out: "I'm opening the doors, I'm buying dinner. Yeah, I'm romantic."
We spent most of the day scratching our heads thinking that surely this isn't the first time Evan Rachel Wood has mentioned being Bisexual. Were we confusing Evan Rachel Wood with the plethora of lesbionic characters played by Evan Rachel Wood? I mean, Evan Rachel Wood is right up there with Mischa Barton, Piper Perabo and Olivia Wilde, among others, as a frequently kissing other girls on the screen/teevee.
See back in 2007, Evan Rachel Wood told YRB Magazine:
"I'm not a lesbian, but I don't think it's weird or gross or anything. I wouldn't go so far as to say that I'm bisexual – I don't sleep with women. But I definitely appreciate women and there have been times where I have been attracted to a woman,."
"I'm not afraid of sexuality. I think too many people get called skanky or a whore just because they are sexual."
She was 20 when she answered that question. Sometimes these celebrity self-outings — and our collective traceback to when they first broached the topic — are no different from our own stories. When we were younger many of us knew we were attracted to women but weren't ready to let ourselves or the world know that we might sleep with them too. Then we broke up with our psychotic boyfriends and started looking for psychotic girlfriends. Evan Rachel Wood Bisexual is Just Like Us!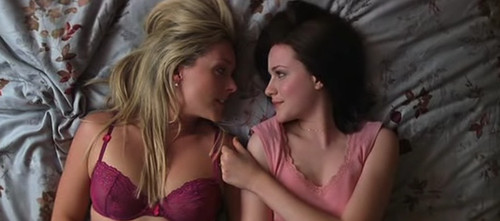 Clearly,here's no day but today for an Evan Rachel Wood bisexual retrospective:
As straight but maybe bicurious teen Tracey Freeland in Thirteen (2003):
+

+
+
As lesbian teen Jessie Samier in Once & Again (2000):

+
+
As Kimberly Joyce in "Pretty Persuasion" (2005)
+

+
+
As Sophie-Anne Leclerq in True Blood (2010):
+

+
More importantly, Esquire reported that Evan Rachel Wood would like "Shine On You Crazy Diamond" played at her funeral, which is badass, but also somewhat alarming because I think Pink Floyd wrote that song for Syd Barret, who got really fucked up with drugs and was therefore much like a crazy diamond because he was like receding but also brilliant.
Anyhow hopefully Evan Rachel Wood will date a girl or something so we can become unnaturally obsessed with her every move. Ideally Lindsay Lohan, so we can multi-task.
SaveSaveSaveSave