I took some time off at the beginning of February and that presented me with plenty of documentary-watching opportunities. I REALLY LIKE DOCUMENTARIES and here's why: documentaries put you in the middle of something you would otherwise never have the opportunity to know. The more you know about things, the better you are at being a good human. I particularly enjoy learning new things because then I have more to talk about when I drink beers with people. Also look: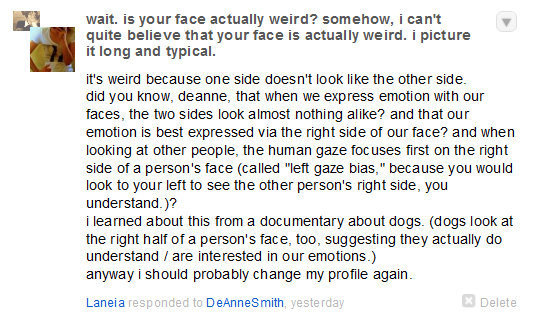 Newfound knowledge via Dogs Decoded: NOVA
Obviously I owe a large chunk of my documentary watching to Netflix Instant streaming through my Wii machine. I would like to talk to you about all the documentaries I have ever loved, but that's what personal blogs are for. Instead, let's take a look at a selection of documentaries that I believe are relevant to the interests of at least 95% of you.

Bi The Way
synopsis:
The iron curtain between gay and straight is crumbling. The Bible belt is unbuckled. Recent studies suggest that bisexuality is drastically more widespread than we ever thought. And for young people, dating a girl one week and a guy the next is no big deal.
Journeying through the changing sexual landscape of America, the directors of BI THE WAY investigate the latest scientific reports and social opinions on bisexuality, while following five members of the emerging "whatever generation" – teens and twenty-something who seem to be ushering in a whole new sexual revolution.
Bi The Way is what you watch when you're feeling alienated or alone in your corner of the world and you need proof that other bisexuals / queer people exist and that they aren't self-loathing mind-fucks, but really normal, adorable people just trying to be happy.
The film naturally skews pro-bisexuality or, you know, pro-common sense / open minds / YOU DO YOU, and that's good because queers like and need validation. However, something that sort of stuck out to me was the few bigoted and ignorant comments that made it into the documentary, probably in an effort to make it appear unbiased? Maybe? To me they were totally unnecessary. Queer people know what bigots think. I don't understand why they were given a platform in this documentary, other than to illustrate how stupid people can be (but again, we already know this).
Aside from that, eleven year-old Josh is amazing and will give you more hope for future generations than you thought possible. Also there are lots of gratuitous clips of girls making out, so.

Letter to the President
synopsis:
Narrated By Snoop Dogg, Letter To the President is a feature documentary that showcases the close-knit ties between the Hip Hop Music community and America's social and political policy in the last 30 years.
Ok honestly, they had me at 'narrated by Snoop Dogg.' I expected Letter to the President to be mostly about the evolution / devolution of hip hop music, but it goes way beyond that to show how the genre both affected society and mirrored it, as well as some really real talk about post-civil rights racism, government-funded modern-day slavery and how totally fucked things are in this country.
This changed the way I looked at um, everything. Basically you have to watch this.

Prodigal Sons
synopsis:
In high school, Kimberly Reed was male, a straight-A student and captain of the football team. But since leaving his rural Montana hometown, he's become a woman — and a filmmaker whose documentary could not be any more personal. Half the story involves her attending her high school reunion as a transgendered female; the other half involves reuniting with her siblings, including her estranged adopted brother.
You think Prodigal Sons will be about Kimberly and what it was like for her to return to a group of peers who'd only known her as a male, because there's definitely enough material there to make a good documentary, but it's also a fascinating look at family dynamics and how each person's life experiences play out in their relationships with everyone else. I think I sat with my mouth open for at least a quarter of the movie.

Word is Out: Stories of Some of Our Lives
synopsis:
First released in 1977, this landmark documentary chronicles the experiences of some two dozen gay and lesbian Americans living throughout the country during the early days of the gay rights movement. Directed by a coalition of gay and lesbian filmmakers, the movie features interviews with poet Elsa Gidlow, activist Harry Hay and others who reflect candidly on growing up in a country that was still deeply and almost uniformly anti-gay.
If all of your aunts / uncles, grandparents and parents were gay or bisexual and they sat down with you over cucumber sandwiches and iced tea flavored bourbon to tell you what it was like to grow up and exist in the world when they were teenagers or twenty-somethings, that would be this documentary. Word is Out is the heart-to-heart talk you probably can't get from older family members, because they're not queer and they didn't go through anything like this.
The strangely comforting yet mildly horrifying thing is, the stories told in Word is Out are SO FAMILIAR. Even though these people came out in the 50s / 60s / 70s, their basic experiences and feelings are still, in some ways, being recreated and re-lived today. You can see how far we've come as a country, but also how much ignorance and hatred stunts even the most promising progress.
The stories were sweet and sometimes really funny and always really good to hear.

black./womyn.: conversations with lesbians of African descent
synopsis:
black./womyn.:conversations… is a feature-length documentary focusing on the lives and views of lesbians of African descent from various backgrounds. The documentary is structured by interviews-"conversations"-the director had with each of the women. It features candid interviews with black lesbian women discussing coming out, sexuality and religion, love and relationships, marriage, patriarchy, visibility in media, discrimination and homophobia, activism, gender identity, Black lesbian youth and elders, balancing gender/race/sexuality, and, finally, what it means to call oneself a Black lesbian today. black./womyn.:conversations… is a piece that provokes honest, progressive dialogue and critical thinking among people in general-and Black lesbians in particular-about how Black lesbians are viewed and affected by society. black./womyn.:conversations… features interviews with close to 50 out, Black lesbians including Poet/Author Cheryl Clarke, Filmmaker/Activist Aishah Shahidah Simmons, Poet/Author Staceyann Chin, Filmmaker Michelle Parkerson, Artist Hanifah Walidah, Hip-Hop Duo KIN, and Author Fiona Zedde.
This film encourages progressive dialogue about images of Black lesbians and the stereotypes resulting from their portrayal in media and society at large. The director hopes to create conversation among Black lesbians of differing ages, backgrounds about the lack of communication among these groups and how this affects the overall unity of Black lesbians as a group.
Saying that black./womyn features a variety of ages, gender identity / presentations and life experiences is a monumental understatement. I don't think I've ever seen so many aspects of queer life represented in one place before. Some of the stories are heartbreaking but so many are inspiring and eye-opening. There's not a lot of narration, so the documentary does end up feeling like a conversation, and director / producer tiona.m. covers every topic imaginable: coming out, dating, marriage, activism, identity, 'types' of lesbians, etc. black./womyn was enthralling for a lot of reasons, not the least of which being that I'm a white girl and have no idea what it's like to live these experiences, so I really truly appreciated how honest and open everyone was. Telling each other our own stories is important.
"At the root of the film I wanted to make something that would have benefited my younger self in a way. I think with film/media you have a chance to transport and immortalize 'voice' in a sense. With 'black./womyn.' I wanted to present a transparent film that would do just that — transport a portion of the Black lesbian community to places where we have not had the space to share our experiences via our own voice be that in cinema or in the privacy of one's home."
from an interview with Black Gay Gossip

Have you watched any of these? Do you have feelings? This is where you get to judge my film selection and opinions, while simultaneously providing your own film selections and opinions! Oh, internet, you're so wacky!