We love documentaries. ALL OF THE DOCUMENTARIES! We didn't realize just how much we all love documentaries until our staff email chain about this post.
We love the self-righteous enlightenment and intellectual superiority that briefly engorges your soul after something like Jesus Camp, Bowling For Columbine, Food Inc or Inconvenient Truth! We love the fascinating children of Spellbound and Mad Hot Ballroom and the geektacular splendor of Trekkies or Cinemania and the life-scarring/disturbing/enthralling horror of Paradise Lost or Capturing the Friedmans and we love EVERY SINGLE LGBTQ DOCUMENTARY EVER from For the Bible Tells Me So to The Celluloid Closet to The Aggressives and back again. We've talked about some of those, in fact: here's our review of 8: The Mormon Proposition, our interview with the creators of  Fish Out of Water and our list of documentaries about religion and homosexuality.
But this particular list isn't limited to queer films; this list is our answer to "what documentaries do you think everyone else needs to see RIGHT NOW especially if they ever want to understand a very crucial aspect of the world we live in?" As a result of our enthusiasm, this is much, much more than a top 10.
Consider it Autostraddle's definitive list of the documentaries you need to see before you die.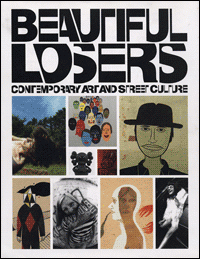 Laneia // Executive Editor:
Beautiful Losers
Beautiful Losers looks at the most influential artists of the early nineties – most of whom were unknown at the time – and how their work affected fashion, music, and essentially all of pop culture.
The interview subjects (Harmony Korine, Shepard Fairy and Margaret Kilgallen, to name a few) were just punk freaks who wanted to do something real, so they did. They spray-painted shit and regular-painted other shit and built things and figured out how to get their points across to people who cared. I mean, if you're not even more inspired than usual to embrace your weirdo artistic side after watching Beautiful Losers, I don't know if you should be here. WAS THAT HARSH I'M SORRY THIS FILM IS JUST REALLY F*CKING GOOD AND I THINK YOU'LL LOVE IT.
The Business of Being Born
The Business of Being Born examines what it's like to give birth in America, specifically the stark differences between hospital and home deliveries. The overall point of the film is that women need more information about all of their options, as well as a greater understanding of what their bodies are naturally capable of, before choosing a method of birth.
It was produced by Ricki Lake after her own unsatisfying experience with a hospital birth (something I instantly related to). The film really gets into the monetary side of the medical industry, revealing information that shocked even me, a strong supporter of midwifery.
What I especially liked was how even-handedly the facts were presented. Every woman makes this decision for herself — there's no right or wrong choice and things don't always go as planned — and I think The Business of Being Born was very empowering in that sense. More empowering, in fact, than either of the OB/GYNs who delivered my children.
Helvetica
After watching Helvetica last fall, I read like, six books on graphic design and made a list of all of the most influential designers of the last 100 years and then I read a few books about them and I STILL wasn't satisfied. I think the only way to get it out of my system is to either a) take classes or b) hang out with Alex a lot. I have chosen option b) because a) costs too much money and Alex cooks.
I'd never stopped to consider how much control graphic artists have over OUR ENTIRE LIVES. It's so weird, right? I mean, the way I feel about The Gap is due, in part, TO FONT. That is f*cking crazy!
+Watch Helvetica now.
---
The September Issue
An interesting window into one of Fashion's most creative and dynamic teams. Julie is the Grace Coddington to Brandy's Anna Wintour. For anyone who doesn't already know, Anna Wintour is the bitchy one.
Paris is Burning
If you're gay, you should definitely watch this movie! It's a crucial part of the history of gay culture in this country. So much of the imagery we see today is culled from this time period and lifestyle (including In Your Box Office). This documentary is Gay and Fashion. Period. It endlessly inspires us.
Deliver Us From Evil
To call this a favorite feels a bit strange. But nothing before or since has been quite so horrifying and moving. It's one of the better documentaries as far as being unbiased. The filmmakers never judge their subjects. They just simply tell their stories.
+Watch Deliver Us From Evil.
Anvil
This is a must-see for anyone out there following an impossible dream.
+Watch Anvil! The Story of Anvil.
---
Riese // Editor-in-Chief:
Grey Gardens
I was on a date with someone who called Grey Gardens "the worst" and "overrated" and that was our last date. You need to know about the costume of the day, the Marble Faun, the flag dance (which I can do) and about being a S-T-A-U-N-C-H character. It's considerably more important that you familiarize yourself with Grey Gardens if you spend time around gay men or theater people. Prioritize appropriately.
Oh also it's hilarious and heartbreaking all at once. The documentary by the Maysles brothers (Gimme Shelter) has since been turned into a Broadway musical and an HBO movie starring Drew Barrymore & Jessica Lange.
Killing Us Softly
"Advertising does sell products but it also sell it sells values, it sells images, it sells concepts of love and sexuality, of romance, of success and perhaps most important of normalcy. To a great extent, advertising tells us who we are and who we should be. What does advertising tell us today about women? It tells us just as it did 10 and 20 and 30 years ago that's what most important about women is how we look."
If you haven't already seen it in a Women's Studies class, you can watch the whole version of Killing Us Softly 4 RIGHT NOW. Yup. Or if the "for preview only" thing annoys you, and it probably does, Killing Us Softly 3 is the one I actually saw, and you can see all of it here, right now.
This Film Is Not Yet Rated
Hey did you know that But I'm a Cheerleader originally got an NC-17? The ratings board told Jamie Babbit that she had to cut a scene of Natasha Lyonne masturbating over her underwear while fully clothed. Meanwhile, Jason Biggs was masturbating into an apple pie in American Pie, nationwide.
There's a million reasons to watch This Film is Not Yet Rated, but as a woman or a queer you should know how female pleasure and gay sex have been censored and are still being censored while dudes hammer away. Clearly there's a group of rich white republicans behind the MPAA, as there is behind all evil things or secret things. Also, the private detectives Kirby Dick hires to track down the MPAA's members are, incidentally, lesbians!
Roger & Me
+
This is one of my favorite movies ever. I rented it 'cause it'd won an Academy Award and I watched it four times in one weekend and decided I wanted to be a documentary filmmaker. Michael Moore has gotten some shit lately for the obvious agenda his newer films mercilessly peddle — which is devastating, because it enables fence-sitters to write off movies like Fahrenheit 911 and Sicko which contain about five good points/revelatory moments for every one ridiculous one-sided stretch.
But before all that, it was 1989 and we had Roger & Me. Growing up in Southeastern Michigan and having visited Flint many times (including a trip to the ludicrous "Autoworld" featured in the film), I'd seen firsthand how the General Motors' downsizing/outsourcing had devastated Detroit, Flint, and really most of Southern Michigan altogether. The title refers to General Motors Chairman Roger B. Smith, the man Moore tries to track down for an interview. Nobody knew who Michael Moore was back then.
+Get Roger & Me.
---
Brandy Howard
Actress, Model, Comedian, Writer and
co-star of In Your Box Office on Autostraddle.com:
Spellbound
Super cute and funny. Very entertaining.
+Get Spellbound.
Enron: The Smartest Guys in the Room
This was about as horrifying as Deliver us From Evil. Only it's not the Catholic Church, it's corporate America. And they're not molesting children – they're raping our parents.
My Kid Could Paint That
This documentary is fascinating because it begins as one thing and ends as another. In a truly unique structure, the filmmaker changes the subject of his documentary half-way through after being drawn in and almost becoming the subject himself.
More Than a Game
One of the best sports documentaries ever made in my opinion. Equal
parts touching and inspiring. I cried so many times.
(I'm probably gonna like that new one called Babies too. I'm a sucker for cute).
NEXT PAGE:
Julie Goldman's picks, Lil' Wayne, Freeheld, the Dixie Chicks
and more good stuff you need to watch…
Pages: 1 2See entire article on one page