We love documentaries. ALL OF THE DOCUMENTARIES! We didn't realize just how much we all love documentaries until our staff email chain about this post.
We love the self-righteous enlightenment and intellectual superiority that briefly engorges your soul after something like Jesus Camp, Bowling For Columbine, Food Inc or Inconvenient Truth! We love the fascinating children of Spellbound and Mad Hot Ballroom and the geektacular splendor of Trekkies or Cinemania and the life-scarring/disturbing/enthralling horror of Paradise Lost or Capturing the Friedmans and we love EVERY SINGLE LGBTQ DOCUMENTARY EVER from For the Bible Tells Me So to The Celluloid Closet to The Aggressives and back again. We've talked about some of those, in fact: here's our review of 8: The Mormon Proposition, our interview with the creators of  Fish Out of Water and our list of documentaries about religion and homosexuality.
But this particular list isn't limited to queer films; this list is our answer to "what documentaries do you think everyone else needs to see RIGHT NOW especially if they ever want to understand a very crucial aspect of the world we live in?" As a result of our enthusiasm, this is much, much more than a top 10.
Consider it Autostraddle's definitive list of the documentaries you need to see before you die.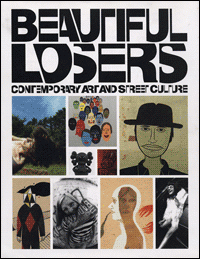 Laneia // Executive Editor:
Beautiful Losers
Beautiful Losers looks at the most influential artists of the early nineties – most of whom were unknown at the time – and how their work affected fashion, music, and essentially all of pop culture.
The interview subjects (Harmony Korine, Shepard Fairy and Margaret Kilgallen, to name a few) were just punk freaks who wanted to do something real, so they did. They spray-painted shit and regular-painted other shit and built things and figured out how to get their points across to people who cared. I mean, if you're not even more inspired than usual to embrace your weirdo artistic side after watching Beautiful Losers, I don't know if you should be here. WAS THAT HARSH I'M SORRY THIS FILM IS JUST REALLY F*CKING GOOD AND I THINK YOU'LL LOVE IT.
The Business of Being Born
The Business of Being Born examines what it's like to give birth in America, specifically the stark differences between hospital and home deliveries. The overall point of the film is that women need more information about all of their options, as well as a greater understanding of what their bodies are naturally capable of, before choosing a method of birth.
It was produced by Ricki Lake after her own unsatisfying experience with a hospital birth (something I instantly related to). The film really gets into the monetary side of the medical industry, revealing information that shocked even me, a strong supporter of midwifery.
What I especially liked was how even-handedly the facts were presented. Every woman makes this decision for herself — there's no right or wrong choice and things don't always go as planned — and I think The Business of Being Born was very empowering in that sense. More empowering, in fact, than either of the OB/GYNs who delivered my children.
Helvetica
After watching Helvetica last fall, I read like, six books on graphic design and made a list of all of the most influential designers of the last 100 years and then I read a few books about them and I STILL wasn't satisfied. I think the only way to get it out of my system is to either a) take classes or b) hang out with Alex a lot. I have chosen option b) because a) costs too much money and Alex cooks.
I'd never stopped to consider how much control graphic artists have over OUR ENTIRE LIVES. It's so weird, right? I mean, the way I feel about The Gap is due, in part, TO FONT. That is f*cking crazy!
+Watch Helvetica now.
---
The September Issue
An interesting window into one of Fashion's most creative and dynamic teams. Julie is the Grace Coddington to Brandy's Anna Wintour. For anyone who doesn't already know, Anna Wintour is the bitchy one.
Paris is Burning
If you're gay, you should definitely watch this movie! It's a crucial part of the history of gay culture in this country. So much of the imagery we see today is culled from this time period and lifestyle (including In Your Box Office). This documentary is Gay and Fashion. Period. It endlessly inspires us.
Deliver Us From Evil
To call this a favorite feels a bit strange. But nothing before or since has been quite so horrifying and moving. It's one of the better documentaries as far as being unbiased. The filmmakers never judge their subjects. They just simply tell their stories.
+Watch Deliver Us From Evil.
Anvil
This is a must-see for anyone out there following an impossible dream.
+Watch Anvil! The Story of Anvil.
---
Riese // Editor-in-Chief:
Grey Gardens
I was on a date with someone who called Grey Gardens "the worst" and "overrated" and that was our last date. You need to know about the costume of the day, the Marble Faun, the flag dance (which I can do) and about being a S-T-A-U-N-C-H character. It's considerably more important that you familiarize yourself with Grey Gardens if you spend time around gay men or theater people. Prioritize appropriately.
Oh also it's hilarious and heartbreaking all at once. The documentary by the Maysles brothers (Gimme Shelter) has since been turned into a Broadway musical and an HBO movie starring Drew Barrymore & Jessica Lange.
Killing Us Softly
"Advertising does sell products but it also sell it sells values, it sells images, it sells concepts of love and sexuality, of romance, of success and perhaps most important of normalcy. To a great extent, advertising tells us who we are and who we should be. What does advertising tell us today about women? It tells us just as it did 10 and 20 and 30 years ago that's what most important about women is how we look."
If you haven't already seen it in a Women's Studies class, you can watch the whole version of Killing Us Softly 4 RIGHT NOW. Yup. Or if the "for preview only" thing annoys you, and it probably does, Killing Us Softly 3 is the one I actually saw, and you can see all of it here, right now.
This Film Is Not Yet Rated
Hey did you know that But I'm a Cheerleader originally got an NC-17? The ratings board told Jamie Babbit that she had to cut a scene of Natasha Lyonne masturbating over her underwear while fully clothed. Meanwhile, Jason Biggs was masturbating into an apple pie in American Pie, nationwide.
There's a million reasons to watch This Film is Not Yet Rated, but as a woman or a queer you should know how female pleasure and gay sex have been censored and are still being censored while dudes hammer away. Clearly there's a group of rich white republicans behind the MPAA, as there is behind all evil things or secret things. Also, the private detectives Kirby Dick hires to track down the MPAA's members are, incidentally, lesbians!
Roger & Me
+
This is one of my favorite movies ever. I rented it 'cause it'd won an Academy Award and I watched it four times in one weekend and decided I wanted to be a documentary filmmaker. Michael Moore has gotten some shit lately for the obvious agenda his newer films mercilessly peddle — which is devastating, because it enables fence-sitters to write off movies like Fahrenheit 911 and Sicko which contain about five good points/revelatory moments for every one ridiculous one-sided stretch.
But before all that, it was 1989 and we had Roger & Me. Growing up in Southeastern Michigan and having visited Flint many times (including a trip to the ludicrous "Autoworld" featured in the film), I'd seen firsthand how the General Motors' downsizing/outsourcing had devastated Detroit, Flint, and really most of Southern Michigan altogether. The title refers to General Motors Chairman Roger B. Smith, the man Moore tries to track down for an interview. Nobody knew who Michael Moore was back then.
+Get Roger & Me.
---
Brandy Howard
Actress, Model, Comedian, Writer and
co-star of In Your Box Office on Autostraddle.com:
Spellbound
Super cute and funny. Very entertaining.
+Get Spellbound.
Enron: The Smartest Guys in the Room
This was about as horrifying as Deliver us From Evil. Only it's not the Catholic Church, it's corporate America. And they're not molesting children – they're raping our parents.
My Kid Could Paint That
This documentary is fascinating because it begins as one thing and ends as another. In a truly unique structure, the filmmaker changes the subject of his documentary half-way through after being drawn in and almost becoming the subject himself.
More Than a Game
One of the best sports documentaries ever made in my opinion. Equal
parts touching and inspiring. I cried so many times.
(I'm probably gonna like that new one called Babies too. I'm a sucker for cute).
NEXT PAGE:
Julie Goldman's picks, Lil' Wayne, Freeheld, the Dixie Chicks
and more good stuff you need to watch…
Julie Goldman
Actress, Comedian, Bro of Awesomeness, Co-star of "In Your Box Office"
The American Experience – The Mormons
This movie is important to watch as a pre-cursor to the Mormon Prop 8 doc if you really want your full lesbo zealotry to come out. Besides showing how purely American the Mormon religion is, it's also a birds-eye view into religion in general and how they are ALL man-made.
Paperclips
A touching new way to tell a story that we've heard a million times. This one really gets down deep.
The Legend of Leigh Bowery
A dark, yet inspiring portrait of a gay icon who's creativity and originality is unmatched before or since.
Any documentary that begins with
"The Jews and" or "Jesus and.."
The Jews and Jesus are an infinite well of learning and contradictions depending on which documentary you're watching. But they are all very interesting. Especially when you have insomnia.
---
Sarah // Managing Editor:
Freeheld
+
I had the privilege of seeing Freeheld, along with all the other Oscar-nominated short documentaries of 2008, at the True/False Film Festival — basically the Sundance of documentaries — in Columbia, Missouri. About 3/4 of the docs I've seen are because of this fest, and I want to encourage everyone who cares about documentaries to go to this at least once. I'm serious, it's the best weekend ever. </shameless plug>
Like I said, Freeheld is a short film, which is great because it's so emotionally intense that I couldn't have lasted much longer. You probably know the story: Detective Lieutenant Laurel Hester was a police officer in New Jersey for many years, and while dying of cancer, she had to fight with the local government to get her pension and benefits extended to her partner. The film follows the couple at home as well as into meetings with the Freeholders (like a city council) who were actively blocking her benefits. It's truly heartbreaking. Also, this story is going to be made into a movie with Ellen Page. You should check out Freeheld before that hits theaters.
Hoop Dreams
This movie hits some of the major topics on my long list of "Things I Don't Know Enough About": classism, athletics, inner-city communities and the public school system, to name a few. I first saw this film in a sociology class, and I loved it because it showed me so many worlds I am not a part of. Hoop Dreams tells the story of young high-school basketball players whose talents get them scholarships at various colleges and universities. That part is great, even though it can cause rifts in families sometimes, but the really unfortunate part happens once the kids get to school. The academic counseling generally fails them miserably, and they're left with almost nothing if they don't make it to the NBA. The filmmakers take their time, sticking around to follow certain young men for years. The progression of their dreams is really the heart of the film, as you get to watch them go from blind hope to bitter realization.
+Get Hoop Dreams – Criterion Collection
The September Issue
The September Issue is a bit lighter fare: it's about Anna Wintour and the September issue of Vogue. I'm a journalism major, so I'm fascinated by the world of publishing, especially where women are concerned. But you don't have to know anything about magazines to get a kick out of this one. The film is beautifully shot, it's full of interesting/powerful women, and it even has exclusive interviews with Wintour herself. It's the real-life version of The Devil Wears Prada, and the real life version is much more fun. Also, I would be lying if I said I didn't dream about Anna Wintour after I saw it.
---
Rachel // Senior Editor:
The Carter Documentary
Sarah asked me to write about a documentary that changed my life, and let me tell you something, I am such a different person after watching The Carter Documentary that they won't let me into bars with the same ID anymore. Your life looks pretty different after finding out that a real human person can drink that much cough syrup in one day and not only survive, but sell like 80 million albums in one day. Virtually every aspect of my daily life has changed, for better or for worse, after watching this documentary. Every decision you make will now be made with the understanding that, instead of doing your laundry or playing mah jongg, you could have gotten the ESPN symbol tattooed on your forearm or written a rap about Robitussin and weed that would earn you enough money to purchase a small country in Eastern Europe. See, you're feeling pretty different already, aren't you? And you haven't even seen the montage of Lil Wayne concerts with the lyrics to "Lollipop" scrolling across the screen in Lucida Handwriting! Are you ready for this shit? No you're not, better have some syrup first.
Helvetica
Helvetica is exactly what it purports itself to be: it is 80 minutes of in-depth discussion about a sans-serif typeface that you may be familiar with if you use a Mac or have ever looked at an American Apparel ad. If you think that Helvetica is just a cute name, or that the film is an examination of some kind of important social phenomenon using Helvetica as a theme, you are wrong. But that doesn't mean this isn't awesome, because it is. At the end of this 80 minutes you will have more feelings about typefaces than you've ever had before in your life, and that's coming from someone who already had a lot of feelings about typefaces. Bonus: a solid 90% of the people interviewed have distinctive Swedish, Dutch, or German accents. I know, right?
+Watch Helvetica now.
The Weather Underground
If you care about Lindsay Lohan so much that you read this website, you probably weren't alive in the 1960s and maybe haven't heard of the Weathermen.  They were important though, and you should watch this documentary about them. If you don't know, the Weathermen were a group of domestic terrorists who protested the Vietnam War by bombing government buildings and public institutions, although they were notable in that they took care to make sure that only property and not people were harmed. Most of its members are still around, living relatively normal lives; Bill Ayers is probably its most famous veteran. The Weather Underground features these people, forty years later, looking back on what they did for that ten-year period living "underground" and reflecting on it. What they come up with is some pretty amazing stuff if you're at all interested in violence as a political tool, or how strategies for radical social change work or don't work, or what the revolution is going to look like. And really, if you're not interested in any of those things, what the fuck is wrong with you. The whole documentary is available for free on Google Video, so make moves!
Paris is Burning
Unless you grew up in some kind of alternate universe where gay people were considered real actual human beings whose culture was deserving of recognition and celebration, you were probably not taught anything about the history of our community in any kind of structured way. So instead, we have to rely on documentaries like Paris is Burning, and since Paris is Burning is fucking amazing, I have a hard time getting too worked up about it. Paris is Burning focuses on the phenomenon of New York City drag balls in the mid-t0-late 1980s, which featured incredibly competitive and highly-structured drag competitions, around which entire communities and families formed.
It has legendary personalities that will haunt you long after the documentary is over, such as Willie Ninja, who was credited with bringing "voguing" to the mainstream and who later choreographed for Madonna. The filming itself is done in such a way that the ball participants' voices are completely unhindered — we get to see these people as people, without the straight filmmaker's point of view getting in the way and making it feel like an episode of Wild Kingdom. This is the first instance I can remember in my own life of seeing queer people taken seriously on their own terms, with the rules and realities of their world taken as fact.
They talk frankly about the violence and isolation they face, about being disowned by their families and having to find new ones. We watch unscripted scenes of people we've grown to care about interacting with homophobic straight people. Because race is a factor that's often the huge "colorblind" elephant in the room when we talk about queer history, it's fantastic that one of the most well-known documentaries on gay people features people of color. Racism is a huge factor in the hardships discussed here, and when we're told that one of the interviewees, a trans woman of color, has been murdered at the end of the movie, it really drives home the way that race, gender identity and sexual orientation are all tied together for this moment in time.
---
Alex // Design Director:
Exit Through The Gift Shop
Exit Through the Gift Shop is Banksy's shot at a documentary, and it's a total success obviously. Don't know who Banksy is? You should because he's only the most notorious (and brilliant) street artist ever but if you don't it's cool — this is still a great film that captures a piece of the underground street art movement, as well as the story of Thierry (pronounced "Terry") Guetta, the documentary's filmmaker.
Thierry is batshit crazy but also endearing. And the story that develops as he films all these street artists (and eventually his encounter with Banksy) becomes something unexpected — and I love a documentary that totally grows and becomes something it never intended to be. It really makes this a special gem of a film… and a super funny and entertaining one too.
---
Jess G // Music Writer:
The Last Waltz
If you watch one music documentary in your life, consider The Last Waltz. This film, shot and directed by Martin Scorcese, chronicles just one concert held on Thanksgiving Day in 1976 — the last ever from a Canadian-American band called… well, The Band. They were a group in their own right, with hit songs like "The Weight" and "Up On Cripple Creek," but they were also one of the finest backing bands of their time, recording and touring with Ronnie Hawkins and Bob Dylan.
If you don't know or care about the nitty gritty facts of The Band, don't worry. Skip the history lesson and this doc is all about the songs. Along with their own hits, they play the songs of notable guests — including Eric Clapton, Van Morrison, Mavis Staples, and Dr. John — all of whom join them on stage. Everyone will come away with a favorite performance, but mine is "Helpless" with Neil Young. "Helpless" is an amazing song on its own, but with Joni Mitchell's back-up vocals (she's only even visible in silhouette performing off stage), I'm left with goosebumps.
Get The Last Waltz (Special Edition)
You might also like: Stones in Exile
---
March of the Penguins
Emily (via reply-all email): I'm sorry I can't participate in this because I don't think I've seen any documentaries ever! I know! Don't fire me! I mean I think I saw March of the Penguins once or something.
---
Jess R // Senior Editor:
My Kid Could Paint That
My Kid Could Paint That tells story of a 4-year-old painter (Marla Olmstead) whose abstract canvases sold for thousands of dollars after TV and newspaper reports turned her into an international celebrity. The doc raises compelling questions about artistic authenticity, the meaning of modern art, demands of the news media, the exploitation of children and the nature of faith itself. After a 60 Minutes special on the Olmstead family casts doubt on the true authorship of the paintings, the family is thrown into crisis.
This doc is unlike any other I've seen because it breaks down the 4th wall when the filmmaker turns the camera on himself and confides in the audience that he doesn't know what to believe and that the nature of his film has changed. He suddenly feels that he needs video proof of Marla at work on a painting, from start to finish, in order to believe she is the creator of her canvases. Although it is a documentary, it almost feels more like a suspense mystery and is riveting to the very end.
Dixie Chicks: Shut Up & Sing
Documentary filmmakers pray for something to happen to their subjects when the cameras are rolling, and these filmmakers struck gold when when Dixie Chicks lead singer Natalie Maines told a crowd on the opening night of the band's first European tour that she was "ashamed" that President Bush was from Texas. The fallout was insane. In the firestorm that ensued – the widespread reporting of the unplanned, informal bit of stage banter – the Dixie Chicks found themselves virtually banned from country radio in the US and alienated from the group's red-state core following. Disc jockeys collected their CDs from listeners and smashed them with a bulldozer. After catching Maines that fateful night in London, the cameras follow the band through the aftermath – the Diane Sawyer interview, the nude cover shoot for Entertainment Weekly, the verbal sparring with redneck singer Toby Keith – all the way to the writing and recording of the Dixie Chicks new album, featuring "Not Ready to Make Nice," the revealing lead single detailing everything they've gone through. Even if you weren't a Dixie Chicks fan before, watching Shut Up & Sing will likely turn you into one and make you worship Natalie Maines.
Get Dixie Chicks: Shut Up & Sing (Full Screen Edition)
---
Kelsey:
Southern Comfort
Director Kate Davis heads down to rural Georgia to document the last few months of the life of Robert Eads, a transgender man diagnosed with ovarian cancer. Born and raised as female, Eads married and gave birth to two children before fully coming to terms with his gender identity and transitioning later in life. He allows the camera to witness his life, post-diagnosis, and the slow deterioration of his body as the cancer takes over. There are no surprises here: Robert is dying and will die by the end of the film. As if that is not entirely sad enough, we discover Robert was refused treatment by countless doctors out of conflict of interest, homophobia, transphobia or other factors related to his gender, which left the cancer untreated long enough to become terminal. Ultimately, though, the film is not about cancer or the tragedy of Robert's situation. It 's a character study of this amazing backwoods self-proclaimed hillbilly who forms a new family of queer folk in a very hostile environment, where passing isn't about identity as much as it is about safety. However cliché this may sound, the film is about life and living, about the moments we have with each other and how we choose to use them, and the extraordinary capacity that humans have to find, grow, and make love. Hint: It's okay to cry. Watch this with some cute girl to cuddle you after it's over.
Get Southern Comfort
Pages: 1 2See entire article on one page