ELLEN PAGE:
It's not a coming out, but let's be honest, it's good enough for you. Ellen Page is reportedly playing an honest-to-goodness lesbian in the adaptation of the 2007 documentary Freeheld. Freeheld followed the lesbian couple Laurel Hester and Stacie Andree in their struggle to bequeath Hester's police pension to Stacie as she slowly fell prey to lung cancer – Page will play the film role of Stacie Andree.
We thought this would be an excellent opportunity to look back at all the times Ellen Page played a straight person but still gave us lots of homosexy feelings.
ELLEN PAGE – ALWAYS LESBIONIC, NEVER THE LESBIAN
Ellen Page captured our lesbian hearts the moment this happened: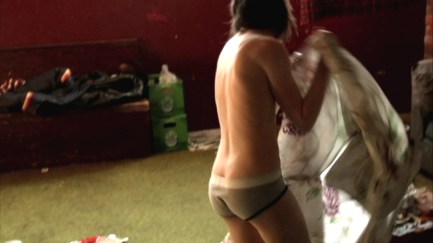 …or maybe way before that. See, Ellen Page often plays dorks, weirdos and outsider misfits. Ellen Page frequently dons male drag for photoshoots and even wears flannel on the red carpet. Ellen Page is everything we look for in a lady, and we'd like to cuddle with her. A look at her past work, leading up to way more info about Freeheld…
Hard Candy (2005)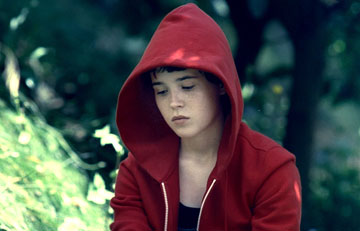 We're pretty sure that Ellen Page has never played an actual lesbian, so this one is probably the closest she's gotten. There's no way to describe Hard Candy other than f*cked up. Page spends the entire movie mentally torturing and threatening to castrate a horrible child molester that she has kidnapped. Her man-hating behavior seems lesbionic (in the worst way possible), and she's avenging the death of a girl she knew. But be warned, it will probably take you a while to care about sex — even in reference to Ellen Page — after you watch this movie. On a scale of 1 to Vadge, we give Hard Candy a thigh tickle.
Mouth to Mouth (2005)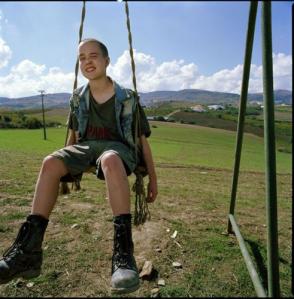 In Mouth to Mouth, Ellen Page's character joins rebel cult SPARK (Street People Armed with Radical Knowledge), leaves her school & family behind for a place where she can truly fit in. Sherry shaves her head, does drugs and wears combat boots. Even Mom can't bring Sherry away from her new crowd. Despite her character clearly being a total het, we give this outsider weirdo storyline a Mohawk on a scale of 1 to Vadge.
X-Men 3 (2006)
Page plays Kitty Pryde in the third installment of the X-Men, and her role here centers around a romantic triangle with Iceman and Rogue (played by Anna Paquin, if only the romantic tension was between them). So yeah, that's pretty hetero, however who doesn't love a cute, powerful mutant girl who can walk through walls? For that power alone, we'll give this one a 3.
Juno (2007)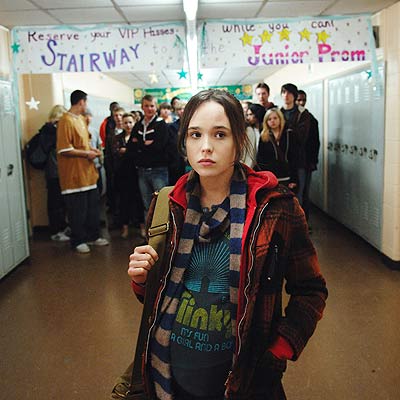 Even when impregnanted via the sperm of a real live dude, Page's sardonic disposition, obvious clash with Jennifer Garner's hyper-hetero character and overall fashion sense just screams Closer to Fine. On a scale of 1 to Vadge, we give Juno a "1.5."
Whip It (2009)
What we have here is a movie that COULD be a lesbian movie, but isn't. Whip It! is lesbian blue balls. In an interview with New York Magazine, Whip It co-star Ali Gaynor was asked about the pink elephant absent from the rink:
The very open lesbianism in the real derby world is kind of soft-pedaled in the film.
I was pushing for Eva to be a lesbian seductress, hitting on all the girls. I tried to push the envelope a little on stuff that didn't end up in the film.
Ellen Page and Drew Barrymore promoted this movie hand-in-hand while french-kissing and gushing about each other in interviews.

On a scale of one to vadge, we give "Whip It" a swift punch to the clitoris.
Freeheld (2011)
The original Freeheld was directed by Cynthia Wade, and it includes the viewpoints of the community and the Ocean County police force as well as Hester and Andree's perspectives. The Board of Chosen Freeholders' decision on whether or not Andree could receive Hester's pension was particularly timely because the Domestic Partnership Benefits and Obligations Act had just passed in 2004, which made it legally possible for Hester's wishes to be carried out, although not required by law – the Board of Freeholders managed to find a series of excuses to deny the pension anyways, like union contracts and of course "the sanctity of marriage." The film follows Hester's decline as the cancer progresses, and Andree's devotion to her. The issue of her pension comes to a head when Governor Jon Corzine becomes involved, and eventually in an emergency meeting the Board of Freeholders agrees to expand pension benefits to same-sex couples. Nine months after Hester's death, the state Supreme Court ruled that same-sex couples were entitled to equal rights under the law, forcing the legalization of civil unions.
The current film adaptation will be written by Ron Nyswaner, who was also responsible for the Oscar-nominated Philadelphia, and produced by James Stern. Ellen Page will play the part of Stacie Andree; it's not clear yet who will play Laurel Hester.
On a scale of 1 to Vadge, we are going to give this a Vadge, but also, a crying vadge, because this movie looks both very serious and very sad.