Pride season's approaching its peak and we're all making plans to check out our favorite artists and celebrity guest appearances. I've personally always felt uneasy about the number of acts booked for pride who aren't necessarily even a part of the LGBT community; artists who aren't truly in support of us the other 360 days of the year who see Pride as just another paycheck. I've even seem some artists making homophobic comments on social networking sites directly after leaving a Pride performance. That's just not cool. It's saddening, really.
Rasheeda isn't like that. She supports our community and we're not just a way to pay the bills. With hip-hop culture being as unreceptive as it is to homosexuality, Rasheeda's genuine allegiance is refreshing. So, I got right down to business and asked her about her recent photo shoot for the NOH8 campaign as well as being an ally to the LGBT community.
GLENNISHA: Not too long ago you did a photo shoot with the "NOH8" campaign. What made you want to support that effort?
RASHEEDHA: I'm a free-hearted type of person. In my eyes the only person who can judge me is God. At the end of the day I feel as though if people have things that they want to do in their life and things that they feel as though is important to them and I feel as if i want to support it, I do that. I support the NOH8 campaign. For people who are out here wanting to do their thing, are feeling a certain way, love who they love, and want to be with who they want to be with I say, "Hey! Do you!" I'm not the person to judge. I support that and that was my reason for being down with the whole campaign.
GLENNISHA: You also recently performed during Philly Black Pride. Is it safe to say that you're an ally to the LGBT community?
RASHEEDHA: I haven't really looked at it like that. I love all of my fans from whatever. I get a lot of gay pride shows and events all of the time. To be honest with you the community is so wonderful. You receive love and they love you in a way that is real and genuine. I just totally think that is a great thing. I have a ball doing it and I love performing. I love to be able to go to the shows because a lot of times I get to watch their shows and I'm so entertained. I have seen people perform "My Bubble Gum" on a level that I haven't even thought about doing. I'm totally in full support. That's just what it is. From seeing the fans from one extreme to the next. I totally love it.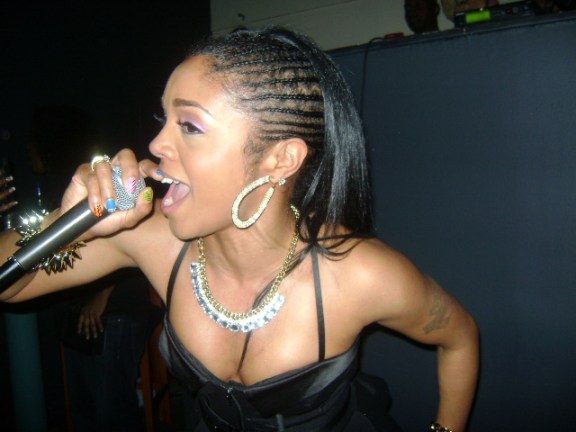 GLENNISHA: Do you have any other upcoming performances or appearances during pride?
RASHEEDHA: I'll be at Houston Splash.
GLENNISHA: For people who aren't familiar with you where can they check out your music?
RASHEEDHA: Please go to iTunes, just search for Rasheeda and it will pull up all of my albums. You can also follow me on Twitter – @RasheedaGAPeach – and also definitely go to my Youtube page, it has all of my videos on it.