When Food Network's Secrets of a Restaurant Chef star Anne Burrell's colleague Ted Allen mentioned meeting Burrell's girlfriend on the "Derek and Romaine" show last week, some gasped in horror and shock — But Anne Burrell isn't out! What has he done?
Anne Burrell herself, however, was not one of the gaspers and her shock was limited to wondering why Allen's comment was being interpreted as an "outing." Her publicist told The New York Post: "Anne does not feel she was outed. She has made no secret of her relationship [with a woman]. It is no secret in the culinary world."
In The Huffington Post, SiriusXM radio host Michelangelo Signorile noted: "Chalk it up to progress that some celebrities are now embarrassed to be thought of as having been in the closet, which increasingly seems like a relic from the last century (even as it still endures mightily). More and more gay, lesbian and bisexual actors, and TV and media personalities, don't want to be associated with the often laughable and torturous subterfuge of it."
Signorile's comments are similar to those I made last week when Jillian Michaels and Heidi Rhoades went public about the tiny humans they've recently added to their family: "Maybe this is the dawn of a new era, where stars forego the traditional "coming out" ritual for more subtle, roundabout affirmations of homosexual affiliation, and maybe this new era is one in which these kinds of announcements really aren't a big deal anymore." It's been a busy few weeks for this topic, with Queen Latifah obliquely referring to the Long Island Pride audience as "her people" at her much-hyped appearance there, Raven-Symoné  confirming-by-not-confirming rumors of her relationship with AZMarie, and both Joanna Johnson and Jim Parsons coming out publicly although they both say their sexual orientation was well-known within the business.
But Burrell specifically comes from a genre that's never lacked for lesbian representation — although queer ladies are sorely under-represented in just about every area of popular media, there's approximately two genres via which lesbians are a'plenty: shows about working out and shows about eating. We have never lacked for a Lesbian Top Chef, that's for sure.
So, in honor of Anne Burrell's kinda-sorta-not-really "coming out," let's look at some of the other fine ladies getting gay in the kitchen!
---
+
1. Cat Cora
Mississippi-born Cat Cora, the host of the Food Network's Iron Chef America and co-host of Bravo's Around the World in 80 Plates, also owns restaurants in the San Francisco and Houston airports and has four kids with her partner, Jennifer. Jennifer birthed Zoran, Caje and Thatcher, and Cat birthed Nash. For a while, Cat and Jennifer were pregnant at the same time, which was pretty f*cking cute.
Much like Burrell, Cora was never really "in" the closet, but she never really "came out," either. When Cora spoke about her partner and family, she avoided gender-specific nouns, but then in November 2007 it's possible some people were surprised to see her in People magazine with Jennifer, making Thanksgiving dinner for their family.
Other television appearances include judging for The Next Food Network Star, co-hosting Kitchen Accomplished, guest-hosting The Best Thing I Ever Ate and competing on Chopped All-Stars.
It's more or less impossible to be mad at Cat Cora. She's got a relentlessly charming Southern accent, for starters, but she's also just all-around funny, smart, quick and clever AND is a major philanthropist. Plus, she cooks! She's like the perfect lesbian.
It's unsurprising, then, that Cora ranked in the 2012 Autostraddle Hot 100 and that she's actually not wearing any pants in that picture.
---
+
2. Jamie Lauren
Lauren was working at a restaurant in Amherst when she decided to leave the The University of Massachusetts for culinary school, eventually moving to San Francisco in 2001 with her girlfriend at the time, where she worked her way into a position as Executive Chef for Absinthe. Lauren interviewed for Top Chef's first season at a friend's prompting and recalls a great interview with casting directors. By the time they called her for Top Chef's Fifth Season in New York, she'd totally forgotten about it but was happy to join up. To be honest, I first became aware of her existence when she started dating Elizabeth Keener, but anyway! Her face is really squeezable, and along with her relatively young age, her tattoos, her lesbianism, and her tendency to swear a lot, she seems, I guess, eminently relatable. Like I already know her, even though I don't like, KNOW HER, know her.
Lauren told GO! Magazine: "I'm very proud to be a lesbian, but I'm a chef first, and a lesbian chef second. I've never had a problem as a lesbian in the kitchen, but I also live in San Francisco. It's a very politically correct city and everyone is super liberal, so it's a little different in this city as opposed to being in New York or a small town."
Lauren returned to Bravo for Top Chef All-Stars, which she more or less hated. She told E! that watching the season was like "watching a trainwreck, watching them edit me to pieces. It's really disappointing… everything was fine [in the first season]. I'm the exact same person. They managed to make me look like I didn't want to be there, I didn't know how to cook and all of these things. Why would they ask me back if they didn't think I could do it?"
She's currently cooking at Wolfslair Biergarten, which opened in January in Hollywood.
---
+
3. Susan Feniger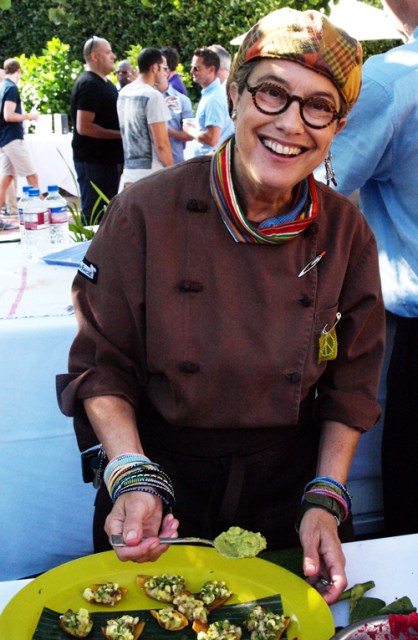 Feniger, a "leading authority on Latin cuisine," has published five cookbooks and was the last female chef standing on the second season of Top Chef Masters. That run was a rare gig for Feniger, who prefers hosting TV shows to competing on them — she co-starred (with eternal collaborator Mary Sue Milliken) in 396 episodes of the 1990s Food Network show Too Hot Tamales, appeared on Julia Freaking Child's PBS Series Cooking With Master Chefs in 1993, and has shown up on Hell's Kitchen and The Next Food Network Star. Feniger has opened four restaurants, most recently "Street" in 2009, a "a multi-ethnic eatery of "street food" in Hollywood." Her partner, Liz Lachman, is a filmmaker.
---
+
4. Anita Lo
This Chinese-American Top Chef Master grew up in Michigan and discovered her "love for French cuisine" while studying abroad in Paris to earn her French Literature degree from Columbia. She then completed her culinary education at Paris's L'Ecole Ritz-Escoffier and currently focuses the bulk of her energy on her restaurant Annisa in New York. She also co-founded the super-successful dumpling haven Rickshaw.
Lo became known outside of the culinary world in 2005 when she appeared on the first season of Iron Chef America, during which she beat Mario Batali, making her the first challenger to win a battle on Iron Chef America and the only female to ever win until mid-Season-Two. She placed fourth of 24 in 2009's Top Chef Masters and lost the Chopped: All-Stars Tournament in 2011.
Lo spoke to Autostraddle in January 2010 about her work with SHARE and being "one of the most vocal advocates for women" in the industry. Speaking on being a lesbian Chinese-American woman in the kitchen, Lo noted, "Perhaps it was harder to get ahead because I am a woman or Chinese – but I never really felt that my sexuality was an obstacle. Out of the three, it has definitely gotten in the way the least. I have not encountered homophobia – and the fact that I am gay has not precluded me from moving up."+
---
5. Kylie Kwong
By Crystal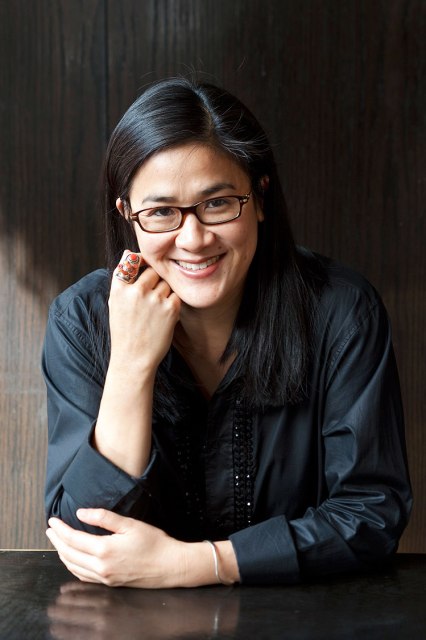 Australian chef Kylie Kwong is an author, restauranteur and television presenter who began making a name for herself in the early '90s as the head chef of Sydney's Wockpool. With dreams of running her own restaurant, in 2000 Kylie opened the doors of Billy Kwong, which focuses on traditional Asian cuisine that is made from locally grown, organic and biodynamic produce. It also happens to be my favourite restaurant in Sydney.
Kylie went on to create two successful television shows, At Home With Kylie Kwong and My China: A Feast For All The Senses, the latter which takes Kylie on 'an inspiring journey from the rural simplicity of her ancestral village in China's southwest to the wilds of the Tibetan plateau and the stylish modernity of Hong Kong and Shanghai' and is super interesting. Kylie also makes an occasional appearance as a guest chef on MasterChef Australia.
Most were unaware of Kwong's sexual orientation until a few months ago, when she mentioned that her girlfriend of five years was pregnant.+
---
+
6. Elizabeth Falkner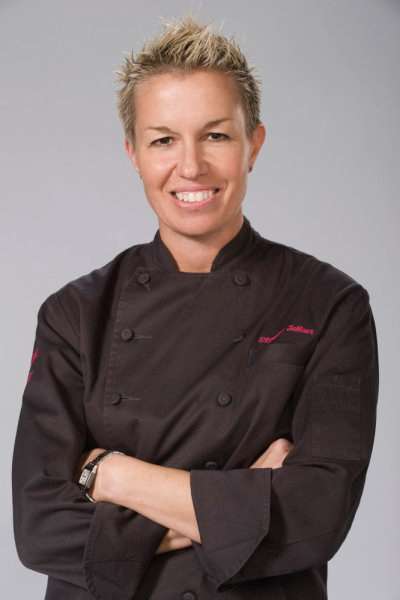 Out lesbian Falkner's career as a chef kicked off in the early '90s, after receiving a BFA in Fine Arts from the San Francisco Art Institute in 1989. She worked in restaurants around San Francisco, eventually heading up the pastry division at Rubicon. Falkner's claim-to-fame is, now and forever, pastries: she opened the legendary Citizen Cake in 1997, which is well-known for its "original and creative" cake designs. She's an exceptionally prominent, acclaimed and popular figure within the Bay Area's culinary world.
Falkner's TV debut was in 2006, when she was featured as a guest judge on Top Chef. In 2009, she appeared alongside fellow out lesbian chef Anita Lo for the first season of Top Chef Masters. Her television resume now includes Iron Chef America, Tyler's Ultimate, $40 a Day, Sugar Rush, Best Of, Bay Cafe, The Next Iron Chef and Top Chef – Pastry.
---
7. Ashley Merriman
Merriman grew up in New Hampshire, studied at The Institute of Culinary Education and was working at Seattle's renowned Branizno in 2009 when she got picked up for Top Chef's sixth season in Las Vegas. The Stranger noted that "typecasting [for Season Six] starts early and hits hard" and that Merriman's role was shaping up to be "The Militant Dyke," having expressed strong feelings about same-sex marriage during a bachelor/bachelorette-party episode.
Merriman now lives in New York: "I currently live in Brooklyn with my lady, a diabolical kitty named Butcher, a dog named Baker and lots and lots of books." She's also really fucking cute and I want to ruffle her hair and kiss her face or something.
---
8. Lynn Crawford
Crawford, a tattooed motorcycle-riding Canadian butch lesbian, has worked as Executive Chef at Four Seasons Hotels in New York City and Toronto, trained at George Brown College in Toronto and actually apprenticed for Alice F*cking Waters at some point. She's perhaps best known as one of the rotating chefs featured on the Food Network show Restaurant Makeover and her 2007 spot at Iron Chef America, where she competed against Bobby Flay.
In 2010, Crawford created the show Pitchin' In for Food Network Canada, which takes her "out of her comfort zone" into "the great outdoors" to like, deal with actual plants and animals and farmers and stuff. That show is still on AND she recently opened Ruby Watchoo, a table d'hôte restaurant, in Toronto. Her partner Joy Lachita is a schoolteacher and playwright.
Lynn Crawford is pretty kickass, I wouldn't mind having dinner with her. Obviously she would cook, otherwise it's pesto pasta for everybody!
---
9. Josie Smith-Malave
For a while in the mid-to-late '00s, I saw Josie Smith-Malave at literally every single lesbian event I attended in New York City, ever. Seriously it was weird. Anyhow, after being sidelined by a neck injury, the former New York Sharks football player decided to "[take] all that energy and transfer it to being a chef." Smith-Malave was born in Miami, went to culinary school in New York, and was a sous chef at Brooklyn's Marlow and Sons when she was picked for the second season of Top Chef.
She told AfterEllen that her sexuality was never an issue: "[The show's producer's] were very welcoming. It's a very open-minded network. I mean, Queer Eye and everything. They're into pushing the envelope." But in 2007, along with her sister and a lesbian friend, Smith-Malave was reportedly attacked by "a mob of 9-12 young adults" shouting gay slurs in Sea Cliff. It was horrifying.
Now, Smith-Malave's star continues to rise. She describes herself on the Chef Josie's Global Soul website as "a classically trained bohemian chef, global adventurist, TV and radio personality, entrepreneurial freedom fighter, former women's pro football player, social activist and lifestyle ambassador."
---
+
10. Jennifer Biesty
Season Four of Top Chef, Top Chef: Chicago, featured an actual lesbian couple forced to compete against each other — Jennifer Biesty and Zoi Antonitsas — which was either a huge unfair advantage or a semi-disadvantage, depending on who you ask. Biesty, now the Executive Chef at Scala's Bistro in Union Square in San Francisco, was eliminated shortly after her girlfriend got the boot, but her fauxhawk lingers forevermore in our collective memories.
---
+
11. Lisa Fernandes
Canadian Lisa Fernandes was not Top Chef Chicago's most popular contestant but that didn't stop her from almost winning. "Often sparring with the other contestants and shown sporting a scowl during Judges' Table, Fernandes became the contestant that fans loved to hate," wrote Dorothy Snarker. Also, Fernandes returned to the season finale with a serious Alternative Lifestyle Haircut which she says was her girlfriend's idea.
Fernandes's Top Chef competitors included Jennifer Biesty and Zoi Antonitsas. Fernandes told AfterEllen: "…there were two other lesbians and that's cool. Like Spike said, "Yay, lesbians!" But no secret lesbian handshakes."
Entertainment Weekly named Fernandes as one of Top Chef's 12 Top Villans, claiming, "…every time the camera cut to her, she was either screaming at someone or giving majorly stanky stinkface. That could have been largely editing, but forget her hostile attitude. What really irked fans was that she didn't seem to care all that much about her work — she defended her lazy, sloppy dishes and went on a four-week run in the bottom before, bafflingly, becoming runner-up along with eventual All-Star winner Richard Blais."
---
+
12. Yoanne Magris
French chef Yoanne Magris owns renowned Creperie Yo In Yo Out in East Harlem and in 2010 appeared on Food Network's Chopped series, where she was hoping to win enough money to visit her dying grandmother in France. She competed against three other female chefs (rare for Chopped) and mentioned in her opening monologue that she came to America ten years ago partially 'cause the culinary world in France was too much of a "boy's club."
Short of making this into a recap of Yoanne's brief tenure on the aforementioned Food Network Series Chopped, I will just mention that it was impossible not to fall in love with this woman. She forgot to use the banana chips in the Appetizer round but her thing was so good and her personality so sweet that they let her continue, only to be eliminated in the final round.
Magris had a chance to do it again when she was invited to Chopped: Redemption, in which she was a finalist along with Lance Nitahara, a Chef at Camp of the Woods Resort in upstate New York, an extraordinarily kind man who spent a lot of time talking about G-d and prayer and faith and the strength G-d gives him. During the entree round, Magris slipped and literally poured scalding hot water all over her legs and still KEPT MAKING THE POTATOES.
It was nice when it was down to Lance and Yoanne, because they were both such good-spirited people, you know? When Yoanne was told to pack her knives and go home, Nitahara was like, "wait!" — and announced that he'd like to give his prize to Yoanne so she could go see her Grandmother. Everybody cried, and he hugged her and told the teevee that he felt blessed. It was like the cutest thing ever.
The only thing that could've made me feel happier inside would've been if Yo-In-Yo-Out had existed when I lived in East Harlem.
---
13. Tiffani Faison
Bisexual Bostonion Tiffani Faison became Top Chef's first queer lady when she was chosen for the very first season of the now-legendary program, which took place in San Francisco. She almost won, but then she didn't win, which was probably really sad.
She later returned to Top Chef All-Stars, where she was eliminated along with lesbian chef Jamie Lauren in the sixth episode. As of 2011, Faison was running her own Texas-style barbecue restaurant in Boston, Sweet Cheeks Q, and was engaged to her girlfriend Kelly.
---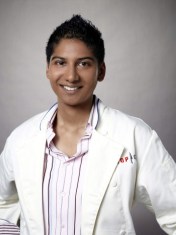 14. Preeti Mistry
London-born and California-bred Preeti Mistry's appearance on Top Chef: Las Vegas was slightly overshadowed by my crush on Ashley Merrimen. Mistry, then the Bon Appetit Management Company's Executive Chef, now lives in San Francisco and serves up "Indian street food, snack food and a bit of homestyle cooking" for her Juhu Beach Club pop-up.
+
---
++15. Lina Biancamano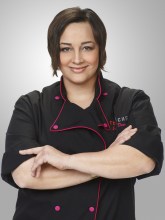 Biancamano was raised in Arizona and studied at Le Cordon Bleu in Scottsdale before moving to Fort Worth, Texas, where she was working as Executive Pastry Chef at Stephan Pyles when picked to join the cast of 2011's Top Chef: Just Deserts. Unfortunately, she was the first person eliminated, but at the end of the day, she's still gay, so that's something!