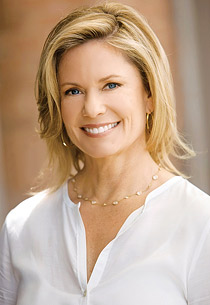 TV Guide today released an exclusive interview with "Bold and the Beautiful" star Joanna Johnson in which the 50-year-old actress revealed that she is a lesbian! Yup. Johnson has been dating L.A. club promoter Michelle Agnew for nine years (they married in 2008, during that brief period of time when it was legal) and they have two adopted children together, Julian (5) and Harlow (2).
Johnson started on "The Bold and the Beautiful" in 1987 as "doomed heroine" Caroline Spencer, who died in 1990, and Johnson returned to the show in 1992 as Spencer's twin sister, Karen. Aside from a brief five-episode run as Karen in 2009, Johnson was absent from the show from 1993 'til 2011, when Karen returned as a total lez. Karen is now married to "Dani," played by Crystal Chappell. (You may recognize Chappell from Guiding Light, in which the actress played Olivia Spencer, whose same-sex relationship with Natalia Rivera was very well-received — "Otalia" went on to be the focal point of Emmy-winning webseries "Venice.")
Johnson stepped away from acting for a while after her first stint on The Bold & The Beautiful, focusing instead on her work as a writer and producer —  she created, produced and wrote the Kelly Ripa sitcom Hope & Faith and also wrote and produced Make it Or Break It.
Apparently, Johnson has been hanging out with Ellen and The Eth for eons, but she never felt pressured  to come out: "I was so worried I wouldn't be employable as an actress if people knew I was a lesbian. Or that I wouldn't be believable in romance stories. I had to deal with a lot of self-loathing."
She thinks it might be her character Karen's sexuality that encouraged her to finally come out: "I guess that's why I'm ready to open up. It feels weird and wrong to play this revelation about Karen's life and not talk about my own."
"When I realized I was gay in my early 20s we didn't have role models like Ellen," she told TV Guide. "I'm not anywhere near as famous as those ladies, but I guess it's my turn to do my little part. It's time to live a fully authentic life."
TV Guide's interview is pretty good — Johnson talks about coming out to her family at 23 (her Mother eventually died before ever accepting Johnson's orientation) and how much easier it was to be "out" behind-the-scenes in Hollywood than it was in front of the camera. TV Guide also asks her "Caroline had an epic love affair with Ridge. Karen had romances with Thorne and Connor. Ever have trouble playing the boy-girl stuff?," which made my eyeballs scream, but there's also interesting bits like this:
TV Guide Magazine: Did the rest of the cast eventually learn the truth about you?
Johnson: Gradually, but only after I came back to the show as Karen. I was the most nervous to tell Katherine Kelly Lang [Brooke]. She and I started out as the two ingénues of the show and we looked so much alike that people got us confused. In magazine photos they were always ID-ing her as me and vice versa, so much so that we started calling each other "Twin." Maybe it was hard for me to tell her because I felt she was what I was supposed to be — the beautiful girl with the great body, married to a guy, a mom. I don't know. I really struggled with that one, but it was all in my head. Katherine had no issues with me being gay whatsoever. She's a good dame, but I didn't know enough to trust that. When your own parents reject you, as mine did, you think the rest of the world will do the same.
Real talk: I've actually never heard of Joanna Johnson and I'm guessing you haven't either — but I have heard of her wife, Michelle Agnew, the co-founder of FUSEevents (along with Linda Fusco), because FUSE is a super-big deal and I've been to several of their events including a memorable evening of Lesbian Oil Wrestling in 2008 hosted by Elizabeth Keener and Michelle Wolff during which my best friend tried to cajole me into talking to Ilene Chaiken. (I resisted with the fury of a thousand suns.) FUSE does Truckstop, GirlBar Dinah Shore, and lots of L Word and Real L Word parties. So perhaps we'll be seeing Joanna's face out & about more often in the future, although I suppose somebody has to stay home with the children. Well, I'm sure they'll work it out.