It's Thursday night and I'm at the renowned Newtown lesbian institution, The Bank, waiting to interview Renee Lim and Debra Ades — two actors from the Australian lesbian webseries, The Newtown Girls, which we've been posting on Autostraddle for the last ten weeks. (If you've missed it, catch up here.)
Our interview is to celebrate this week's season finale, in which we finally discover which lovely lady of Newtown wins Scarlet's heart. If you haven't seen this episode then you should probably press play on the video below or else this interview will contain spoilers.
Now back to the interview! The writer and producer of The Newtown Girls, Natalie Krikowa, shows up first; she tells me lots of interesting things about the making of the show, including how they decided the season would end, and why — none of which I was clever enough to get down on tape.
Before not too long, Debra Ades – who plays the high energy Scarlet — shows up, looking and talking pretty much like Scarlet. She can't stay long because she wants to dye her hair pink. Renee Lim — who plays the suave heartbreaker Alex — soon follows, and despite Natalie's warning that Renee is nothing like Alex, I still double-take. Renee is the antithesis; for one she's super cheerful, she rocks up with long flowing hair and wearing a long flowing floral dress (at one point during the night she says, "I actually tried to look a little like Alex today" and if you were there then I think you would have found it funny).
After establishing that Renee, Debra and Natalie are the friendliest and warmest people that I've ever interviewed, we chat about what everyone's been doing since the series wrapped (Debra: shooting a movie in Milan and starting film school. Renee: shooting various projects in addition to her day job as an ER doctor), among other things, which you're about to read.
At moments throughout this interview, Renee and Debra unknowingly start speaking to each other as Alex and Scarlet, which was at times confusing but also the most adorable thing ever.
What attracted you to the Newtown Girls project?
Renee (Alex): At first it was the descriptions of the characters. I actually had no idea what part I wanted to play, I wasn't particularly fussed, and then when I walked in everyone seemed really cool, I knew it was going to be a fun project. I think I was attracted to the light-hearted nature of the project — I usually do a lot drama, a lot of serious heavy stuff and so I was looking for something different.
Debra (Scarlet): I'd never played a gay character before and it was something that I had been wanting to do for a long time. I thought, "oh, it'll be like The L Word!" and then got really excited about that. I initially auditioned for the role of Alex, thinking I was going to be the cool heartthrob player… but no, totally wrong! I had also been wanting to do a webseries.
What was the appeal of doing a webseries?
Debra: I like that it's online, that the whole world can tap into it. It's an accessible format that you can keep going back to… well, not that I want to go back to it, I don't want to watch myself — but I like that other people who want to go back and watch the episodes can do that.
Renee: From a production perspective, I think web projects give more people the opportunity to have a go. They can make their idea happen without having to worry whether the head of a TV network is questioning whether it's going to make them millions of dollars. And some of those network people, let's be honest, they can be quite narrow-minded and for the masses, they don't really think about the audiences whose interests are not being catered to. Web projects are also great because you can take your passion and ideas and just get the job done; you don't have so many people saying, 'Oh I really love this, but it's going to take us three years to make it happen.' It's easier to attract professionals to work on these projects because they have relatively short lead times. In this case, the production team were able to work around our crazy schedules and the fact that none of us were available, ever.
How did you prepare for playing the role of lesbians?
Debra: Growing up and living in this area — knowing a lot of gay people, knowing the Newtown area back-to-front, and sort of knowing how the gay scene works… that all helped. And of course shows like The L Word!
Renee: I based Alex's character on my best friend.
Did she give you any tips? That thing where Alex was always messing up the back of her hair, was that hers?
Renee: [Laughs] No. Actually when I told her that Alex was based on her, she said "Really? Oh my God!" I should say that Alex was based on my best friend, but minus the trendiness. Deb is right, that sort of thing was picked up from spending a lot of time in Newtown. When you say 'Newtown girls' I totally get what that means, I understand that vibe. As for the physicalities of these characters, you really just have to look around. [She motions to the people sitting around us at the Bank and we all turn, look, then laugh. Point made.]
Question for you, Renee. How is Debra different from her character, Scarlet?

Renee: Not very! You could say that Deb was very well cast for the role. Although Debra is much more caring and thoughtful than Scarlet, and more beautiful. Although, I would say that a lot of character traits that make Scarlet so special are probably ones that Deb herself knows of and occasionally experiences. And I think that's why she does such a great job, because some of Scarlet's issues were ones that Deb has had, so she would kind of go, "Oh I did that last weekend!" Every now and then a couple of sentences would come out of her mouth and I'd be like, "Did you really just say that, Scar? I mean, Deb? I mean… I'm confused, was that in the script?"
And Deb, how is Renee different from Alex?

Debra: The complete opposite! I remember at one of the very first shoots, Renee was going out afterwards and she put on her normal attire – which is pretty much what she has on now – she was wearing a sun dress, and her hair was out and she was not at all Alex-y. When she turned around and I was all, "WHAT. Oh my god, you are so girlie!" So in that sense she is completely the opposite. But not when it comes to strength, Renee definitely has the strength that Alex has.
What was your favorite scene to shoot?

Renee: [to Deb] My favourite scene to imagine is the one where you get hit by all the balls.
Debra: Oh, thanks!
Renee: My favourite would be the last episode. I think it gave Alex a lot of closure, she had an opportunity to express her feelings which was great because Alex holds a lot of shit back. It was just like, "Thank god, I finally get to [mimics throwing up her feelings]"
Debra: I think the appeal for me is that everything up to that point had been relatively light and fluffy, and the last two episodes were a chance to go deeper.
Renee: Kissing a lot of hot chicks was definitely a highlight. I doubt anyone would believe me if I said it wasn't. I think one of my favourite episodes was when we shot here, at The Bank.
Debra: Oh yeah! There were a lot of people here, there were lot of laughs.
Renee: Scarlet was really drunk, and I was trying to pick up the girl that she wanted to hook up with… it was all very entertaining.
So now we know that Season One ends with Scarlet choosing Lexie. Good outcome?
Debra: I think Scarlet should have gone with Kym! I think that was an unfair call, you know?
Kym? Really?
Debra: Yeah! She was…
Renee: But Lexie makes the most sense for Scar. That's the most healthy relationship…
Debra: Yeah I know, but Kym… it wasn't meant to happen, the split…
Renee: I would argue that Alex and Scar would never work, Alex loves her but it's not a relationship kind of love…
Debra: Like if you wouldn't have met me then you wouldn't have…
Renee: Yeah. As friends I could be to her what she needs me to be, but as a partner, I couldn't.
[Debra and Renee have started doing this thing where they start a sentence but then stop, look at each other and communicate the rest of the thought telepathically, I guess, which is difficult to follow but fascinating to watch. They suddenly realise that they've been talking to/about each other as Alex and Scarlet and burst out laughing].
Renee: I think being with Lexie is a good outcome because Alex loves Scar and so she wants her to be happy and to have the best relationship.
I got the impression that quite a few people on the internet were hoping to see Scarlet get together with Veronica…
Debra: REALLY? That would have been so funny.
Renee: I'm sure Veronica won't stop trying! But don't forget that with Lexie, it's still really early in their relationship, we don't know what's going to happen.
Debra: Yeah that's true, it's still the honeymoon period.
Renee: [to Deb] And I hate to say it, but dude, Lexie is boring.
Debra: But maybe that's what Scarlet needs! That responsibility in her life…
Renee: At least Veronica would be entertaining, at least for Alex. And you could be in control for once. I mean, Veronica is going to let you do whatever you want…
Debra: [laughs] That's true!
Let's say that Season Two happens, what do you think is on the horizon?
Debra: I think the show could be a little raunchier! M rated, perhaps. Maybe even MA? And I think Scarlet definitely needs to move out.
And what do you think Alex will do now that she didn't get the girl? Back to one night stands?
Renee: I think this experience has made Alex assess what she's doing with her life, and where she's not going. I also think that our extremely intelligent and emotionally aware producers, writers and directors probably won't send Alex back to that place. She may try it – it may be her way of dealing with her broken heart, to try to mend it with lots of bad dates… hot bad dates… but I imagine that won't keep working for her. There may be a rift in Alex and Scarlet's relationship for a while but I think they will pull through. [deadpans] At least I hope they do, otherwise I've run out of people on this show who I can hang out with – I hate the other two.
Debra: [jokes] Maybe you could become straight, get yourself a boy or something…
Renee: That would definitely take things into an interesting direction. Alex is kind of destructive, there's that element to her that's all 'fuck me, fuck it all'… there are some self-worth issues there that probably need to be dealt with at some point.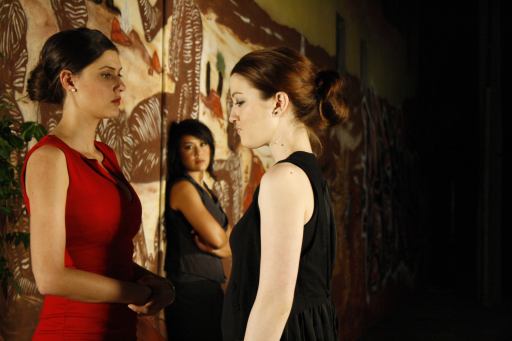 Natalie, what are your thoughts on what could happen in Season Two?

Natalie: Well, Alex is NOT going to date any dudes, that's so not cool. [laughs] We like that this season ends with a lot of questions, a lot of possibilities. Veronica is now separated from her husband, so maybe she will come out onto the scene as an older femme lesbian who is trying to find her way, that could be an interesting storyline. Obviously Scarlet has to grow up a bit and stop relying on other people to get her through, maybe she will go on an individuality quest. As for Alex, she just really needs to sort her shit out! I think she realises that if she wants her relationship with Scarlet back then things need to change; she knows that she fucked up and she's not delusional enough to think that she can get her best friend back straight away.
What was your motivation for creating The Newtown Girls?

Natalie: The lack of funny webseries that we have access to at the moment. Obviously there are a lot of queer webseries out there however they mostly focus on drama. As much as that's a part of everyday life, we really just wanted to create something that people could laugh at. Something that had a bit of drama in it, but was mostly a light-hearted comedy.
I feel like people in Newtown are very protective of their community, and of the way that they are represented. Were you concerned about portraying the community accurately?

Natalie: Yes, absolutely. And I think you're going to get that in any community. We purposely wanted to set this show in a real place because we wanted people to be able to get a feel for what it's like to be in Newtown. However, you're not going to get a completely accurate representation because this is not a documentary series — it's a fictional series that happens to be set in a real suburb. So I think a lot of people clash with that idea, they think that these characters should represent everything that Newtown is and that's just not the case. We hired the actors based on their ability to play a role, and not because of their authentic Newtown-like style. It's still a fictional series, it's all make-believe.
**
At this point I turn off my multiple recording devices thinking that we were about to leave, but then we didn't, and therefore you missed out on some interesting and somewhat revelatory conversations about other lesbian web projects and the cast's experiences at popular queer venues in Sydney. Sorry.
Season Two is a thing that may or may not happen in the future, depending on schedules and funding, so if you're interested then keep an eye on The Newtown Girls website for updates.