When we talk about the future of issues that currently stand in the way of true equality for queers, we often talk about a kind of inevitability connected to age. The idea is that once the population that's currently in high school and college, the generation that grew up with Adam Lambert and Lady Gaga, is middle-aged, they'll make political decisions that reflect the fact that gay people are familiar and relatively nonthreatening to them. In short, the fight for equality is at least on some level just a waiting game.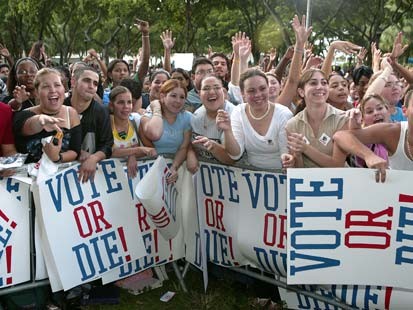 Although polls do generally show that younger people are more supportive of gay issues, and tend to have more out gay friends (and other polls have shown that people who know at least one out gay people are statistically more likely to support their cause), that may not mean that all it takes to stop being second-class citizens is waiting until Jedward fans can vote. In the aftermath of North Carolina's Amendment One vote, The American points out that while we might like to think that the same vote would look drastically different if we just fast-forward 30 years, that's not necessarily something we can count on.
The argument that Lazar Berman and Daniel Berman make is that while it's true homosexuality and gay people are more likely to be perceived as normal by young people, that's not the same thing as "support." While there were no exit polls for the vote in North Carolina, it appears that young voters actually fell along similar lines as the general population — SurveyUSA found that the overall breakdown was 57-37, while young voters were at 41-48. This appears to imply that there were more "undecided" voters in the younger age group, but as The American points out, voters who are undecided in polls almost always end up voting against same-sex marriage when they reach the voting booth. Berman and Berman assert that "even if nobody over age 45 had voted Tuesday, the amendment still would have passed by around 8 percentage points, according to the adjusted data above."
Much of the thinking behind much of the campaign for marriage equality has worked off of the premise that to know us is to support us. But these numbers indicate that it may not mean "supporting" us so much as "tolerating" us. And if we're going to radically change the personal and legal experience of gay people in America, we'll need a great deal of active solidarity from straight people (and especially young ones), not just what Berman and Berman term "opposing something less stridently" than others. It's painful to recognize, but while the fact of our inherent worth as people is obvious to us and seems as though it must be obvious to anyone growing up right now, we apparently still need to make our case more actively to the nation as a whole, and perhaps especially to those people who are heading to the polls for the first time in 2012, or even 2016. Although we shouldn't need to lobby anyone for validation of our right to equal treatment, especially kids who have lived through the bullying epidemic that's changed the entire conversation about being gay, it might also be a mistake to think that we don't need to.