For all my fellow masculine dykes, dapper queers, handsome bois, and butches in the dressing room struggle – I bring you tidings of great joy, and news of a Kickstarter campaign near and dear to my heart.
Saint Harridan is on a very honorable mission: providing high quality and highly handsome suits for all bodies. Founder Mary Going came up with Saint Harridan when she was trying to find a suit for her wedding. After one too many ordeals in the men's department, she went the customized route and realized that finding a suit that fits shouldn't be such a painful process.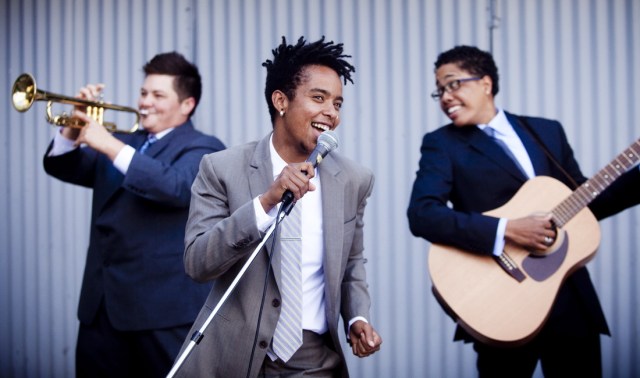 What if there were a company that made menswear for people who weren't assigned male at birth? We know firsthand the trials of blazers that don't quite fit, rolled-up cuffs on brought-in pants, and shirts that never seem to work with our chests. Saint Harridan wants to make menswear that fits you in every possible way. No more compromising when it comes to your wardrobe; no more feeling uncomfortable in the outfits that are supposed to make you feel like a million bucks.
The Kickstarter campaign was launched on November 26, and within 24 hours, half of the $87,000 goal had already been met. With 17 days left to go, Saint Harridan has done the impossible and reached $101,064, with 871 backers and an outpouring of support. If you add your pledge, you're eligible for handsome t-shirts, dogtags, or even a suit of your own.
Saint Harridan will launch their Pop-Up Tour in 2013, and they're looking for models. The Pop-Up stores will show up in any city with 100 or more model applicants, so whip out your bowties and upload your pictures to their facebook page. Get your friends, partners, and favorite queers to vote, because the grand prize winners get to model in the Saint Harridan show and appear in their marketing material. Plus, their image will cause ladies around the globe to swoon. And we know everyone likes making ladies swoon.
Keep up with the cause by following their blog, liking them on facebook, and pledging their Kickstarter now!