Jenna Lyons, the president and creative director of J.Crew, was the target of much conservative panic and much liberal love earlier this year when she allowed her son to wear pink toenail polish in the J. Crew catalog. Now, with this week's announcement that she's going through a rough divorce with her husband of nine years, Vicent Mazeau, and is romantically involved with another lady, a similar cycle of cheers and jeers has begun. Lyons separated from Mazeau this summer.
According to The New York Post (who does not cite their sources and therefore could be full of shit):
A fashion insider told us: "After the breakup, Jenna fell in love with Courtney [Crangi], whom she had been friends with for some time. They've known each other for years through the fashion business.
"Courtney is an attractive blonde who balances working hard with her family."
Jenna and Courtney, a mother of three, have been spotted sharing romantic dinners at restaurants around the West Village and at some fashion events together. Friends say the new couple are quietly open about their relationship.
We're cheering, obviously. I mean, Courtney Crangi, (sister and business partner of jewler Philip Crangi) and Jenna Lyons are a serious power lesbian couple straight out of Helena Peabody fan-fic: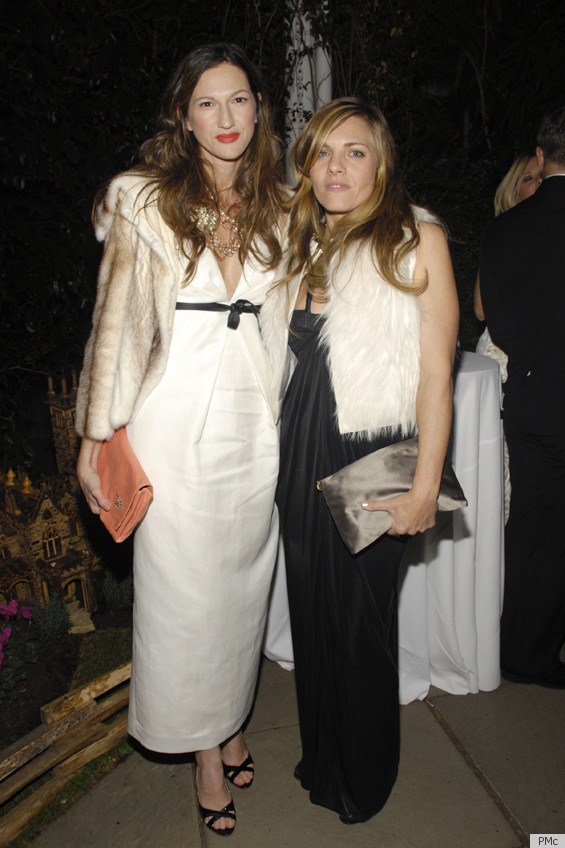 Stylecaster says "the girl's got good taste" and we agree.
However, Dr. Keith Ablow is furious.
Ablow wrote an inflammatory article on the topic for FoxNews so ridiculous that if it was a comment on an article and not the article itself, I would've advised myself not to feed the trolls. To Ablow, this announcement proves that Lyons "wasn't just having a little, harmless fun with her son Beckett when she published a photograph of herself painting his toenails hot pink."
Dr. Ablow pats himself on the back with his devil-claws for most of the article, as clearly Jenna's lesbianism is proof that he was correct in his evaluation that Jenna was indeed "promoting a cultural agenda at her son's expense — and at the expense of all our sons whose masculinity was being downplayed."
For evidence of this motive, Ablow points out that in order to best promote gender deviance Jenna "made sure that his hair was long and wavy" and spent "tens of thousands of dollars (or a hundred thousand or more) to distribute that particular photo of Beckett to millions of us." I appreciate Ablow offering us a range of options for the cost of fashion photography, but also I feel like the point of creating, printing and distributing that catalog was to sell clothes. Maybe I'm just old-fashioned.
Ablow continues that Lyons is presently "battling over how much of a settlement to give her ex-husband, since she was the breadwinner in this family" which he also sees as problematic. It's 1864 after all, and if young Beckett has any chance of growing up to be a strong man like Keith Ablow, Lyons should be BAKING SOME PIES.
Ablow emphasizes that he's not criticizing gay relationships or divorce, simply that:
"Ms. Lyons might be expressing her own discomfort with masculinity and projecting it onto her son—and mine, and yours—seems to have been justified. It says that Lyons does seem to have been promulgating her perspectives on gender roles having no value.
It says that she was, indeed, apparently using J. Crew—a brand so many of our kids gravitate toward—as her launching pad for a mini-campaign to change the way our kids think about their bodies and their gender identities."
He ends on the ominus note: "don't be surprised if Ms.Lyons is cast on a reality show in the future."
Ablow missed some juicy tidbits about the J. Crew family, however. For example, in 2005, Peggy Drexler, the wife of J. Crew chairman and CEO Mickey Drexler and a former scholar at Stanford's Institute for Research on Women and Gender published a book called Raising Boys Without Men: How Maverick Moms Are Creating the Next Generation of Exceptional Men. Drexler interviewed same-sex couples as well as single moms and told the San Francisco Gate that "the message for all parents is that good parenting is not anchored to gender. It's not the gender that matters but the way a family acts. And the more times the family sits down at a dinner table together is more important than the gender of parents at the dinner table." So clearly this is a systemic issue.
About a week ago, The New York Times did a piece on same-sex wedding atire in which J.Crew was a primary focus. In it, Lyons says that J. Crew's wedding shop has outfitted many lesbian couples and there's been an increased demand for "simpler dresses, as a way for a woman to differentiate herself if her partner decides to go the princess pride route" and maybe a "white pantsuit" though "it's not necessarily for a lesbian." The article also mentions that when the New York gay marriage bill passed, Drexler immediately suggested feauring same-sex couples in the catalog, of which Lyons says "We talked about it as soon it happened. It was a show of solidarity and support."
This wouldn't be the first time the catalog featured a same-sex couple:
However, my friendly independent women, you should know about Jenna because Jenna Lyons is quite a role model for women in business. She is responsible for transforming J. Crew's aesthetic from "boring preppy basics" to "chic, must-have pieces." At 43, she's become "the unofficial it" girl of the fashion world thanks to her dream job, quirky-cool personal style and to-die-for townhouse in Brooklyn, New York." The Obamas are fans of her work.
Lyons was profiled in New York Magazine in August 2011, which notes that "the overall effect [of Jenna's appearance] is of a woman who knows the might of her presence and handles it carefully." The writer describes a meeting at J.Crew:
[J Crew chairman & CEO] Drexler … poses a question to the group of twenty executives: "How do we get more women to wear men's shirts, like Jenna is wearing?" 
"Show 'em a picture of Jenna," someone says. This is a joke, but it's also the right answer, and it hints at the power that Lyons has come to wield over the aspirations of young and youngish women. (A second hint: "Jenna Lyons girl crush" brings up half a million Google hits.) "Everyone from industry professionals to the younger generation of bloggers is crazy about her sense of style," says Nina Garcia, the fashion director at Marie Claire. "Jenna has mastered the art of the high-low mix."
The article ends by stating that "with her messy hair and casual cuffs, Lyons offers an appealing kind of modern compromise: You can have it all, because you don't have to do it all perfectly." I don't know, she seems pretty close to perfect to me. Welcome to the family, Jenna!