As I watched Pretty Little Liars this week I realized something. Someone who wrote this show listened a little too carefully to Anton Chekhov. "If you say in the first chapter that there is a rifle hanging on the wall, in the second or third chapter it absolutely must go off. If it's not going to be fired, it shouldn't be hanging there." Pretty Little Liars has gotten so complex in its plot line and character intermingling that I found myself rewinding to properly hear Holden's lines. Holden. Minor character #448. The downside is this ain't no Lost. When Caleb explains his password to Hanna (which by the way is a terrible idea to do with your S.O.) you just know that shit is coming up in the second half of the episode.
When we start our episode, the Rosewood High School Swim Team has just returned from their big win at the 1964 Tokyo Summer Olympics. Maya is super psyched to see Emily after their [insert amount of time] apart and even commissioned a professionally made sign using promotional shots from season one.
While Emily and Maya demonstrate a true expression of romantic love by linking pinkies, Caleb and Hanna grope in the corner while Caleb tells Hanna that his cell phone links his laptop to WiFi (WINK WINK). Aria awkwardly tries to explain to Spencer that it's time for Spencer to get her crazed type-A personality the fuck outta the Montgomery's living room. Apparently Spencer has been bunking with Aria since she found out about brother-Jason.
Just as everyone is congratulating Emily, we are reminded that there's only one Po-9 on duty in this town and his name is Garret. Garret has a warrant to confiscate Caleb's laptop on account of jargon jargon jargon. Caleb's like, "Pigs!! You ain't got nuthin' on me! My livejournal is password protected!"
Unfortunately, A texts the liars letting them know that she's down to fuck with Caleb and they'd better get themselves all sorts of prepared 'cause she's gonna make Caleb eat like so many cupcakes.
Besides the fact that Hanna's eyes are making a beeline for Aria's tits, there are only two other important notes on this picture. Spencer's sweater basically wins life. I love a basic sweater with just a small detail to make it unusual. It's really easy to feel like all you wear are boring basics but you're too scared/busy to branch out more. On a tan sweater, just a few colorful stripes go a long way towards jazzing up an outfit. Also, Aria's bow bracelet is the cutest thing since a bunch of kittens. Bows are really hip right now and something like a bow accessory can give that So Preppy It's Not Preppy Anymore look.
Hanna, who earlier didn't know what a Wifi Hotspot was, naturally assumes A's text means A has planted the Watergate files on Caleb's computer. Either way, Caleb's not worried because he can remotely wipe his hard drive using his Mattel Star Trek Communicator. Caleb goes to hack in, just letting Hanna know that his password is the initials of all the places he's lived in alternating caps followed by 1105 and and exclamation point (WINK WINK). Caleb logs in but, womp womp, discovers that the cops haven't opened it and he can't wipe it unless it's hooked up to WiFi (WINK WINK).
I'm starting to have bizarrely strong positive associations with Hanna just because her clothing is so easy to find online. I guess that is part of her being an "it" girl. That being said, the red jacket she's wearing costs like $700 originally. I have no sympathy for Ashley Marin as clearly she has no idea what budgeting looks like.
Hanna and her mom agree to host Emily's swimteam's celebratory party (so I guess Pam left town) but just as the fun is beginning Hanna gets hauled off to the police station where she and her mother are confronted with pictures of the girls in candy striper costumes outside the morgue. The police totes think that the liars stole "Page 5." Reminder: it was Garret. Dick.
As soon as Ashley and Hanna leave, Garret finally realizes he lacks the computer hacking skills of an 11th grader, and he calls Caleb in to the station to enter his computer password. Caleb calls Hanna from the precinct and lets her know he's in a HOT SPOT. Approximately eight million hours later Hanna realizes that Caleb means he can connect his laptop to the internet when Garret opens it and that he wants her to remotely access his hard drive and delete anything incriminating. Even though I just typed it from memory two days after seeing the episode, Hanna can't remember the numbers. Spencer, who's with her for some reason, prompts Hannah to see if she remembers if it was a special date or anything. Hanna realizes it's the date of when she and Caleb first had teen sex, November 11. Gross. Hanna hacks the computer, deletes the file labeled "Hefty" and saves the day.
It's hard to tell, but Hanna is actually wearing printed wide leg pants. Printed pants are sort of terrifying, but actually they can look really amazing. I'm not crazy about the pair Hanna is wearing because they narrow at the bottom and the pattern is a bit snakey. A good rule of thumb with printed pants is that if you wouldn't wear it on a shirt, you shouldn't wear it on pants. Additionally, wide leg pants usually look better in a print than skinny pants because the flow of the pant gives a skirt-like effect. Also I think it's a good idea to stay away from animal prints at all cost.
Spencer is still mad at Daddy McCheatsalot so she goes to track down her half-brother Jason at his office. He's outside selling drugs/real estate to Maya. Or maybe she just still doesn't know how to use her cell phone. No. Wait. I'm predicting it right now:
Jason is the guy from True North.
Jason admits that he's back in town because he found a new box of goodies of Ali's. Turns out Ali had been stashing love letters/Oh Hey We Have a Kid letters from Peter Hastings to Jessica DiLaurentis along with about $15,000. Just a reminder, this is Jessica DiLaurentis: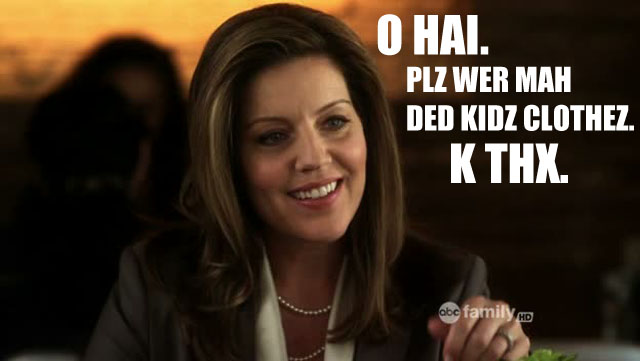 Jason and Spencer agree that it seems like Ali was blackmailing Peter, but Peter (who is obviously super trustworthy based on the years of lying about an illegitimate son) is like, "Um… no? That… didn't happen…"
Elsewhere, Sensei Holden breaks the first rule of fight club by telling Aria he does Tang Soo Do. I Googled it: it's real. Aria figures martial arts isn't nearly as dangerous as what she thought Holden was doing (sitting around popping Quaaludes) so the two agree to "go out" on another sham date. Aria tells Fitz it's on like Donkey Kong and he tells her he's made reservations at a vegan French restaurant. Is Aria a vegetarian?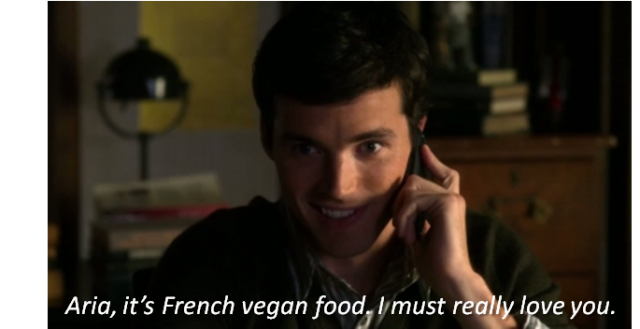 After discovering Aria and Holden are going out in Philadelphia again, Ella and Byron argue over whether or not Ella still has to play baby-sitter to and from the date. Ella says she shouldn't be driving Aria because their daughter is a beautiful flower who needs trust and space to blossom. Sigh… I wish Ella/Holly Marie Combs/Piper were a part of my life. Byron scowls and crosses his arms because it's clear to him that their daughter is still hitting it with their teacher because, um, she's 16 and she's got a Juliet complex.
Oh right, also A sent Byron a note telling him where Aria and Fitz would be eating their vegan French food. Obviously Byron decides to show up there and confront them because, due to the high butter and cream content of French cuisine, a vegan French restaurant is bound to be disgusting.


Just before leaving, Ella muses to Aria that she doesn't understand why she and Holden have to go off to the dangerous city. Why can't they just hang around in town secretly groping like every other high schooler? Before Aria can make up an answer that isn't, "Because he beats up other dudes for cash money and I'm still hot for teacher" Ella remembers aloud that it's probably because suburban activities like drinking, drugs and premarital sex might be really bad for Holden's heart condition.
As soon as Ella said that and Aria made her shocked face, there was exactly zero doubt in my mind that Aria would follow Holden to his Tang Soo Do tournament, inevitably missing her dad's stake out. Which is what happened. Sidenote: where the hell is Aria's depressed brother?
Cut to all the liars meeting someone who claims to know Vivian a.k.a. bizzaroland Ali. He says Vivian hired him to figure out who was sending her anonymous messages, but he was stupid enough to tell her before getting the $2000 she owed him. Then she skipped town but really died. Hm. The liars could probably pull together $500 by selling Hanna's Chanel earrings, but where on earth would they get a whole $2000? Hmm indeed. Hanna tells the liars about the picture the police have and Spencer asks Jason for the money.
Okay, so that's all the not-gay stuff that happened. I really should have made my New Year's Resolution to learn to be brief.

Back at the ranch, Emily tries to prep for a party but unfortunately a slew of boys with blue paint guns hit the whole place.
Celebrations such as these call for a truly festive wardrobe and even though Emily's entire body of clothing is exclusively swim suits, scoop neck tees and sportswear, she's busted out her special scoop neck for the night. The cut outs in the back of Emily's shirt are great for a casual party, because they add just a touch of funkiness to her look. If you're someone, like me, who often has to go straight from work out to meet friends, cut outs are a great option. You can put a cardigan over it while you're at work and then have your back on display later. Alternatively, cut outs allow bustier women, again like myself, to wear higher cut tops while still showing some skin.
Maya shows up bringing a tray of fruit and tears and refuses to smile. Smiling was frowned upon at True North. She tells Emily she needs to talk to her. FYI, the phrase "can we talk" turns even the tinest problem in to a crisis.
Speaking of True North, Maya's "totally cool parents" are going to send her back because they found an "old joint" in her room. Emily's like, "I'm never letting you leave in a million years because we're in love and meant to be together and Samara won't return my calls anyways." Emily offers to help explain the situation to Maya's parents because nothing says "I'm a reformed citizen" like bringing along your girlfriend from the last time you got busted.
Still, it's Emily's big celebratory night. Why should she stop her party just because her girlfriend is a little bummed out? No, seriously, that was a real statement.
Though it's appeared in previous episodes, I absolutely adore Emily's arrow necklace. House of Harlow 1960 does a bunch of different arrow necklaces like Emily's. As a side note, no joke, House of Harlow 1960 is Nicole Richie's fashion line. Either way, long gold or gold-tone necklaces look great over loose gemtone of black lose blouses. The key is that the charm and the chain have to be heavier if you're bustier. Otherwise your necklace will sort of bounce around awkwardly. What I particularly like about the arrow design is that it's an unusual shape to see on a necklace, but it's not completely abstract. This makes it sort of interesting while not necessarily drawing an awkward amount of attention.
It sucks that Maya's parents might ship her off to drug-free camp, but it sucks even worse to ruin your girlfriend's big night celebrating her swim team's Olympic medals. Maya knows that right? Nah.
Emily sees Maya sulking on the stairs and goes over to comfort her. I mean, Born This Way is about to come on the iHome and how could Maya miss that? Maya wants to go somewhere and talk and Emily agrees to do so after the party. Exactly like someone who knows their girlfriend is being a bummeramma but is trying really hard to pretend she's just tired or doesn't know anyone or isn't usually like this.
So Emily goes back to her party which I guess I felt like was one part insensitive and one part expecting her 35 year old girlfriend to act like an adult. Like anyone determined to not have a good time, Maya slips off missing and Emily goes to duck-hunt her out. Where does she find her? Well, let's just say the clean living didn't take.
Even though Old Emily didn't mind Maya smoking the occasional joint, New Emily has a really big problem with drug use based on her own history of accidentally using steroids. I mean, lying, stealing and sneaking around are one thing, but drug use is certainly another. Regardless, it turns out that Maya is a fucking crazy crazy. Emily and Maya proceed to have the same fight as probably 85% of high school lesbians.
Emily: Why did you lie to me?! I thought we were soulmates.
Maya: You're better at fitting in than me. You're perfect and your hair is shiny and smells like lemons.
Emily: I thought you didn't care about fitting in or shiny hair.
Maya: I'm very convincing. I mean, who wouldn't want hair like that?

And then Maya asks Emily to run away to San Francisco with her.